First look at Weightlifting Fairy's genius swimmer and elegant gymnast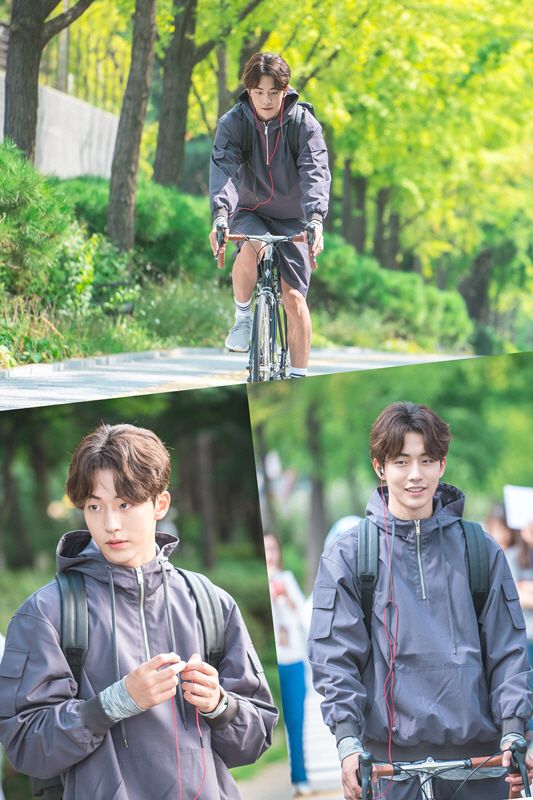 Here's our first glimpse of Nam Joo-hyuk (Moon Lovers: Scarlet Heart Ryeo) and Kyung Su-jin (Bluebird's House) in character for MBC's new drama Weightlifting Fairy Kim Bok-ju. The youth sports drama is the coming-of-age story of twenty-one-year-old weightlifting athlete Kim Bok-ju (Lee Sung-kyung), a young woman whose entire existence was devoted to barbells, and her first stormy bout with love.
Nam Joo-hyuk takes on the role of Jung Joon-hyung, a brilliant and unpredictable swimmer with a strong personality. He's the star athlete many have high hopes for, but a traumatic incident from the past holds him back from achieving his full potential. He and Bok-ju have a complicated relationship, but despite their clashes, they work together to overcome past pain and fervently chase after their dreams and seek love.
To prepare for this role, Nam underwent intense training, polishing up his swimming strokes, and reportedly studied the psychology of athletes who experienced trauma to accurately embody his character. Nam Joo-hyuk in character pretty much looks like Nam Joo-hyuk the actor on his day off. Dressed in a loose windbreaker and shorts while riding a bike, he's looking casual and sporty. I wish we were able to see him in his element, swimming laps at the pool, but I guess shirtless stills are being saved for later.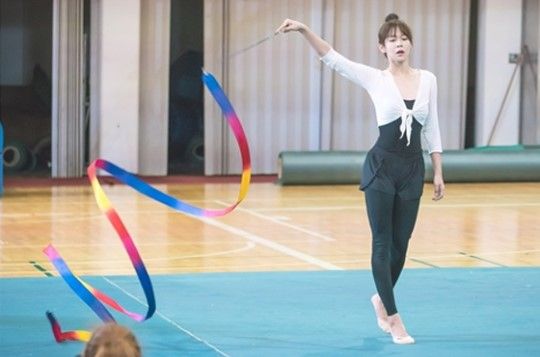 Kyung Su-jin, on the other hand, looks very much like an elegant pixie of the rhythmic gymnastics ilk. She's got the ribbon twirling down and appears poised and determined on the mat. She'll be playing the part of Song Shi-ho, queen of the athletic college and known as the "unfaltering rhythmic gymnastics star." However, despite being one of Korea's top rhythmic gymnasts, she failed to make the cut for the national team when she buckled from the stress of competing with younger athletes. As she strives to regain her glory and represent her country as a national athlete, she'll also form one corner of the love triangle involving Bok-ju and Joon-hyung.
Kyung Su-jin also trained rigorously for her role and watched documentaries about the elegant sport to learn about the daily lives and struggles of rhythmic gymnasts. She trained alongside professional athletes in order to tone her body and have it resemble that of an actual gymnast. And during breaks, she conversed with rhythmic gymnasts and used their personal accounts to shape her understanding of Shi-ho. She reportedly impressed the production crew with her uncanny athletic prowess.
Kyung Su-jin never disappoints, and I have a feeling she's going to rock as the beautiful and driven queen of the mat. Nam Joo-hyuk, while handsome, has been quite vanilla in his roles so far, so I'm not entirely sure how I feel about his casting as the star swimmer, but generally speaking, my excitement for this show is growing steadily. There's nothing like a good ol' heartwarming underdog sports drama, am I right? Yay sports!
Lee Jae-yoon (Oh Hae-young Again) co-stars as an obesity clinic doctor and cousin to Nam Joo-hyuk; he also happens to be Bok-ju's very first crush. Supporting actors include Jang Young-nam (Dazzling Temptation), Choi Mu-sung (Uncontrollably Fond), Kang Ki-young (W–Two Worlds), Jo Soo-hyang (Who Are You–School 2015), and Ahn Gil-kang (Jackpot).
Wednesday-Thursday drama Weightlifting Fairy Kim Bok-ju will premiere in November after Shopping King Louis ends its run.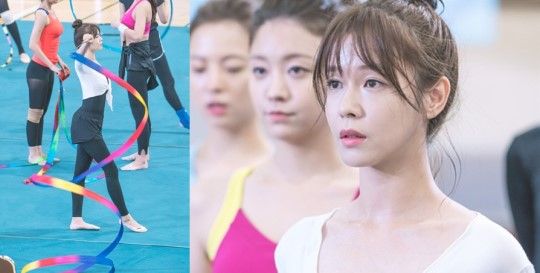 Via Xports News, iMBC
RELATED POSTS
Tags: Kyung Su-jin, Nam Joo-hyuk, Weightlifting Fairy Kim Bok-ju