Jealousy Incarnate: Episode 13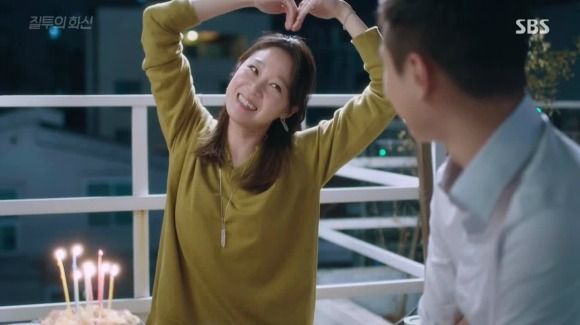 The cat's out of the bag, and Na-ri is doing everything she can to avoid confrontation. But there's more to confront than her love life, as she's faced with obstacles of pursuing her dreams of becoming a news anchor. It's a rough calling to face ultimatums that will determine your future career and relationship, but no pressure.

EPISODE 13 RECAP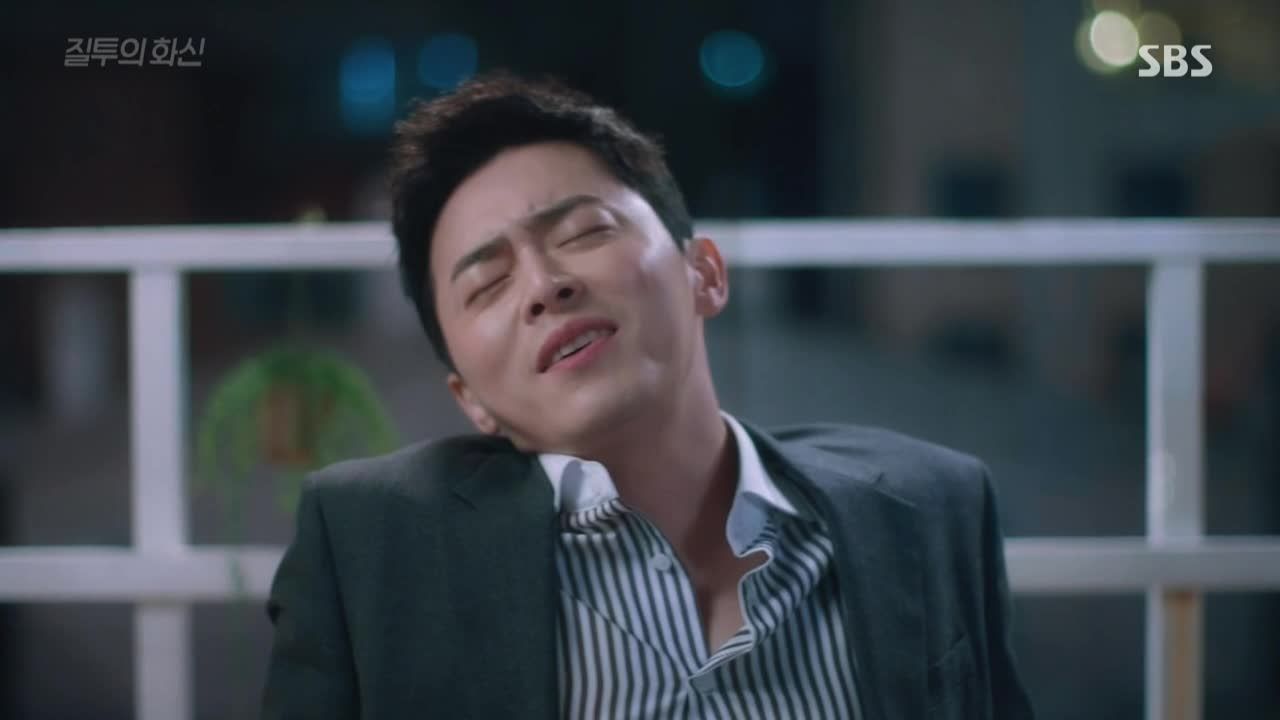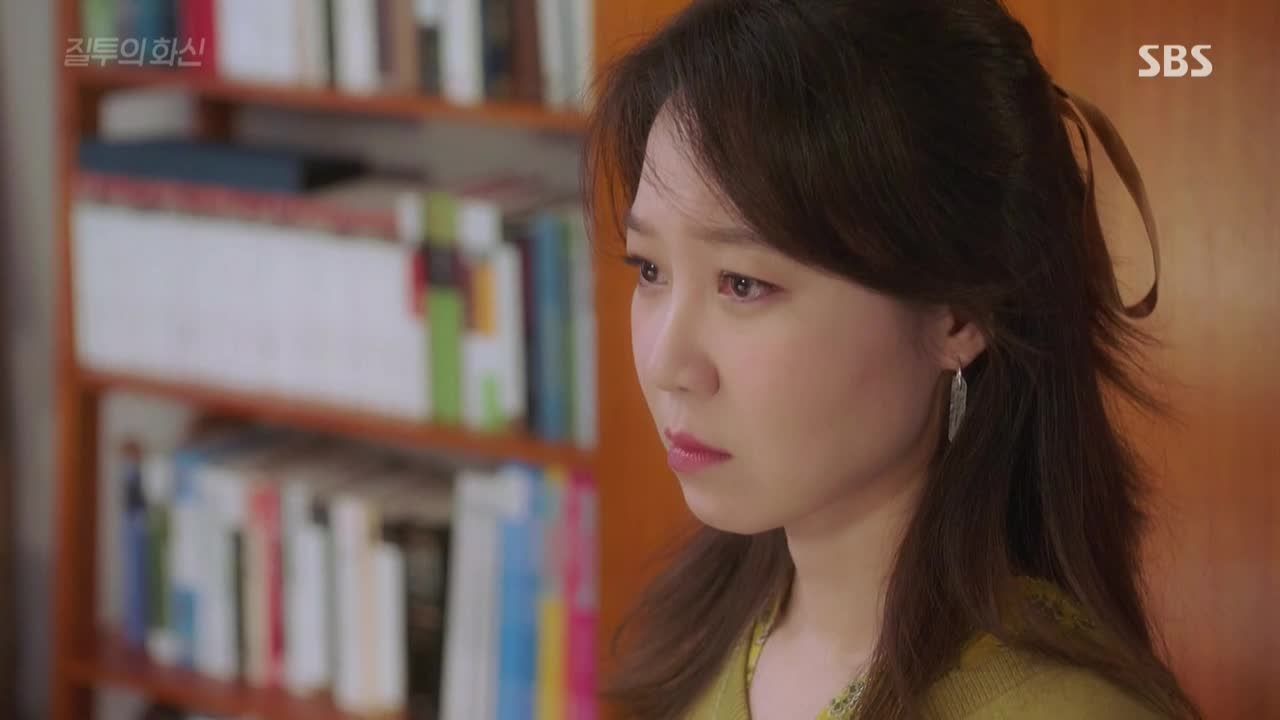 Na-ri freezes at the sight at Hwa-shin's wall, covered with Beom's drawings of Na-ri and the words "I love you, Pyo Na-ri." She focuses on one particular drawing that has those words written in Hwa-shin's handwriting and begins to suspect that maybe… he likes her?
Meanwhile, Hwa-shin is having a grand time with Jung-won at her roof and notices that his lights were left on. He decides to head over to check his lights and change his clothes while he's at it, leaving Jung-won alone to stare off at Na-ri's hanging laundry. He notices her bras and immediately turn away to stare off in another direction.
When Hwa-shin arrives at his rooftop, he finds that the lights turned off now and wonders what's going on. He enters his room, which Na-ri and Beom managed to escape out of without getting caught. As they walk back to their building, Na-ri notices Jung-won waiting for her at the rooftop and pulls Beom aside to promise not to tell anyone about today. Looking back at Jung-won, she explains that there's someone in particular who can't know about this.
Madam Kim meets with Soo-jung to give her a few tips to prepare for Jung-won's birthday. She assures Soo-jung that Jung-won and Na-ri are just close friends, and Soo-jung feigns ignorance. When Madam Kim mentions Na-ri's anchor application, Soo-jung tells her that Na-ri has the experience and skills for the job. Madam Kim nods and says that surely she'll judge based on skill, though this whole dialogue seems encrypted to mean the exact opposite.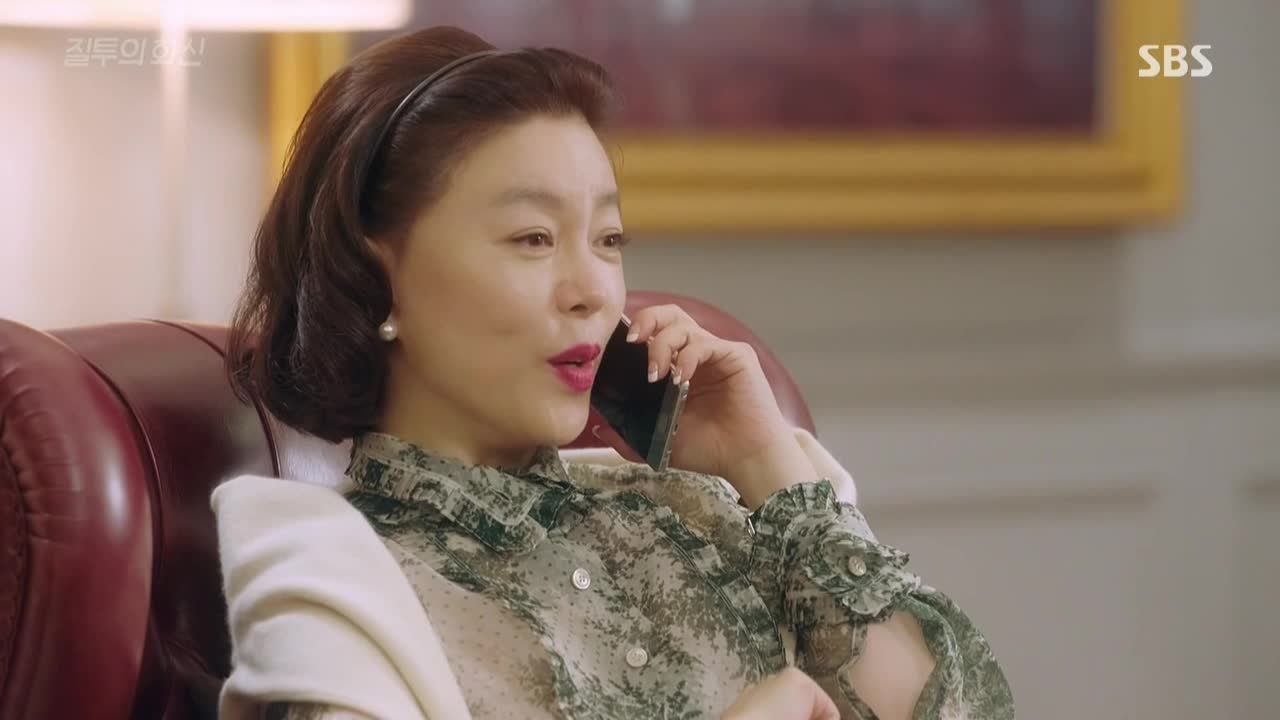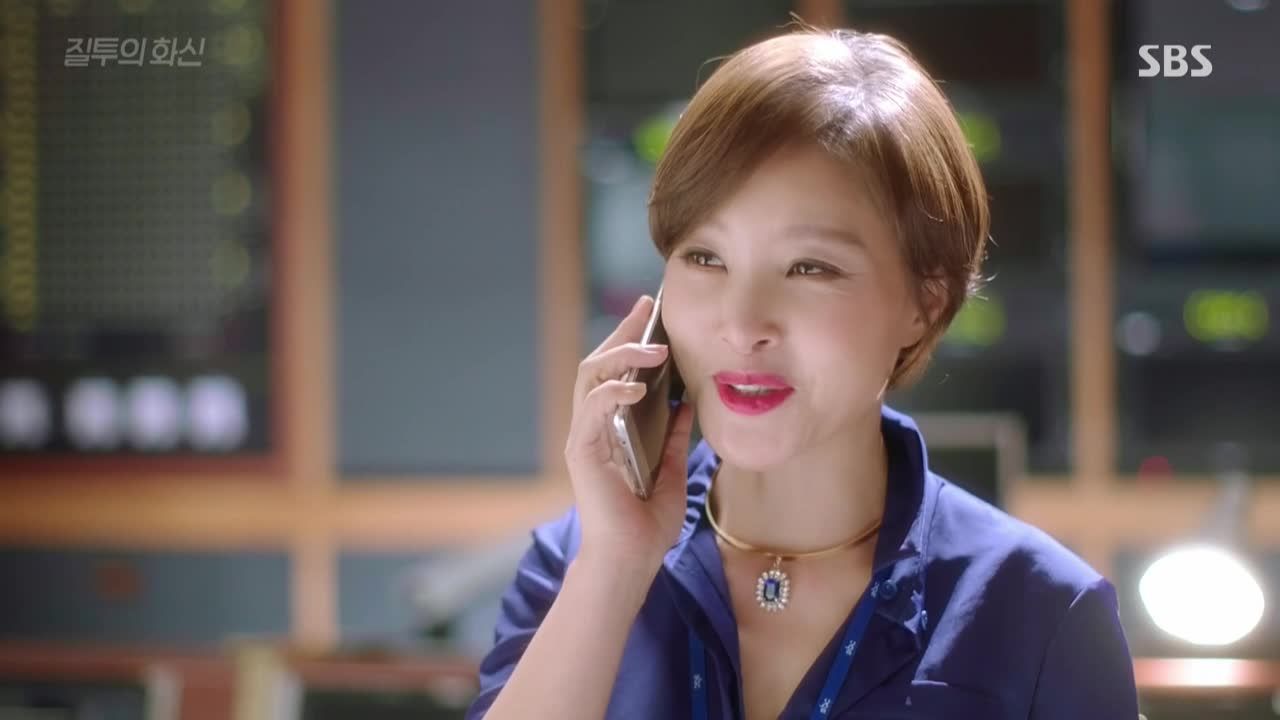 After Soo-jung leaves, Madam Kim asks Secretary Cha about when Na-ri's weather segment airs (8:00 a.m.) and calls Ja-young to request a change in the audition schedule to accommodate her nonexistent flight. She asks to change that schedule to begin at 8:00 a.m. and bribes Ja-young with a station advertisement that would feature her. It was that easy.
The couple and the third wheel celebrate Jung-won's birthday, and Na-ri keeps glancing at Hwa-shin. As they sing to Jung-won, Na-ri overcompensates with all versions of arm, hand, and finger hearts to make it obvious to Hwa-shin that she loves Jung-won. It works because Hwa-shin looks at her with bottled-up jealousy in his eyes.
Na-ri gives Jung-won seaweed soup and kind of throws the bowl at Hwa-shin, who immediately reacts by saying it's salty. Jung-won agrees, so Na-ri suggests that they try the japchae. Hwa-shin says that it's really salty, and Jung-won gives her the nicer version and says it's just salty. Na-ri apologizes and accusingly looks at Hwa-shin as she says that everything has been a mess today. Jung-won suggests that they go out for tea, and Hwa-shin takes that cue to head home.
In his bedroom, Hwa-shin looks at his wall of "I love you, Pyo Na-ri" drawings and thinks back to Na-ri's hearts for Jung-won. He takes that to heart and begins to take down all the drawings.
Jung-won smiles with drunken glee as Secretary Cha drives him home and notices Secretary Cha's anxious glance. Secretary Cha discloses Madam Kim's strategy to eliminate Na-ri from the audition pool by making it impossible for her to go from her morning weather broadcast to the audition camera test. Jung-won says that she's too much and wishes that she would just make him seaweed soup on his birthday, even if it's salty. Aww.
Na-ri's evening continues to be a mess as she breaks a bowl while doing the dishes. Chi-yeol walks in just as it happens and escorts his noona outside. He takes her gloves and orders her to rest. She paces on the rooftop, in a dilemma about Hwa-shin's potential crush.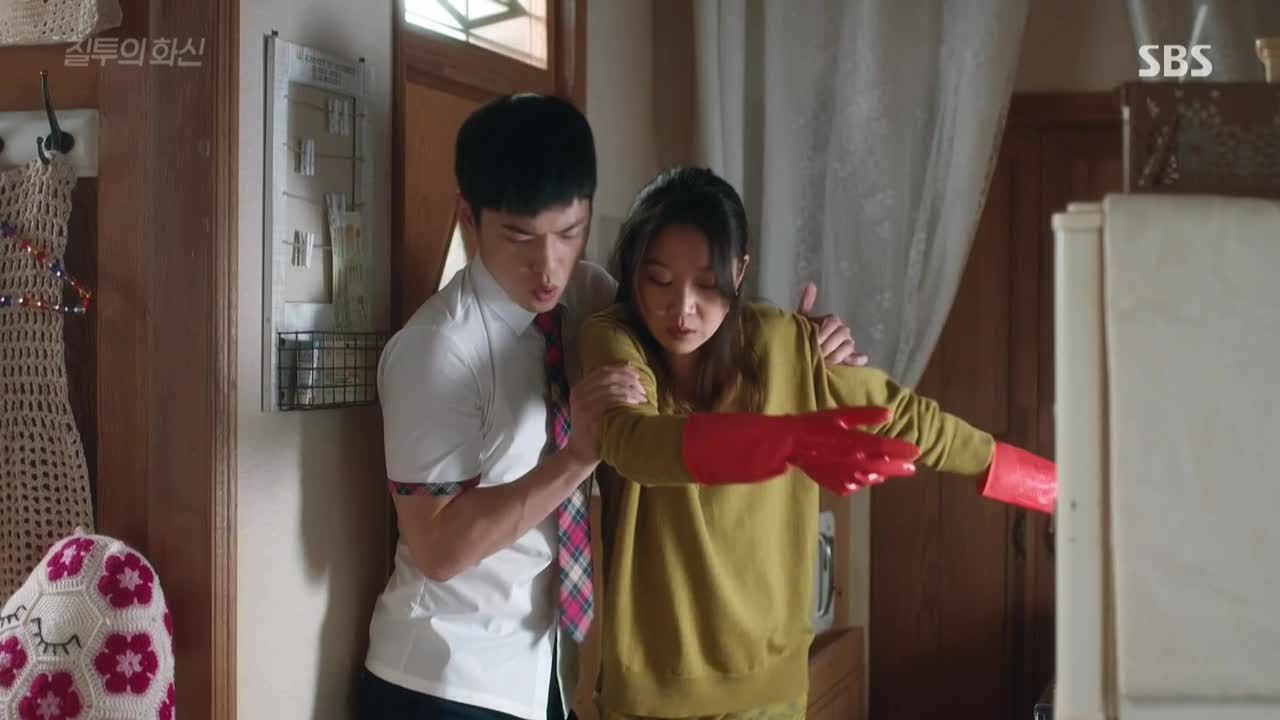 At the same time, Hwa-shin walks out with his pile of drawings and throws them on the ground out of sight when he notices Na-ri. She calls out to him multiple times, each time, imagining all the possible confrontations about the drawings on the wall.
In the imagined situations, she asks, "Do you love me?" Hwa-shin answers with nonchalant excuses and a reluctant confession, in the next version, he answers melodramatic honesty, then in total makjang, and then with a total bad boy image. It's hilarious.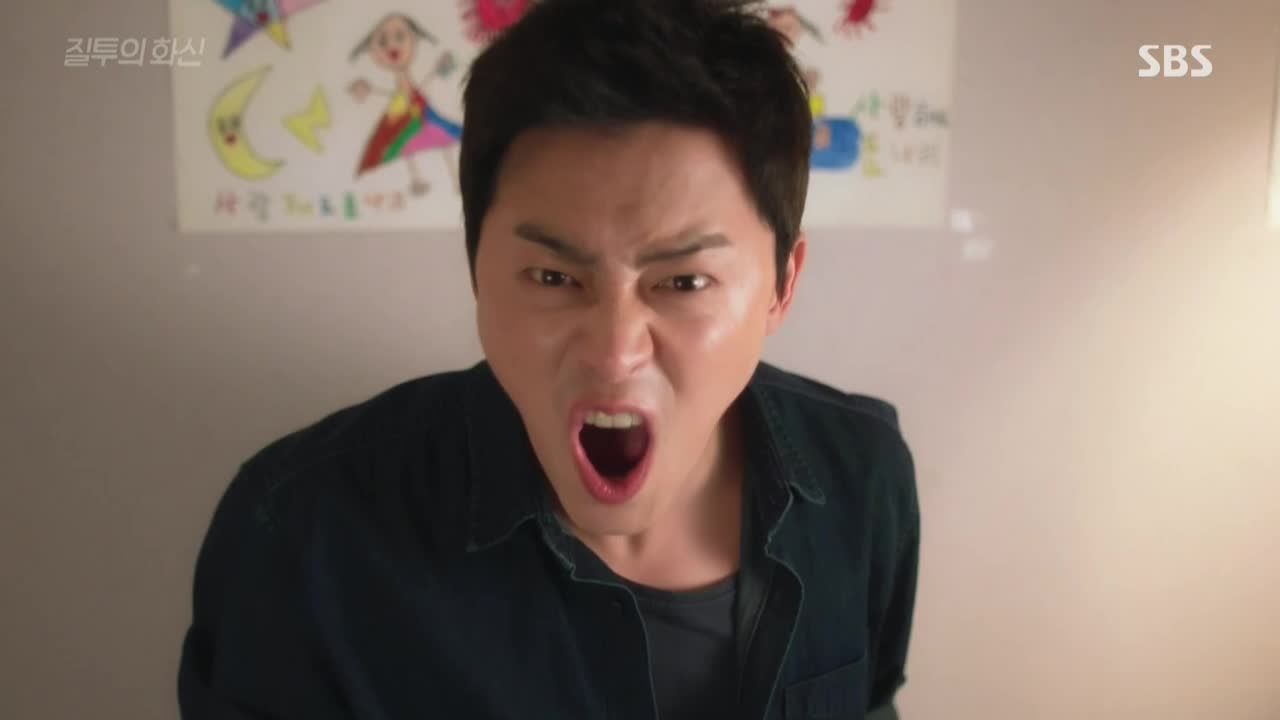 Hwa-shin seems annoyed that Na-ri keeps stalling with what she wants to say, and he asks her to throw the lighter that he left behind for the birthday candles. She throws it at him, and he asks what she wants to say again. Just as he's about to light his cigarette, she tells him to quit smoking, instead of asking what she intended.
He refuses to do as told, so she tells him to smoke, to which he rebels again. She tells him to do whatever he wants, and he refuses. He explains, "Why do I have to do what you tell me? I don't want to do anything you tell me to do." Then, we see one of Beom's drawings flying away in the wind.
Later that night, Hwa-shin looks through the drawings and lights them on fire in a bucket. As he burns them one by one, Na-ri tosses and turns in bed as she thinks about Hwa-shin's drunken confession that she wrote off as a joke. Restless from her thoughts, she eventually gets up and sits in bed.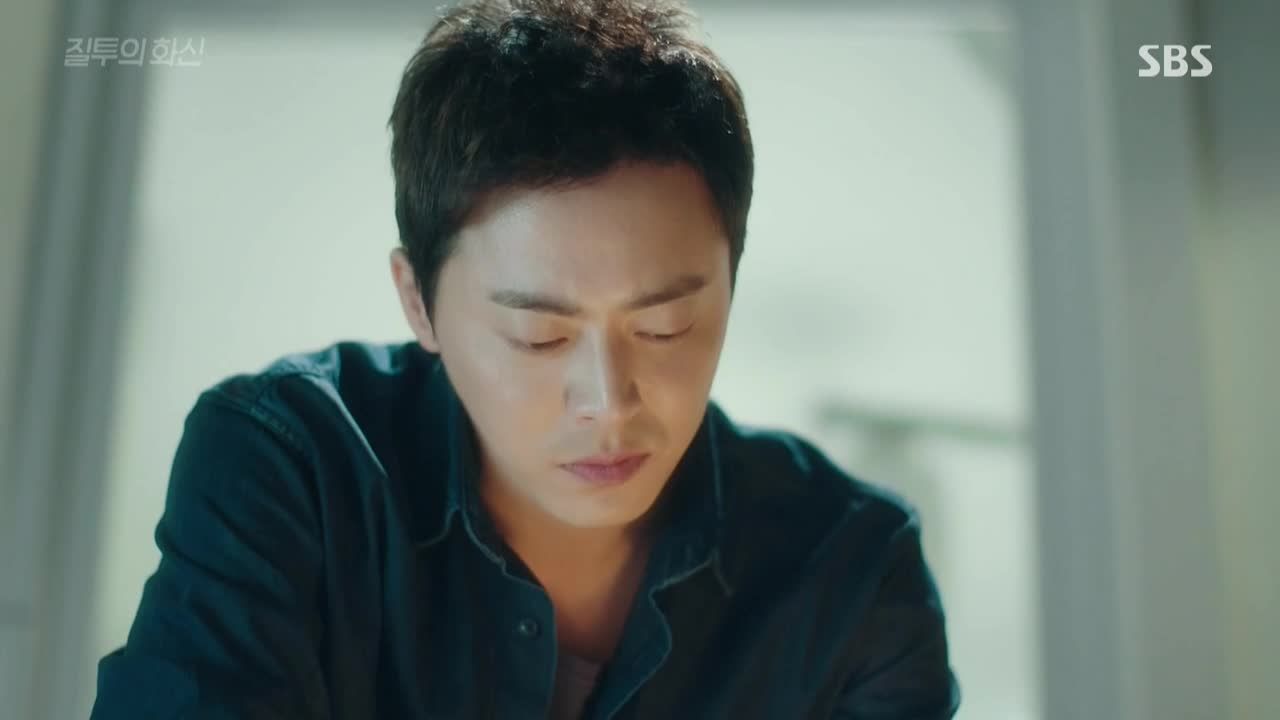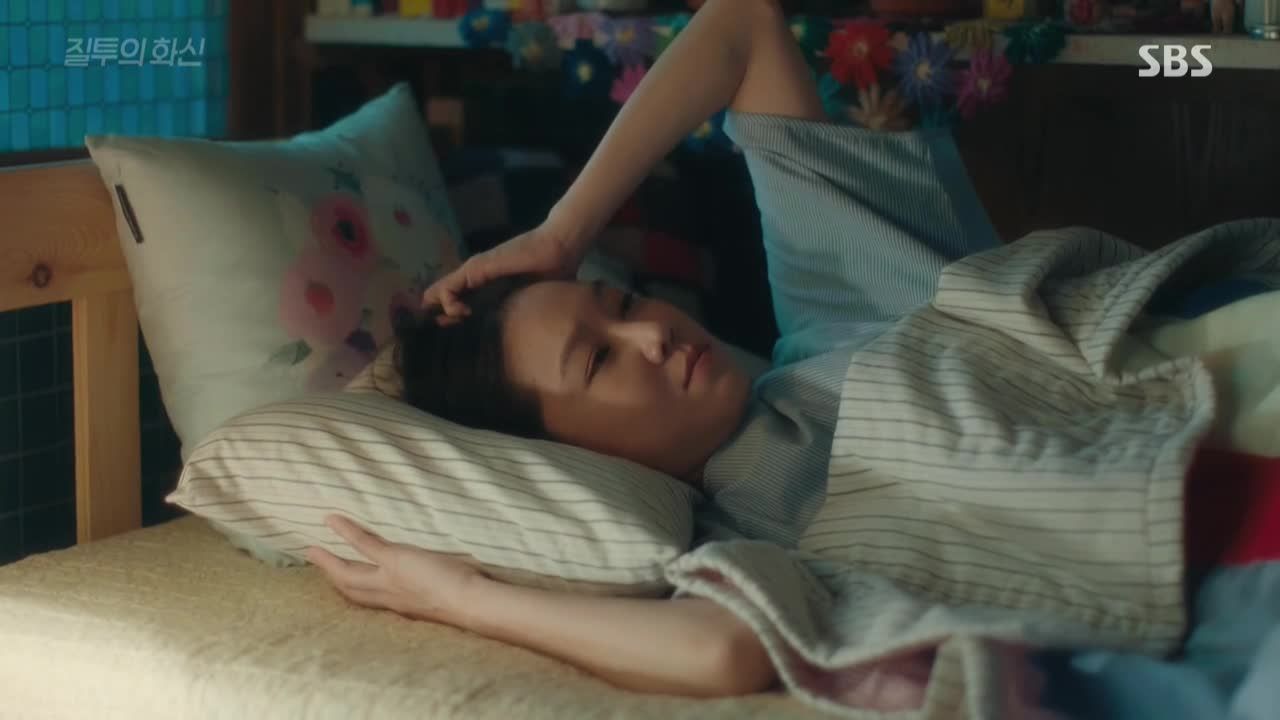 Early the next morning, Hwa-shin rolls up in his car and greets Na-ri, who's waiting for a ride to the station from Jung-won. After a slight hesitation, Na-ri runs after Hwa-shin's car and gets into the passenger seat, saying that they need to talk. Then, Jung-won rolls up in his car, and Na-ri immediately ducks. Hwa-shin looks confused, but he passes Jung-won as if everything is normal. As they pass, Jung-won's car launches a stray "I love you, Pyo Na-ri" drawing in the air.
Hwa-shin finds Na-ri's behavior suspicious and even more so when she lies over the phone, telling Jung-won that she had an early assignment last minute. Jung-won accepts her lie as fact and turns back to his car, where he finds the drawing on his windshield. He looks at it and smiles.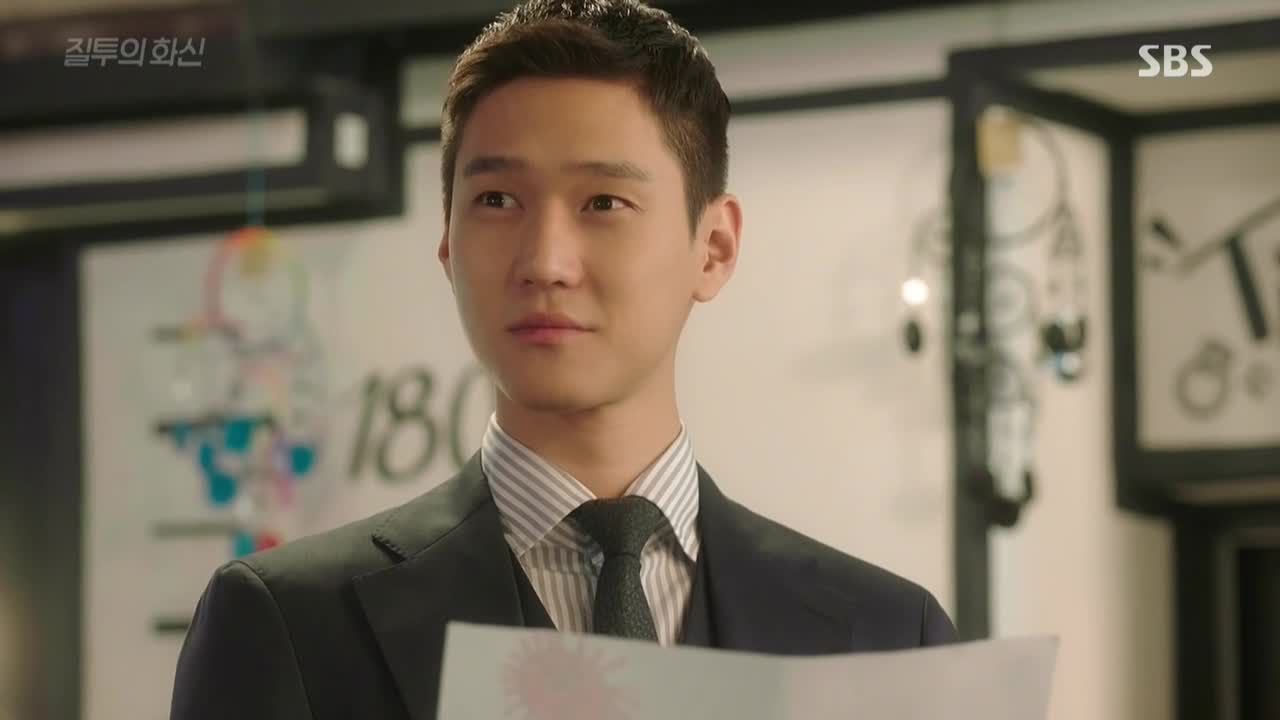 Hwa-shin teases Na-ri for playing games with Jung-won and wonders if she doesn't know how to receive love after holding a one-sided crush for so long. Na-ri tells him to mind his own business and beats him up in the car, causing him to swerve on the road and eventually pull over.
Na-ri asks him seriously, "Do you like me? You don't like me, right?" After a brief moment, Hwa-shin confirms that he doesn't like her, and double-confirms that he meant what he said. She tells him to carry on, so he drives them to work.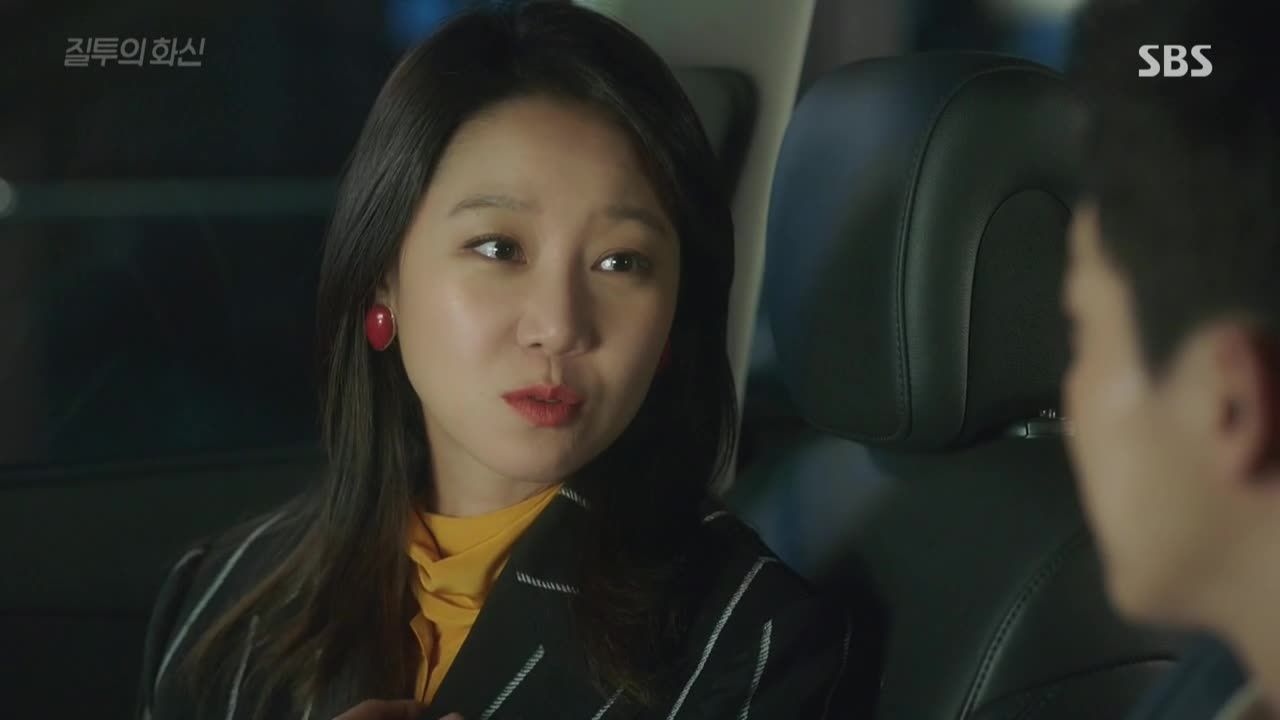 Chef makes Ja-young and Sung-sook breakfast at the restaurant, and he's invited them both to propose something. He tells both of them, "Let's date." They each take his offer personally, but he clarifies that his proposal.
Their relationship is up to the two women because he doesn't have a physical attraction to them — he's asexual. He wants to have a relationship in which they share conversation. Both women seem frazzled at this confession and spit their water out when he specifies the obvious point that he'll still be asexual in marriage.
As they ride up the elevator at the station, Na-ri apologizes to Hwa-shin. He advises her to either resign or drop the audition, since it'll look bad if she returns to her weathercaster position after failing the audition. Na-ri seems offended at his assumption that she'll fail and says that she doesn't need his advice. He mumbles under his breath that she should pass the audition then, and walks out of the elevator.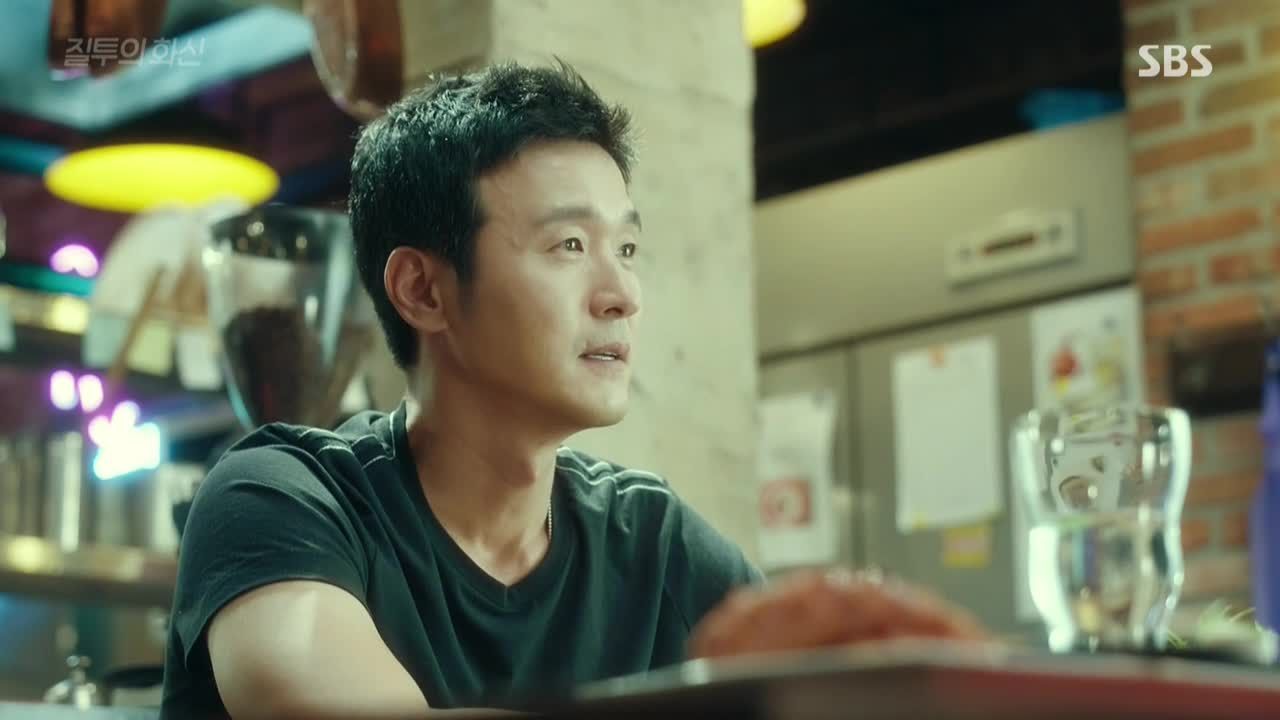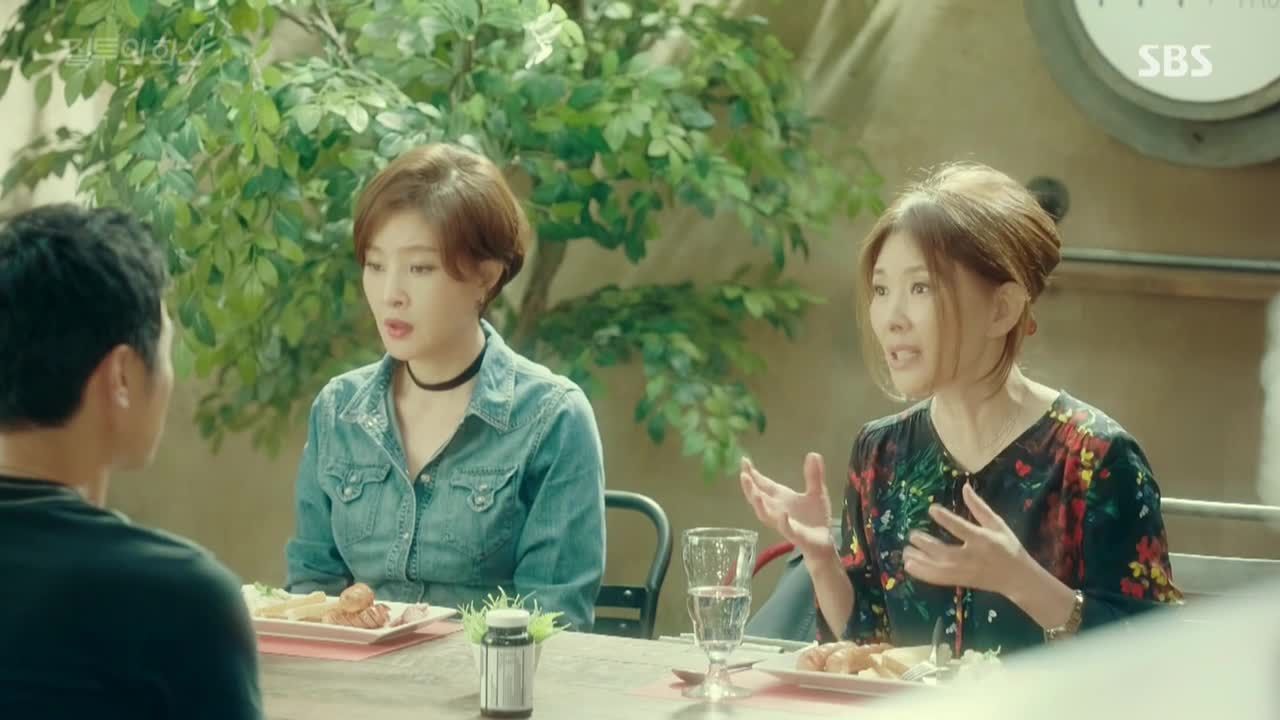 Back to the awkward breakfast conversation, Chef continues to persuade the women that love is about the heart, not the body. Sung-sook asks if only winks are allowed, so Chef shows them the supplements he's been taking and explains that the winks were merely side effects. He's a proponent of platonic love over erotic love, and he tells the women to carefully decide between them, instead of fighting over him like they do with Pal-gang.
As they leave the restaurant, both women encourage the other to go for Chef Rak. They can't believe that he has no sexual drive or physical attraction to women. They bond over their disbelief and walk off to work together.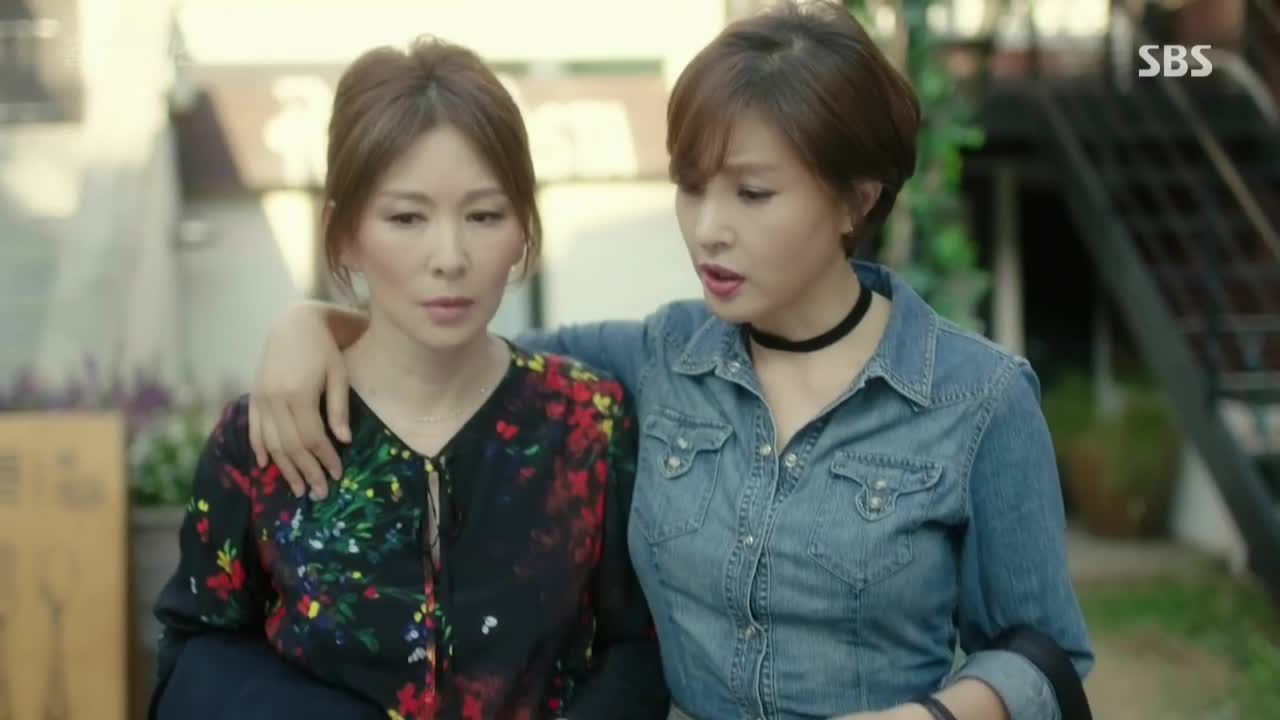 Hwa-shin talks to PD Oh about their recent oil spill, and they plan to send a helicopter to Busan for a report. Sung-sook watches Hwa-shin leaves and remembers how she enjoyed drunken Hwa-shin's quick peck on the cheek. She can't imagine herself in a platonic relationship, and she ignores PD Oh's constant nagging for their meeting. He has to yell to get her attention, and Sung-sook yells back at him, confirming that she heard everything he said but chose to ignore him because she had more important things to think about. Ha.
Na-ri looks torn when she reads the reminder text about their audition time, and Joo-hee comes over to make it clear that Na-ri's audition will be impossible with her weathercaster broadcast time.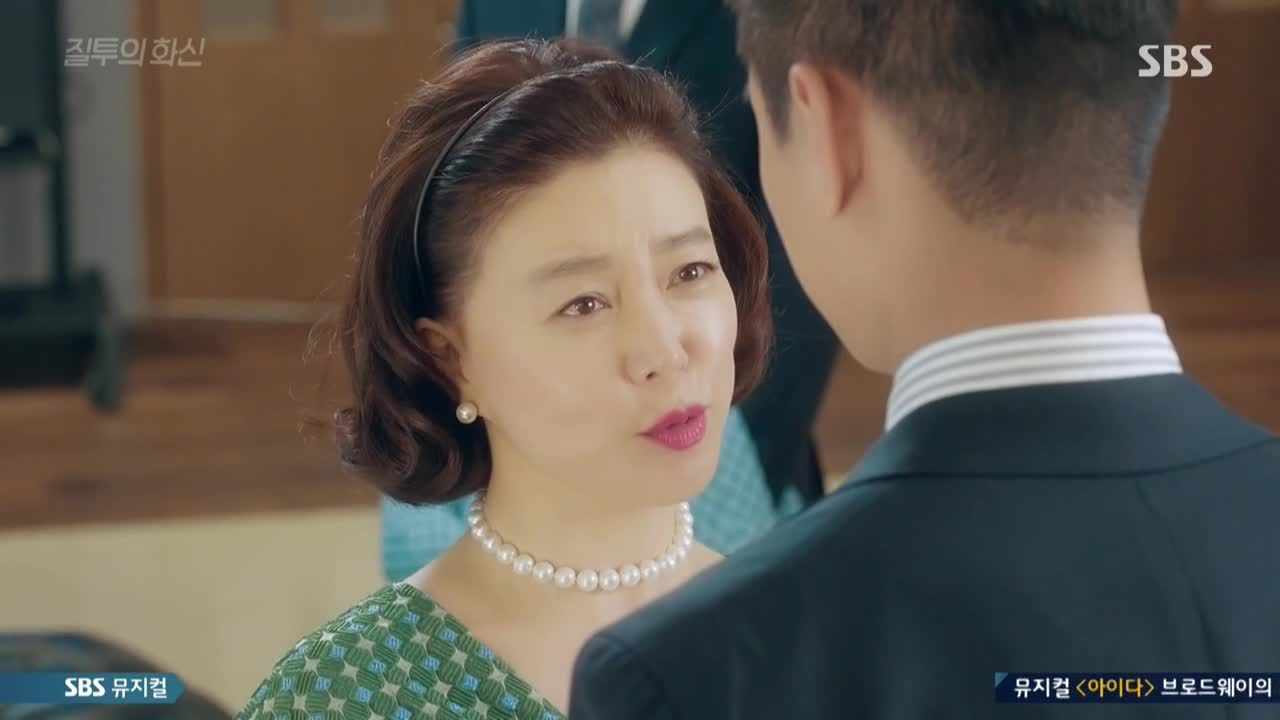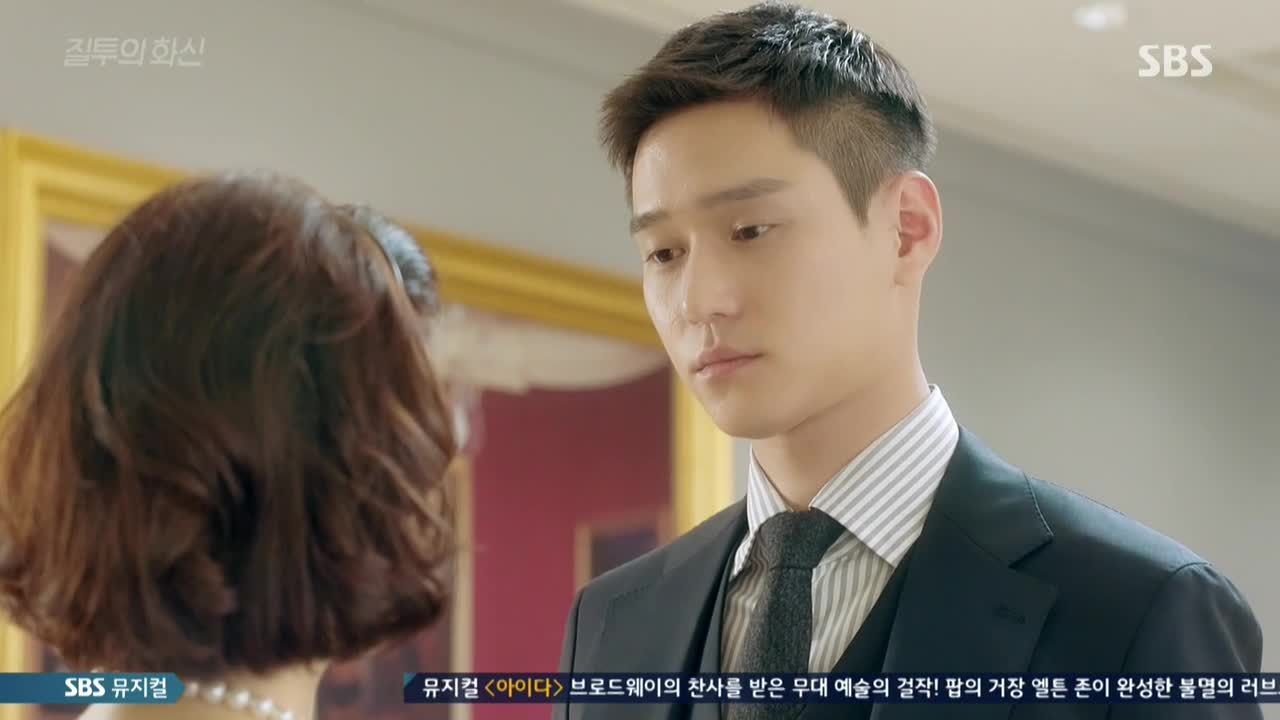 Jung-won approaches his mother — the person who purposely cause this time conflict — and tells her to change the schedule. She offers him a deal: that he set up a formal meeting for the parents of his arranged marriage, and in exchange, she'll help his weathercaster girlfriend become an anchor.
Jung-won asks if she knows it's his birthday, and she gives him degrading pats on his cheeks. She finds it cute that he's rebelling on his birthday and coos, asking what he wants for his birthday.
Hwa-shin arrives at his rooftop house and finds his mother crying. He sits next to her and asks what's going on, and she admits to knowing about his breast cancer. Through her tears, she tells him to live however he wants, like he did before Hyung lost his business.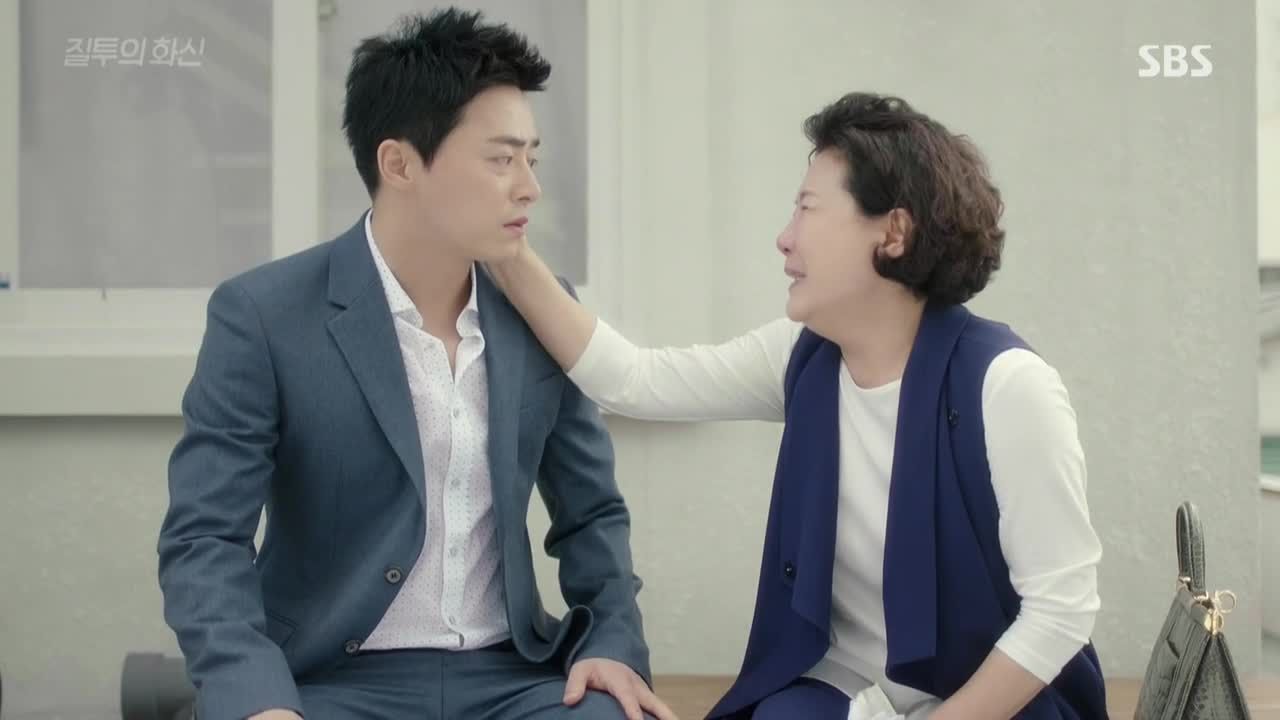 Hwa-shin tells Mom to get checked for breast cancer, since it's likely inherited, but she cries that she should have gotten breast cancer instead of him. Hwa-shin hugs his crying mother, who continues to tell him to live however he wants, but he says that he can't do that anymore.
Mom cooks up a meal for him and asks if he's dating anyone. She shows him the little toy that she found in his room and suspects that his girlfriend left it there. Hwa-shin recognizes the toy and takes it to little Beom sitting outside the convenience store. He asks Beom if he entered his house, and Beom immediately says that it's a secret he promised to keep with Na-ri.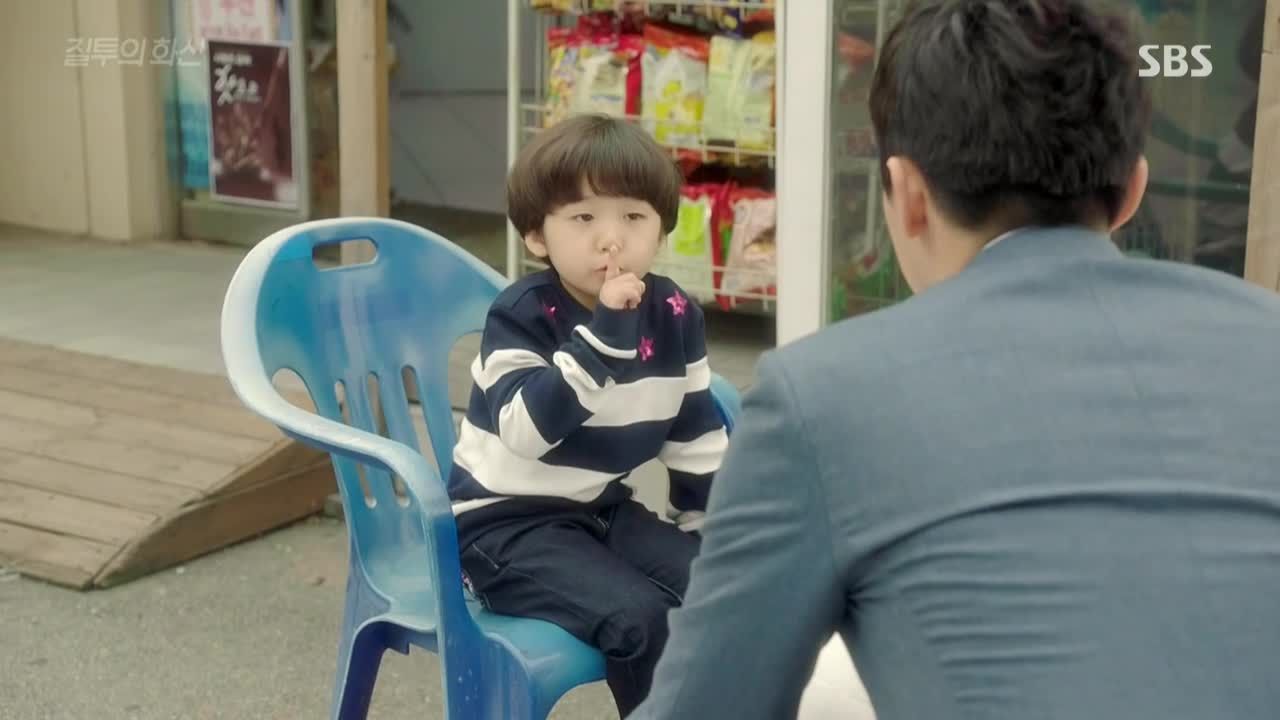 At the station, Na-ri times her run through her route to the audition building, navigating the elevators and obstacles as if she's in a video game. She runs outside, past Hwa-shin, but on her way to the next building, time runs out. The video game in parallel to her running shows a "Mission Failed" graphic, and she heads back up to try again.
Hwa-shin enters the meeting room to report to PD Oh that updated reports about the oil spill don't require him to be in Busan and lingers to hear the conversation. Ja-young argues that they should keep their weather report in the studio instead of out in a flower field because it would be unfair for Na-ri, who has to attend the anchor audition. Sung-sook doesn't seem to care, but their current set-up would imply that they're impeding Na-ri's efforts. Hwa-shin resolves their dilemma by putting the decision on Na-ri — she has to go all in for one position.
Secretary Cha updates Jung-won on the current situation — that Na-ri wouldn't be able to make the audition anyway due to her field assignment — and tries to convince him to comply with his mother's orders. Jung-won doesn't plan on it and finds Na-ri mid-run to take her out for his birthday.
They go get jjajangmyun because Jung-won continues to fake that he likes it and invite Secretary Cha to join them. Jung-won asks Na-ri if she really wants to become an anchor, and she nods.
Hye-won reports to Ja-young that the camera test for the anchor auditions will be held at 8:00 a.m., and Soo-jung smiles knowingly at this news. Ja-young looks conflicted, thinking back to Na-ri's plea for a fair chance.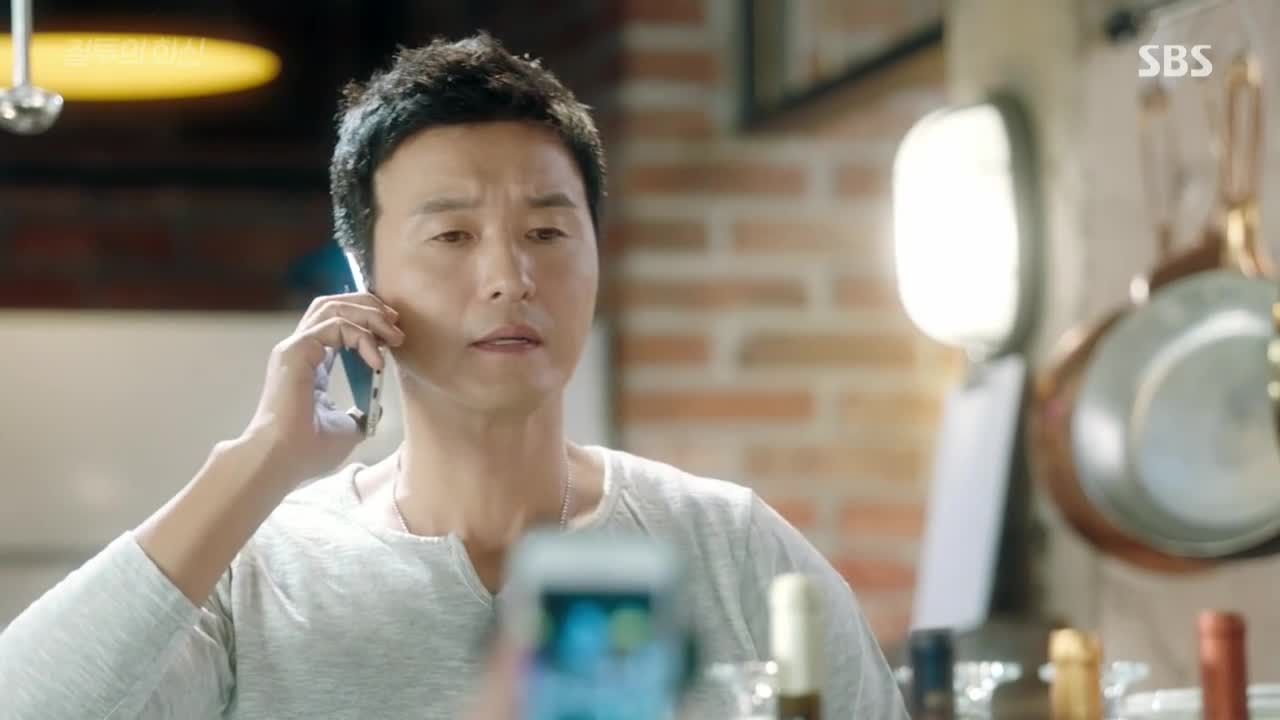 Her thoughts are interrupted by a call from Chef Rak, but she immediately hangs up after making the excuse that she's in her radio broadcast. He then calls Ja-young, who doesn't even pick up and rejects his call. He looks confused at the rejections and totally unaware of the all the customers taking pictures of him. To hammer in the point, the restaurant electricity also goes out.
Na-ri meets with PD Oh, who makes her decide between keeping her weathercaster job and auditioning for the anchor position. She knows that it's selfish of her to want both, and he persuades her to keep her weathercasting position because that's the role they need from her.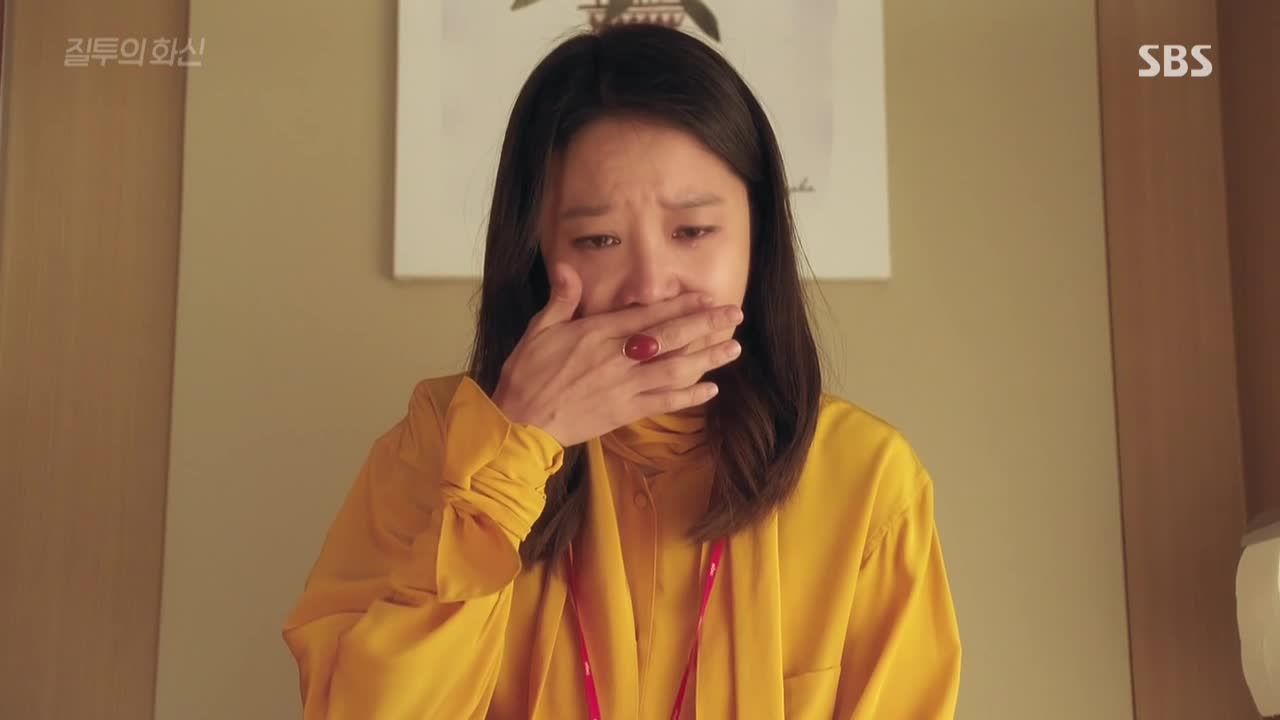 Dejected, Na-ri runs out of the meeting room, and Hwa-shin watches her scurry out to the bathroom. She sobs uncontrollably in a stall, devastated by this hindered opportunity.
After a good cry, Na-ri waits for an elevator and seems reluctant to board when she spots Hwa-shin inside. She goes inside anyway, and Hwa-shin breaks the long silence by asking if she saw the drawings. She says that she's not interested and leaves the elevator. But Hwa-shin drags her back into the elevator, and the elevator tracker shows that they're headed up and into "??"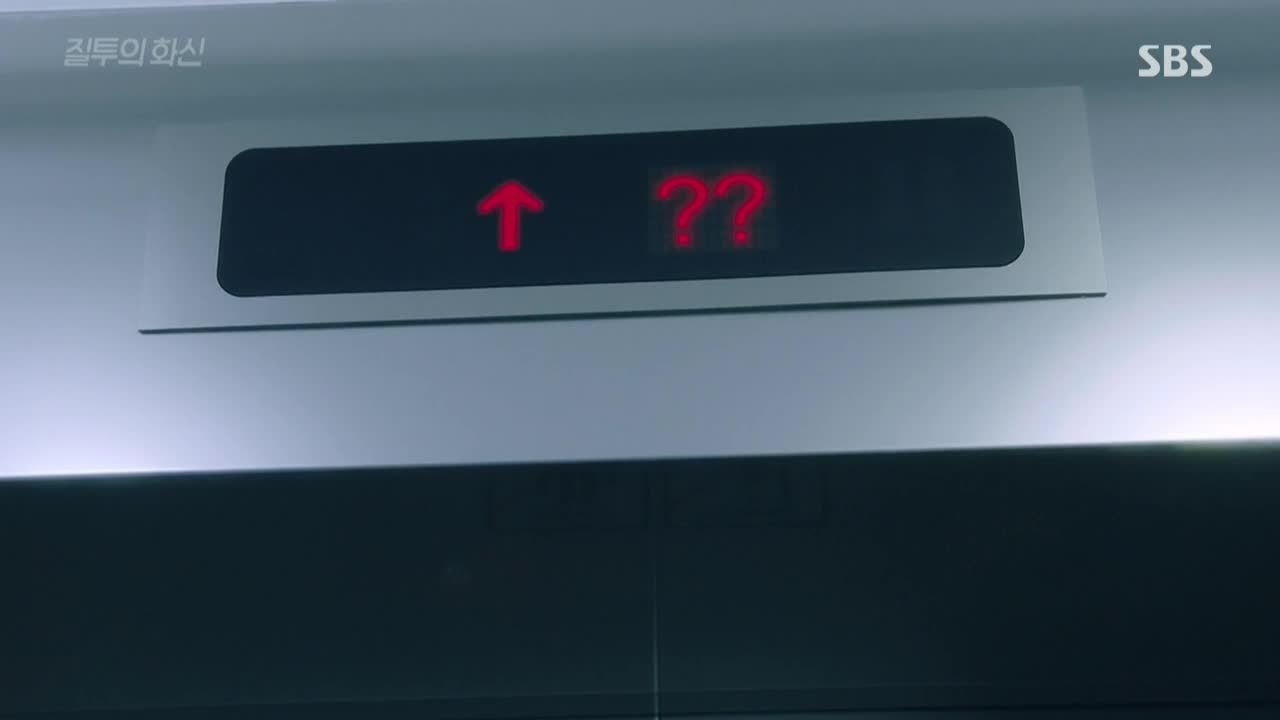 Jung-won brainstorms with Secretary Cha about how he could help Na-ri make her audition. Secretary Cha throws out nonsense ideas like stopping the flowers from blooming so that Na-ri won't need to report from there (lol), but Jung-won seems to have a plausible idea to change the time element of this problem.
We don't know what happened between Na-ri and Hwa-shin, but we jump back to Na-ri, who's called a deliveryman to ask if she could be "delivered" from the field to the station. She doesn't want to give up without trying and asks the deliveryman to grant her this favor. He doesn't look too convinced at the prospects, and Jung-won watches this interaction from outside the room.
Hwa-shin brings PD Oh an updated report about the oil spill in Busan, and this time, they've found a dead dolphin that was killed from the oil contamination. So Hwa-shin gets approval to take the helicopter down to Busan.
The station prepares for the anchor auditions while Na-ri reports the weather from the cosmos flower fields in Jamsil. But she may still have a chance, seeing that suspicious black cars begin to follow Madam Kim's car, which is headed to the station for the auditions. The black cars purposely surround Madam Kim's car and block it from going faster, and an enraged Madam Kim rolls down the windows to swear at the drivers.
A driver rolls down the window, and it's none other than Jung-won. He warns his mother that he'll keep blocking her path if she continues to play against the rules, and she's annoyed out of her mind that he would do such a thing. On the other side, Secretary Cha rolls down his window to unapologetically apologize to her, and above them, Hwa-shin's helicopter heads toward Busan.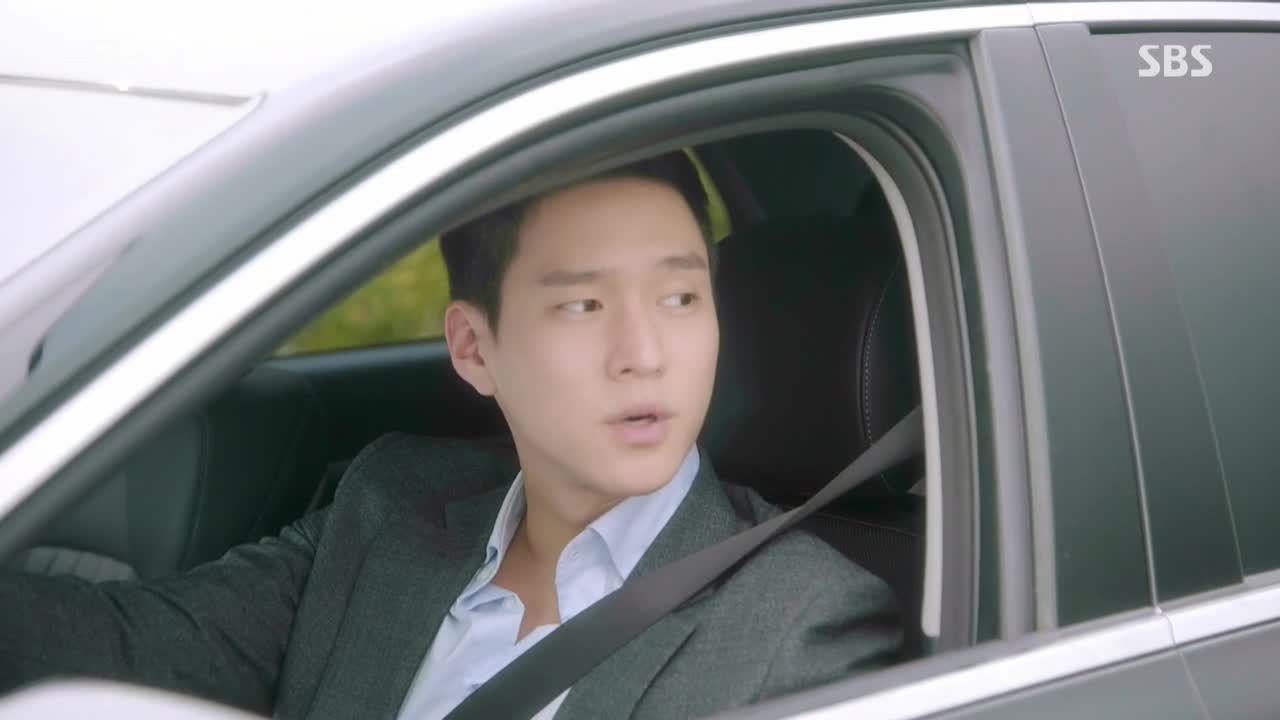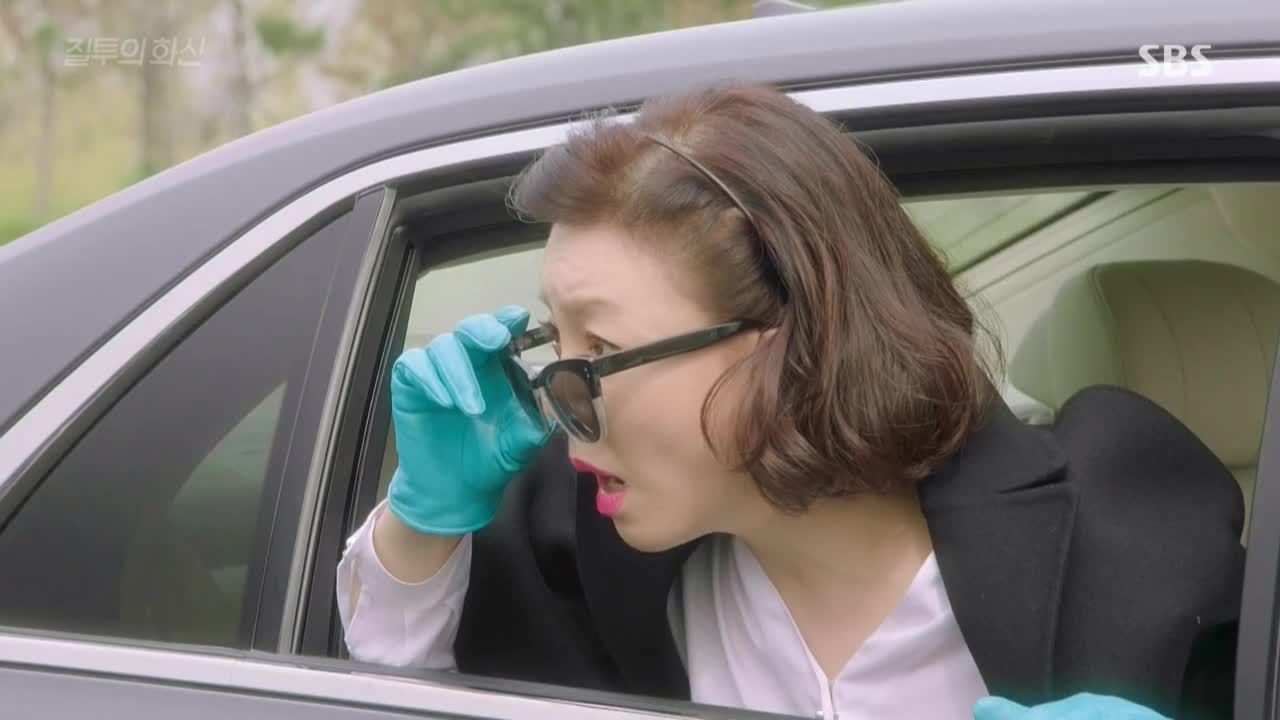 The helicopter pilot notices the traffic down below, and Hwa-shin makes a spontaneous request to make a pit stop before heading to Busan. The pilots think he's ridiculous, but Hwa-shin is serious about his request, even offering to pay extra for the gas and the ticket for unlicensed parking.
He explains, "For three years, I was self-important and received everything she gave. It only takes three minutes from Jamsil to the station, so please help me. This woman, who gave me three years — her life depends on it. Let me give her those three minutes."
Na-ri checks with the deliveryman and heads into her last weather forecast of the hour. As soon as she concludes her section, she runs off to board the motorcycle with fifteen minutes to get to the station. The helicopter flies onto the field, and Hwa-shin jumps out, just in time to intercept them. He grabs Na-ri's hand and tells her, "Let's go."
Na-ri looks stunned, and we flash back to the elevator. Hwa-shin pulls Na-ri into the elevator and confronts her about the drawings. Her silence confirms his suspicious, and he asks, "What if I told you these words three years ago?" Na-ri tells him not to say anything because he's too late.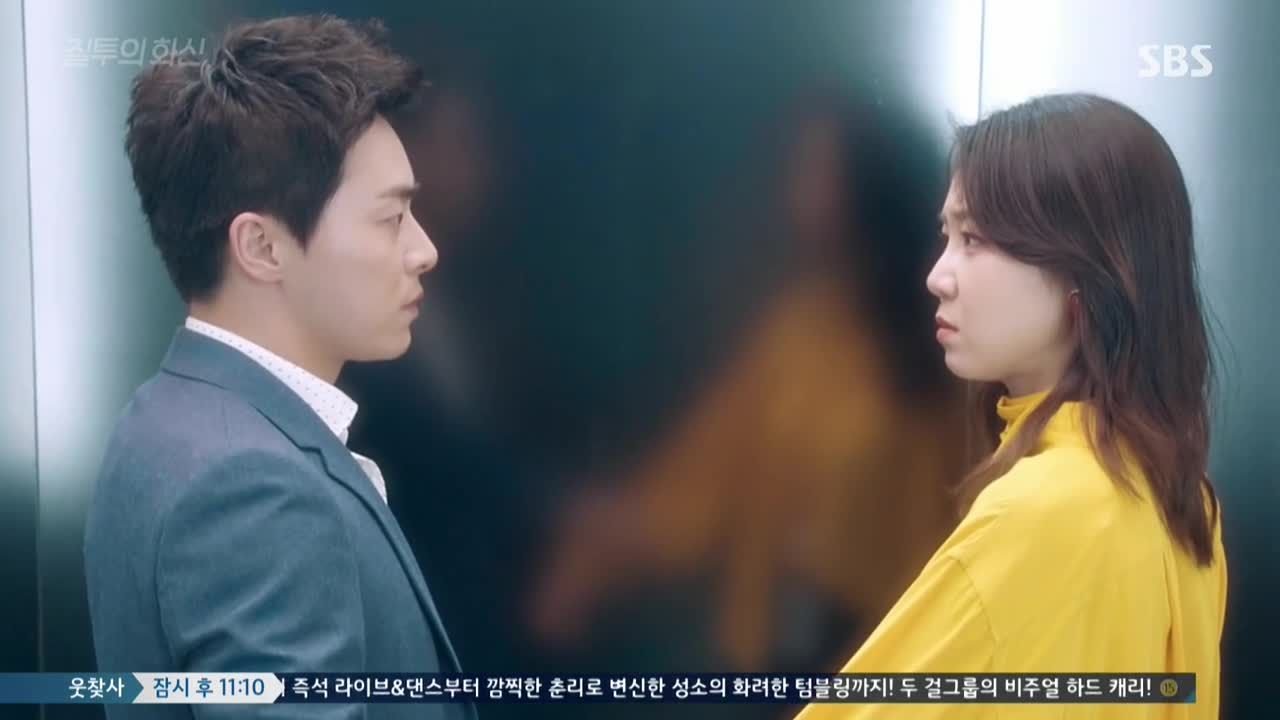 Hwa-shin thinks in his head, "I like you." As if answering, Na-ri tells him not to like her. In his head he thinks, "I love you." Again as if answering him, Na-ri says that she loves someone else, his friend, in fact. Then he says out loud, "I'm sorry for realizing too late." Na-ri tells him to get rid of his feelings and turns away from him. Ouch.
Back in the present, Hwa-shin grabs Na-ri's hand and runs towards the helicopter, ignoring her protests. As they run and board the helicopter, we hear Hwa-shin think back to the final words he got out in the elevator: "What if I told you these words three years ago? I'm sorry for realizing too late."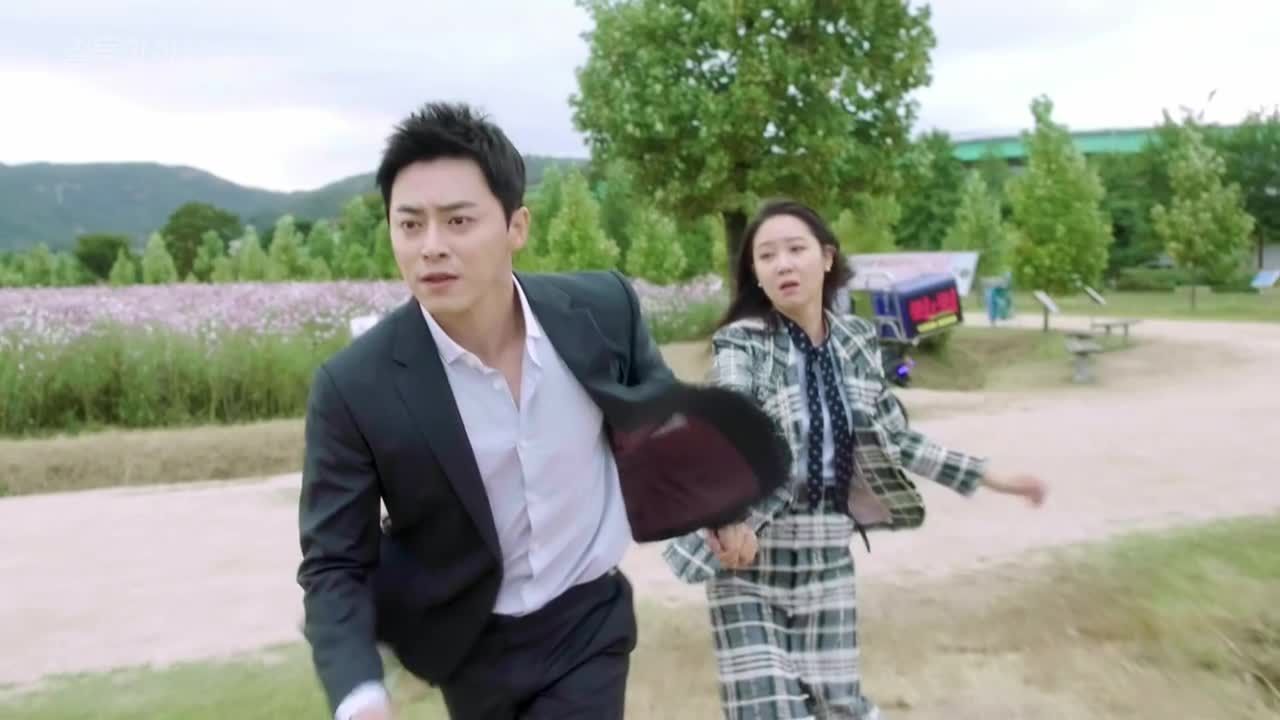 COMMENTS
Hwa-shin's unrequited love is painful and so good at the same time. There's a maturity to Hwa-shin in his bottled-up crushing that really debunks all my claims of petty in the previous episodes, and I love that it's making Na-ri question how she really feels. He's impressively walking that line to balance friendship and love, and now that Na-ri knows his true feelings, that makes one more reason to be sympathetic to his struggle, though she's surely not showing much sympathy for him now.
There's a sense of betrayal in receiving a belated confession, especially after three years of serious crushing that resulted in heartbreak. Asshole Hwa-shin was a merciless being with no regard for Na-ri as a person, let alone a woman, and it definitely calloused her. The initial rage and utter confusion after discovering Hwa-shin's true feelings makes complete sense because he's treated her so poorly. She's over him because she knows that she deserves better than the intended heartbreak that he inflicted. And now, when Hwa-shin comes out with an implicit confession in his apology, he's just reopening a wound that she healed by forging a different relationship him.
But there's an inevitable intimacy between the two of them because their current relationship revolves around a secret shared between just them. Na-ri's comfort in that intimacy is now shaken, and she's now forced to redefine their relationship yet again.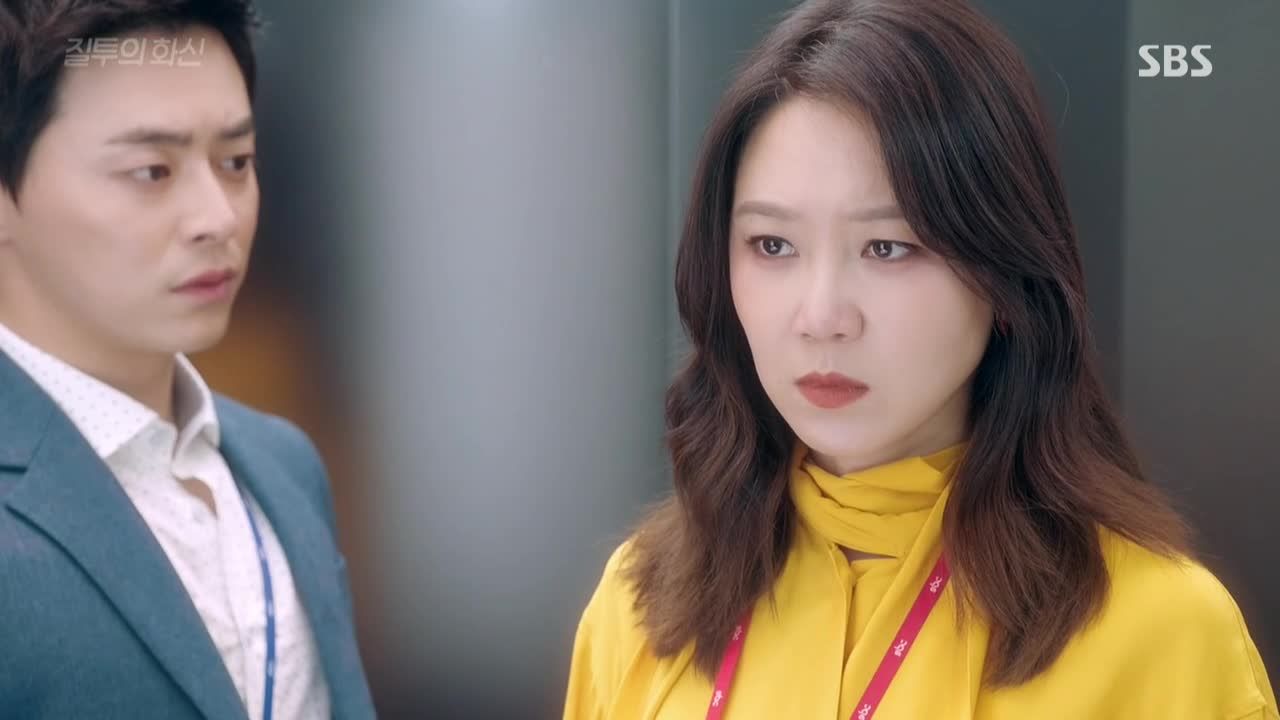 The secret is no longer theirs to share because now Mom knows, and thank goodness she does. Hwa-shin is already self-destructive with Na-ri at his side, and now that they're rapport is ruined, there's no one to keep him in check. The scene with Mom and Hwa-shin was strategic though, because it juxtaposed the two mothers and their relationships to their sons. The contrast was apparent, seeing how manipulative Madam Kim was with Jung-won and how genuine Mom was with Hwa-shin. While they're best friends who love the same woman, those scenes made me question how Hwa-shin and Jung-won's reasons for loving Na-ri would differ, given their very different upbringings.
The symbolism in this show — though at times, cheesy — enhances the storytelling because the directing is able to capture the heart of this show. Whether it's heartbreaking or heartwarming, the story is told with clever subtext in the dialogue that allows room for multiple interpretations. It also helps that our leads have the ability to tell stories with the facial expressions alone. How does one look regretful, hopeless, comforted, and lovesick at the same time? How does he do it?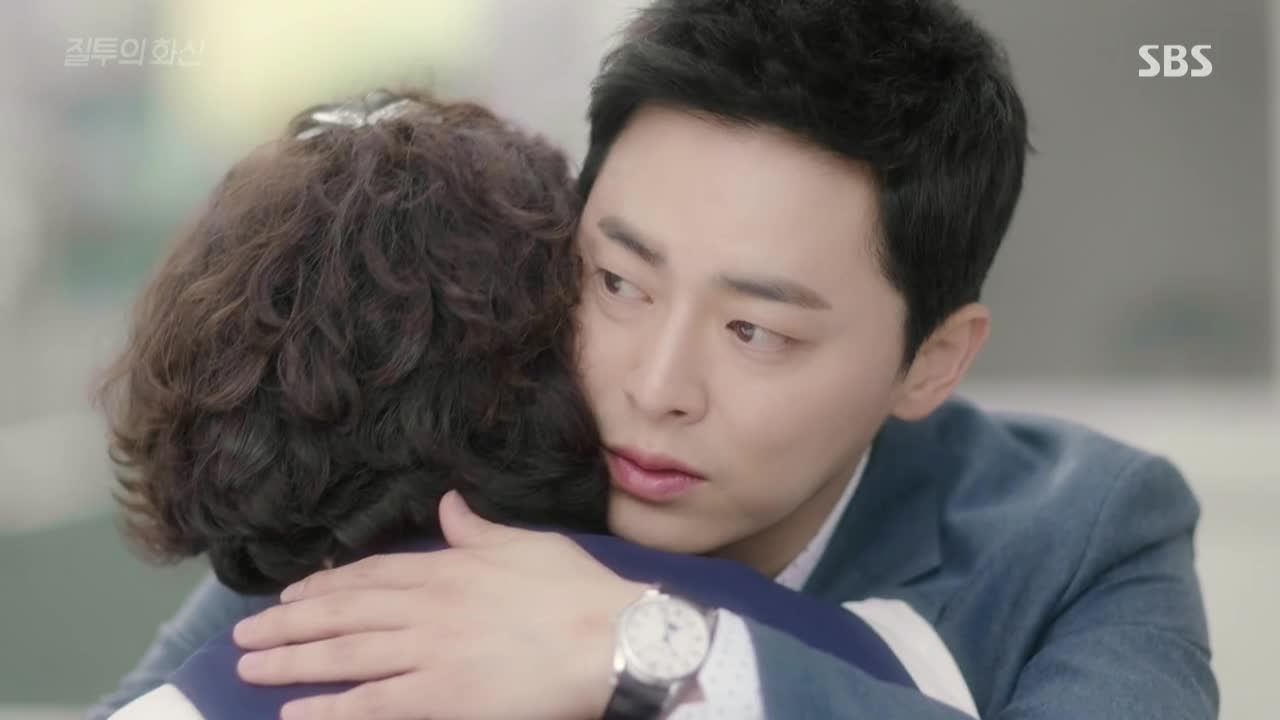 RELATED POSTS
Tags: featured, Go Kyung-pyo, Gong Hyo-jin, Jealousy Incarnate, Jo Jung-seok