Moon Lovers: Scarlet Heart Ryeo: Episode 18
There are no shortages of bitter pills for Su to swallow this episode, and for the most part, she seems to base her decisions off what's best for So and his fledgling rule. At the same time, his being king requires him to make some tough decisions, and Su has trouble understanding why the man she loves can't always be benevolent. Basically, it just sucks to live in Goryeo.

EPISODE 18 RECAP
When Princess Yeonhwa declares that she'll be marrying the king, Su says she won't believe it until she hears it from So's lips. Yeonhwa takes the time to school her on the politics she knows nothing about, telling her about all the opposition So now faces as king—including all the powerful families that now seek to dethrone him. Where were these people when we had two mad kings on the throne?
Regardless, Yeonhwa notes with a sigh that while Su may be happy to wait in the king's quarters, a woman who's happy with only that cannot become queen without endangering the king's position. Also, there's the scar issue to take into account, which is why Yeonhwa proposes that the two of them merely coexist when she inevitably becomes queen.
Wook tells So much of the same thing, making sure to mention the scar. But, he adds, if So really wants to marry her, he can… only if he gives up the throne. So what'll it be? "I will not lose either," So says confidently. "I rose to the throne in order to acquire everything. Do you really think I would cast Hae Su aside over a scar?"
That's when he points to his own face, to the scar hidden beneath the makeup. "I became king with a face like this," he reminds Wook.
We get a quick cut to a quiet dinner with Su and So before cutting back to So at court, with yet another official telling So all the things he's already heard. The only solution, in this day player's opinion, is for So to marry Yeonhwa. All his problems will disappear that way.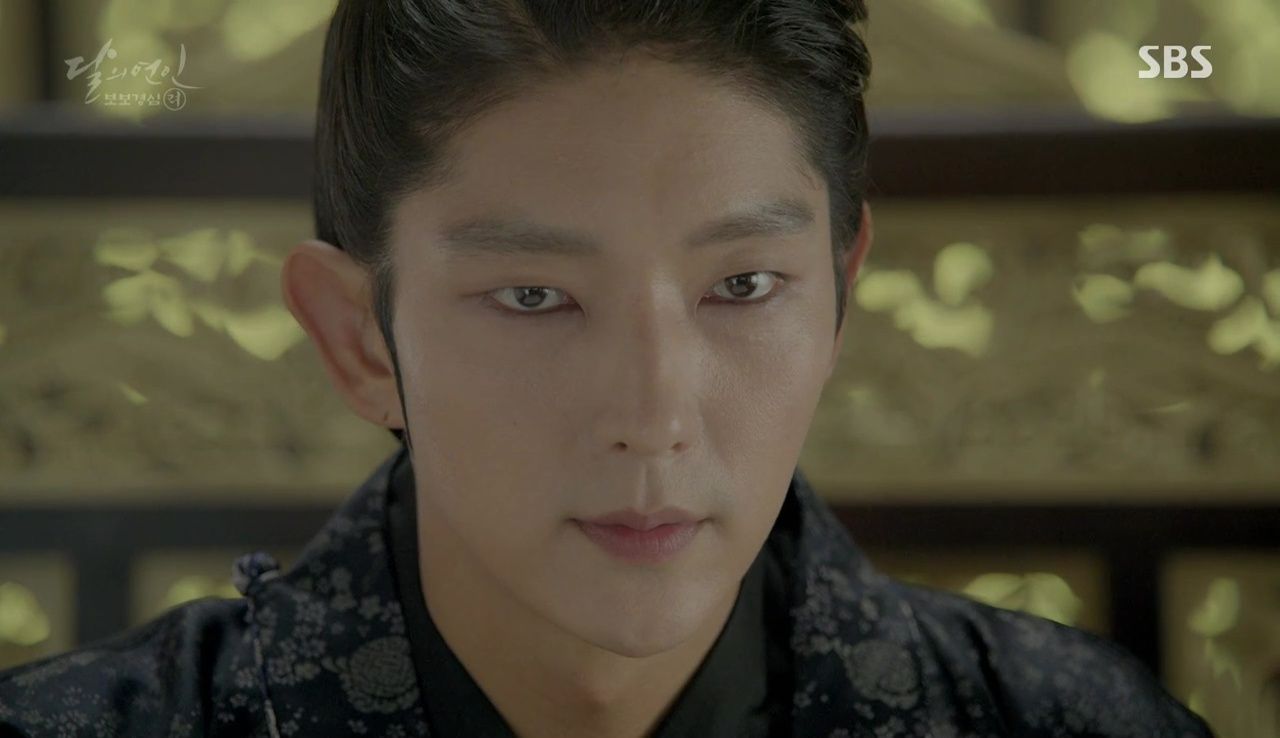 Still, So remains steadfast in his decision to marry Su. Next up to state the obvious is Queen Sinjeong, who gives her two cents about what So should do in order to keep the throne, adding that she even cast her own son out so that she could do what was best for the nation.
The queen hands over a book written by Su, filled with symbols no one recognizes (Hangul, which wouldn't be invented until 1446) as proof that she's not normal. Again, So claims to not care about such things. "What is so great about this seat?" he mumbles, causing Queen Sinjeong to note that the only way he'll leave that throne is if he dies.
Su tells Chae-ryung that her wish to stay in the palace has been granted, but she soon gets pulled away by Astronomer Choi. He laments that this tower used to be so full of life when all the princes would gather and visit, pointing out all the things each prince liked best. But those times are gone now, which is why he's brought her here: "You must give up on marrying the king."
He says that she should be the one to end things since So will remain stubborn until the end, but Su meekly protests that she doesn't want to. "I've been through a great deal and waited a long time. I only did so because I believed I would be happy one day. If I were going to give up like this, I would have given up long ago," she says.
But Astronomer Choi asks her to remember all that's happened in this palace, and all the danger the king is now in. The only way to prevent more tragedy is to consolidate power around the throne, and he very bluntly says that Su is not the person to help So do that. Su starts to have trouble breathing, and puts a hand over her heart.
Su goes into the king's quarters with a huge smile on her face and something hidden behind her back, which she reveals to be masks. She wants them to go out to the market and have a bit of fun, and proposes that they disguise themselves in order to leave the palace.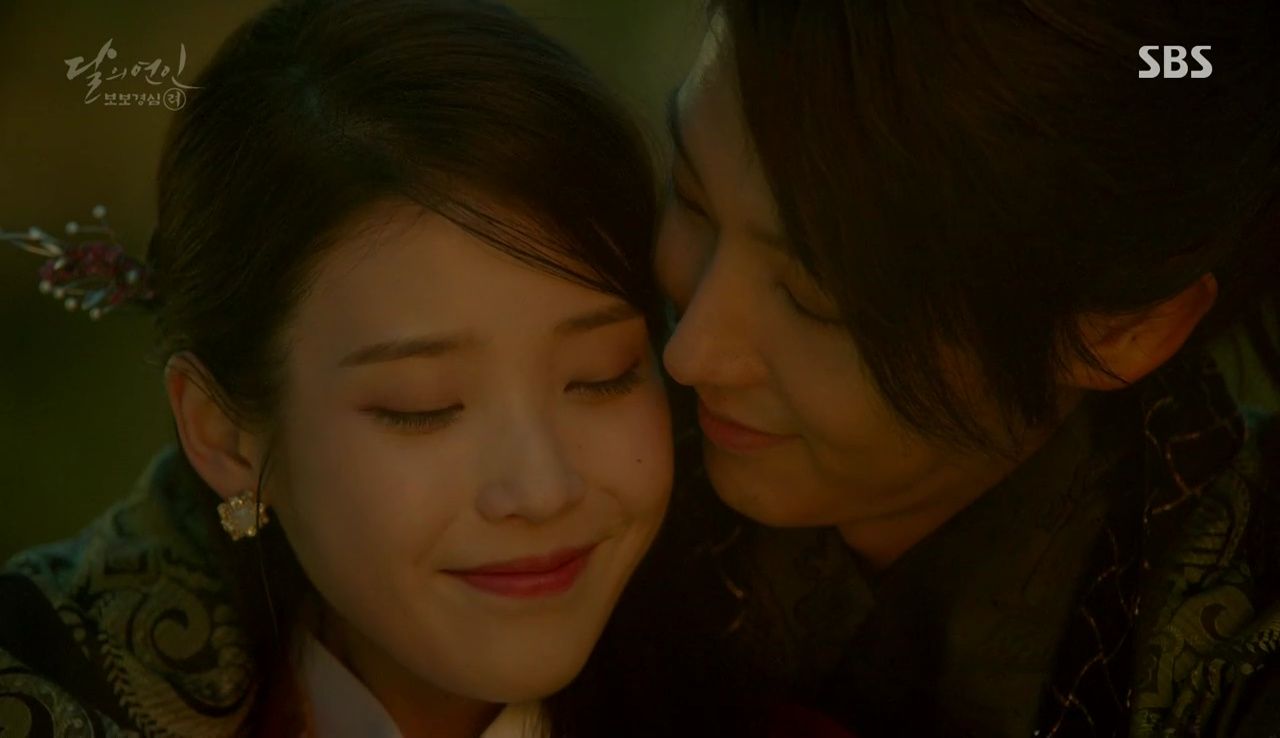 So out they go, with the town all lit up for the exorcism rite festival. She teaches him how to pinky promise, and he takes her hand as they walk, like a true couple. At one point, he pulls her into a backhug and kisses her on the cheek, and there are smiles all around.
She takes him to the prayer stones she piled, causing him to jokingly asked if she did so to pray for him to propose. She unabashedly says yes, considering that he said he'd propose to her at the prayer stones. So says that she should've run away when she met him, and she fires back that she did run, but he caught her.
"I don't remember what drew me to you," So says. "There are so many reasons now. I have to live with you. Let's live together. Marry me." He waits for her reaction, but as her eyes slowly well with tears, his expression turns concerned.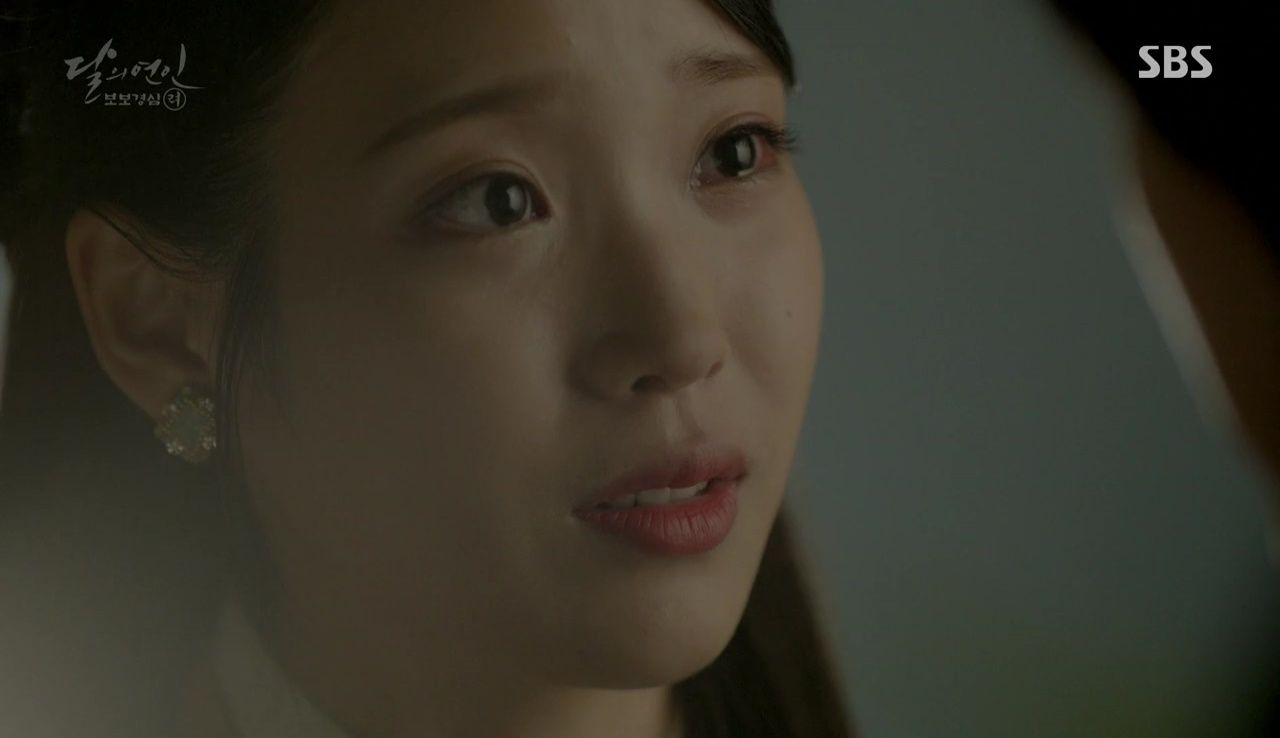 "I cannot," Su replies. (You could have tried leading with that.) "I cannot do anything for you except to provide you comfort. It will be hard for me to marry you." Angry now, So asks who's been putting these ideas into her head, though he stresses that no one can force him to give up on her.
She says she won't give up either and will continue to stay with him, but that if she became a queen, she'd be too constrained by palace rules. She promises that she'll be all right as she touches his cheek, and So says that she can't leave him even if he can't marry her.
"I will not let you go," he continues. "Because you are mine. You can't go anywhere—I will never allow it." Then, pulling her into an embrace, he softly adds as a tear rolls down his cheek, "You are my only queen."
Cut to: So and Princess Yeonhwa's low-rent marriage in front of a meager audience. Wook leads the celebratory cries of "Manseh!" at Yeonhwa becoming queen, even as Su tries on the bride's wedding hanbok for herself, looking longingly at her reflection.
Jung and his mutton chops find her at the prayer stones, as he claims he also wasn't invited to the wedding. He jokingly asks if she won't just come to him now, offering to take her far away if she were to ask him. If she ever wants anything, he adds, all she has to say to him is, "I want it."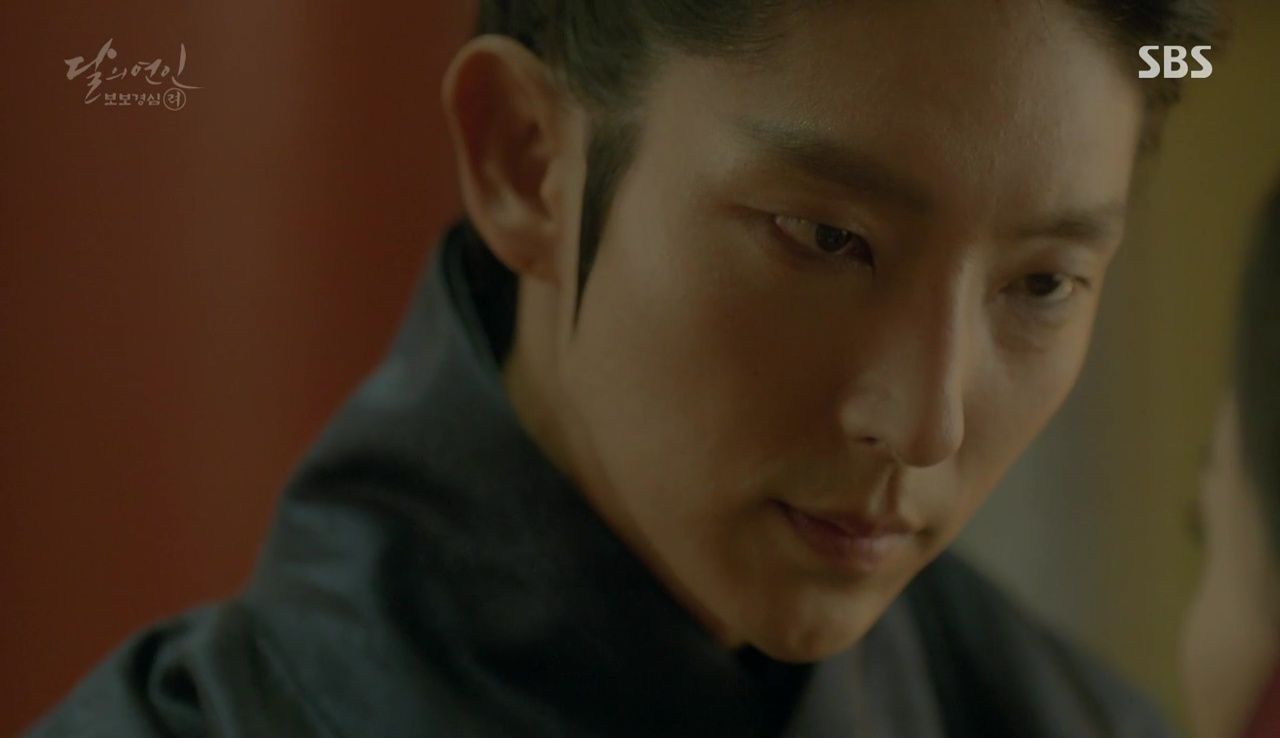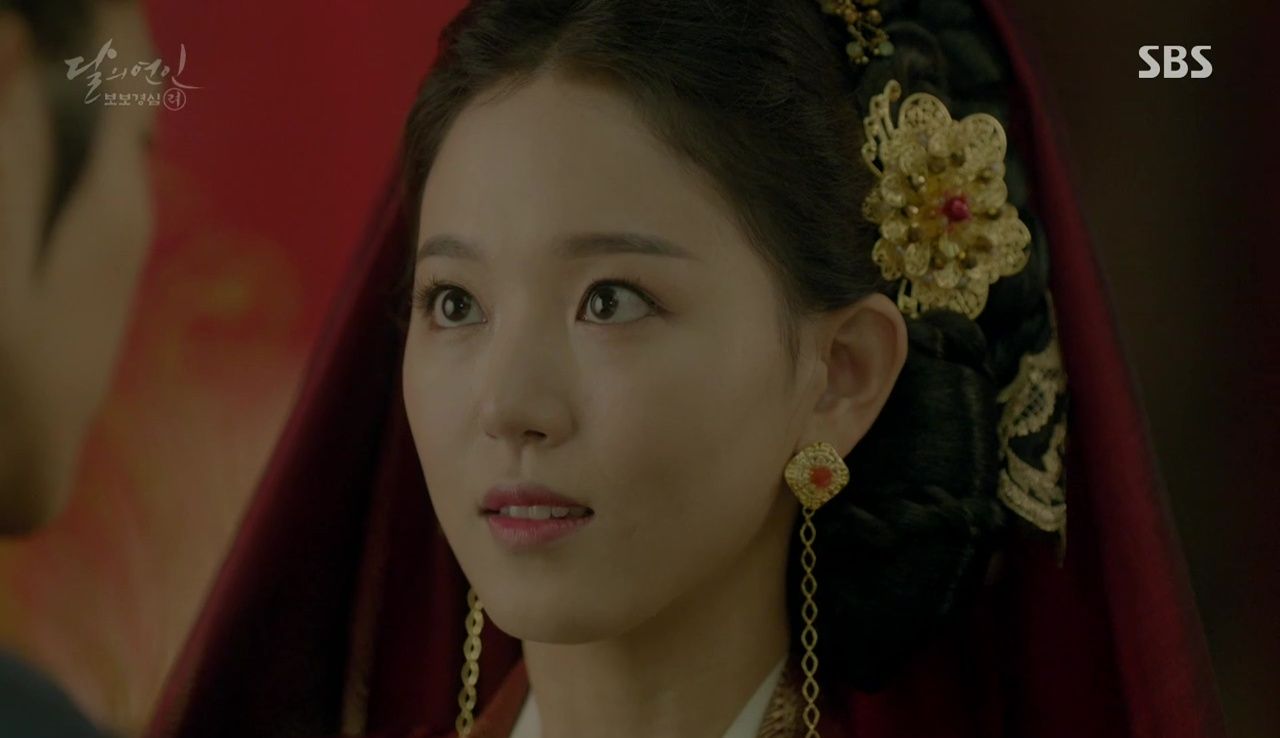 So unveils his bride in the marriage chambers, and gives her a long silent look before turning away from her. When he does, she warns him that Su could be used against him in the future, so getting rid of her now might be best.
He cuts her off there, telling her to focus solely on being queen. Burn.
Chae-ryung finds Su still at the prayer stones later that night, offering her an herbal pouch(?) to ease her suffering. They reminisce about Lady Hae and her prayer stones, which has Chae-ryung thinking of her late mother, who suffered from illness before she died.
Su kneels down next to her and prays to her own mother, repeating over and over again that she's doing fine. Chae-ryung knows better and takes her hands, as So watches them from afar.
Later that night, he stands outside Su's room, but can't bring himself to open the door. She just stays curled up inside.
Now that So's married Yeonhwa, his vassals finally show up for court, and So's all smiles as he decides to adopt the era name for his reign as Gwangdeok. Everyone's agreeable to this and his other decrees, save for one: Wook still wants the king to relinquish his control over the nation's finances.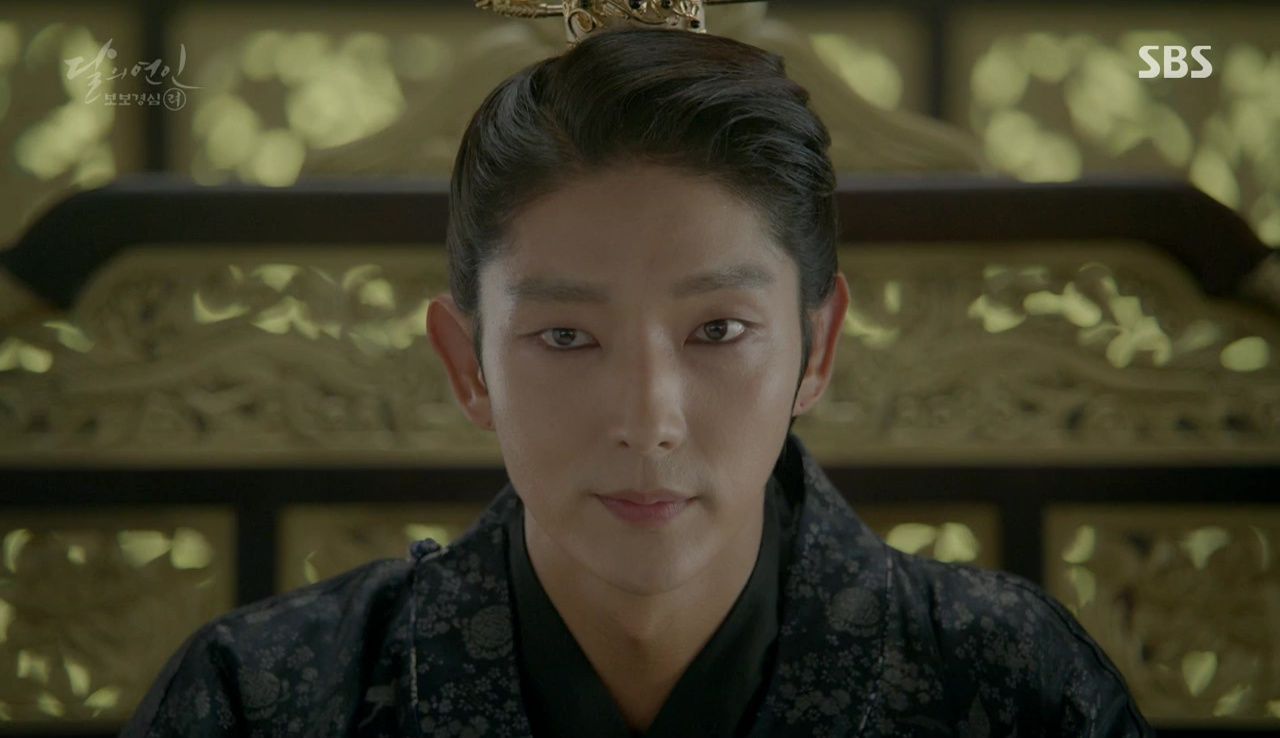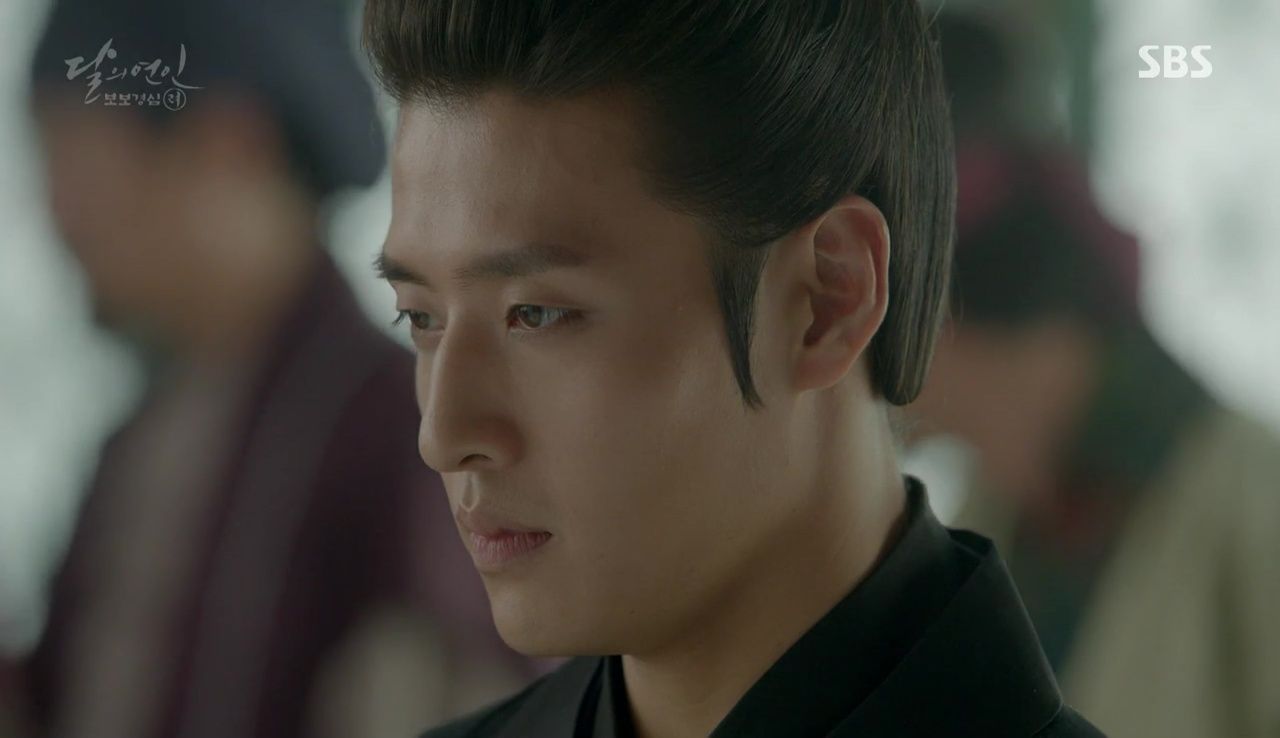 Surprisingly, So agrees to Wook's terms, and declares that he'd like to spend some time reading important literature while his loyal ministers help run the government. He cavalierly declares that fourteenth prince Jung is guilty of treason and will be stripped of his title and sent to his maternal family's hometown, which gets a rise out of Baek-ah.
But So continues as if he were discussing the weather, adding that he's not going so far as to execute Jung—that'll only happen if he steps foot within the capital.
Of course, when Queen Sinmyeongsunseong hears of this, she collapses. Baek-ah tells Su and Woo-hee the news, explaining the severity of the punishment. Su's knee-jerk reaction is to try to talk to So in order to help Jung, but Woo-hee warns her that she doesn't have the authority to do so. For now, Baek-ah says, they'll just have to wait until the king calms down.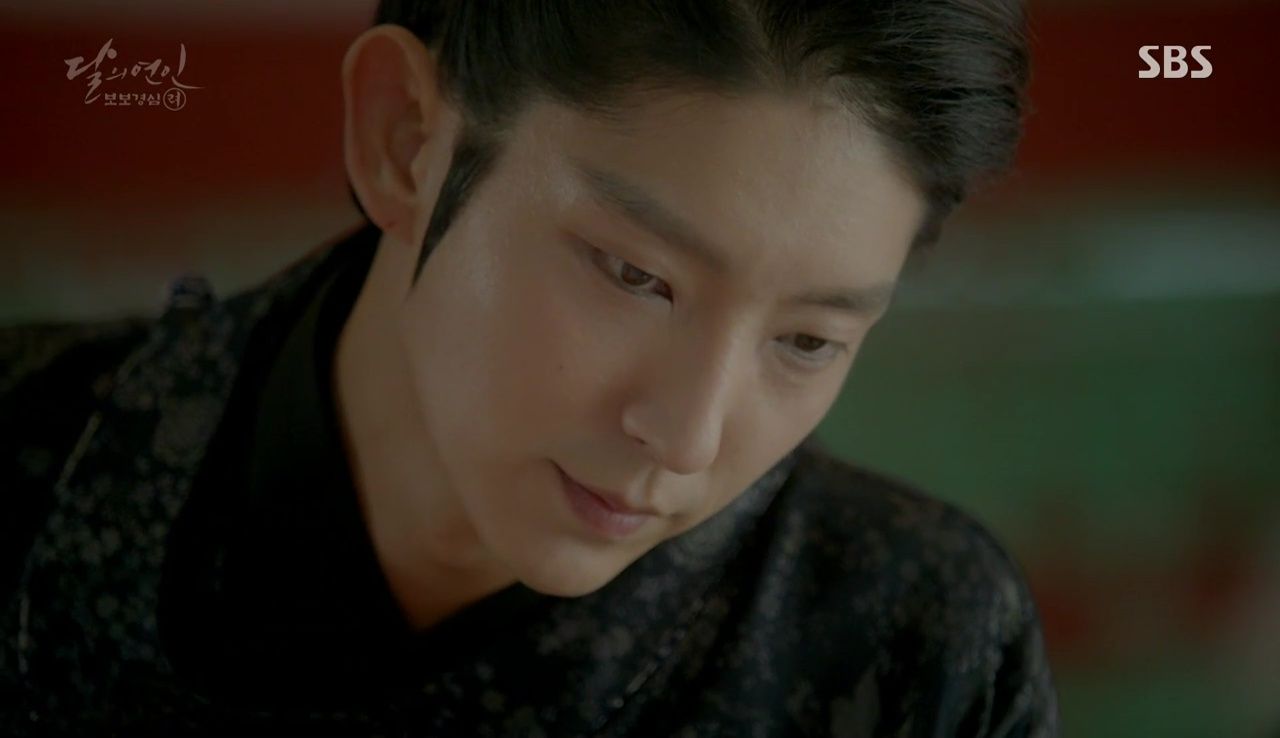 Yeonhwa calls on the ailing Queen Sinmyeongsunseong, who only wants to see Jung. But it's So who comes to see her first, decreeing that only he will see to his mother's care from now on.
He tends to her like a son while she can only stare up at him, wheezing. His use of the word "Mother" has her struggling even harder, though her power is now limited. Jung is still refused entry to the palace.
Over dinner that night, Su asks So to allow Jung to see their mother, but So slams his chopsticks down as he calls her out for sending for Jung—he'd forbidden anyone from sending him messages, so he knows that only she could've done it.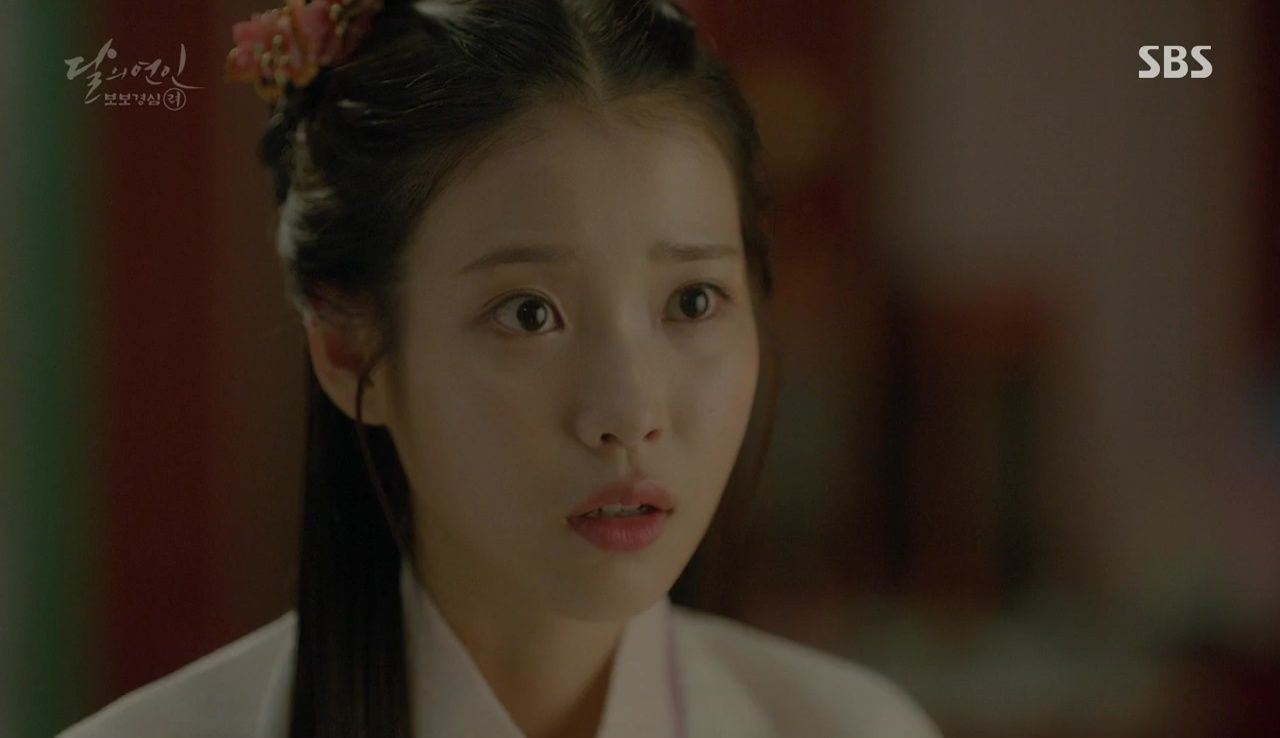 She admits as much, but claims her reasons are just, since the queen is on her deathbed and Jung deserves to be there. But So is adamant that Jung can't take one step into the palace, or it'll be his execution. "If Jung is allowed into the palace," he warns her, "I will not let it go, even if it is you."
Jung stands outside the palace gates in silent protest until he can barely stand anymore. Baek-ah passes him a jug of water as he goes into the palace, but Jung only pours it over his head.
So tries to spoon medicine into his mother's mouth, but she keeps her lips clamped firmly shut. She's been doing as much for five days, refusing to take even a sip of water, and turns away from So's touch like a possessed person from a crucifix. The only word she manages to repeat is Jung's name.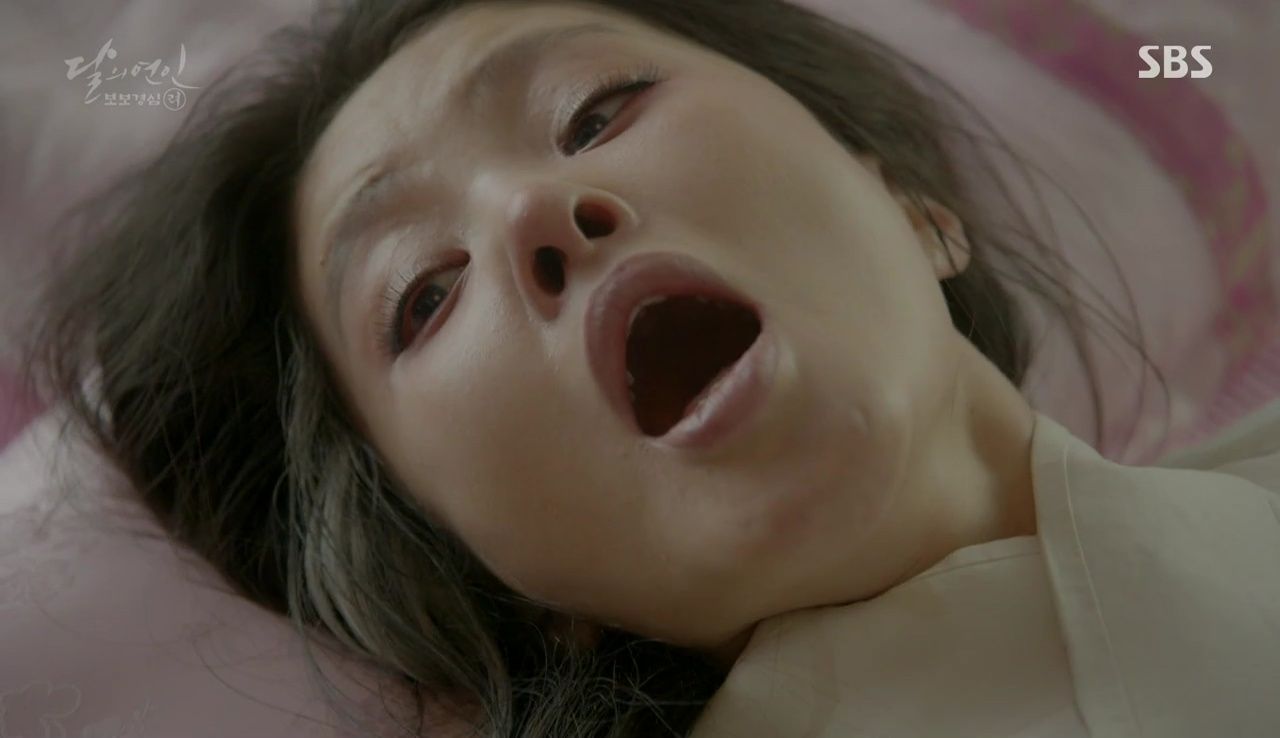 But So tells her to take stock of the son who's actually caring for her now, not the son in the afterlife, or the one who can't even be with her now. He is king, and he is taking care of her.
The queen opens her eyes then, remembering when So walked into her room covered in blood after massacring a temple full of monks. The words he'd said to her then come back to haunt her now: "You may have cast me aside, but I will not leave. From now on, I will make sure I am all you see."
So smiles in the present to see this realization dawn on her face. He promises to build her a grand temple and spread tales of how wonderful a mother she was. A tear rolls down his cheek as he adds that everyone will know of their relationship, and their relationship only.
"I will become your one and only precious son. This… is my revenge for you abandoning me as your child." The queen gasps for air, struggling to say "You… you!" as she reaches up a hand to his face, though it's almost as if she wants to claw at him rather than caress him.
She has the strength to do neither though, and dies. So breaks down into pitiful tears as he holds her hand to his face, relishing a mother's touch he could never receive in life.
Su is the one to venture out of the palace gates to deliver the news to Jung, and presumably is the one to allow him into his mother's quarters to see her body. So allows for this small visit, but says that after he's done saying his goodbyes, Jung's punishment will be reinstated.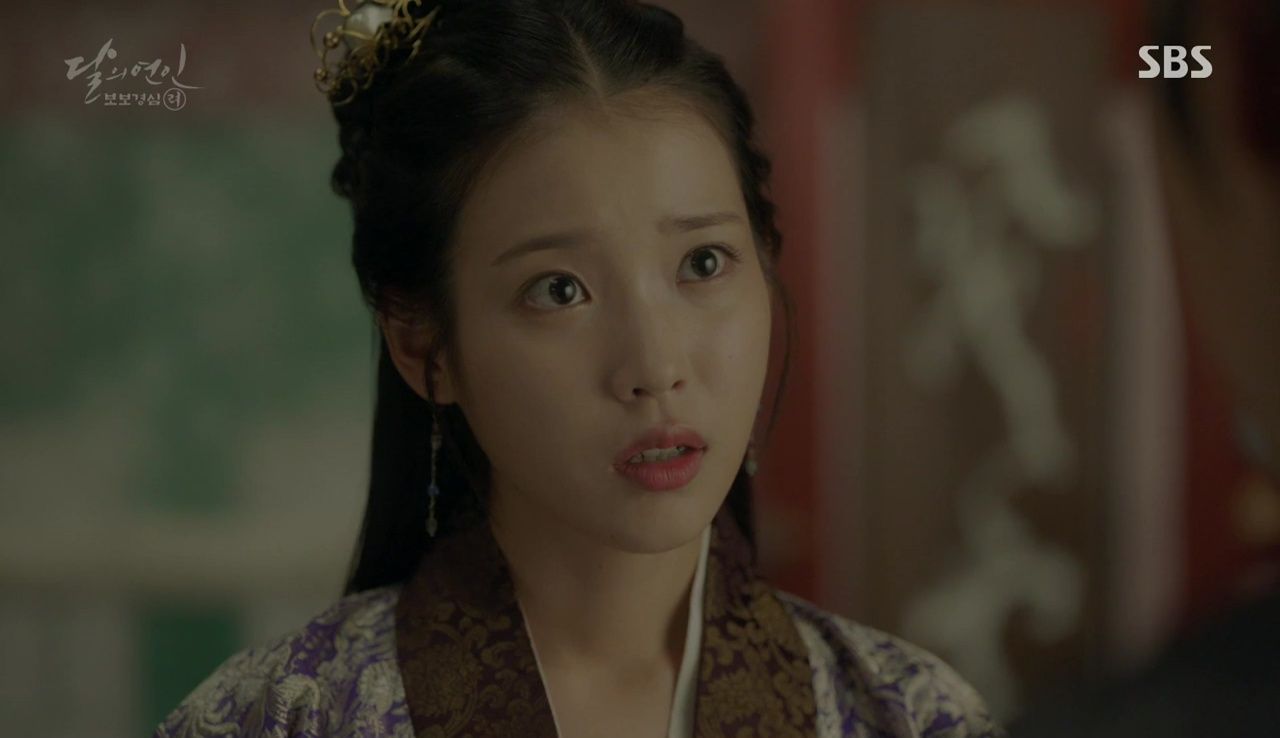 Later, So tears into Su for taking Jung's side, and takes special offense to her pitying Jung when she, of all people, should be on his side. "He is not the pitiful one. I was always the one who was cast aside!" So bellows.
Pointing to the scarred side of his face, he tells her that his mother touched him right before she died. "In all my twenty-five years of life, I have never had her to myself. Is it so wrong for me to send her off on my own?" he cries.
Su reaches up to touch his face, but he catches her wrist before she can. "You should have said you understood me," So grits out with tears in his eyes. He leaves, and all Su can do is sigh.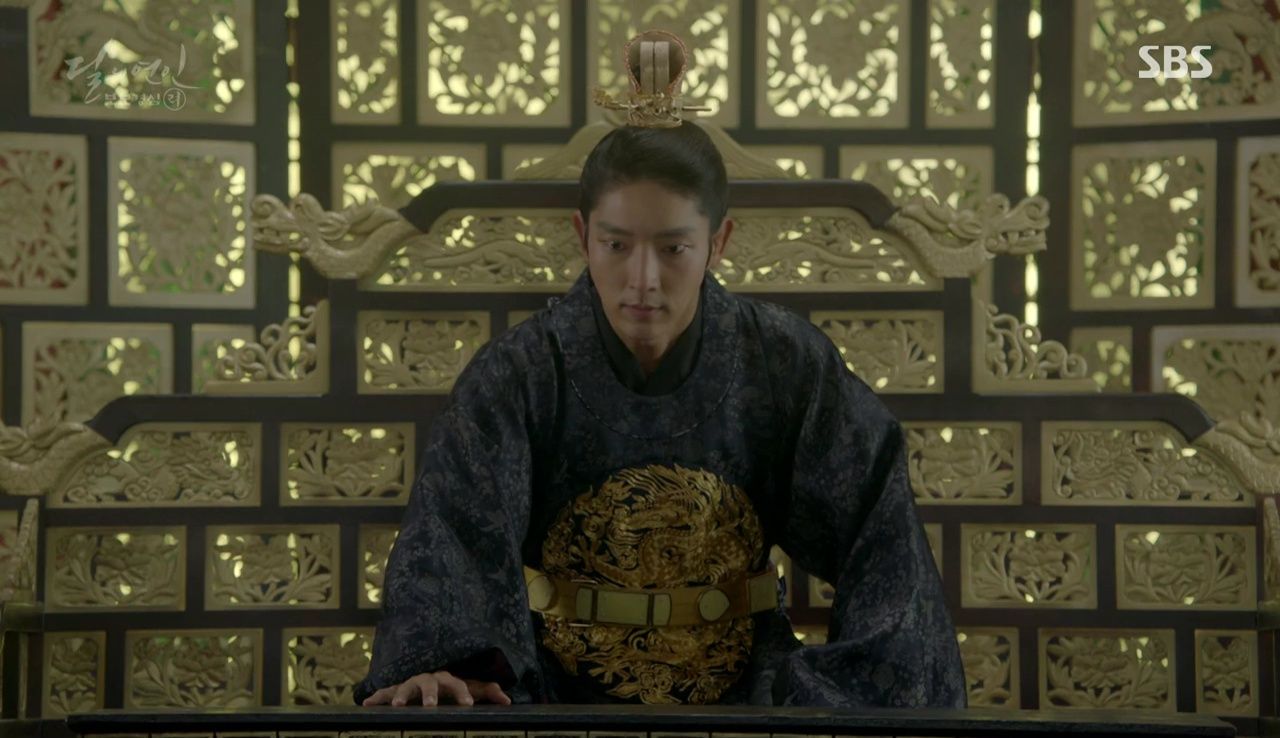 So finally confronts ninth prince Won over how involved Wook was with the mercury in the bathwater (he knows that Chae-ryung was a servant in Won's household before she came to Damiwon), and Wang Gyu's supposed revolt, which ended with the deaths of Eun and his wife.
Though initially reticent, the idea of being plunged into boiling water as punishment gives Won the courage to blame everything on Wook, who he claims colluded with the late king Jeongjong. So has just one more question for him, but we don't hear what it is.
Su goes looking for Chae-ryung in Damiwon, but notices that there's a pallor over the other court ladies. Woo-hee would rather show her than tell her what's going on, since outside, Chae-ryung has been rolled up in a torture taco to be beaten. The king has ordered all the court ladies to watch as a warning.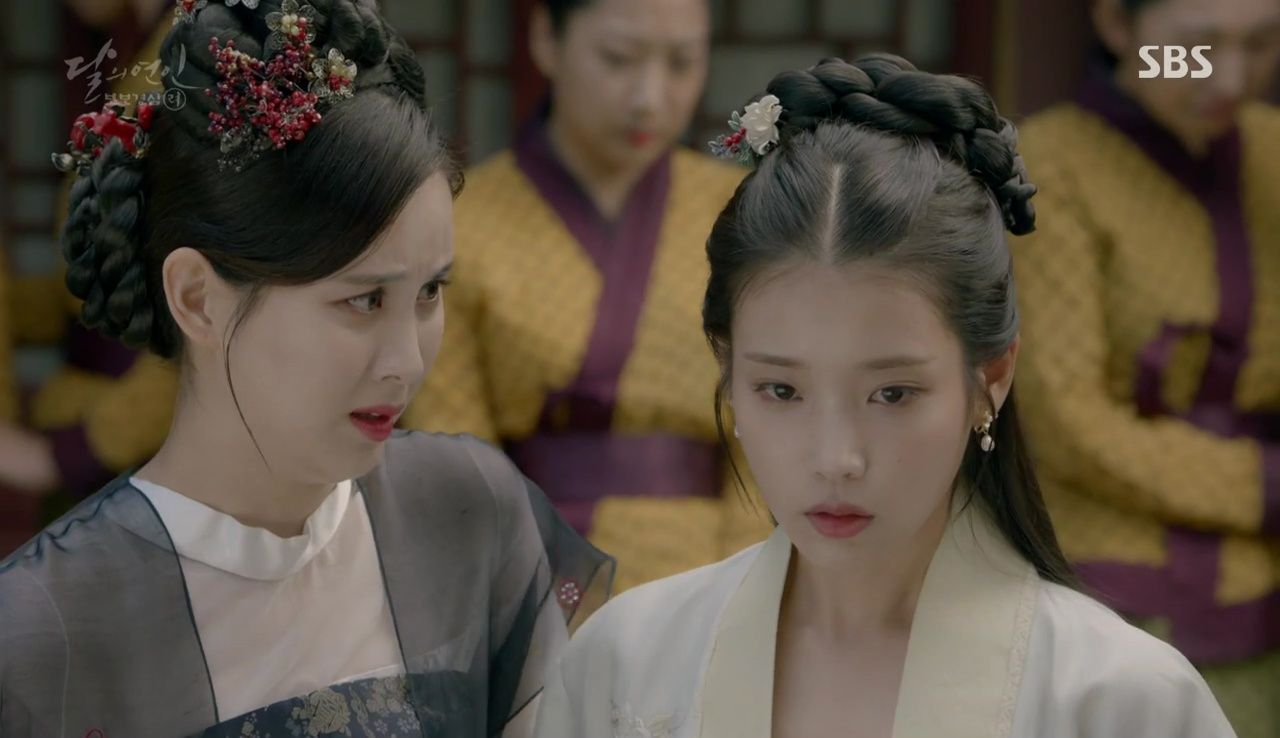 Su can't understand why the king would do such a thing, until Astronomer Choi explains that a court lady from Damiwon committed a very serious crime. It's only then that she's told who's in the taco, causing her to stumble toward the bloody mess that was once her friend.
Woo-hee's there to catch her when she faints, at least. We get a flashback montage of Su and Chae-ryung's memories before finding Su lying in bed, with the king on a rampage over the royal doctor not telling him of Su's illness.
Su wakes whispering Chae-ryung's name, and pushes So off when he reaches out to her. "How could you? How could you do that to someone?" she screams. That's when So opts to tell her that Chae-ryung had been spying on her the whole time, and that she was the one to deliver the book of Su's Hangul to Queen Sinjeong.
He adds that not only was Chae-ryung partially responsible for them not getting married, but that it was she who put the mercury in the king's bathwater. It was Chae-ryung who betrayed Eun and prevented his escape by telling Won and Wook about the secret cave beneath the baths.
That's when Su remembers that Wook had told her he heard about the cave from Chae-ryung, so she knows what So says is true. Therefore, he stands by his decision, though Su tearfully claims that Chae-ryung's only crime was being born a slave.
She doesn't brush off the comforting hand So puts on her shoulder at least, but she gives him no other reaction as he gets up to leave. Seeing a letter that wasn't there before, Su reaches for it…
But we cut to So throwing a fit in the throne room, as he realizes how much he's been played by Wook. He knows he only has Baek-ah and Su left on his side, which he blames on Wook: "Now I've become a monster to Su. I will never let him get away with this."
Su opens the letter and recognizes Chae-ryung's hand instantly, which is yet another reminder that Chae-ryung lied to her (she'd claimed she never learned how to read). In the letter, Chae-ryung claimed that she'd wanted to confess everything to Su, but knew her time was running short.
We see Chae-ryung Lite in flashback as a beggar on the streets. Ninth prince Won had shown her mercy by giving the little girl silver, and when she became a servant in his house, he taught her how to read and write. In the letter, she tells Su that she loved him, and has no regrets, nor does she resent anyone. Is that letter supposed to be written in blood? When did she have time to write that thing?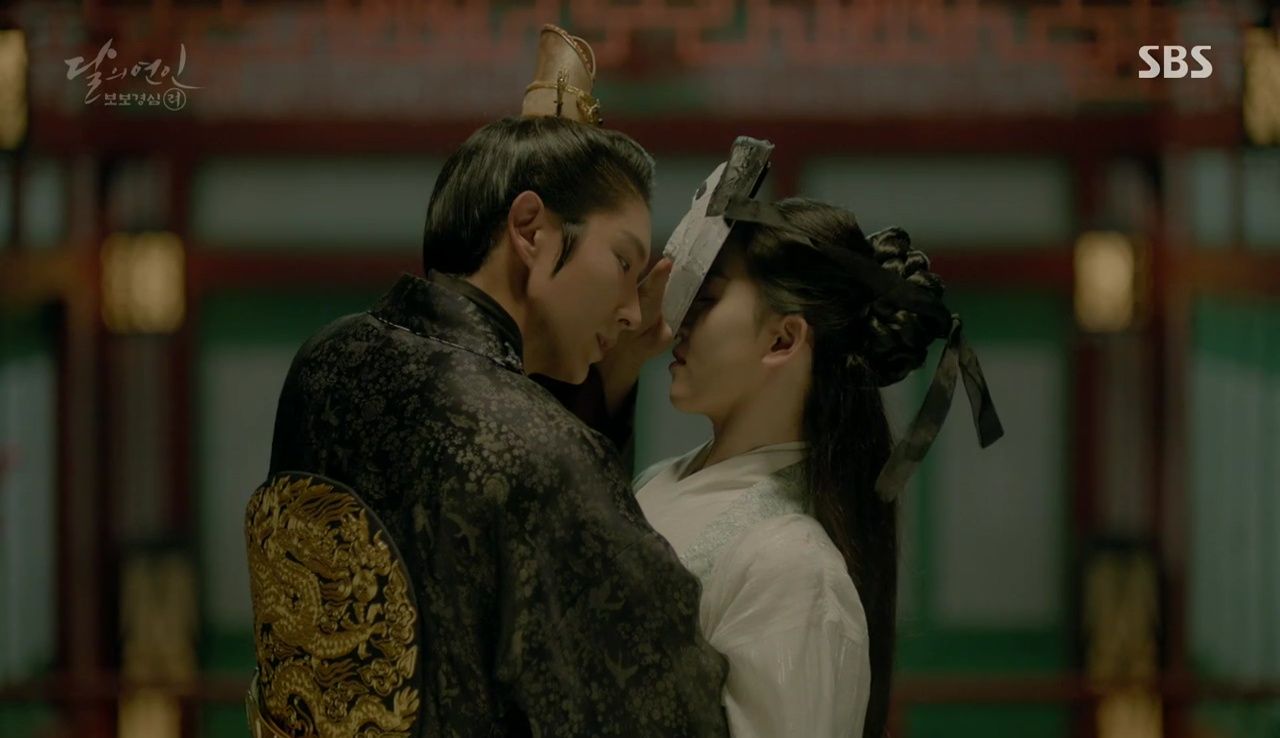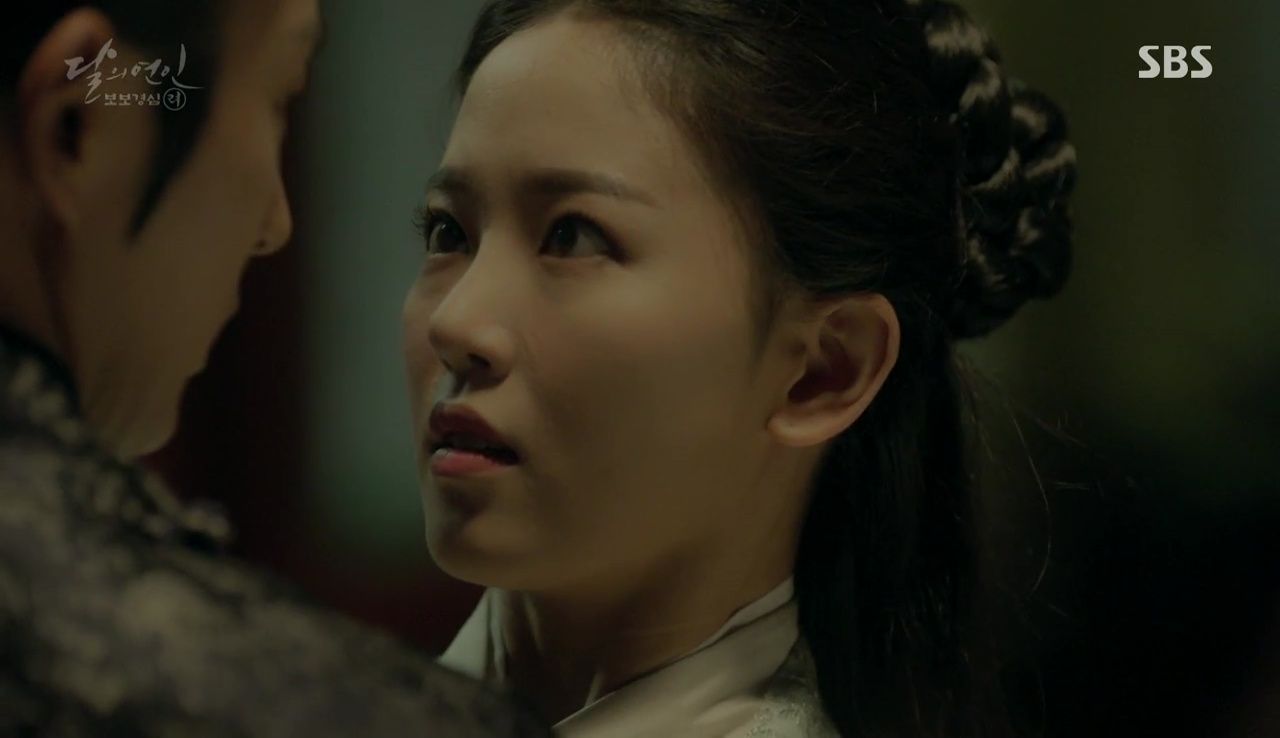 So stumbles into his room (I'm guessing he's drunk?), and thinks that Su is the one waiting on his bed wearing a mask. But as he pulls her close and lifts the mask just enough for him to be able to kiss her lips, he pulls back suddenly before he does, unmasking Yeonhwa instead.
He pushes her away, roughly reminding her that he warned her against getting greedy. She reminds him that he told her to fulfill her duties as a queen, and part of her duty is to bear him a son.
She more or less embraces him, causing So to smile ruthlessly. "What if I tell you to turn your back on Wook and your family? Can you do it?" If she were to do so and become his only queen, he adds, then he'd make their son the crown prince. She'd be both the queen, as well as the queen mother.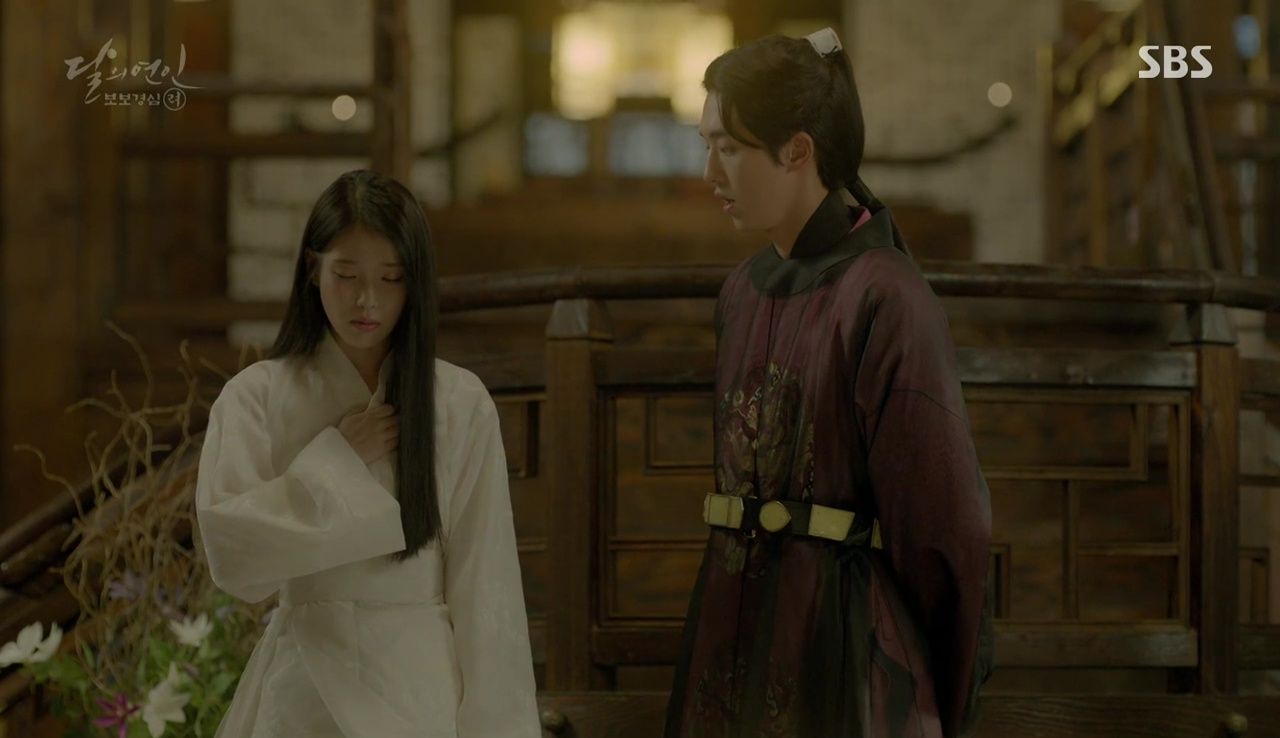 Su stares listlessly at the baths in Damiwon while clutching the hairpin So gave her. When Baek-ah approaches, she whispers flatly that the person she loved killed her little sister, and doesn't seem to listen when Baek-ah says that the king already knew that Chae-ryung was up to no good. That was why he tried to send her away from the palace in the first place.
"No matter what she did wrong, how could he punish her so cruelly?" Su replies. "I don't know how to escape this misery. Chae-ryung was just a girl in love." She grips her chest as she becomes asthmatic again, causing Baek-ah to worry for her.
She turns to him then, and offers him her hairpin. She wants him to give it to Jung, and to send him a message: "I want it." Of course, Baek-ah doesn't know the meaning behind the message, but promises to deliver it just as she said it.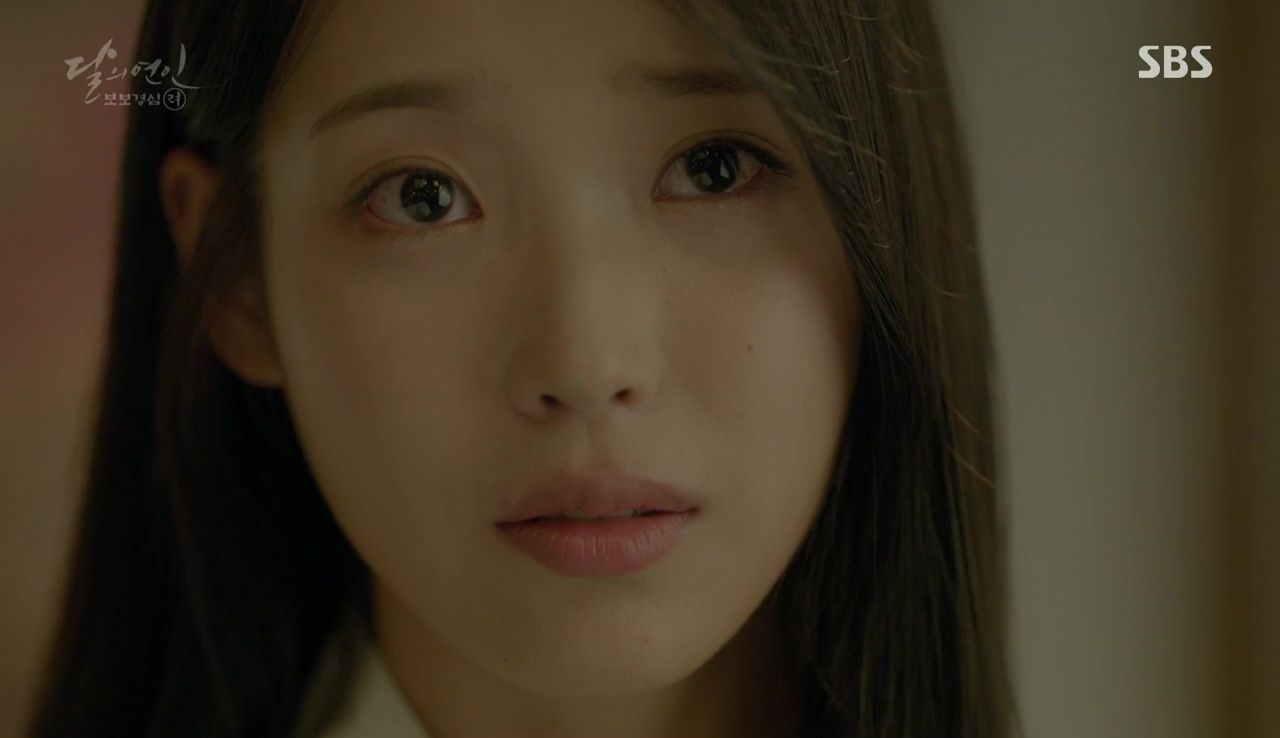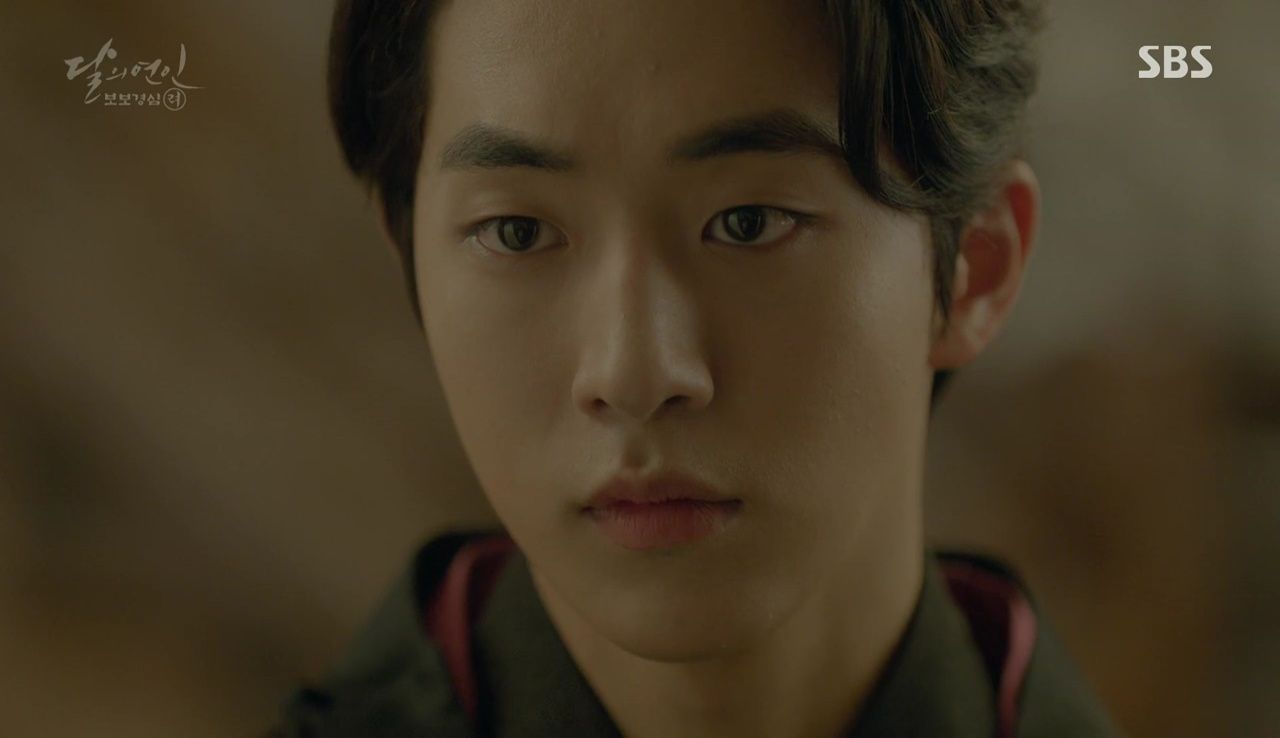 COMMENTS
I'm having a tough time understanding Su on this one, despite the understandable pain of losing someone she thought well of. It'd be a completely different situation if Chae-ryung had been killed and no one thought to explain her crimes to Su, but Su got a pretty good breakdown of Chae-ryung's deceit from So and Baek-ah. Plus, she had proof that Chae-ryung was lying in the letter. So why can she not understand that Chae-ryung's actions had consequences?
It's not even as though Chae-ryung was only caught spying—So went into detail about her poisoning King Hyejong's bathwater (and Chae-ryung had no qualms whatsoever about leaving the blame for that on Su's shoulders), how she deliberately betrayed Su's trust in stealing her writing and reporting on her, not to mention how she was directly involved in the deaths of Eun and Soon-deok. Doesn't Su feel even remotely wronged? Can she really blame all of Chae-ryung's actions on the fact that she was only taking orders? Enough to not trust the man she loves when he justified his actions?
Trust has always been a prevailing problem between Su and So, though it's been a one-way street for a long while now. So never fails to give Su the benefit of the doubt, but she spares none for him—and it's really beginning to feel like whenever she does have an opportunity to take his side, she opts not to. I get that he was being unreasonable when it came to his mother, but he had character-driven reasons for wanting her all to himself. All he wanted from Su was for her to understand him, but she couldn't. Though that I can understand from her end just a little, since she likes Jung, and thought it would only be fair for him to see his mother. She got her wish in the end, and So didn't fight her on it, which says a lot.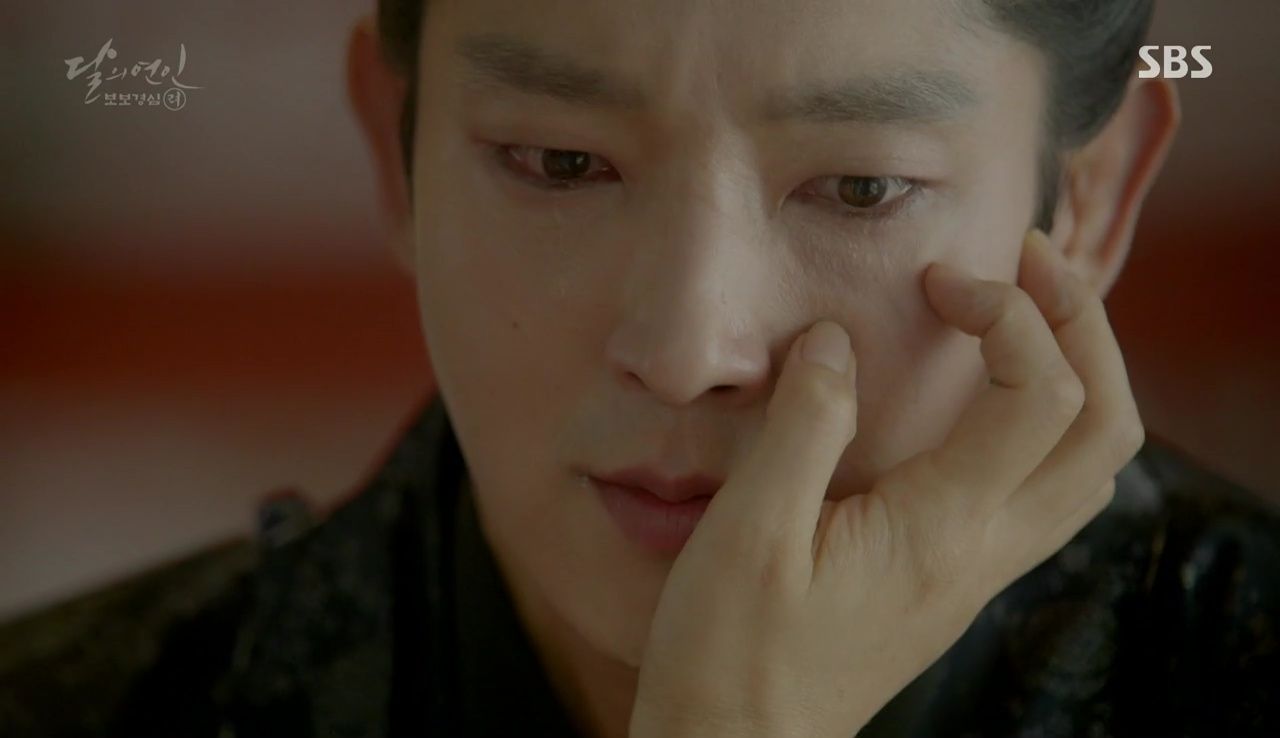 That being said, So's scenes with his mother were the highlight of the episode, and they felt like the only anchor in the sea of fly-by-night scene cuts we've been getting. Finally, the camera saw fit to linger on something for more than a few seconds, and what a face to linger on. So's been all over the map now that he's become king, and it's been hard to follow his lines of thinking when, for instance, he acted very bizarrely in court. All that smiling and agreeableness might've hinted at some ulterior plan, but the directing did nothing else to help lead us to that conclusion. Barring any hints, his behavior just left me scratching my head. I honestly don't know what to make of it.
But his behavior with his mother felt grounded in something real, something we could actually understand, as we saw in So the lost boy who only ever wanted his mother's love. He did get his revenge after all, but his revenge was just another way for him to try and reach out to her—if he couldn't have her love by choice, he'd at least have the illusion of it. In the end, he only wanted her to acknowledge him as her son, and even at the bitter end, I'm inclined to think she didn't. And that seems fitting for her character, who's been thoroughly and unexplainably awful her entire life. It'd feel like cheating if she were redeemed in the final hour.
However, I have no qualms about So believing whatever he wants to believe about the intention behind his mother's touch, because he's just so pitiful. It's heartbreaking that he'd take that ambiguous, clawing hand as affection, only because it was the first time his mother ever even touched him. But the facade melted away when she actually passed, and he looked more lost and devastated than ever as he held her hand to his face just to feel that touch she'd never willingly give. It was very well played, and I was with him every step. With Su, I just feel resigned. But who knows—maybe the time spent apart will help give everyone some perspective. Or it'll just make everything worse.
RELATED POSTS
Tags: featured, IU, Kang Haneul, Lee Jun-ki, Moon Lovers: Scarlet Heart Ryeo