On the Way to the Airport: Episode 11
As Su-ah settles down in her new surroundings, she finds it easier to think clearly about the things that truly matter to her now that she's separated from the things that distract and torment her. But no matter how deeply she ingrains herself in her new serene lifestyle, she can't shake the feeling that something irreplaceable is missing. But is that feeling worth the upheaval of everything she's worked for until now?

EPISODE 11 RECAP
After seeing Do-woo, Su-ah flies back to Jeju Island. A flight attendant informs her that she's sitting in the emergency assistant seat and requests her help in case of an emergency, which has Su-ah recalling how she asked Do-woo the same thing on one of their previous flights together.
Hyo-eun is waiting for her return, and is all smiles because she's already befriended the local kids over soccer. The next morning, Su-ah starts to accompany Hyo-eun on the bus to school, but one of the other moms tells her that they take turns dropping the kids off. She warmly invites Su-ah to coffee instead.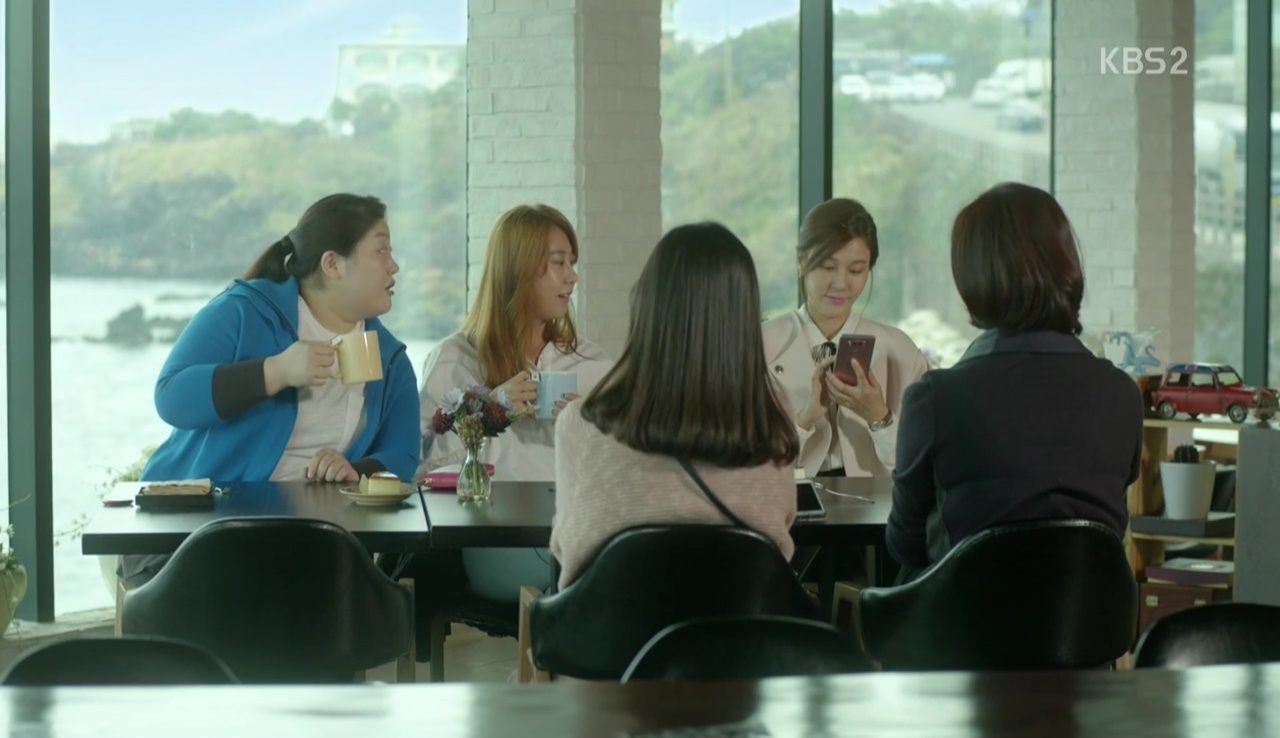 Su-ah sits in a café with the other moms, who laugh and reflect over Jeju Island being an escape from reality, calling life here idle and free. One of the moms peeks at Su-ah's phone and notices that Su-ah has been looking for a house in the area to move in, and they guess that Su-ah has never lived in Jeju for a long time before.
As she walks home, however, she recalls telling Do-woo about living on the peaceful, windy island when she was younger, and he'd asked if she wanted to live there. She sighs, thankful for their memories together.
Grandma Young-sook notes an old woman doing morning radio exercises in a public playground and unexpectedly joins in. When Su-ah calls, Young-sook gushes that she's happily enjoying her healthy single life. She's happy to hear that Hyo-eun is doing well, but Su-ah really called to inform her that she wired her some money from her severance pay.
As the other moms walk home, a man drives up and asks if they know Su-ah. They start to giggle at his handsomeness and question their relationship, but he quickly assures them that he's just Jin-suk's former coworker and was asked to see how Su-ah is doing. Wary of the neighborhood moms' nosy gazes, she invites the man to her cramped and messy home.
After a pause, the man asks her to come with him. As he drives, he explains that one of his sunbaes was once in the same position as she is now, and he'd settled down in a specific neighborhood perfect for the kind of solitude she's looking for. When they arrive in the secluded, quaint neighborhood, she instantly falls in love with the house, the atmosphere, and the wind blowing through the fields.
She takes pictures of the area, calling it a place far from the world, just like Do-woo. She decides on a new way to cope with her feelings for Do-woo: every time she wants to tell him something, she'll send a text message to herself instead. She smiles out the window as Jin-suk's coworker drives them home.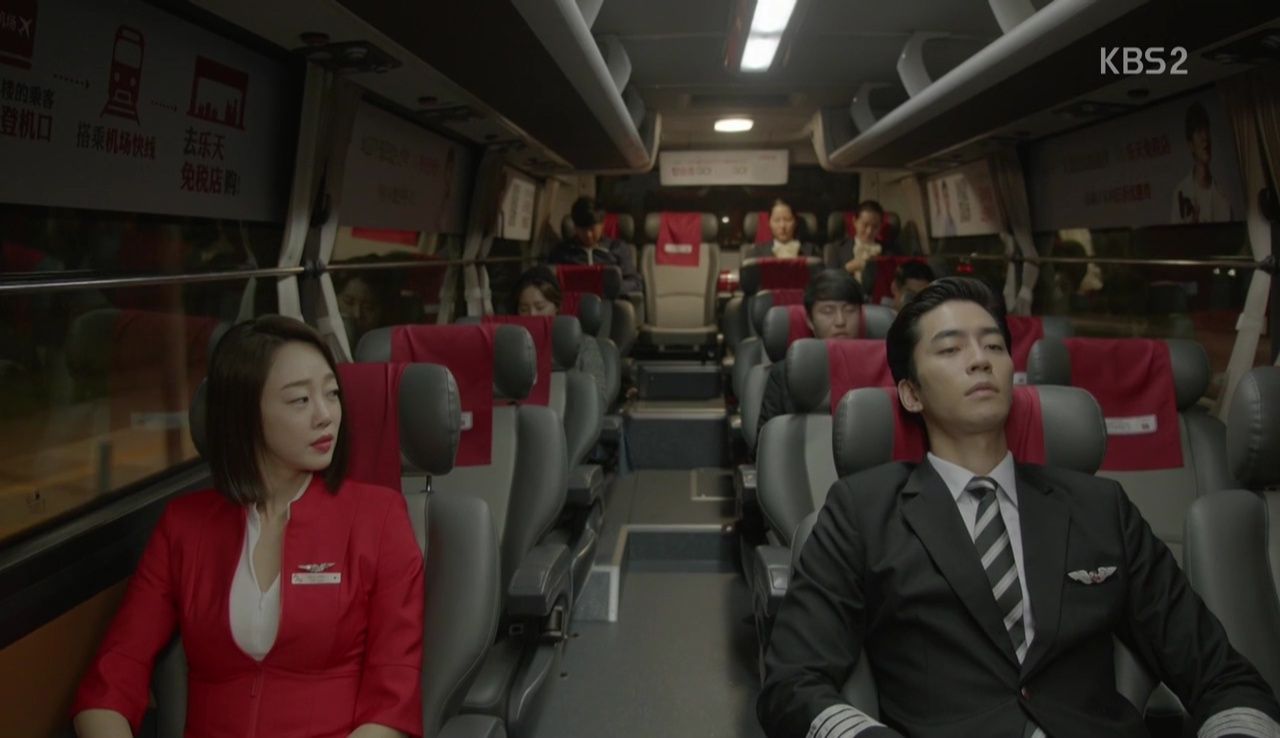 Everyone, from the flight attendant crew to Hyun-joo, wonders where Su-ah ran off to and whether it was Jin-suk and Mi-jin's affair that drove her to flee. Je-ah calls Su-ah to hatch a plan to catch Jin-suk and Mi-jin in the act tonight, but Su-ah assures him that the two are just friends. She hangs up before he can say anything more, but Je-ah is determined to avenge his sister.
Sure enough, Jin-suk texts Mi-jin for a drink as they take the bus home from the airport, asking about the guy who's been coming onto her. She brushes him off, but he's still in high spirits—he only has to see his wife a couple times a month now. Mi-jin asks if Su-ah is still in Korea, but Jin-suk's lips are sealed. Hyun-joo calls to ask Mi-jin about Su-ah's whereabouts, but Mi-jin has no information to give her.
Mi-jin asks Jin-suk to stop hitting on her, especially when she's already feeling guilty about Su-ah. As their bus reaches her stop, she notes that her guy is waiting for her as she expected. Jin-suk starts to snarl that he'll take care of him, but the moment Mi-jin notes that they might know each other, he backs off. Lol.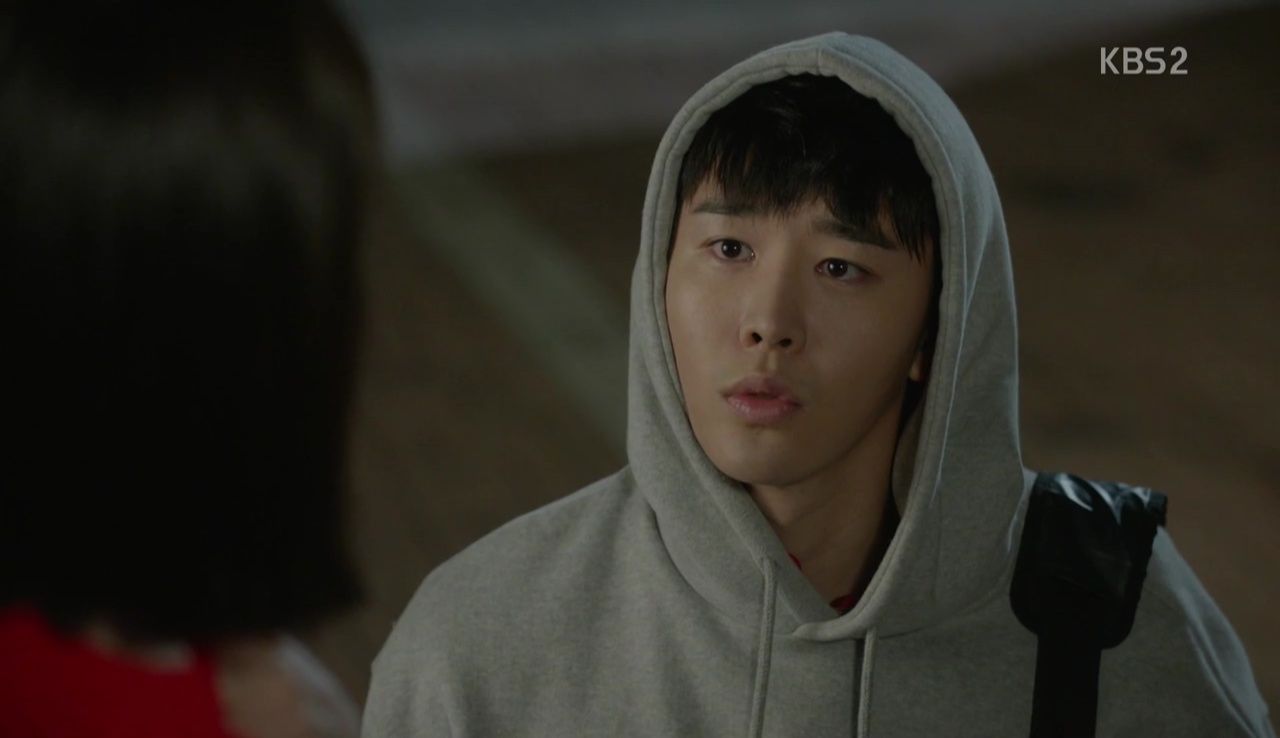 Je-ah escorts Mi-jin all the way home, vowing to stay with her to make sure Jin-suk doesn't show up again. He tells her dryly that his "idiot sister" still trusts in Mi-jin's loyalty, catching her off guard. When he suggests they order some food, however, she offers to cook instead.
Jin-suk watches the whole interaction from afar. He still hasn't recognized Je-ah, and just tut-tuts to himself that the best Mi-jin could do was a needy and jobless younger man, wondering who it is.
Back in Jeju, Su-ah mentions to Hyo-eun that she found a house she likes, but still isn't sure that they're staying. At that moment, Jin-suk calls to ask after Hyo-eun before quickly turning the conversation to Mi-jin: He tells her that he thinks she might be seeing someone, and asks if she ever mentioned who it is to Su-ah. When Su-ah tells him she doesn't know, he snaps at her for her cold attitude. After hanging up, Su-ah tells Hyo-eun that she's ready to move into the house.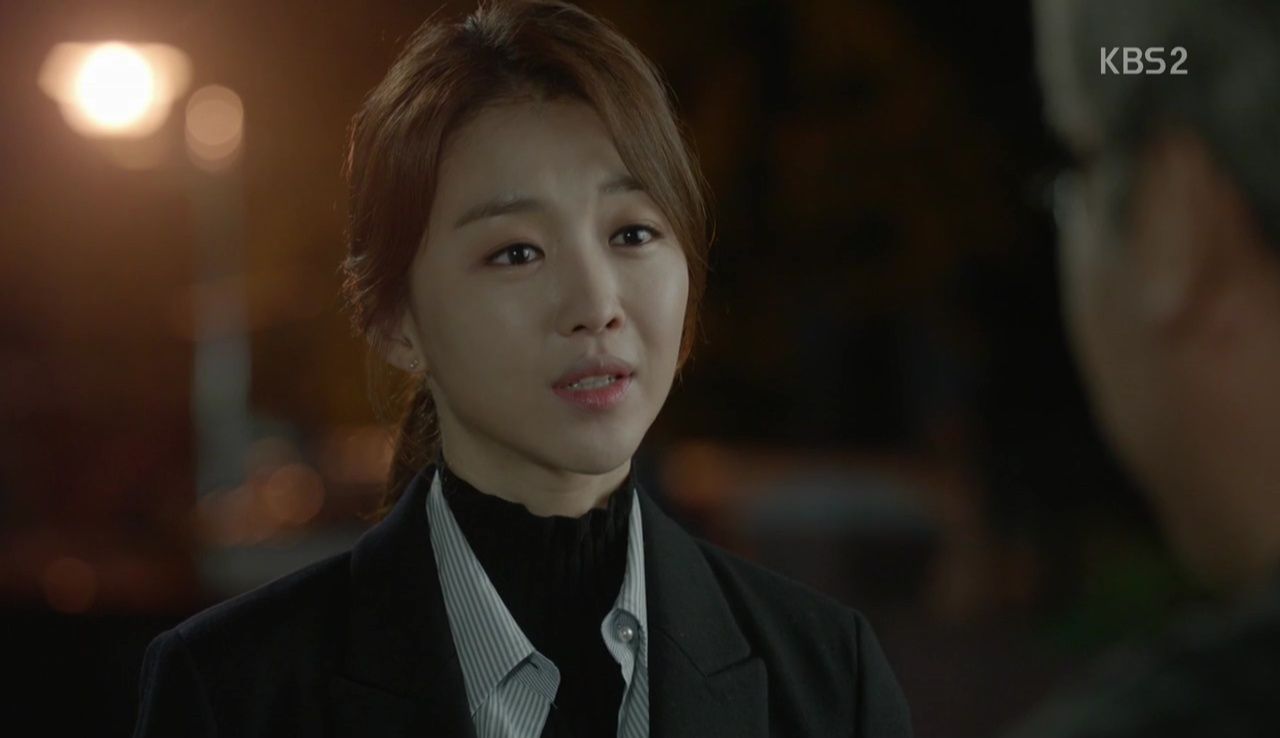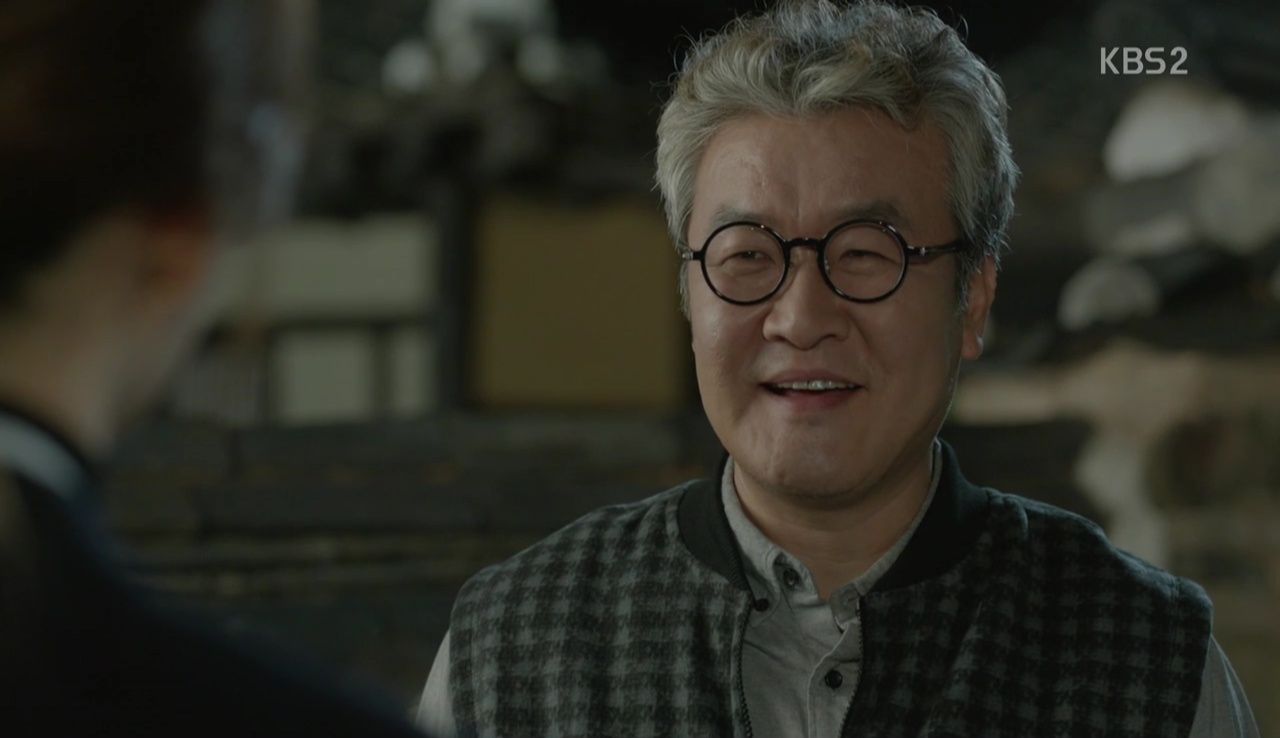 Hye-won leads a business meeting with Ji-eun and their team, but Ji-eun just sighs to herself that Do-woo should be here. Suk, too, is frustrated that Do-woo won't pick up his phone, wondering why he left him all alone with Hye-won.
At that moment, Hye-won returns home from work, and tells Suk that she doesn't mind being home with him. "I want to be Do-woo's wife for as long as possible," she says. Suk just laughs dryly: "We'll see about that."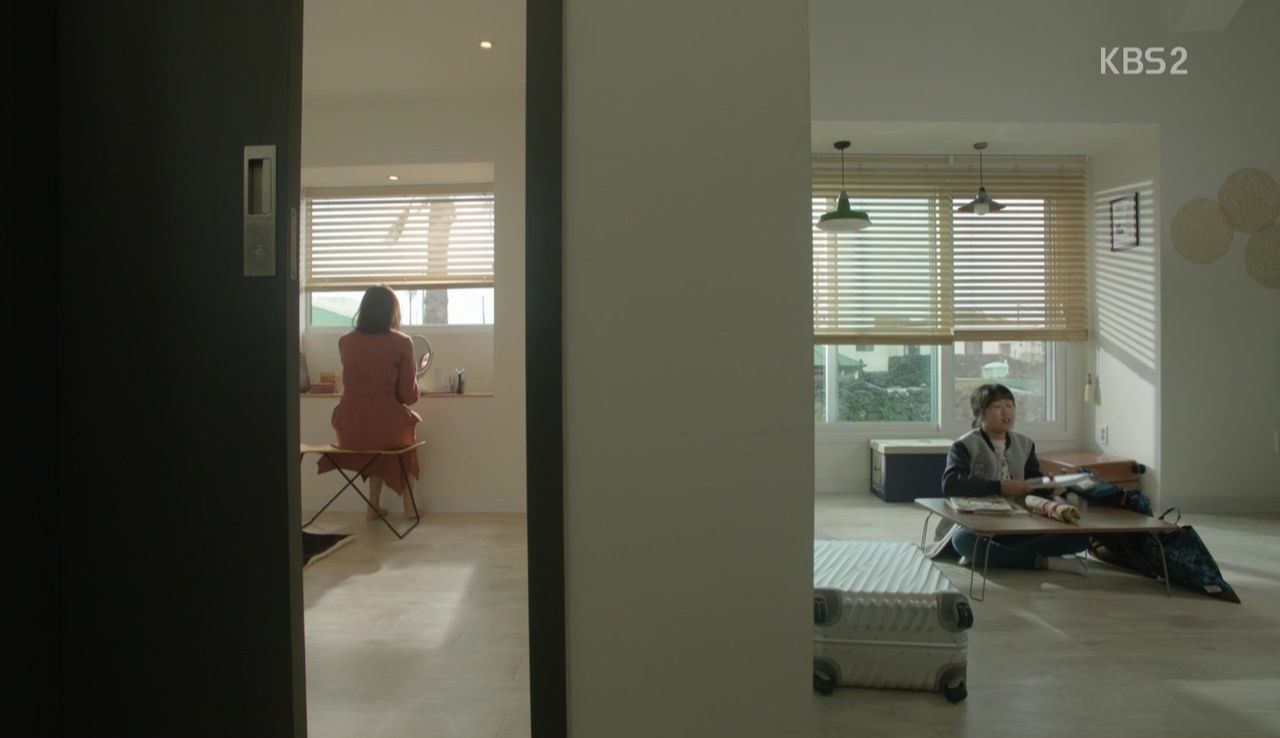 Su-ah and Hyo-eun move into their new house, loving it despite its flaws. The next morning, Su-ah prepares for a job interview, and Hyo-eun tells her she absolutely must get a job so they don't have to move back to Seoul. When Hyo-eun suddenly suggests that they can just lie about Su-ah getting a job however, Su-ah jumps up and makes her promise that they won't lie anymore.
As Hyo-eun heads to school, Su-ah texts "Do-woo" (that is, herself), telling him about the door in their house that won't quite open: "But it's nice—I forget to scold her because I'm too busy trying to open the door." She writes that his expressions and words still give her strength now.
Su-ah takes the bus to her interview. Just as she gets off, we see that the bus driver is actually Do-woo, but they don't see each other. (No!)
Su-ah is briefed by Jin-suk's coworker at Jeju Airport, who tells her she'll be on call once or twice a week. He promises to spread good rumors about her work ethic and experience so they can make better use of her, but she seems happy just to be in an airport again.
Suk packs up the ornaments Do-woo has collected so far, ready to send them to him. Just as he starts to curse Do-woo for still not picking up his phone, Do-woo calls, asking Suk to send Grandma's things to his address. Suk overhears someone in the background asking Do-woo to fill in for him again, but Do-woo just laughs and ignores Suk's questions about where he's been.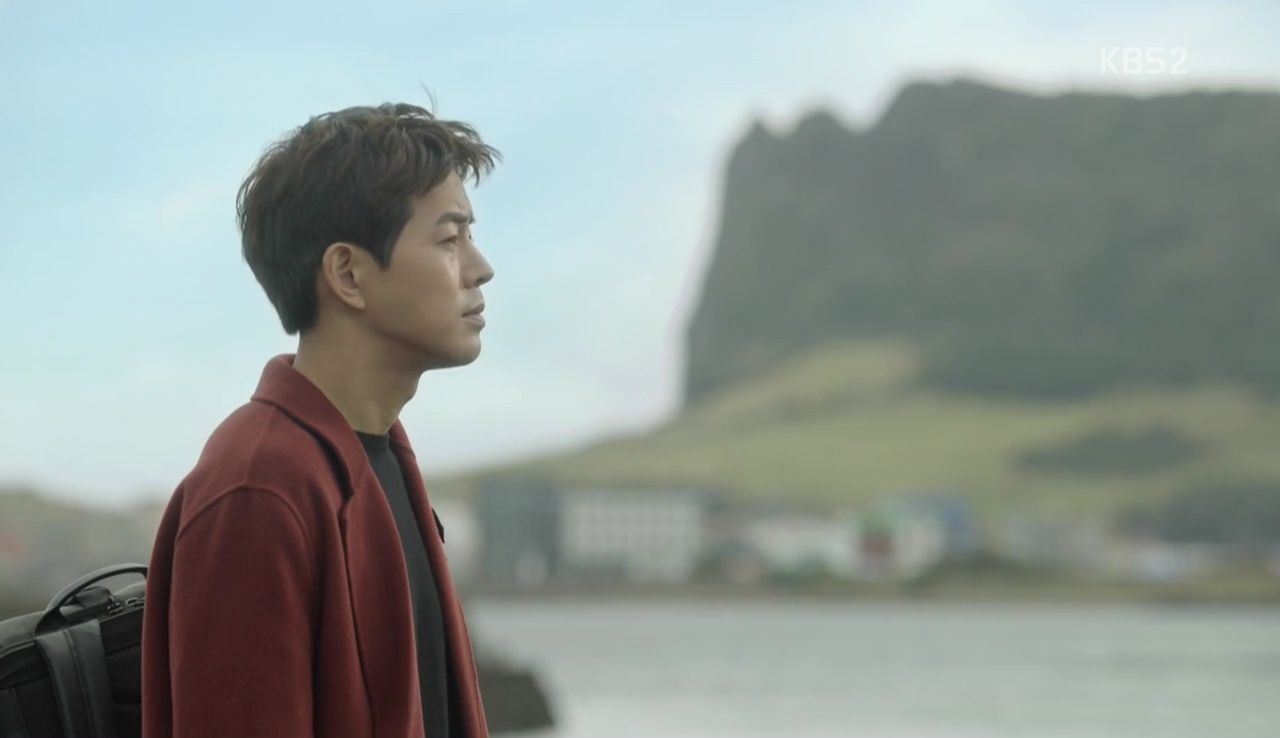 Do-woo fills in for the bus driver again, where an elderly passenger tells him that he's just like a local now. A flashback shows us that they'd met a while ago on the bus, when he'd helped her with her motion sickness. As he'd walked around Jeju, he'd realized that the place matched what Grandma wanted for her final art display. Back on the bus, Do-woo thanks the elderly woman for helping him find his perfect house.
As Su-ah gets to work at the airport, Do-woo starts constructing his oceanside gallery. As Su-ah walks home at night, she notes Do-woo fixing his bike on the side of the road. They still don't see each other, but Do-woo lights up the dark road for her with his flashlight, studying the way she walks.
Do-woo spends his days putting Grandma's works on display in his new gallery, but as he listens to music as he works, he thinks of talking about his favorite singers with Su-ah. When he finally decides to call her, he listens to the recorded image that it's a nonexistent number over and over again.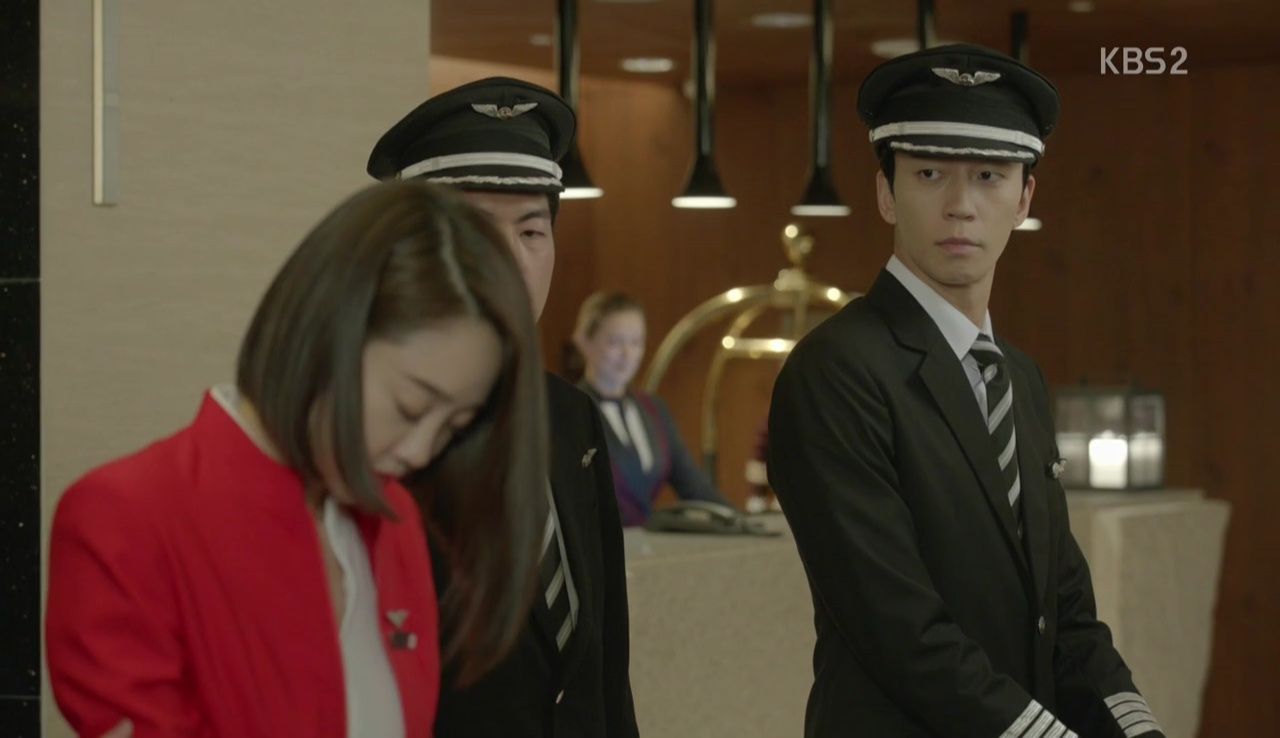 At the airport, the usually steely Mi-jin is exhausted and unwell. Jin-suk notices but doesn't say anything as she goes to take a quick rest in her hotel room. While in bed, Mi-jin asks their younger coworker Eun-joo if she's contacted Su-ah lately, but Eun-joo tells her she hasn't.
Hye-won meets with Ji-eun's mom, who points out rumors of her imminent divorce with Do-woo. She mentions that she's very interested in their old house, and that she plans to take it if she doesn't think Hye-won will be able to keep it in good condition.
Hye-won calls Do-woo, asking if his feelings haven't changed about their divorce. When he confirms, she tells him that she wants one thing from their alimony: the house. He tells her that he's capable of maintaining it, but she argues that she doesn't want it to become public property. When she keeps pushing, however, he realizes that Ji-eun's mom must be behind this, and advises her that once they make demands, they'll continue to do so. Still, says Hye-won: "It's my condition of divorce." Suk listens in on the conversation with a grim expression.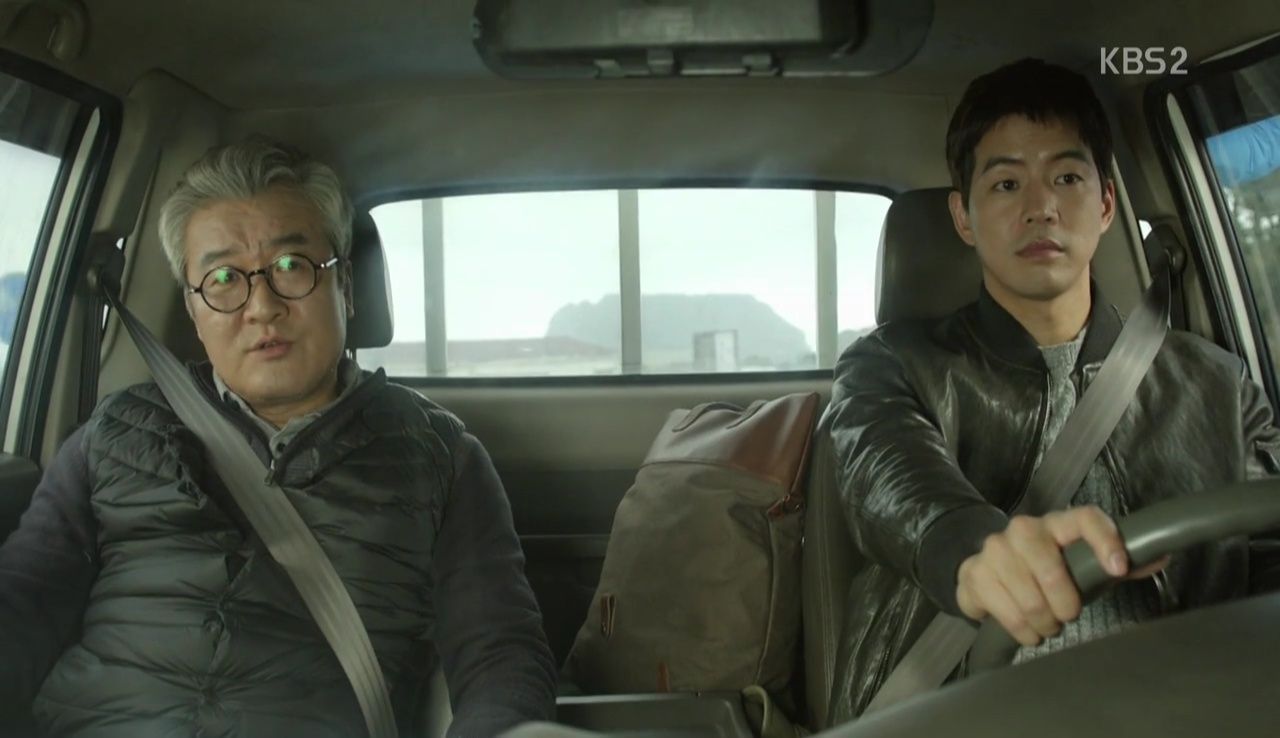 Suk comes to visit Do-woo in Jeju, jokingly lamenting Do-woo's new lifestyle—he'd expected something elegant, like Northern Europe, to display Grandma's works. When he asks if Do-woo plans to fulfill Hye-won's request for the house, Do-woo denies it, saying he just wants her to live in peace now.
Suk is elated at the cozy serenity of Grandma's gallery, saying it's just like her. Just as they sit down, however, Do-woo notes a final package that he hadn't noticed before in the corner of the room. He opens it to find a message from homestay mom Mary, telling him that the box holds Annie's final belongings.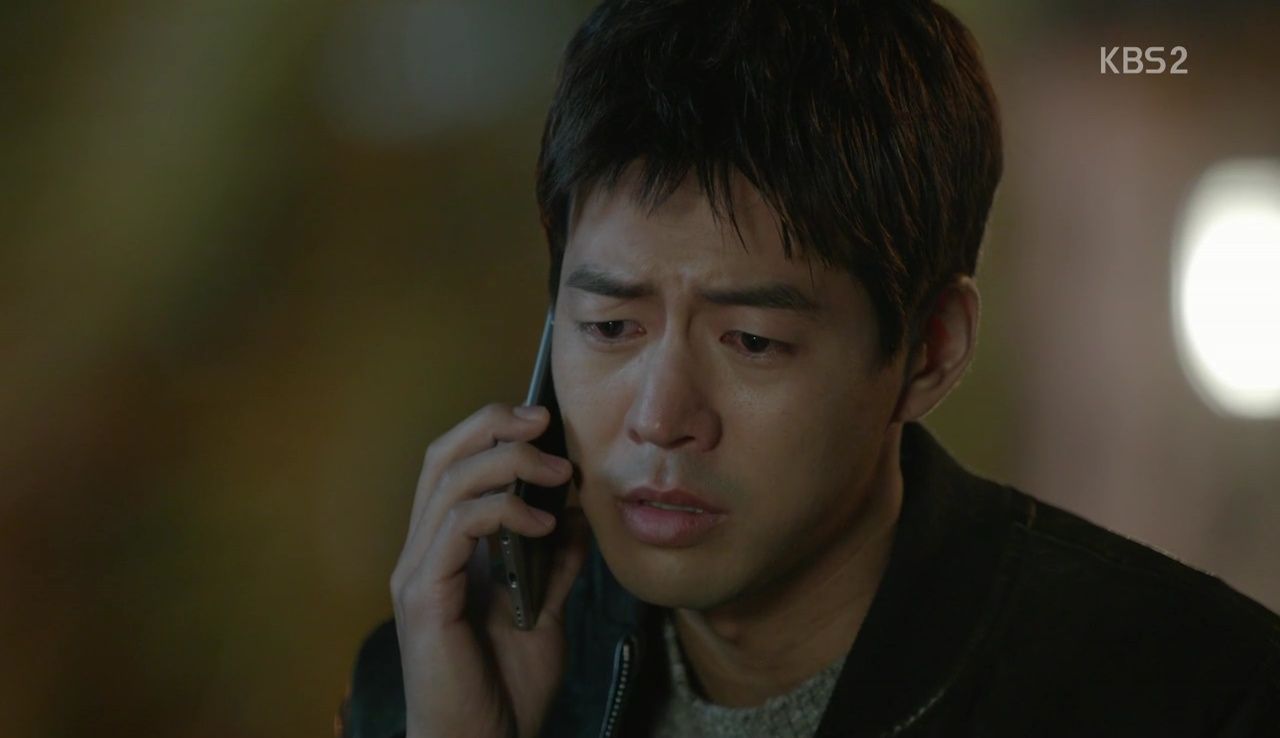 Do-woo turns on the phone inside and finds a recording of Annie's last phone call with Hye-won, where she'd told a tearful Annie not to come home, and that her father was dead. He realizes now that Hye-won lied to him about the circumstances of Annie's father's death, even after he confronted her about it.
Once again, Do-woo starts walking to cope with his emotional anguish long into the night. He passes by Su-ah again, though they're still two ships passing in the night. Su-ah goes home and tucks Annie's bead safely away, while Do-woo sits by the ocean with a beer. He tries to call her again but is met with the prerecorded message, so he asks it emptily: "Su-ah, where are you? I'm so upset. I need you."
The next morning, Suk is shocked to hear that Do-woo won't confront Hye-won about what he found inside the box. Do-woo explains that he wants Hye-won to live without guilt or fear and to work freely as she wants, especially since they're going to break up anyway. But Suk explodes at him, saying that Hye-won doesn't think that way. She plans to hold onto Do-woo forever, and he'd better take care of it now.
At Jeju Airport, Su-ah is surprised to hear that Jin-suk's coworker has a crush on Mi-jin. He asks if Mi-jin is seeing anybody, and she starts to say no before remembering the affair. The coworker tells her that he's heading to Seoul tomorrow and will be seeing the crew, checking to make sure he's kept track of Su-ah's lies properly. He means it in a thoughtful way, but even I cringed at that.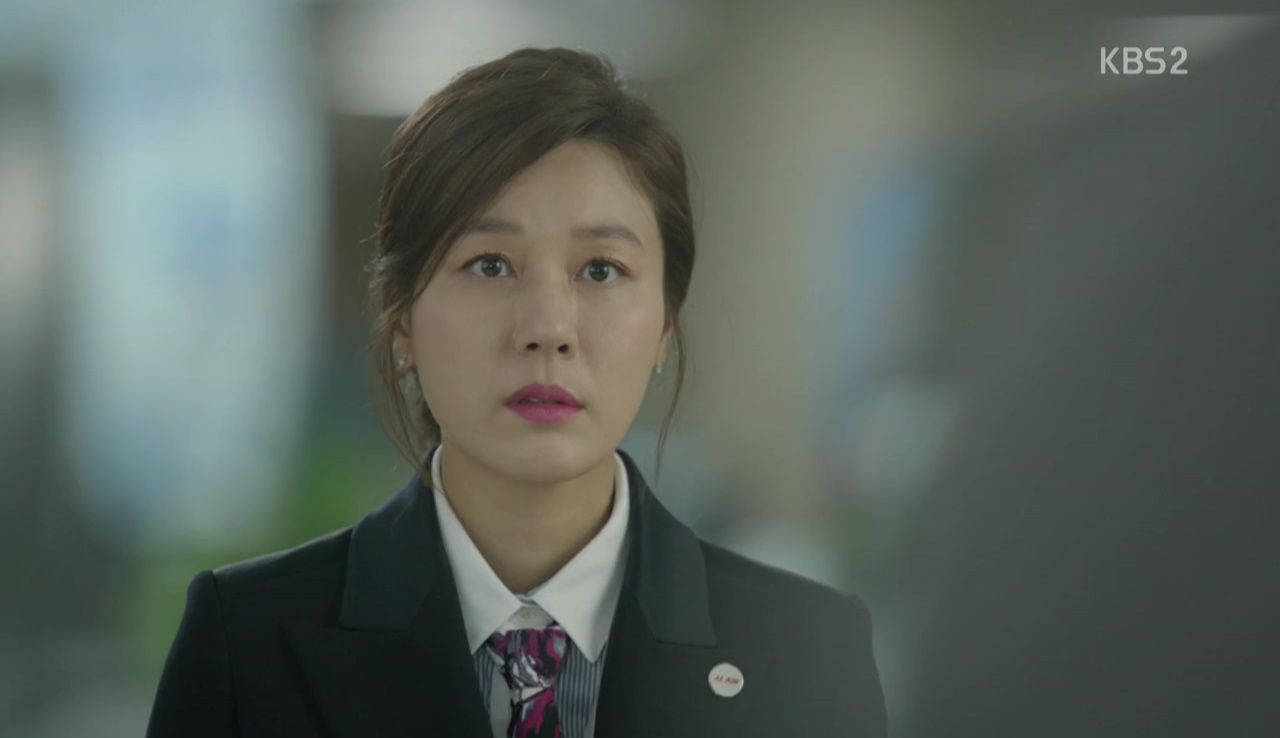 Do-woo's final touches to the gallery include framed pictures of Grandma and Annie, and Annie's iron. Afterward, he heads to the airport to pick up Grandma's last few ornaments, which the owner wanted to deliver personally. At the airport, Su-ah helps the owner carry those very boxes, but by chance glances down at the package label: "Deliver To: Seo Do-woo."
She looks up just as Do-woo walks in. They stare at each other in disbelief for a long moment, but finally, Su-ah spins on her heel and hurries away. Do-woo, too, catches himself and starts to take Grandma's ornaments to his car. When he hurries back inside, however, Su-ah has disappeared. The camera pans back to show us that she's desperately trying to catch her breath, hiding from his view.
Do-woo drives the owner's assistant to the gallery, and is surprised to hear that the man plans to stay at Do-woo's place tonight. Do-woo takes it in stride, but when they arrive at the gallery, Do-woo can't stop himself from hurrying straight back to the airport.
Su-ah gets off work and is still unable to think clearly. Jin-suk's coworker graciously offers to drive her home, but when they exit the airport, they see Do-woo waiting outside in his car. They can't tear their eyes away from each other as he gets out and approaches her. When the coworker asks if she knows him, she tells him she does—but then she apologizes to Do-woo: "I have to go."
He nods and returns to his car as Su-ah's coworker goes to get his own car. Do-woo watches her before flashing his headlights at her, bringing her back to reality. He comes back out and tells her to get ahold of herself, and she asks, still in disbelief: "Is it really you?"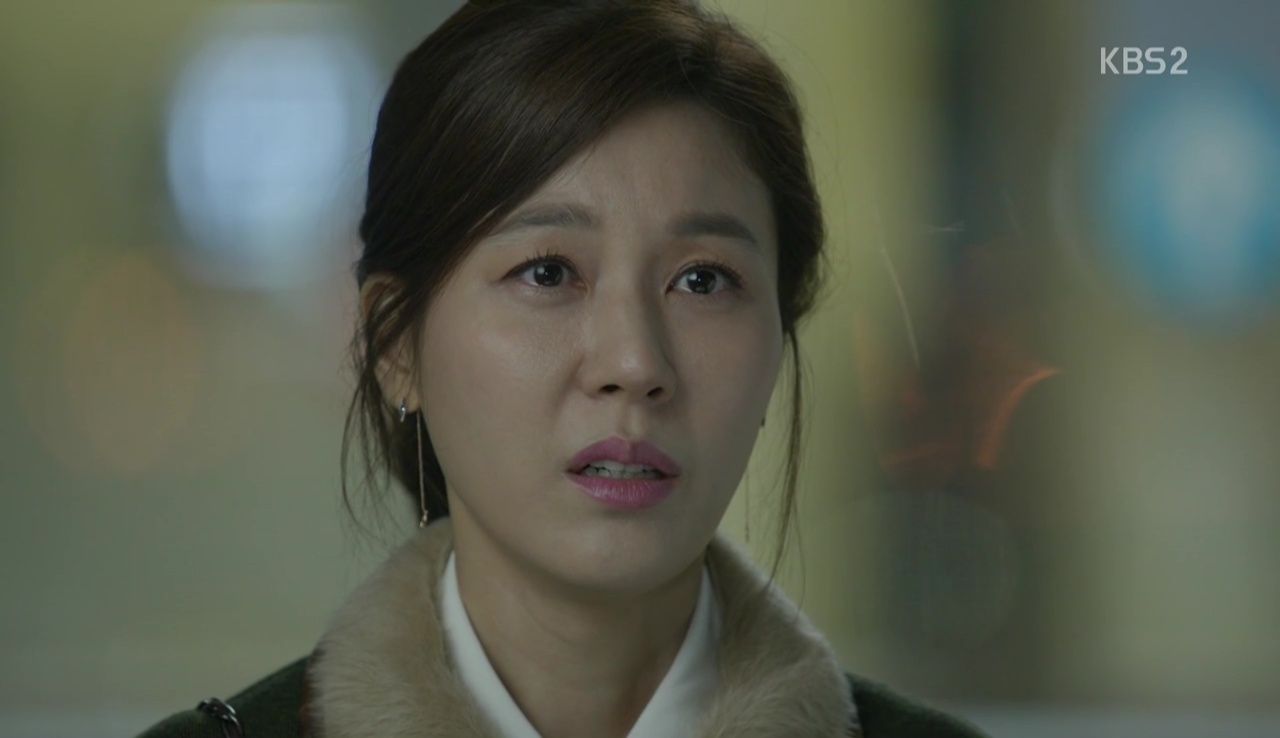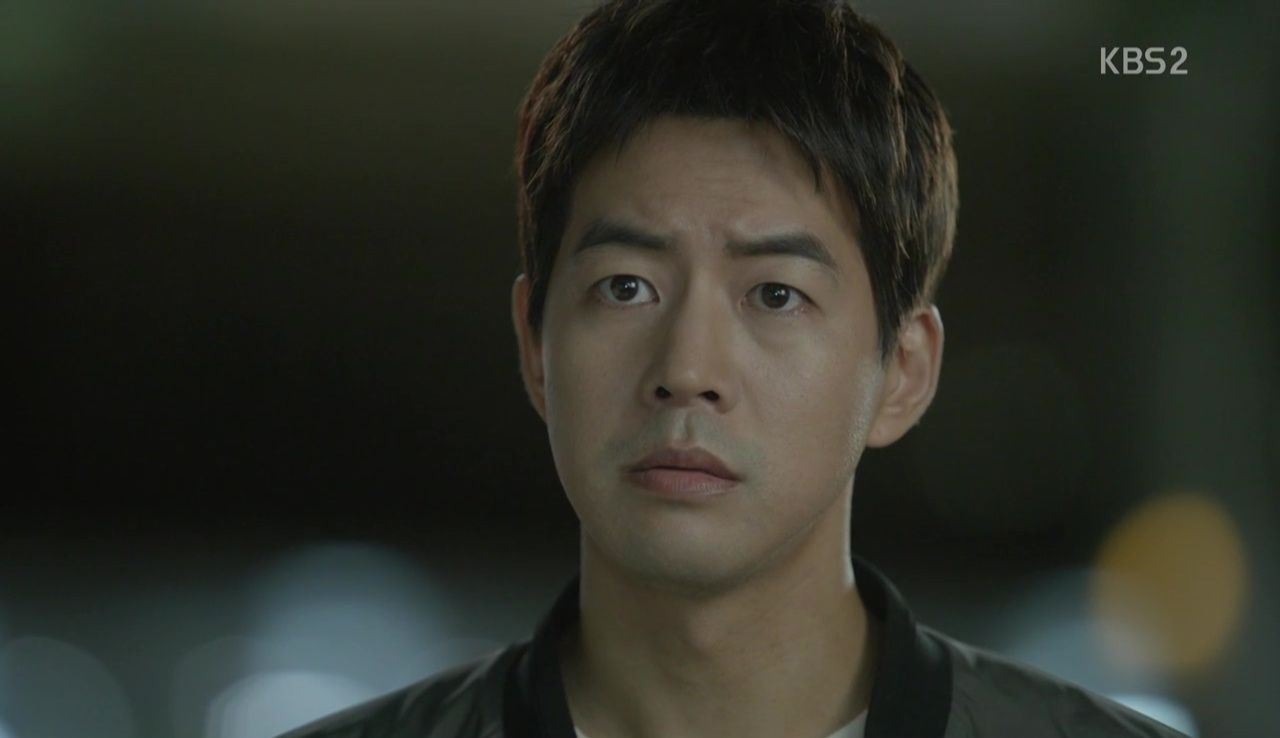 COMMENTS
Oh, wow. I'm still a little bit in awe from the middle parts of this episode. On the Way to the Airport really finds its tone and strength in the more serenely introspective investigations of its characters in the world: how Su-ah struggles to understand herself in busy Seoul, how she uses the freedom of flying to escape the shackles of her strict home, and so on.
In several instances during this episode, the show really drew on that strength, and it shone beautifully as a result. So many aspects of this episode fit so well together; for example, I actually found myself emotional as Su-ah explored the streets and fields by her new home in Jeju Island, its free and unrestricted views tying into her deepest desires for everyday serenity, and again when Do-woo walked the same streets, but in his own lens of Grandma Eun-hee's final wish. Everyone knows that Jeju Island is a beautiful place, filled with scenic landscapes and natural beauty, but the show accentuated its existing boons by emotionally charged, gorgeously thought-out shots. Jeju Island, for our characters, is both an escape and a new home, and the drama represented that almost entirely through those artistic realizations of its setting. That takes both a self-aware understanding of what Jeju Island means to Su-ah and Do-woo, as well as a genuine appreciation for escape and longing.
As we all know, On the Way to the Airport is sponsored by a major airline, and while the commercial aspect of the drama is always apparent, it never feels like a sellout; the emotions we get from Su-ah's rediscovery of herself, which is deeply tied into the idea of physical, geographical exploration, are very real and very relatable.
Of course, finding ourselves within the solitude of Jeju means that life in busy, unresting Seoul seems like a different universe. For my part, I'm rapidly losing interest in our second leads, who are becoming less and less interesting and more and more flat-out incomprehensible. Su-ah and the predictability of the interactions of our main lead aren't as riveting as it was before, either, but I still found this episode strong from a directing and narrative standpoint. The question for Su-ah now is whether she'll truly be able to sever herself from her old life, her old friends, her old work. As we saw this episode, she already feels uneasy when she isn't a part of the airport; it's embedded into her identity and purpose, and even if she wants a clean slate, she doesn't want to throw away that part of her life.
Do-woo and Su-ah have helped each other on their path to discovering their true selves, to finding out what they really want out of life. Only by meeting each other did they realize that they were missing a massive and irreplaceably authentic aspect of life; they launched each other into their respective journeys to stop lying to themselves or putting on an appearance that everything was "fine." But I think it's important to note that they find their true strength in themselves, first and foremost, and in their individual abilities to trust in the people around them.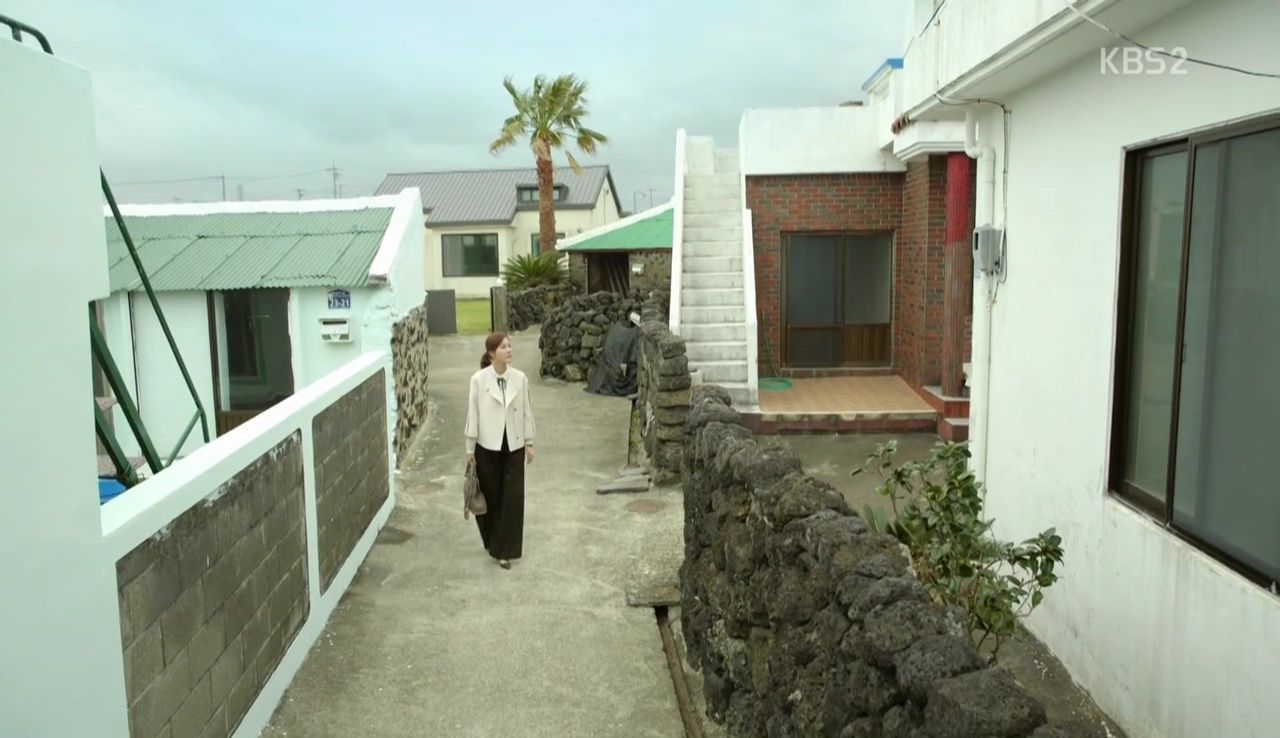 RELATED POSTS
Tags: Choi Yeo-jin, Episode 11, featured, Jang Hee-jin, Kim Haneul, Lee Sang-yoon, On the Way to the Airport, Shin Sung-rok