On the Way to the Airport: Episode 4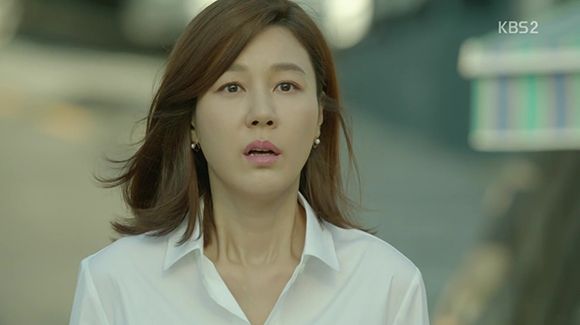 There are some major revelations made in this episode when it comes to both plot and feelings. Now that those feelings – whatever they may be – are acknowledged, what comes next is really up to Do-woo and Su-ah. Is there a possibility of something happening? Do they want something to happen? Or more importantly, are they going to let something happen?

EPISODE 4 RECAP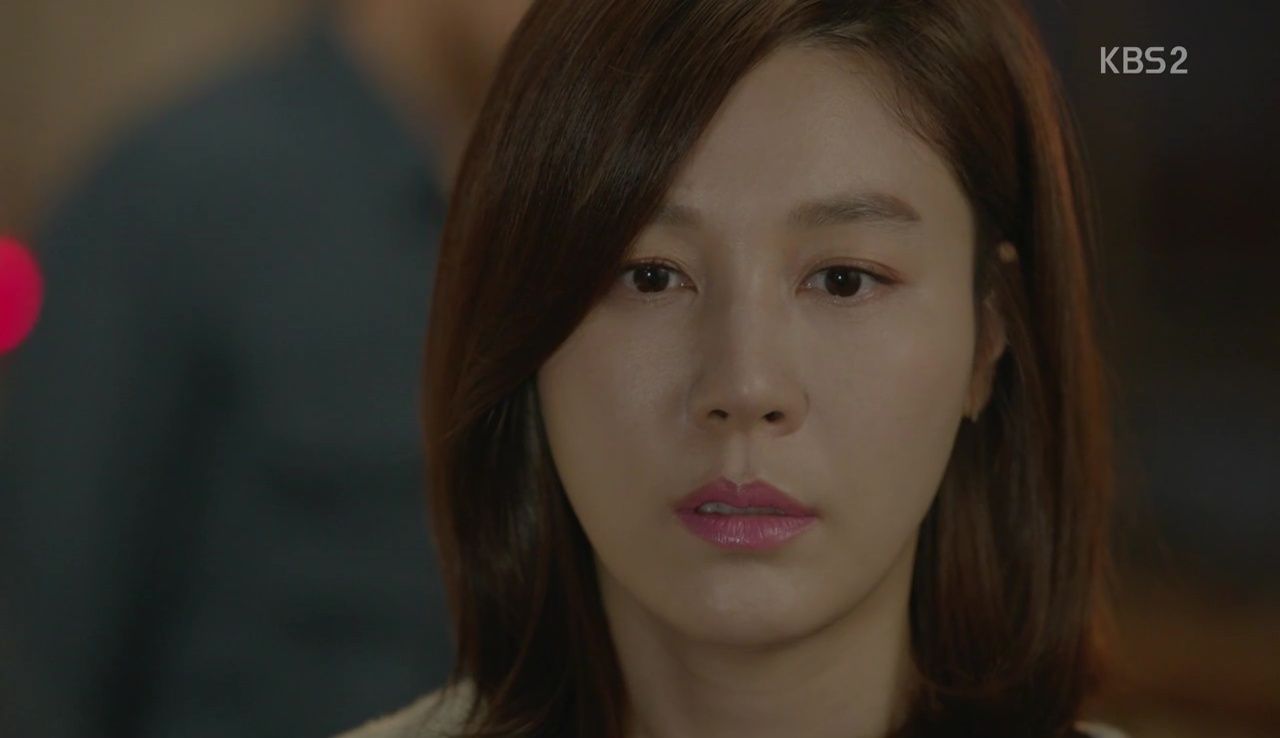 After Do-woo and Hye-won take their leave from the bar, Su-ah is so rattled that her hand shakes as she gives her credit card to Do-woo's friend, Hyun-woo. This doesn't go by Hyun-woo and he passively tells her goodbye… as well as a veiled warning for her not to forget about today.
Su-ah looks at him with surprise. "You must have sensed something," Hyun-woo continues. And he tells her once more not to forget, curious if she even knows what these feelings are. Su-ah merely replies that she won't forget.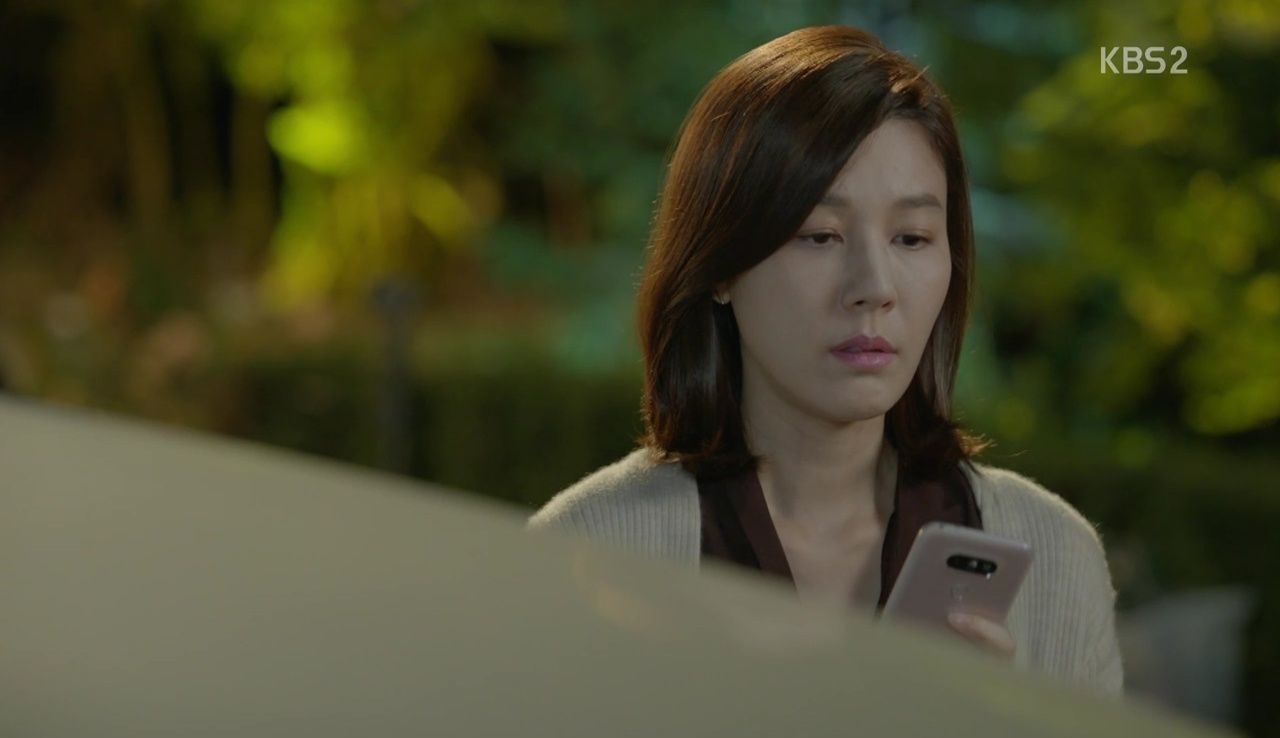 After dropping Hye-won off at home with her car, Do-woo tells her he'll head back to the bar to pick up his own car. He goes back on foot and calls Su-ah just as she's about to get in a taxi. Su-ah hesitates at seeing his name, waiting to take the call until she's inside.
Do-woo seems disappointed to hear she's already leaving and asks if he can see her. Su-ah smiles faintly and says she's already gone pretty far. And besides, the short walk that she needed away from her troubles is now over. Meaning it's time to get back to reality.
She ends the call there, opening the car window as if to wake herself up. Although it really looks like she wishes her "walk" with Do-woo could've lasted a little bit longer.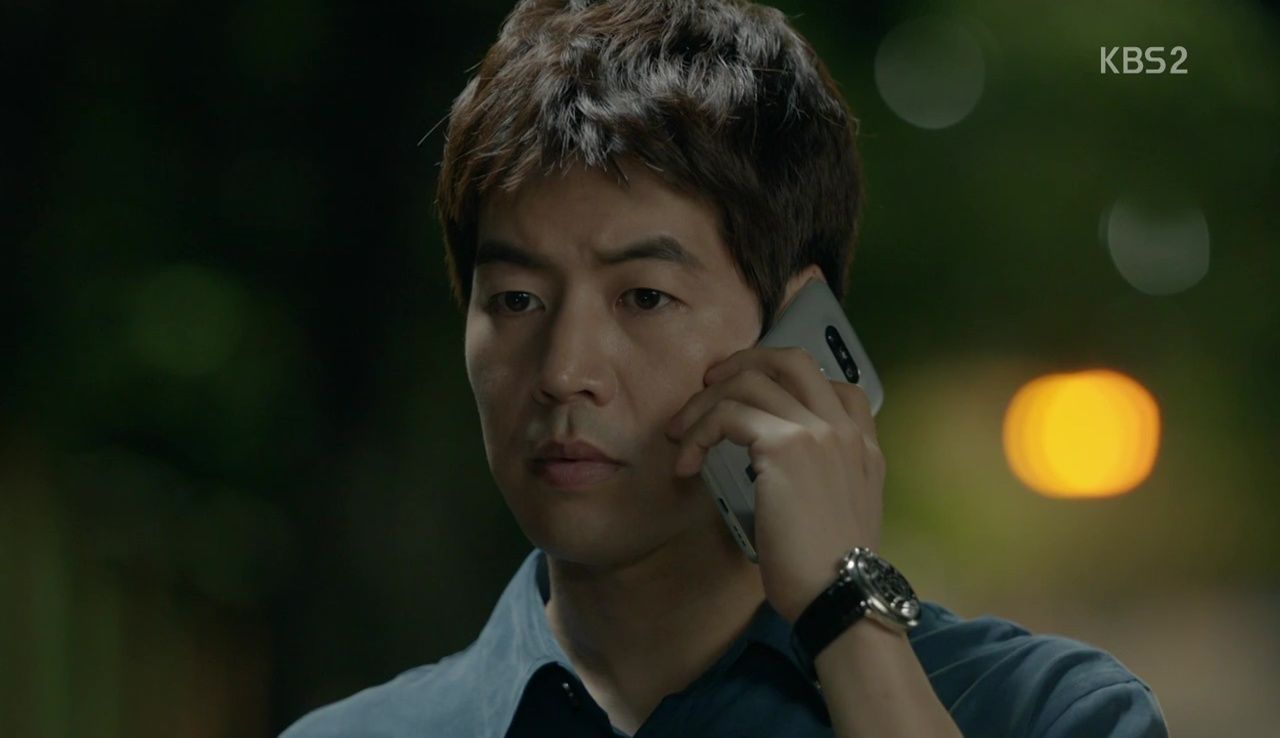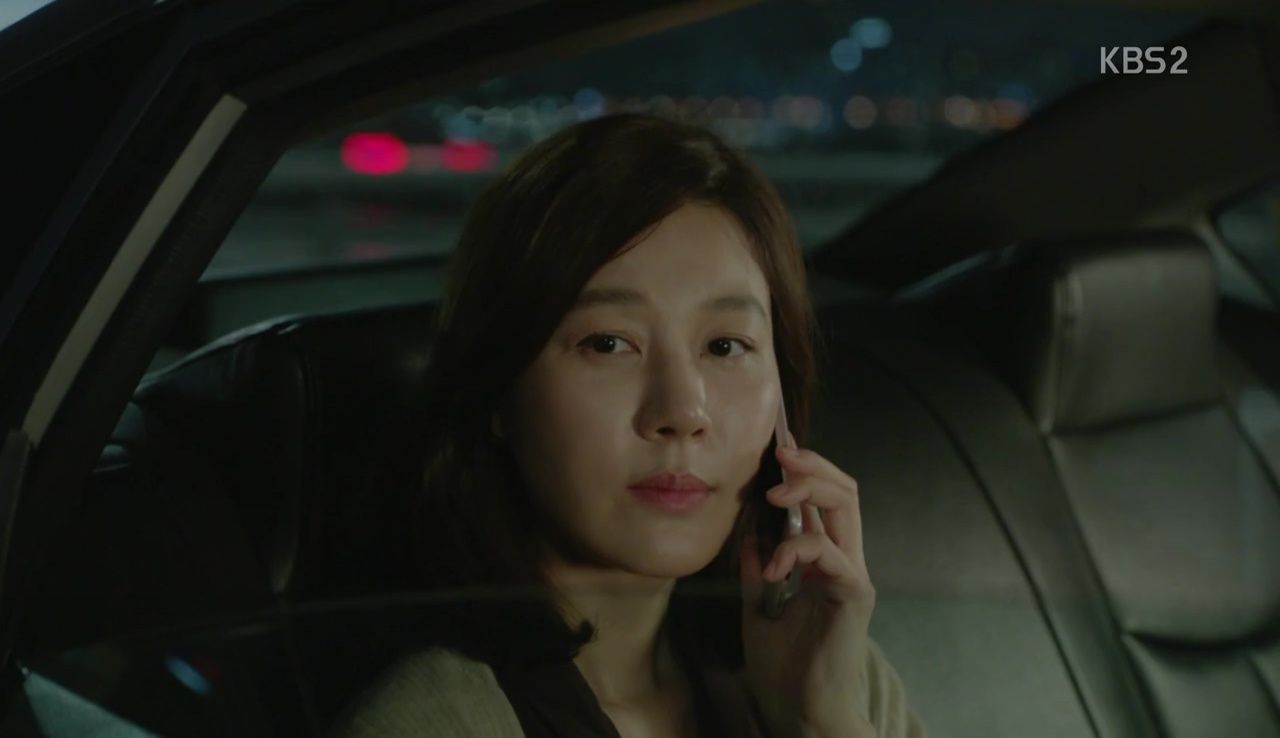 Do-woo's looking pretty deflated after that conversation too, but he perks up a bit to see that Hyun-woo's prepared another round of beer. Hyun-woo watches his friend drink and blurts out, "If you cheat on your wife, I won't see you again." Hyun-woo elaborates that he'd always thought Do-woo was the best guy, and far too good for someone self-centered like Hye-won.
"Eun-woo…" Do-woo says Annie's Korean name as if that answers everything. Ohhh. Oh. Did he enter a loveless marriage for the sake of Annie?
Hyun-woo nods in understanding. He knows that someone like Annie deserved the amount of love Do-woo was capable of giving. He also knows that look Do-woo gave Su-ah after she gave up her drink to Hye-won. Do-woo acknowledges the feelings there, but he sighs that he's unsure of what will happen.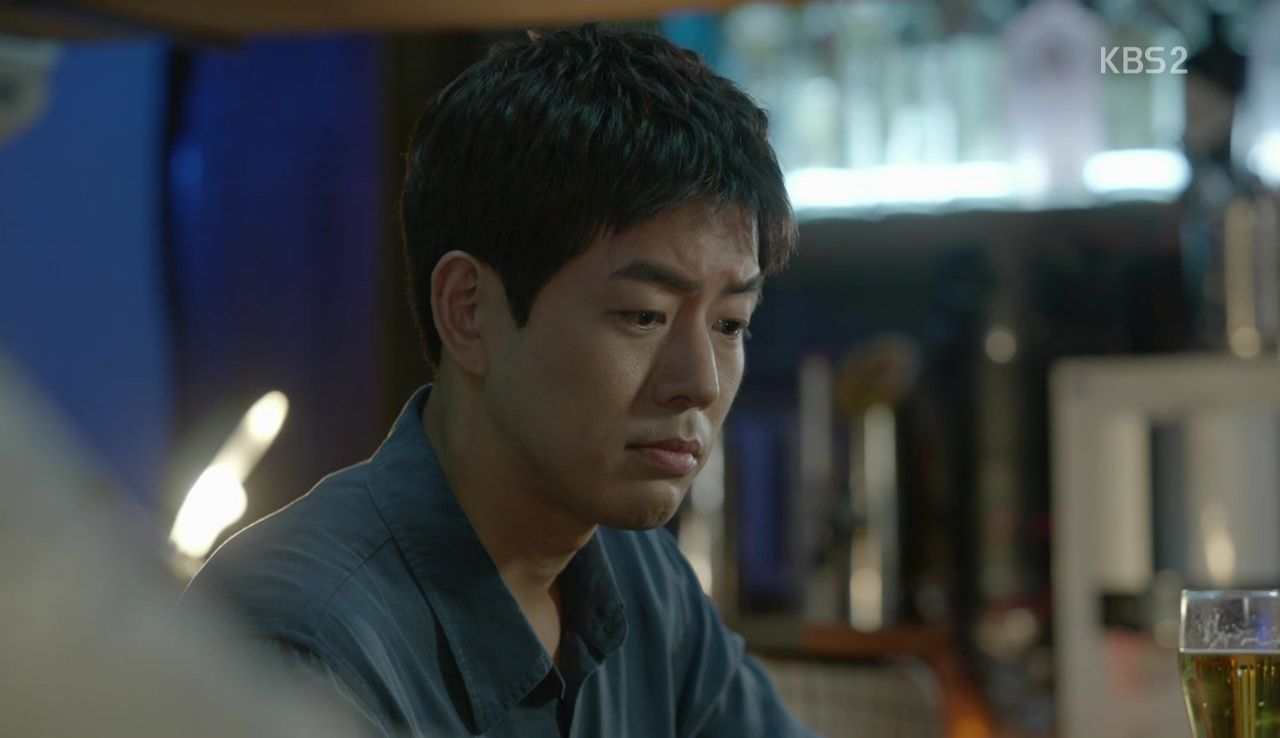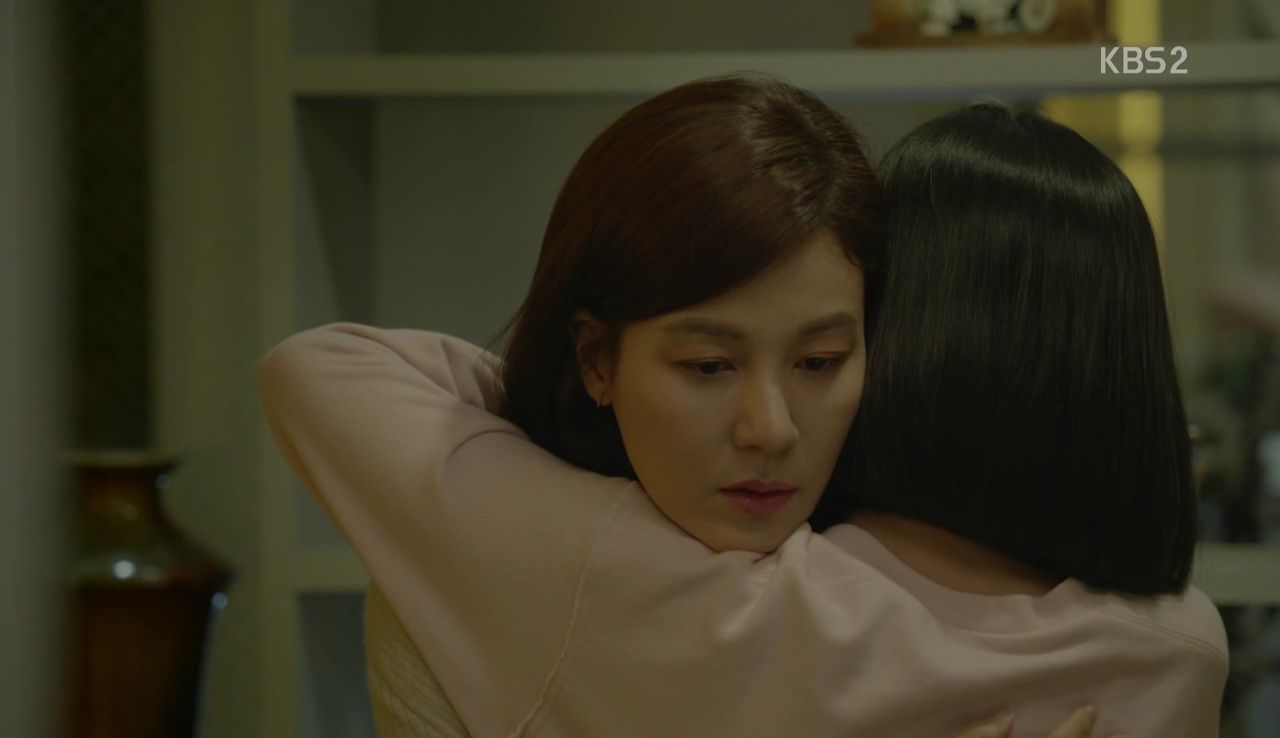 Su-ah returns home late after packing up the last of her stuff from the apartment. Hyo-eun greets her at the door and jokes that she shouldn't have left just because they had a little tiff. Su-ah gives Hyo-eun a grateful smile and asks for a much-needed hug.
The next morning, Hyo-eun and Su-ah recall another time when Su-ah had come back late. A younger, tiny Hyo-eun (Omg, so cute!) had been waiting for her mom after swimming, chanting "She's coming, she's coming." When Su-ah finally did come, she'd found Hyo-eun sitting on top of a high wall, since she had wanted to make sure she'd be totally visible to her mom. D'aww.
In the present, Su-ah grips Hyo-eun's wrists and tells her to always chant things like "It'll work, it'll work," or "I can do it, I can do it," when having a hard time. However, when Su-ah glances down at their wrists, she instantly flashes back to when Do-woo had held her hands at the bar.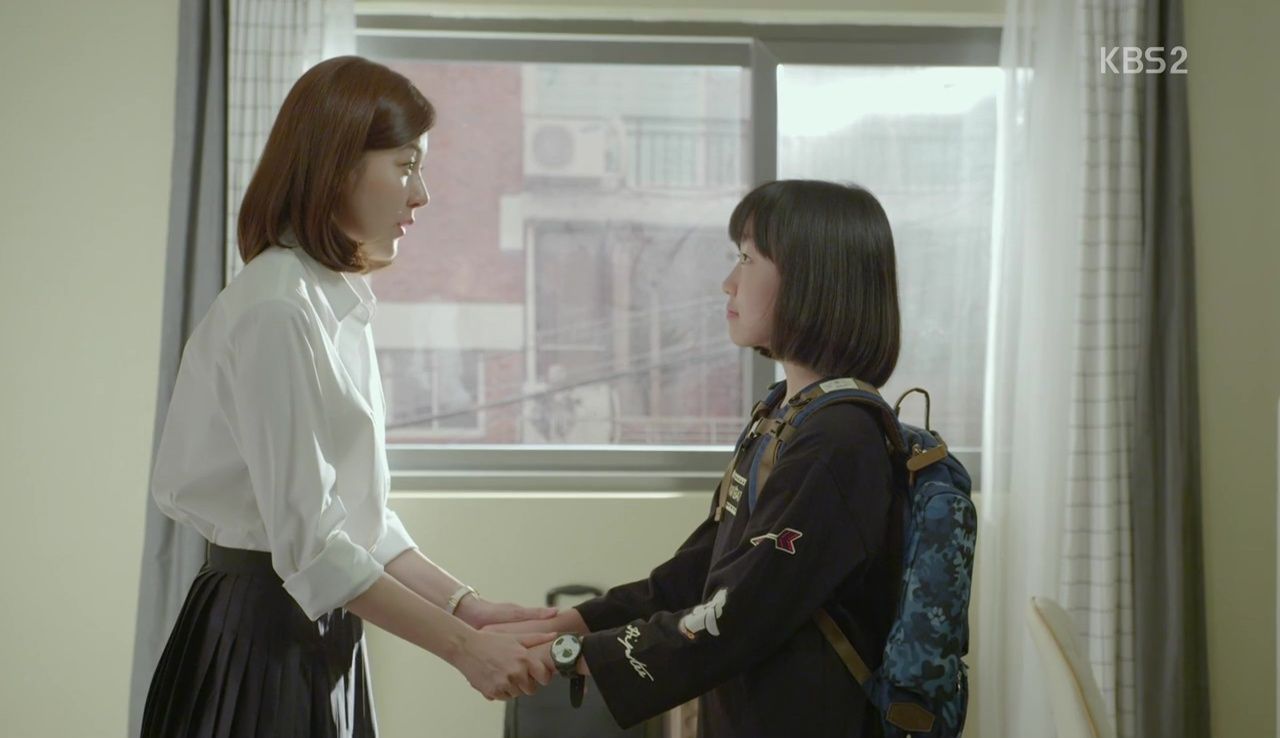 Su-ah walks out of the room to encounter Young-sook, who jumps up as if she'd forgotten she was no longer living alone, ha.
Young-sook has Su-ah sit to lay down some ground rules, handing over an actual contract that lists Young-sook's daily activities, her sleeping schedule, and the living expenses she wants Su-ah to pay for during the next six months. I don't know why, but I'm really hoping this mother-in-law warms up to her family within that time.
Before visiting Annie's columbarium, Do-woo and Uncle Suk enter her old room, only to stare in shock when they discover it's completely empty. Suk angrily shouts out to Hye-won, asking why she cleared everything out.
Su-ah hangs out with old friend Hyun-joo again, and they chat about work and parent life while also reminiscing about the fun times they shared together as flight attendants. Thoughts of Do-woo keep finding their way into Su-ah's head, so she tries to shake it off by asking Hyun-joo why she quit her job so long ago. Hyun-joo explains that after having her third child, it was just too much for her. She tried to juggle it all at once, but after one of her flights one day, she happened to notice a woman hanging out her laundry on a balcony.
"She looked so peaceful," Hyun-joo remembers. It was then that she took a good look around her and questioned why she was living so crazily day after day. And that's when she quit. Su-ah's face starts to crumple at the story, but she laughs it off, saying she must be feeling stressed. Like the awesome friend she is, Hyun-joo offers to lift her spirits up with a waffle and tons of whipped cream.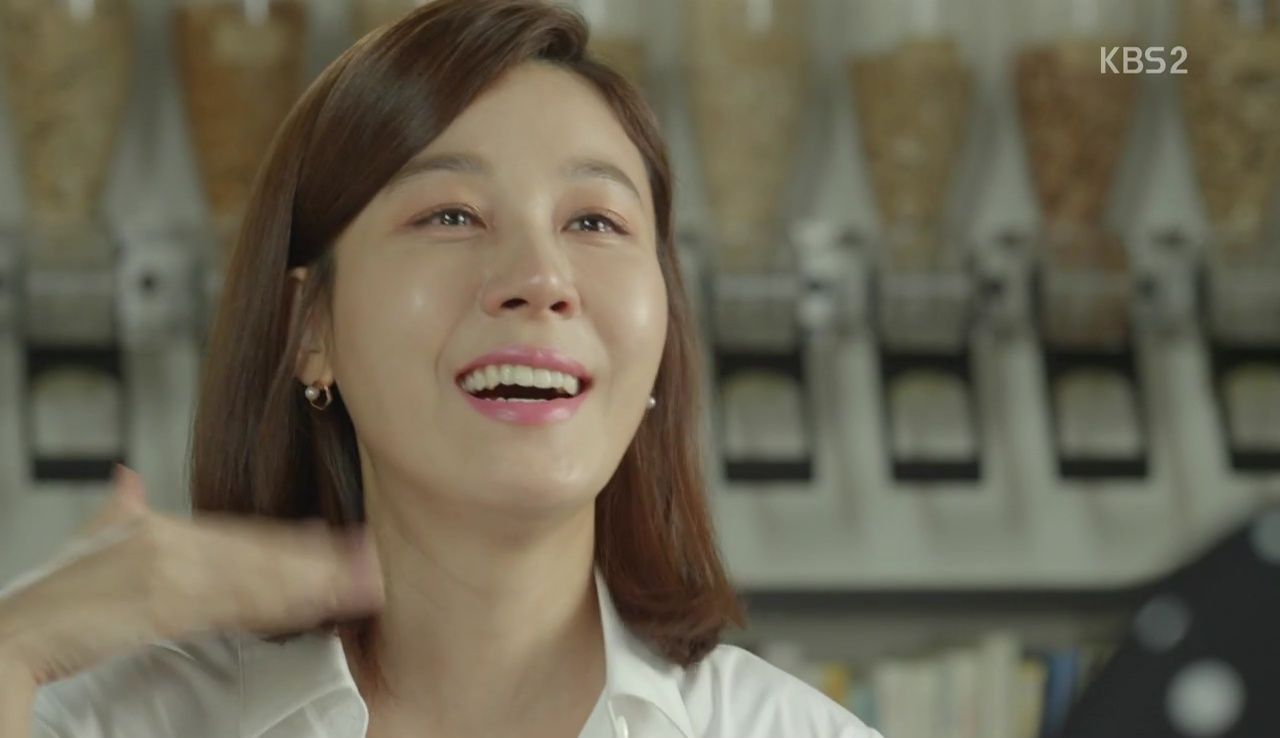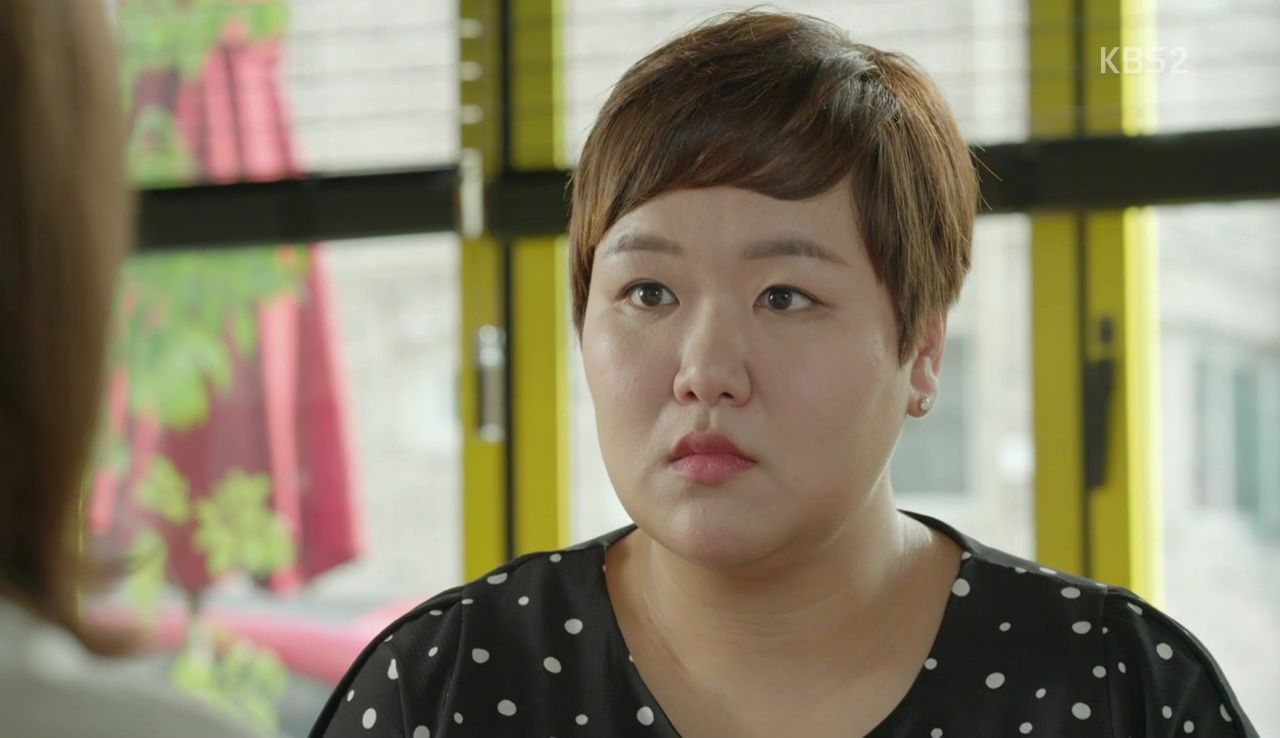 After leaving her friend, Su-ah thinks to herself that it's time to set things right with Do-woo. Even though nothing even started, she'll go over to his office and tell him that whatever they had is over. "He'll probably laugh, right?" she thinks, "He'll be shocked, right? As if we did anything." Even so, she's determined to tell him. "But if I go… If I go and he's not there…" her thoughts drift off.
As it turns out, Do-woo isn't there. Instead, Su-ah comes face to face with Hyun-woo again, who voices her his exact thoughts: "You knew [Do-woo] wouldn't be here, yet you hoped he'd be here. But you're relieved he's not here." Su-ah tries to explain that she came with the intention of picking something up and only talking to Do-woo if he just so happened to be there. Hyun-woo muses that she's pretty indecisive. I swear, this guy is a walking conscience.
Nevertheless, Hyun-woo lets her go up to Do-woo's office. Before she does, she asks Hyun-woo not to jump to any conclusions, since it's making her uncomfortable.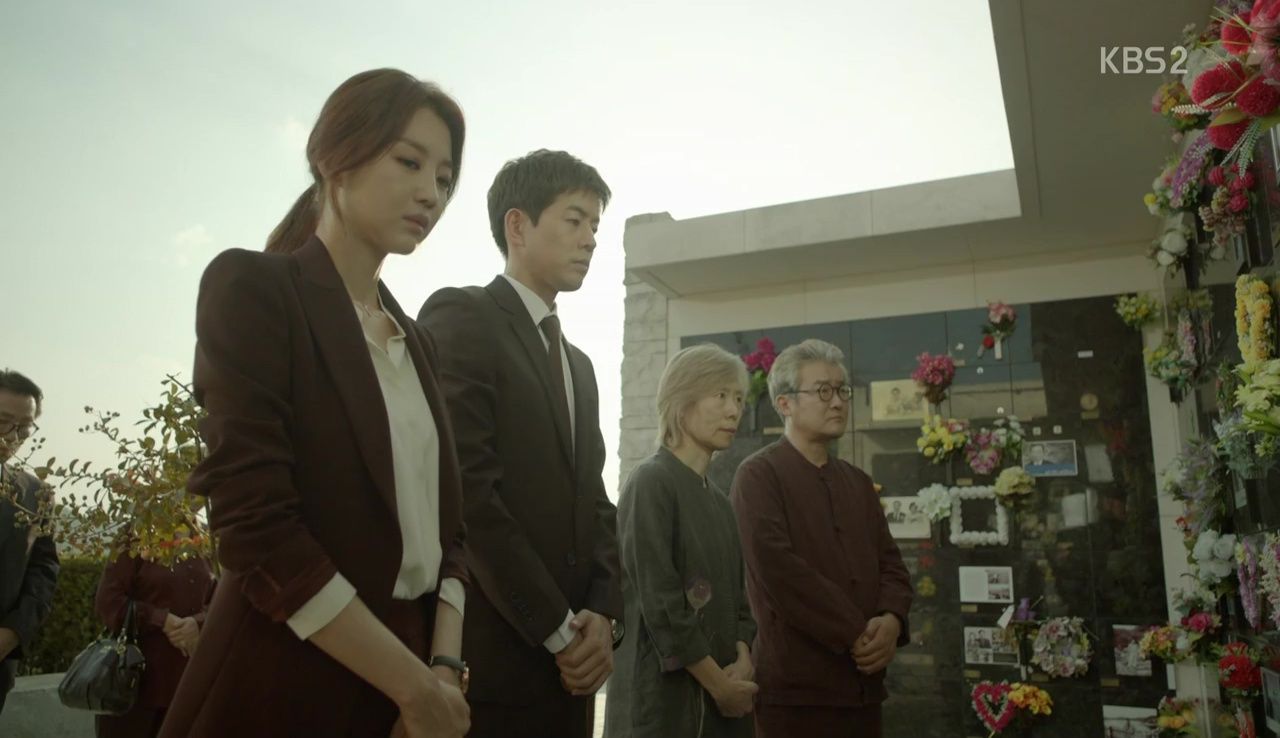 Annie's memorial service is small and quiet, but her family sends her off with love. Do-woo glances down at Hye-won next to him, but she refuses to look at him, much less at Annie's picture. Once everyone files out, Do-woo gets a text from Hyun-woo saying that "that ajumma" is in his office. Gah, that look of hope in his eyes.
Su-ah does find the gift she'd left behind last night, but she lingers in the office for some time, admiring the architectural models on Do-woo's desk. She gets a text from Do-woo asking if she's still there, making her gasp and jump to her feet. She immediately texts back that she was just leaving, but Do-woo's response makes her stop: "Raise the blinds."
Su-ah does as he says and is overwhelmed with the stunning view of Seoul that high up. She grabs a stool and sits right in the center, gazing out at the city. The way her entire face lights up is so endearing – it's as if all the worry she'd been suppressing has been knocked right out of her. Do-woo's text continues to tell her to enjoy the view for a short while and rest comfortably.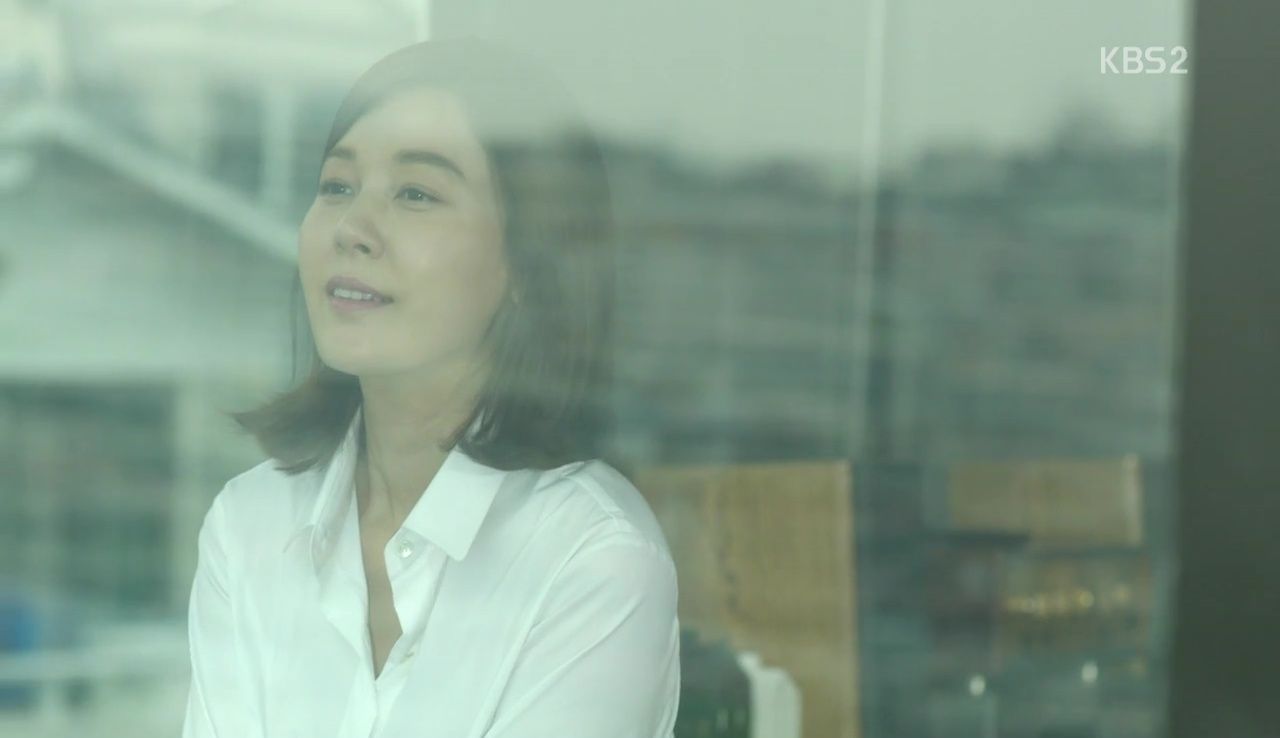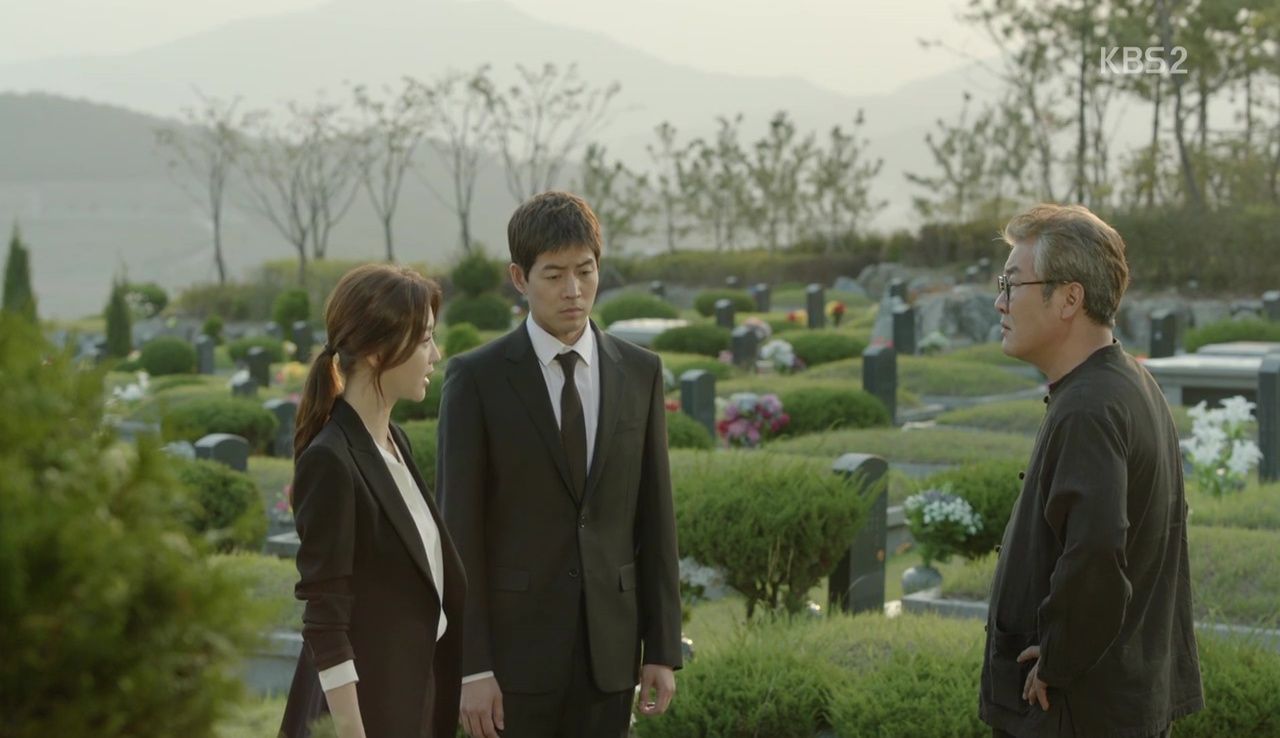 Uncle Suk confronts Hye-won about a call he just received confirming that there'll be construction in Annie's room. Hye-won coldly states that she's changing the bedroom into her own personal library, and frankly, she doesn't care what Suk or even Do-woo has to say about it. She doesn't want to leave a single trace of Annie in there.
"Does that make everything disappear?" Suk argues. It's not like erasing Annie from everyone's memory will erase Annie's entire existence. Hye-won doesn't drop her gaze and spits out that Suk should watch what he says – only she, as the biological mother, has the right to say this or that about Annie at this point.
Hye-won is still frustrated as Do-woo drives her to work, muttering that Suk has never liked her, but that she's not going to hold back any longer. Do-woo just keeps driving, unsure of what to do or say.
Once Do-woo drops her off, Hye-won's face softens as she tells him not to let what she said about being Annie's biological mother to heart – it was meant for Suk. Do-woo says that he doesn't mind it, but with Suk being like an older brother to him, he asks Hye-won to give him some respect. Do-woo takes off without another word, leaving Hye-won somewhat uneasy.
Hye-won rushes into work, apologizing to her business friend for being late. Her friend mentions that Ji-eun was just there, complaining about her mom wanting to shut down her business. Her friend muses that people who grew up without any kind of hardship are always like that. Hye-won asks if Ji-eun's mother will stop supporting her then, only to look mighty disappointed when it's implied she won't.
Do-woo hurries toward the bar, texting Su-ah to take a step out onto the balcony next. He calls her after that, explaining how Hyun-woo owned the bar first and then Do-woo and Ji-eun set up the studio above some time later. Su-ah smiles as their conversation grows more comfortable and casual. She says that talking to him like this puts her heart at ease.
"Just talking?" Do-woo wonders. He seems a bit uneasy about this, then asks how long she wants to just talk on the phone, since she claims they're both too busy to be meeting. "For how long? How many months?" he asks, only for Su-ah to reply, "Forever." Do-woo wonders if there is such a relationship where people talk on the phone their whole lives, which is when Su-ah switches the subject to the reason she came in the first place.
She had something to say, she adds, but when Do-woo asks if he should come over, her reply is a quick: "No. Never." But then Su-ah pauses at the projection slide she mindlessly turned on. A slide of a traditional Korean tassel with very familiar-looking beads. She remembers seeing this tassel at the exhibition with Hyo-eun in Malaysia and learns that it's his mother's work. It all comes to a very harsh realization as Su-ah pieces it all together: the exhibition, the dropped bead, the girl in the car accident.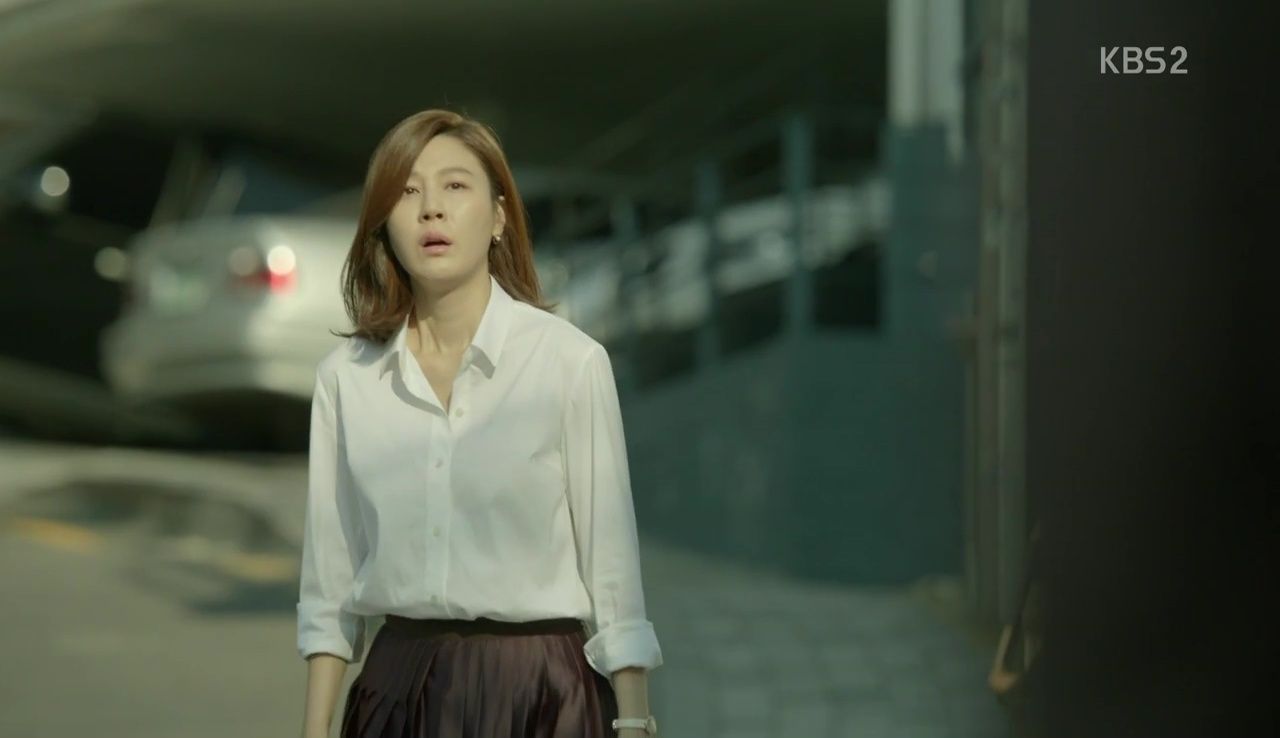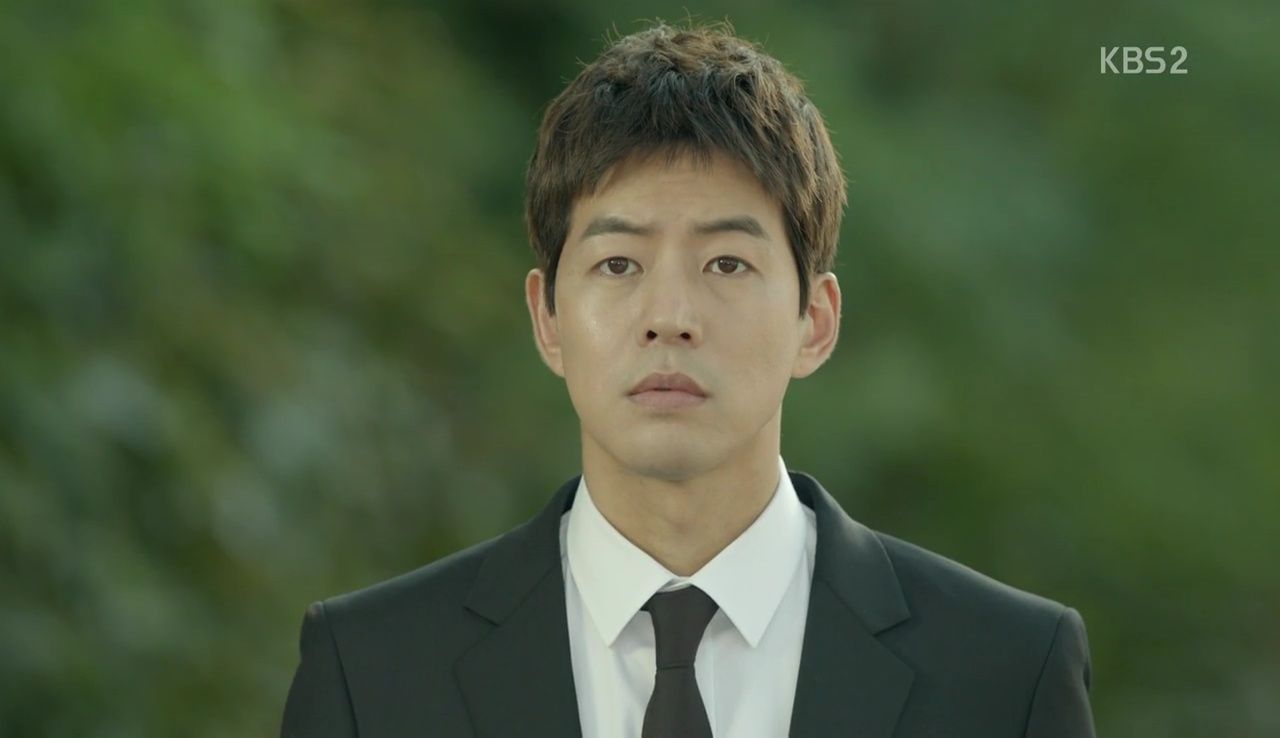 "Did Annie have a Korean name?" Su-ah asks, her voice dripping with fear. Do-woo answers that it was Seo Eun-woo, giving the final confirmation Su-ah needed. Her head reels as she realizes Annie was the poor girl who had gotten hit by the car in Malaysia. The revelation proves too much for Su-ah and she quickly comes up with an excuse to hang up on Do-woo.
She rushes out, dropping to the stairs for a moment to breathe, and then hightailing it out of there. She gets outside just as Do-woo is nearing the building, but she can barely look at him. She quickly hails a taxi and leaves before Do-woo can close the distance.
She finds herself wandering to the soccer field of Hyo-eun's school, and she drops to her knees, emotionally drained. Suddenly, a soccer ball comes hurling right at her. She catches it, though the force sends her falling backwards. Hyo-eun and her friends ask if she's okay, but she just lies there on the ground, looking up at the sky and thinking this must be a punishment from heaven.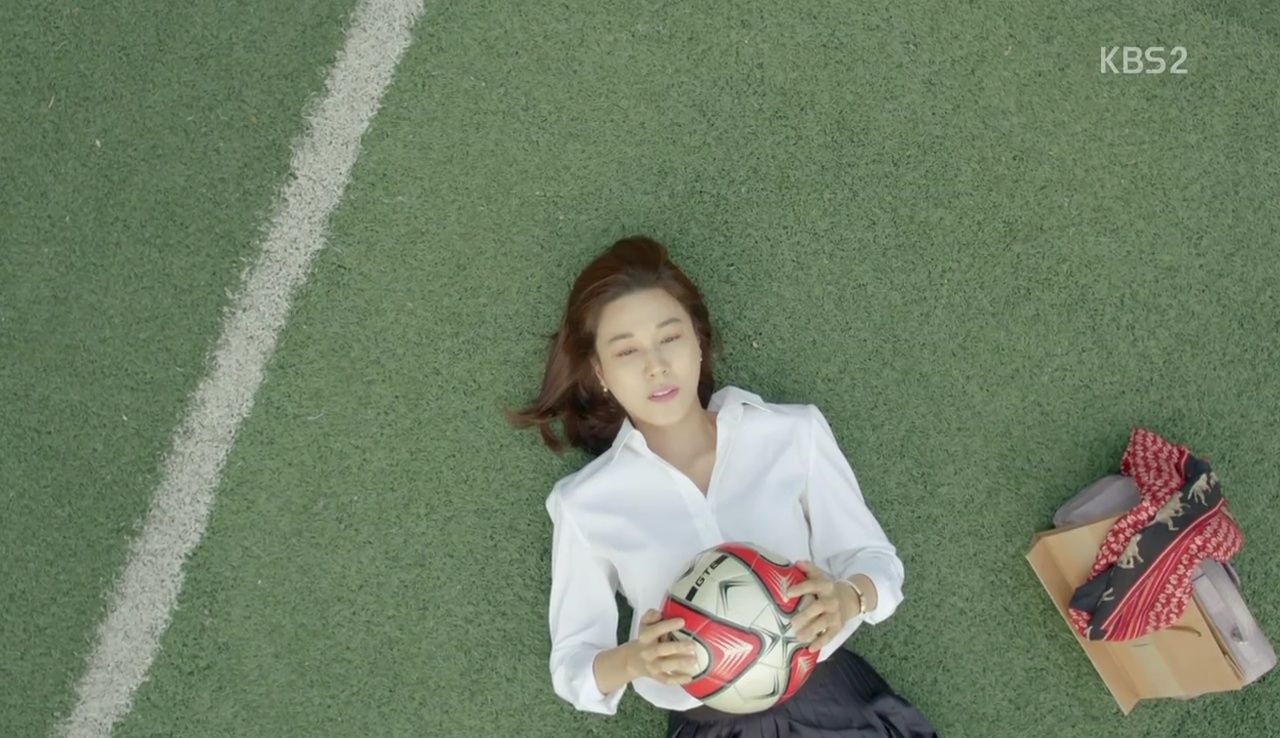 Jin-suk and his crew return from their last Sydney flight, and he's about to take his leave when flirty flight attendant Joo-hyun invites him out for drinks with everyone else. He politely turns her down and goes on his way.
Su-ah tries to keep herself busy with cleaning, but when she runs out of things to do, she just takes a stool and sits in front of one of the windows, her head hanging low. She gets a call from Jin-suk, who decided to stay at their old apartment for now. He gives her his usual speech about Hyo-eun's education and how preparation for boarding school is for everyone's benefit.
But, right now, Su-ah is in no mood to argue and just goes along with it, catching Jin-suk off guard.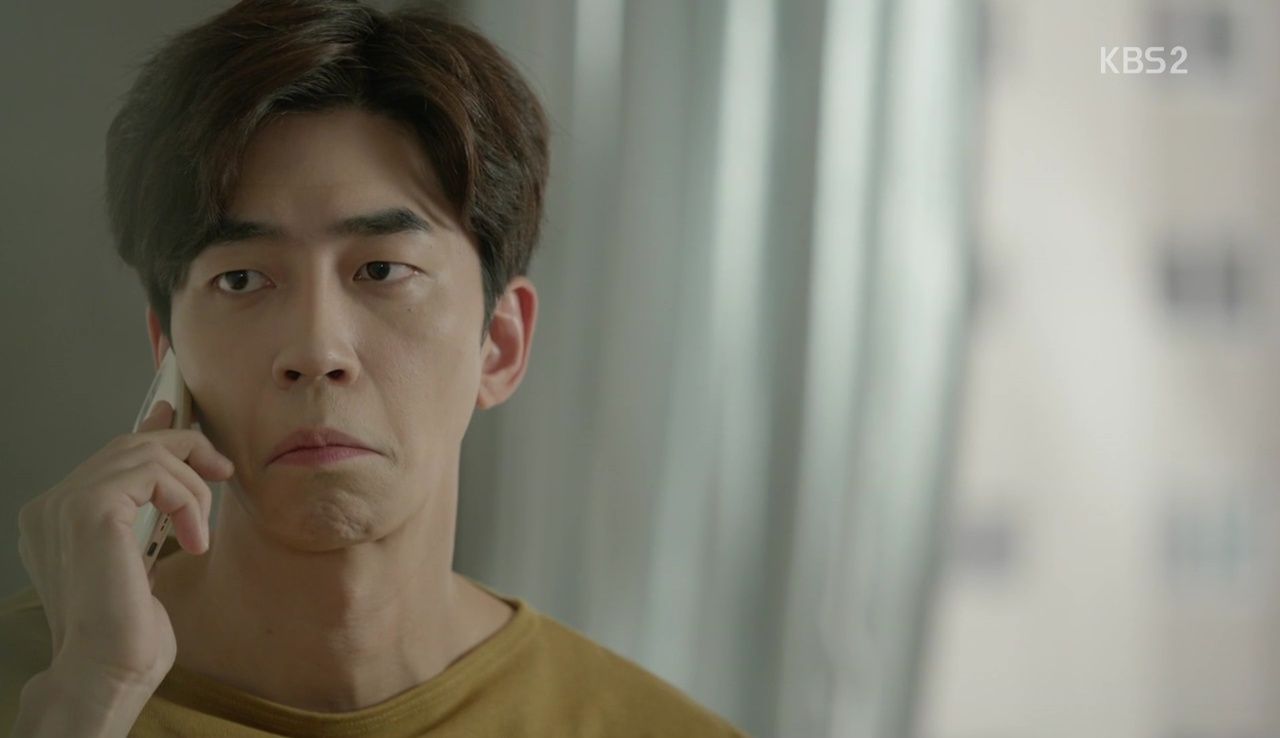 That night, Su-ah stays in that spot by the window, beer in one hand and phone in the other as she chats with Mi-jin. Mi-jin scoffs that Jin-suk must be living it up since he's given himself freedom from parenting or house chores. Su-ah says it can't be helped – it's the price she has to pay for bringing Hyo-eun back home.
Su-ah takes a swig of beer before gathering the strength to bring up Do-woo. She reveals that the girl who'd died at the airport was indeed Do-woo's daughter, just as she'd initially feared. And she feels terrible, thinking she could've stopped Annie and prevented all these bad things from happening.
Mi-jin sits up, shocked to hear Su-ah crying. Mi-jin: "Are you having a hard time?" Su-ah: "No, I just… I feel so sorry towards that child."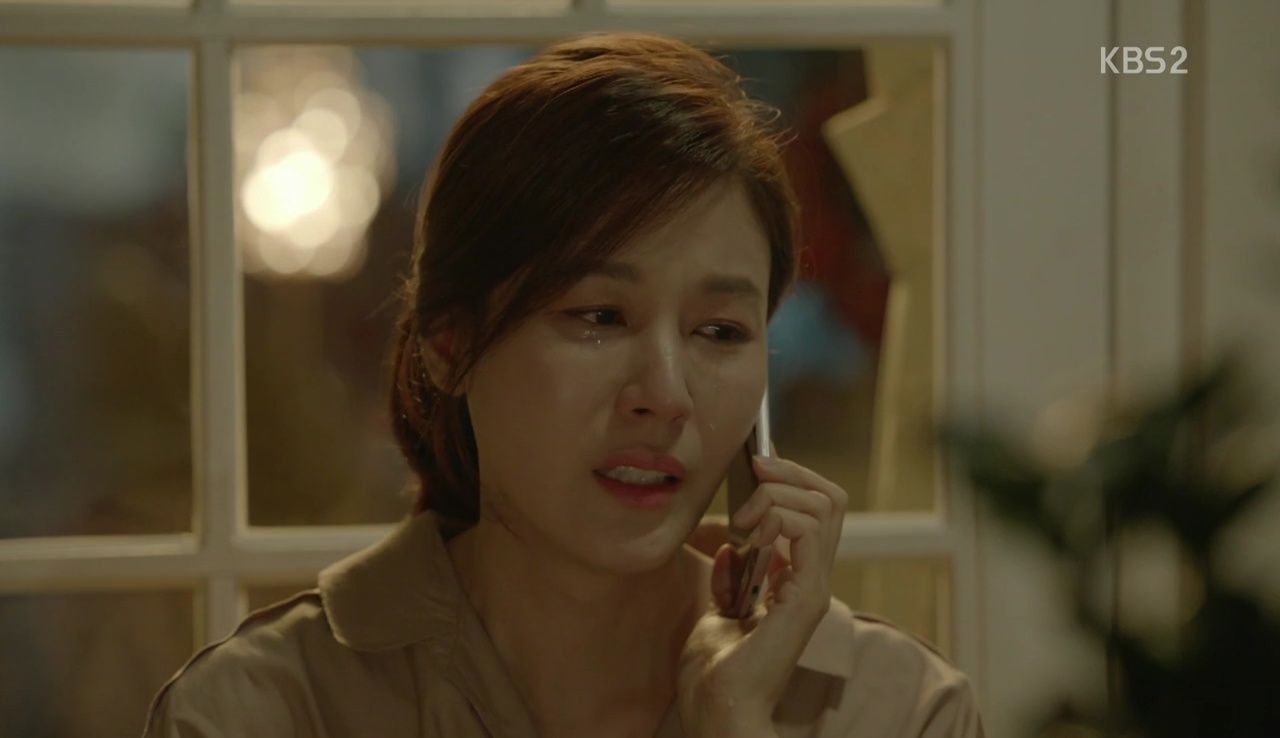 Su-ah watches Hyo-eun as she sleeps, thinking that if only she'd grabbed Annie's wrist, Hyo-eun wouldn't be here right now. She would've stood up to her husband. And she never would've met Do-woo.
The next day, Suk shows Do-woo the little treasure box he'd made for Annie. Luckily, he got to it before Hye-won could toss it out. And inside, they find the cell phone Annie had used before going to Malaysia.
At home, Mi-jin hops onto her computer to check her next flight schedule, hoping to God that she doesn't get Jin-suk as the assigned pilot. Unfortunately, she does. "Should I quit being a flight attendant?" she wonders, grimacing at the name. Heh.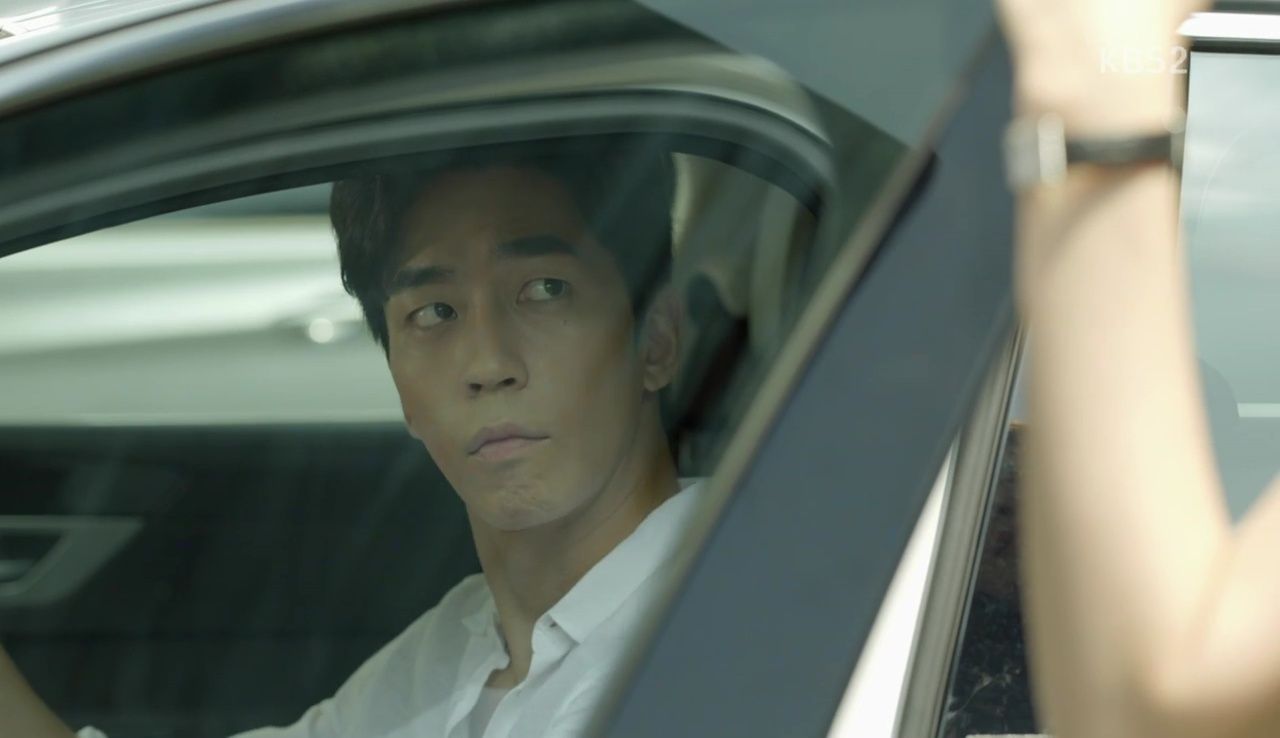 Su-ah checks her schedule as well, and to her disappointment, she's been given a handful of flights that will take up most of her time – time away from Hyo-eun. Young-sook is displeased of course, since this inevitably places her on babysitting duty. Su-ah says that she will get her brother Je-ah to babysit tomorrow, so all she asks is that Young-sook cooperate for the time being.
Meanwhile, Jin-suk just sits there with his arms crossed, saying in a low voice that this is all because Su-ah brought Hyo-eun home. As they head out, he asks if Su-ah regrets bringing their daughter back now. Dude, I was actually okay with you. Why must you start acting like a total asshat?
Thankfully, Su-ah isn't about to take this from him. Before he can leave, she holds his car door open, and tells him not to act as if he's watching someone else's business. Jin-suk stubbornly says that he's going to follow his own plan for the next six months, prompting Su-ah to slam the door in his face.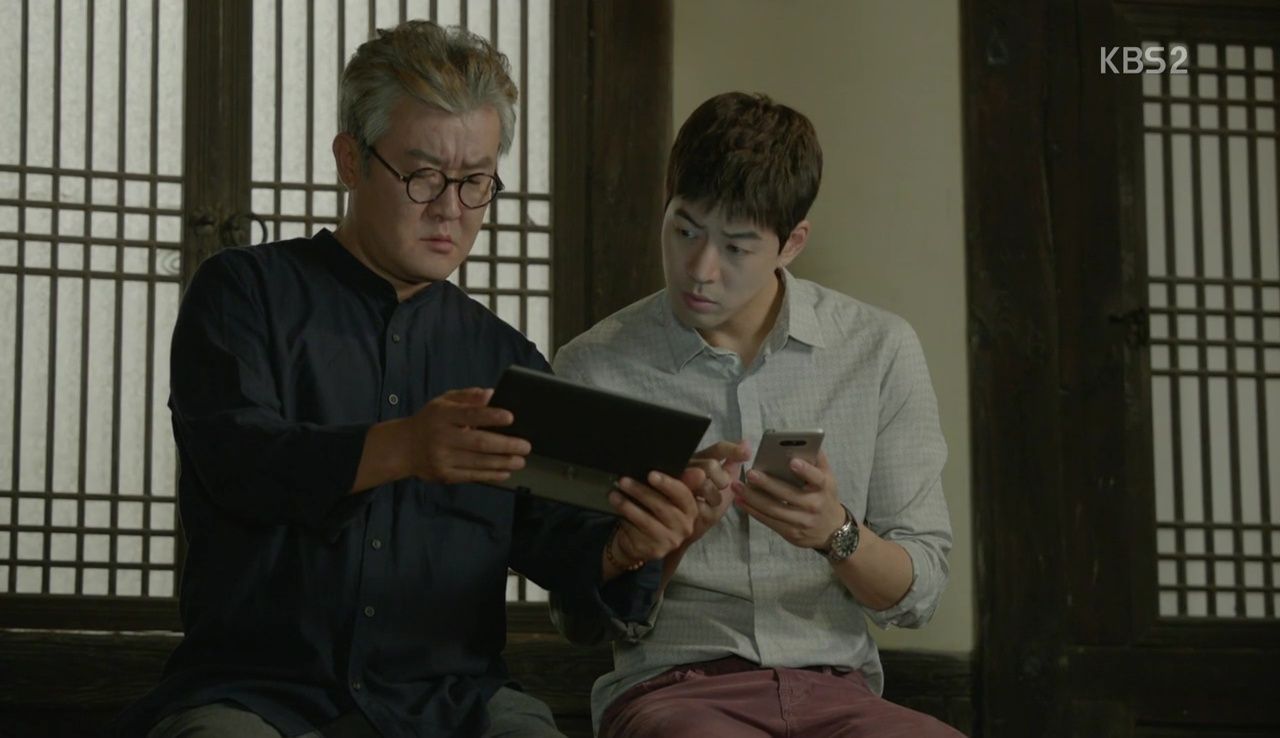 Do-woo gets Annie's old phone restored, but for some reason, there are no messages or phone calls listed. The only things left are a few pictures of an unknown field, all with dates posted on the bottom. Do-woo investigates it further with Suk, who recognizes it as the place Annie would go to see her biological father.
Su-ah tries to get a schedule change with one of the higher-ups, and though her boss agrees to work on it, she urges Su-ah to stop putting so much on her shoulders and to consider dropping either her work, her home life, or childcare in order to make things more manageable.
That only makes Su-ah feel even more conflicted, and as she makes her way down the terminal, she spots the same bench where she spent the night talking with Do-woo. She rests on that bench now, looking at Do-woo's number on her phone. She changes the name from "Annie's Dad" to "Seo Do-woo" and then finally, to simply "Airport."
Su-ah gets a call from Young-sook saying Je-ah and Hyo-eun never showed up, so Su-ah immediately contacts her brother. Worried, Je-ah explains that Hyo-eun must've run off to see a soccer game and now he can't find her. Su-ah instructs him to go back to the school and to check any high places. Je-ah goes mad running through the entire neighborhood until he finally finds Hyo-eun sitting on top of a high wall, just like when she was little.
Do-woo finds the same place where he used to drop Annie off to see her real father. A man who seems to work there lets Do-woo into what looks like a pottery shop. The man explains that Annie would always come through the entrance only to go out the back door. She never actually met her father – she came there in hopes that one day, he would come. And whenever the man who worked there asked when her dad would arrive, Annie would only respond with, "He'll come." But he never did.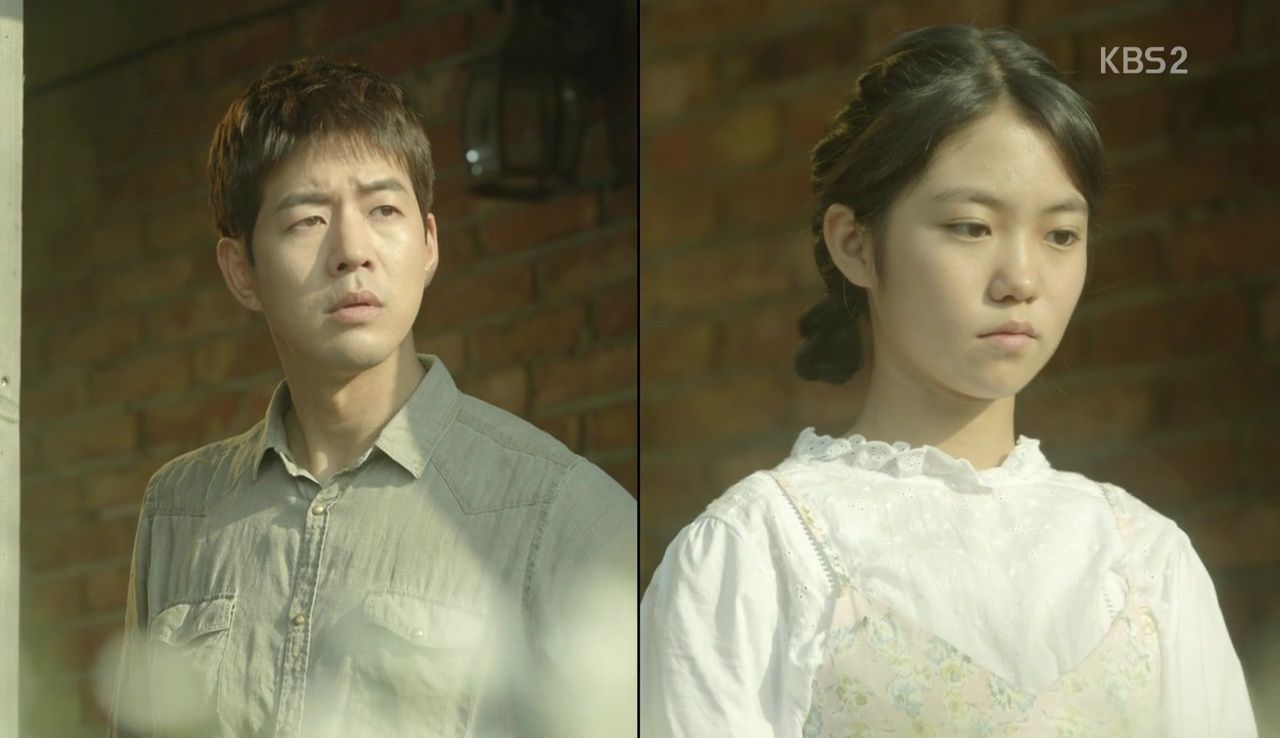 Do-woo ventures out the very door Annie would go through to find the wide, open field that was photographed on her phone.
Back in Malaysia, host mom Mary receives a box containing evidence from the scene of Annie's death. Inside, she finds the phone Annie had been using before she died, the calls to Hye-won still listed.
As Hye-won watches workers refurbish Annie's old room, she recalls the last conversation she had with her daughter, which we finally get to hear. Annie had wanted to come home and tell the rest of the family "everything." She tried to convince her mom that she wouldn't make any mistakes. Hye-won then resorted to bribing Annie with her real father's location if she promised not to come.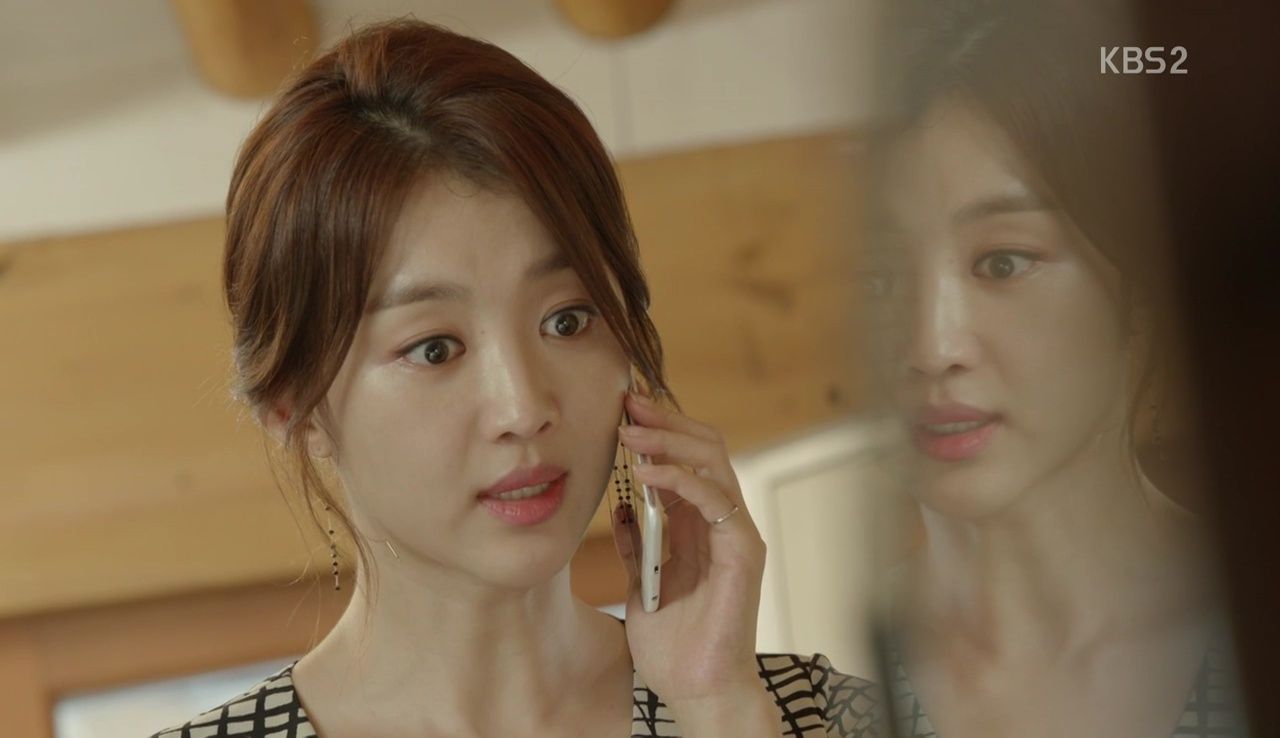 Annie had insisted she'd find her dad on her own. Hye-won's frustration blew up: "Why do you think your dad sent you to me? You really believe that he's wandering around with his projects and suffering financially?" Hye-won says something else we don't get to hear, but whatever it was, it definitely shook Annie.
With every step in the airport, Su-ah is flooded with memories of Do-woo. She receives the pictures of the field from Do-woo and pauses before texting back that Annie must've been waiting for someone.
Now standing where Annie once stood, Do-woo takes in the scenery, his heart in his throat his it dawns on him what Annie must've felt. Constantly waiting and waiting, holding onto every ounce of hope that someday, someone would eventually come.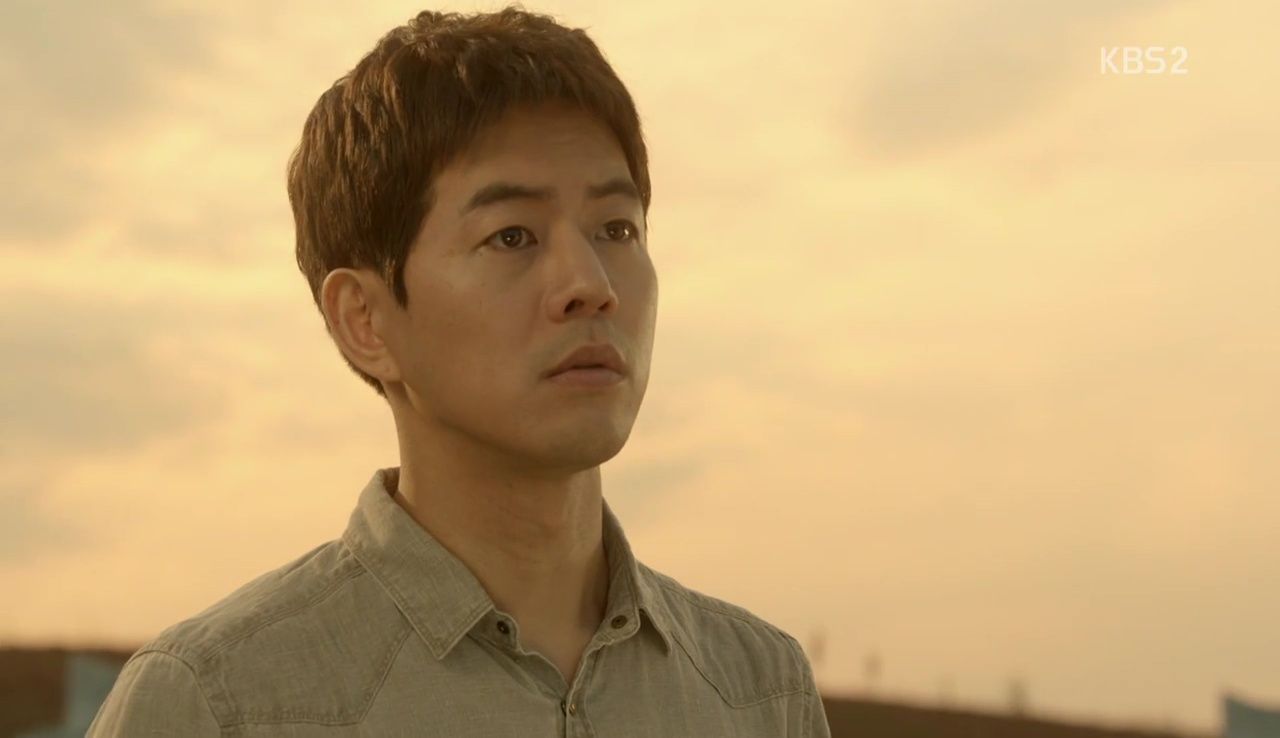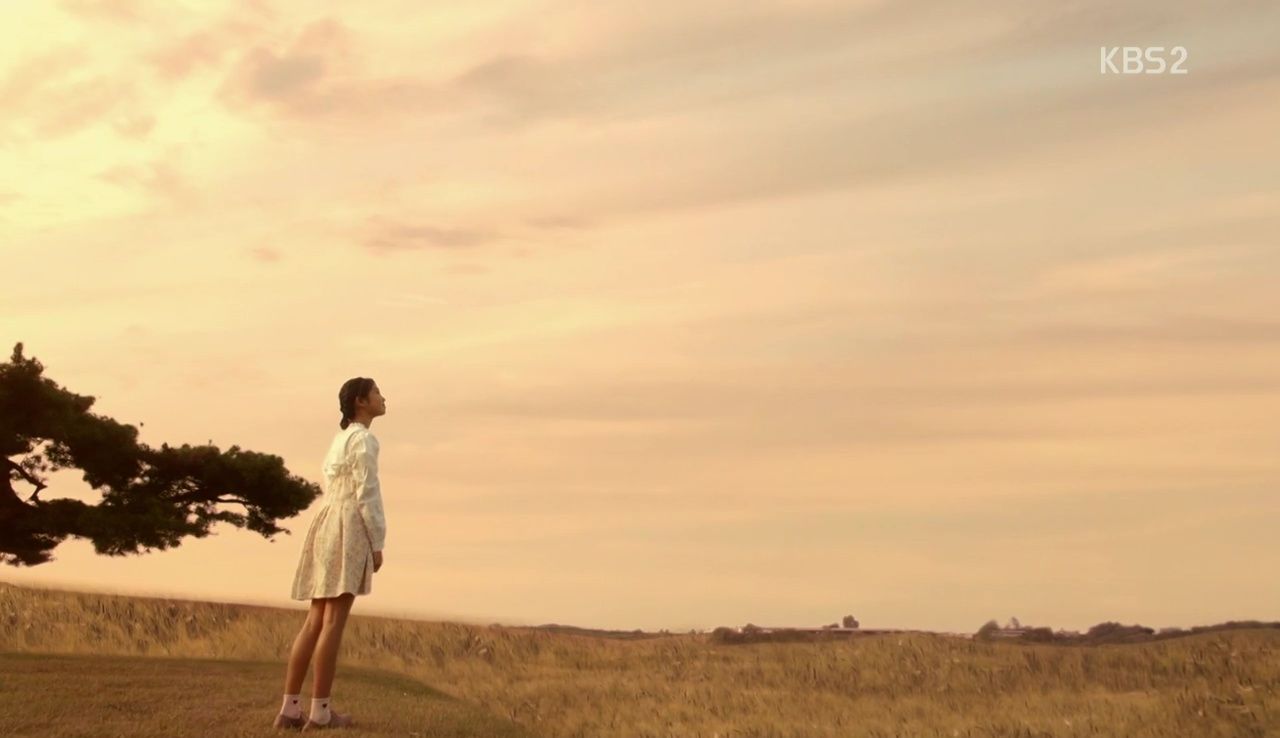 Just then, Do-woo gets a call from Su-ah and numbly answers by saying, "Can you see me?" Su-ah gets tears in her eyes as she confirms that Annie must've been waiting, even though in her heart she knew no one would come.
Do-woo doesn't answer that and instead asks if they can meet. "I miss you," he says.
Su-ah sucks in a breath, the feelings she'd tried so hard to hide away now rising to the surface.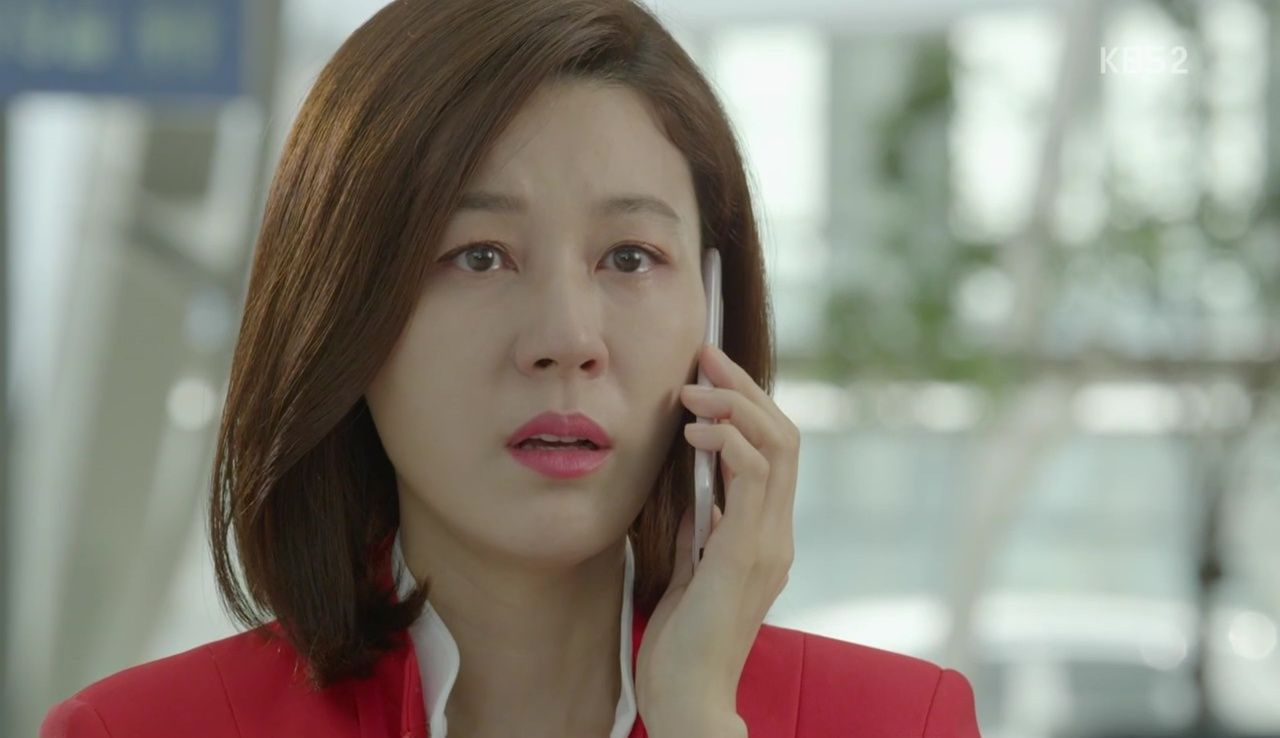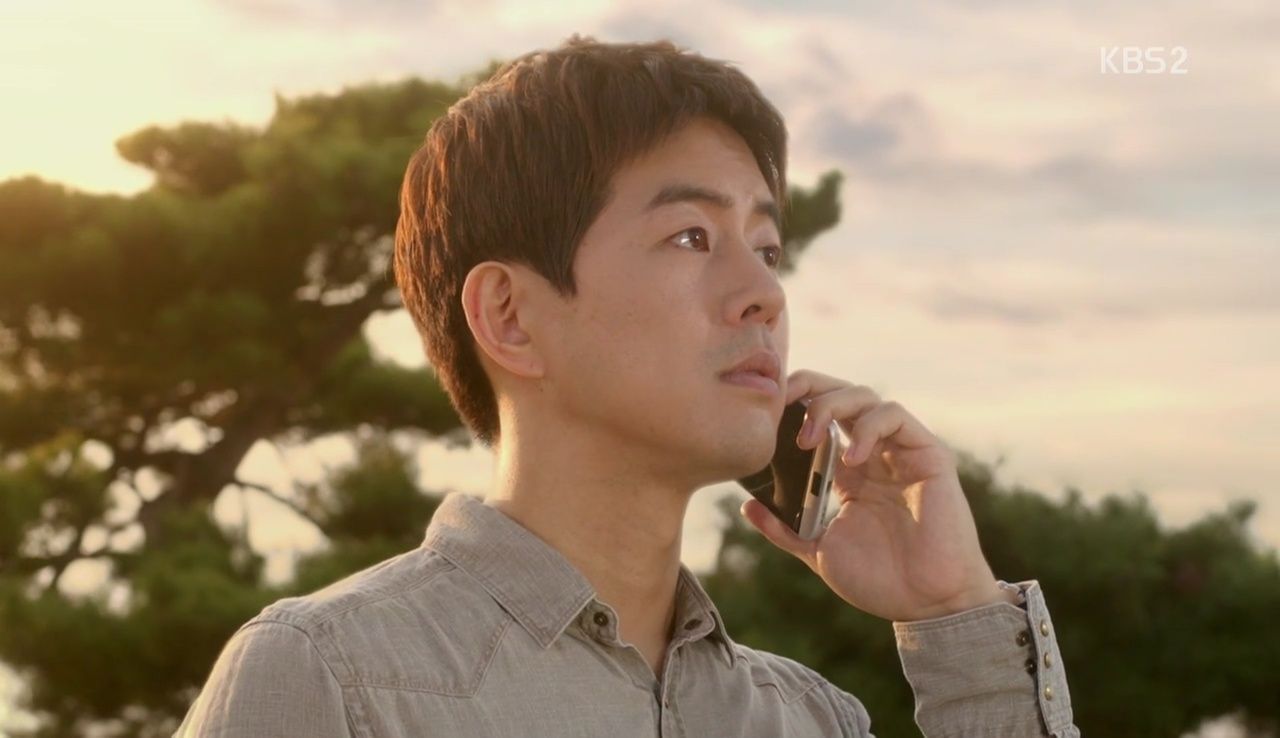 COMMENTS
And so it begins. This show has done a great job of convincing me Do-woo and Su-ah were made for each other, as well as convincing me once and for all that I do not like the second leads. As characters, yes. As people, hell no. On the plus side, I'm glad we got a great deal of backstory from Hye-won. Though I still feel incapable of sympathizing with her the same way I sympathize for Su-ah, we finally got a good look at what might be going on inside her head. And I can at least understand where she's coming from and why she acts the way she does, even though I don't always condone those acts.
Being a single mom at such a young age is in no way a simple task, and it's sure to cause some sort of strain between the mother and child depending on the circumstances. I don't want to get all judgmental, so I'm holding out until we get further information on Hye-won's past. But with the information we've learned so far, Hye-won is in this for herself. In the last episode when she'd begged Do-woo to throw away Annie's belongings because she was scared of reading spiteful comments in her diary… Was it just me, or did that seem like the biggest lie? I'm sure it's true in one sense, but I got the feeling she wasn't scared because of hurtful diary entries from her daughter – she was scared of what her daughter might've revealed.
The question is, what exactly could be revealed that has Hye-won so frightened? The flashback to the phone call with Annie shed some light on all the secrecy between the two of them, but it was vague enough to have us craving more. For that, I applaud the writers – the aura of mystery surrounding Annie and her father is one of the highlights of the show, though it does have me biting my nails with impatience and anxiety. I'm just aching to know what those last few words Hye-won said into the phone before Annie died were.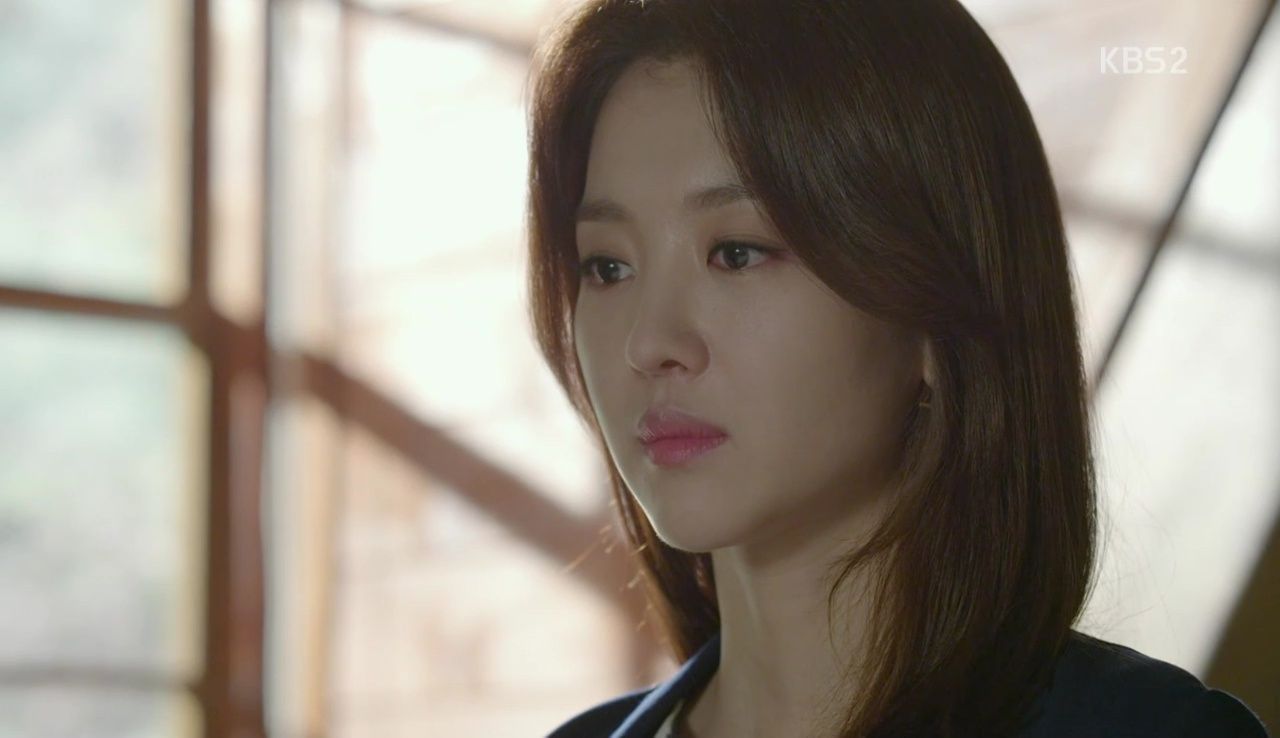 With Jin-suk, I'm not sure if any kind of backstory can justify his actions. I was on his side for a good while, and I believed that while he and Su-ah did clash with their views on parenting, they could work it out. But now I'm starting to wonder if he even deserves to have things worked out with Su-ah. Heck, does he even want to work things out with her? Because by staying as far away from her as possible and pushing her away whenever they are together, he's not doing a very good job. He does have his moments where I can see the Dad or the Husband in him, but then he goes back to treating Hyo-eun and Su-ah like trash.
So with the second leads forever crossed out in my book, I'm all for this relationship with Do-woo and Su-ah. I don't blame them for meeting and for falling in love, if that is what they're feeling at this point. The heart feels what it wants to feel and sometimes there's just no use in fighting it. We're still in the early stages of their feelings, but already we can see that pull that keeps drawing them closer together. Somehow, Su-ah fills in that gap in Do-woo's life just as Do-woo fills in that gap for Su-ah's. Gaps that neither of their spouses can or are willing to fill. In short, they have a mutual understanding of each other that seems to go beyond words, and it all just clicks. It works.
Now that our couple has realized this – that they may need each other in their lives after all – they have to decide where to go from here. With the mature setting this show has already developed, there's no doubt in my mind that Do-woo and Su-ah can get through this without things getting ugly. With this being a drama, we're sure to get, well, drama — but even so, I'm going to hold onto the belief that these two will find some way through what's sure to be a rocky relationship. Will that include attempts at friendship? Divorce papers? Or even more secrets? I'll be biting my nails with anticipation until next week, that's for sure.
RELATED POSTS
Tags: Choi Yeo-jin, Episode 4, featured, Jang Hee-jin, Kim Haneul, Lee Sang-yoon, On the Way to the Airport, Shin Sung-rok