Running Man: Episode 319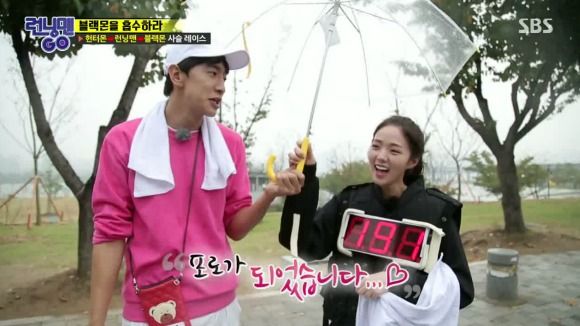 Operation Find Shoe-stealer will be in full swing this week as the cast hunts down the one trying to swipe their kicks. Once that draws to a close, it'll be a round of Running Man Go where they'll be the ones hunted by a swarm of guests. But while some will be busy trying to evade their captors, others will be busy looking for love.
EPISODE 319. Broadcast on October 2, 2016.
After a lengthy recap of Yoomes Bond and Operation Shoe-stealer, we kick off with Jae-suk being partially truthful with Jong-kook about his mission. Jae-suk slips away with an excuse for a bathroom break, but Coach Kook is still highly suspicious.
Jae-suk comes up with a new plan: persuade Jong-kook's coordi Ji-sun to sneakily switch out Jong-kook's shoes. He then tells Spartakooks that he's given up on him and waits outside while they wrap up Hell-th Club indoors…
… and the Bond girl comes through with Jong-kook's shoe. Knowing that she'll be in trouble, a very grateful Jae-suk advises her to hide out for a while.
Inside the gym, Jong-kook is understandably confused and angry when he learns the scenestealer is, in fact, a shoe-stealer. "How could someone steal a shoe like that? He should've stolen it himself!"
He berates his coordi for her soft heart: "Do you help anyone who asks for help?" But now he's filled with new determination to hunt down Jae-suk.
Speaking of whom Yoomes Bond is headed to Gary, whom he helped out earlier: "I'll just ask him for his shoe." Elsewhere, Kwang-soo calls up actress Lee Sun-bin, who had also named him as her ideal type.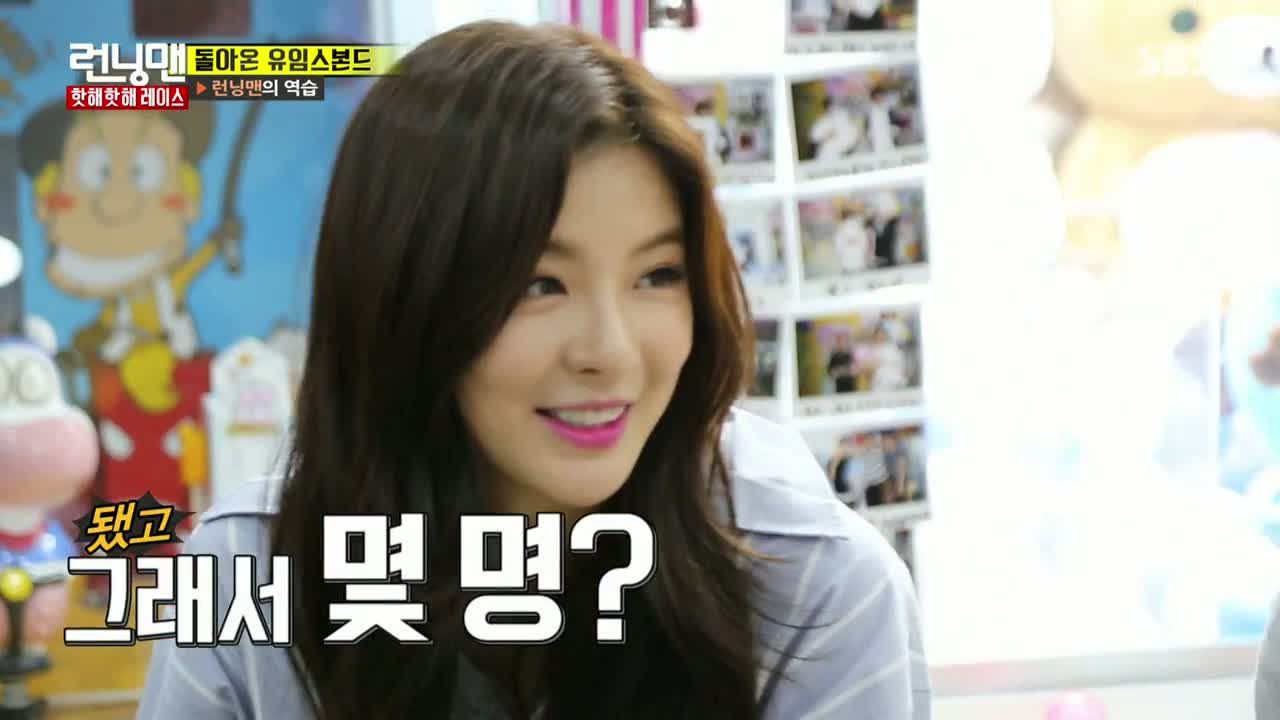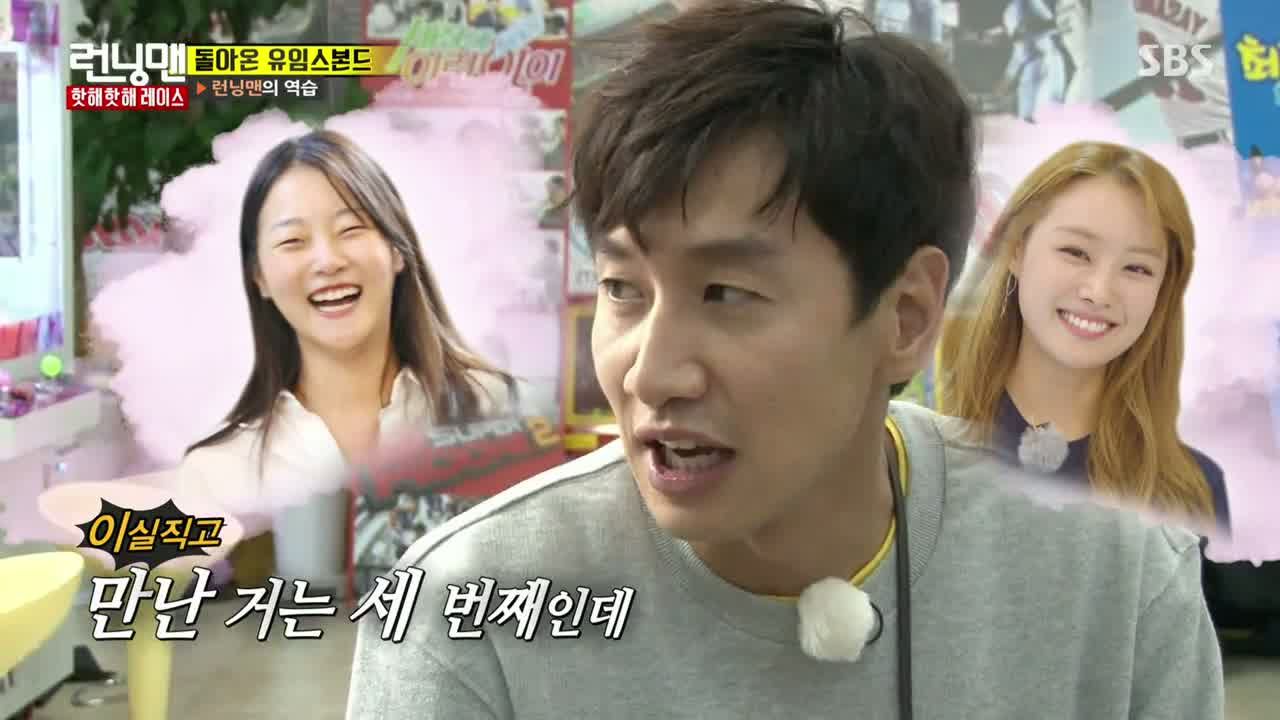 They agree to meet up at an arcade, where Sun-bin immediately points out how Kwang-soo is missing a shoe. She adorably sneaks glances in Kwang-soo's direction and says he's exactly her type, but before they go play, she asks, "How many girls did you call before me?"
Kwang-soo immediately sits down again: "Is that important?" He's in the awkward position of telling her that she's actually the third date today, and Sun-bin hones in on the initials "SJE" on his pinky.
Jae-suk sits down with Gary and tells him the half-truth his mission is to exchange shoes. Just as he's about to reel him in… Gary says, "For the sake of fashion, let's trade one shoe each." Oh, Gary, you naive musical mogul.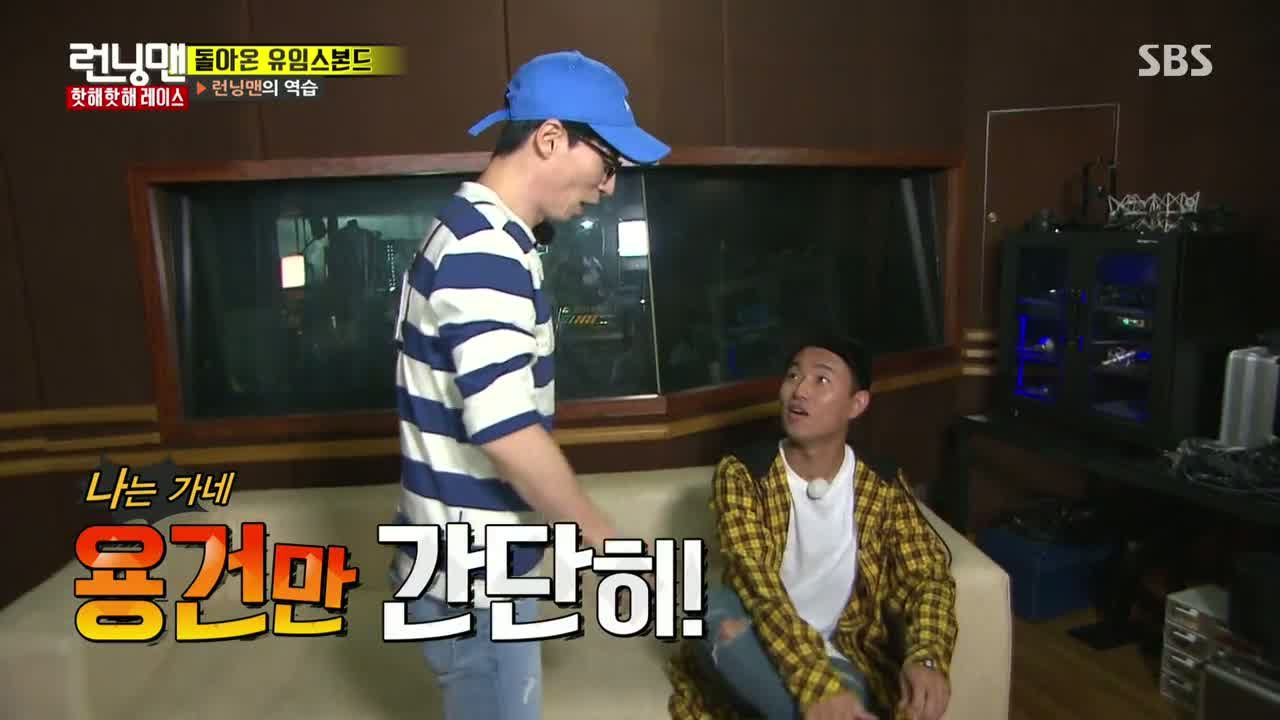 So it's hilariously painful when Gary learns the whole truth on the mission card and we can see his face fall. Jae-suk knows that deceiving a clever trickster like Haha is no easy feat—plus he's got people already tracking his movements.
Meanwhile, Kwang-soo and Sun-bin are thoroughly enjoying their date as he politely teaches her how to aim a rifle. She's a quick study and her perfect aim makes him suspicious. "You're here often, aren't you? Who did you come with?"
Unfortunately for them, the lie detector indicates that her answer of "yes" to "Kwang-soo is my ideal type" is a lie. Sun-bin grits her teeth through the pain and turns her face away, only to slap on a smile when he asks if she's nervous.
The second attempt registers her answer as another lie, which is when Sun-bin bursts laughing insisting that she really does like Kwang-soo. They both blame the lie detector toy on the false negative.
As Jae-suk waits for Haha by the Han River, Kwang-soo learns that Sun-bin was on the track and field team. He's impressed with himself when he offers her tips, even adding that he finds himself sexy in this teaching moment too.
Everyone else is looking for Jae-suk, who slowly opens the door for Haha… only that it's Ji-hyo on the other side. She forces her way in and tears off his nametag.
This means that Jae-suk's number of hits will be cut in half while the stolen percentage (50 percent) will be transferred to Ji-hyo.
30 minutes later. Kwang-soo arrives to find that filming has already wrapped. All that's left is his other shoe. In order to leave the viewers with a shocking twist, Kwang-soo reveals, "We've decided to date! We'll make our wedding announcement next week!"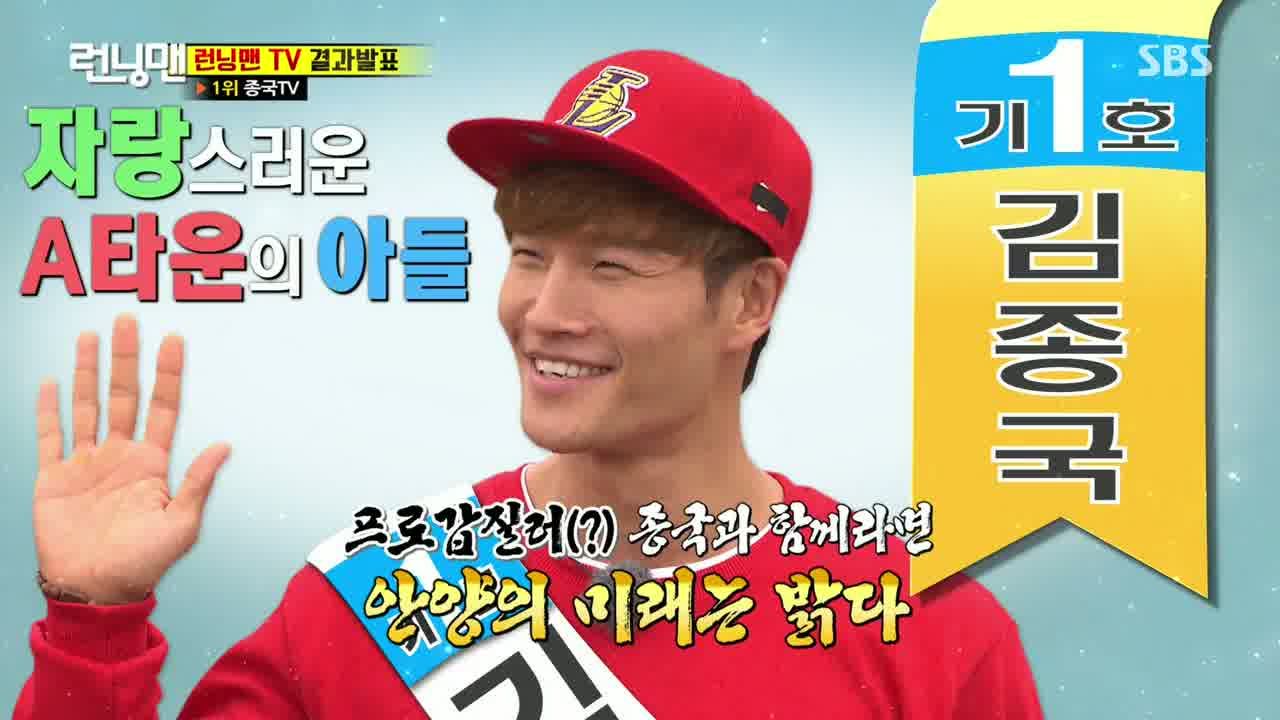 We see the math of those seven 3-minute videos worked out for us on our screen to finally declare our winner at the next rainy opening. It's Jong-kook, who despite the 10 percent decrease, topped out with over a million views.
Haha came in second with over 580,000 views, followed by Ji-hyo and Gary. What's most surprising is that even though Jae-suk's numbers were cut by half, Suk-jin still came in dead last.
Today's race is entitled "Running Man Go", where the cast will need to evade 102 Hunters for 200 whole minutes. We see that recruitment posters were plastered all over the SBS building calling upon actors, singers, comedians, and other celebs alike.
Remember that ranking advantage? Turns out the cast members' ranks determine how many Hunters are after them. Jong-kook (Red) has 7, Haha (Orange) has 9, Ji-hyo (Yellow) has 11, Gary (Blue) has 13, Kwang-soo (Pink) has 15, Jae-suk (Mint) has 20, and finally Suk-jin (Purple) has 27 Hunters after him.
Each member will have three lives, and the one who is in possession of the mysterious 10,000 won Blackmon by the end of the game will be declared today's winner.
Those elusive targets are none other than actor Jo Jae-hyun (Master: God of Noodles) and Chae Soo-bin (Moonlight Drawn By Clouds). They'll be wearing another counter of their own; starting from 200 minutes, it will track how long each Running Man member "captures" them.
Why that's important is this: each Blackmon will either carry a 10,000 won tag or a zero won tag. If the cast member stands next to the 10,000 won Blackmon, they'll win a monetary amount that is 10,000 won multiplied by the number of minutes of capture. However, if the member chooses the Zero Blackmon, the victory goes to our guests.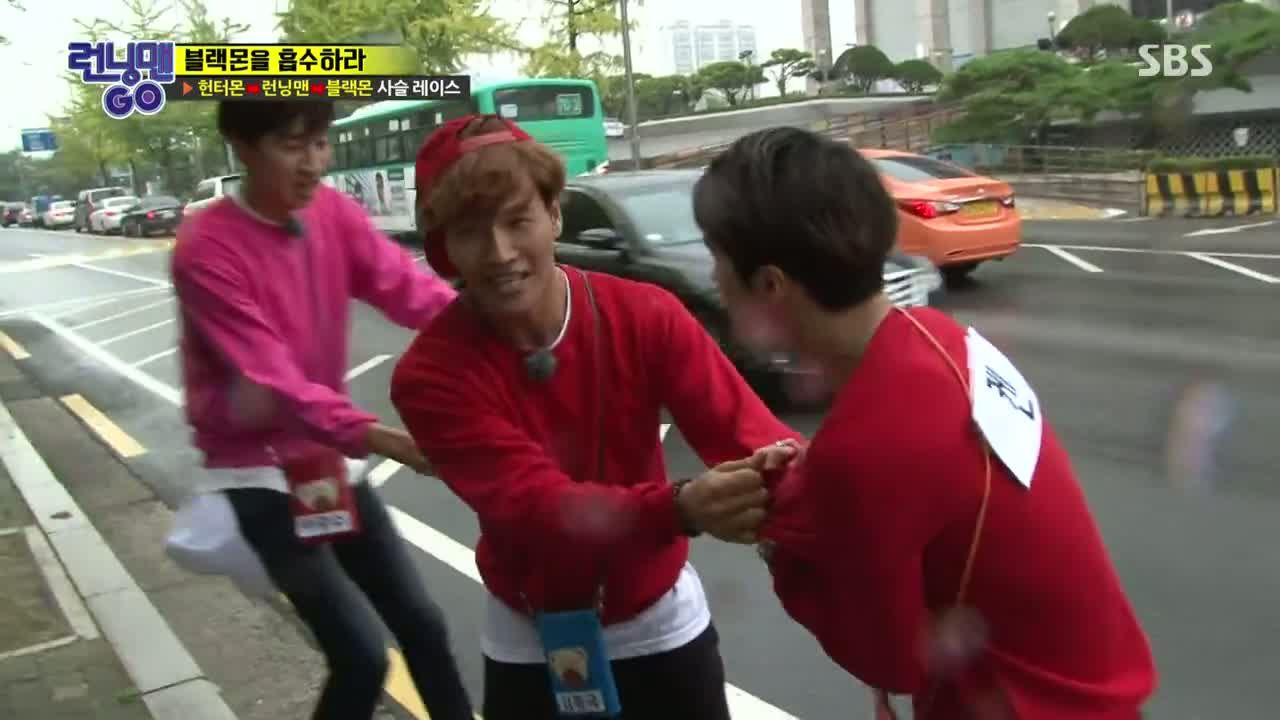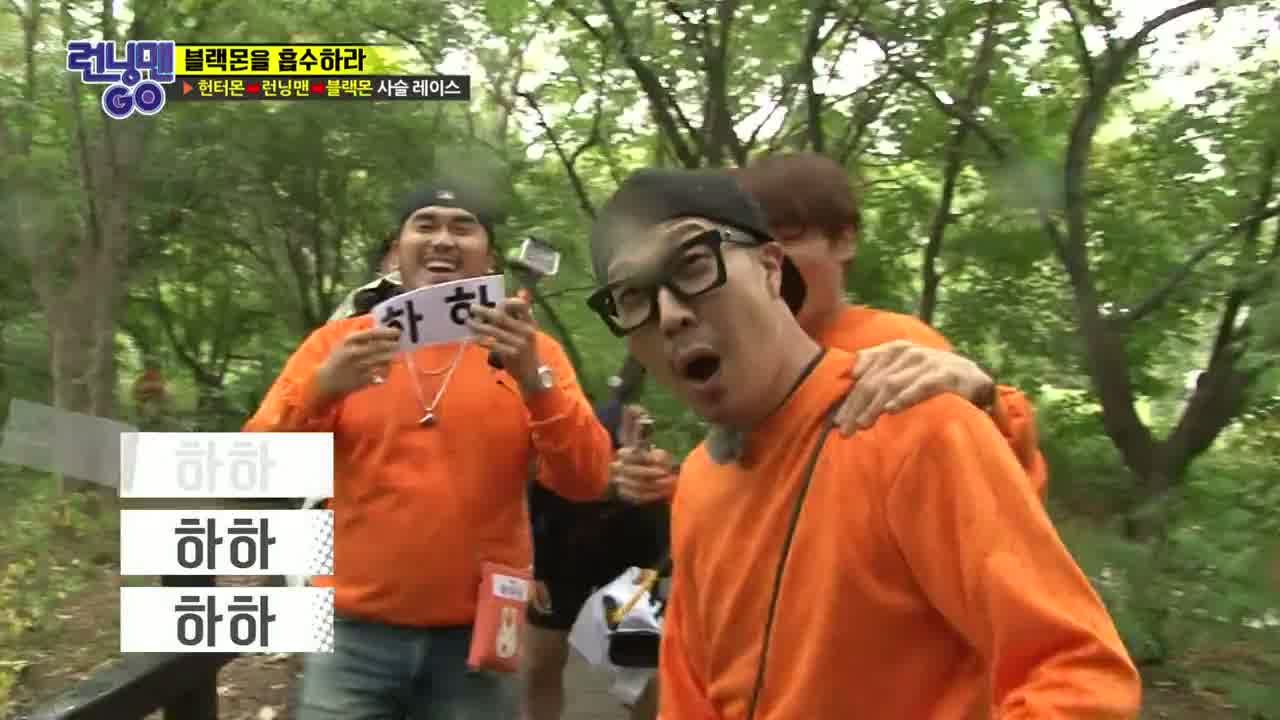 The cast quickly learn that they're already surrounded by the 102 Hunters, who come rushing in. Time to run!
Jong-kook finds himself being pursued by VIXX's Ken and Hyuk. Kwang-soo helps them pin Jong-kook before taking off again at the sight of pink. Announcer Kim Joo-woo celebrates when he tears off one of Kwang-soo's nametags.
But that's only the beginning as both Ji-hyo and Gary lose a life, respectively. Haha gets his nametag ripped off too, which makes him wonder how any of them will last 200 minutes.
Jae-suk sends a Pink Hunter in Kwang-soo's general direction before fleeing a group of mint-colored Hunters. At least the HALO boys make sure to introduce themselves before flanking him.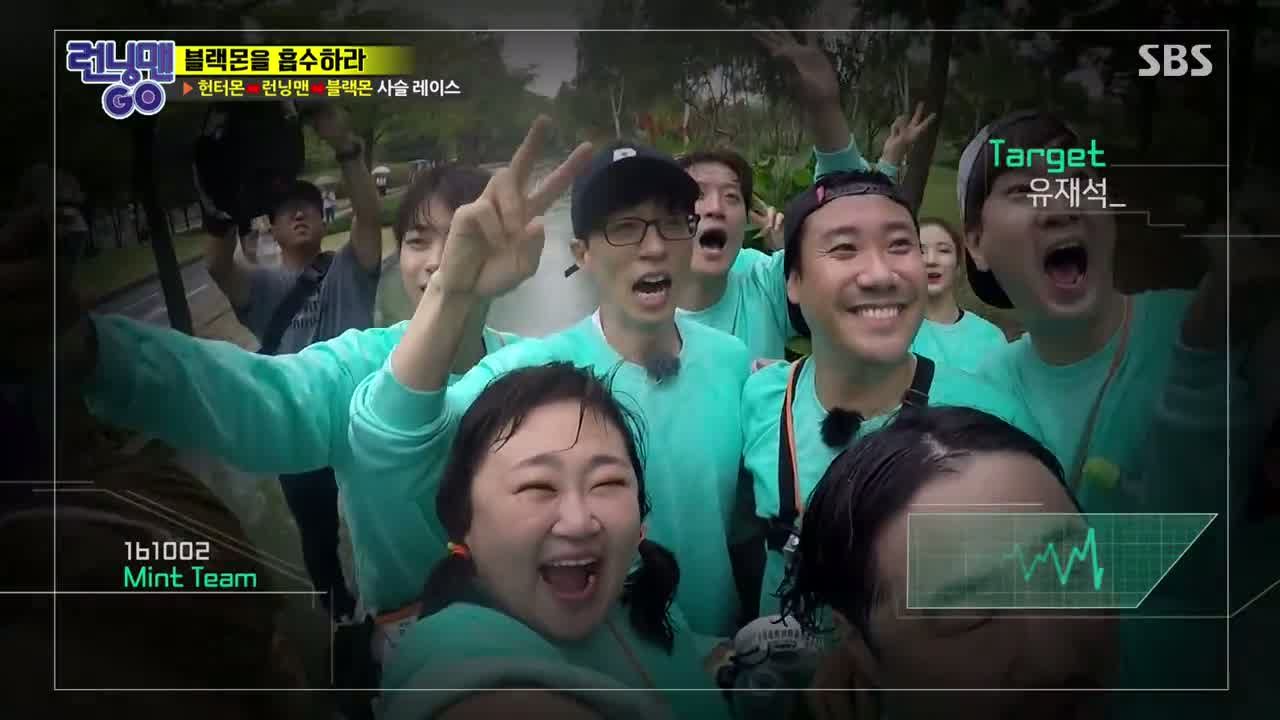 Suk-jin tries putting distance between him and 24K's Jinhong at the convenience store, though that plan quickly sours when the other 24K members swarm in. He strikes a deal for a 30-second head start.
Jae-suk buys some time by gathering all of his Hunters for a selfie, a brilliant PR tactic. He then distracts them by pretending to point out Haha before making a run for it. It isn't long before they catch up to him, and Jae-suk loses another nametag.
The cast is sent a picture clue about the Blackmons' whereabouts. Jong-kook is flanked by DJ DOC members Kim Chang-ryul and Lee Ha-neul, who take another nametag.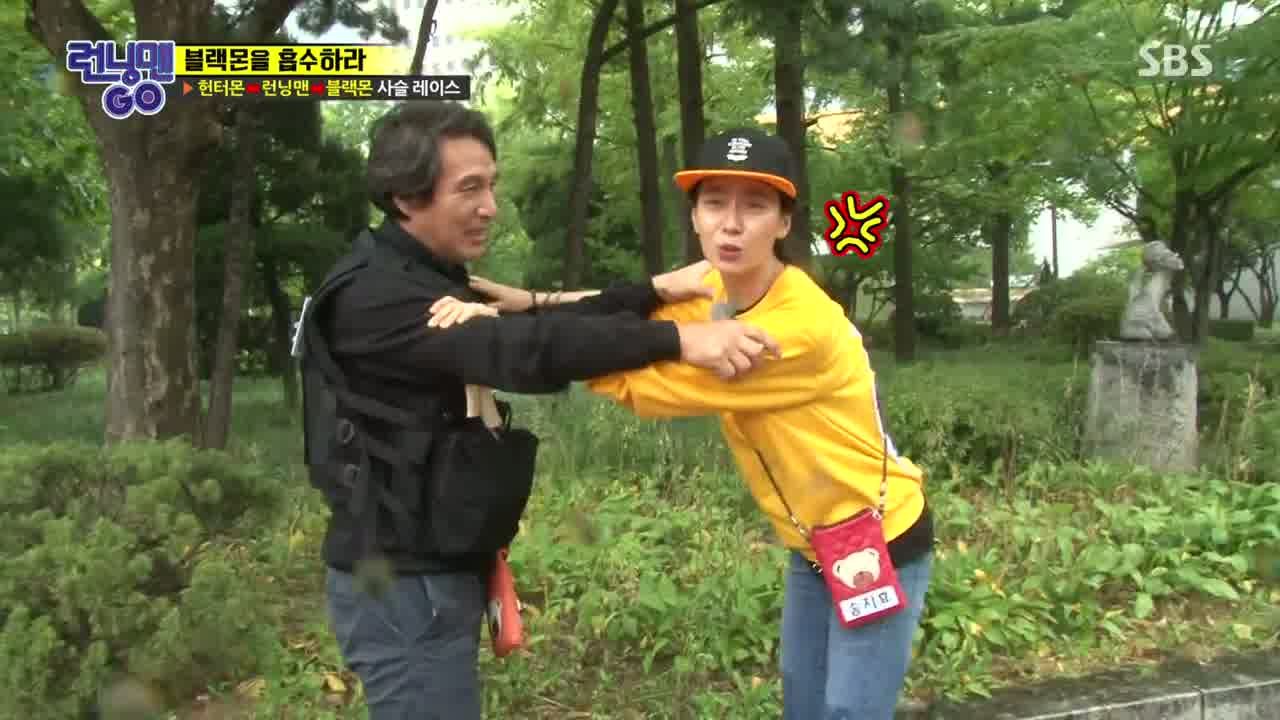 He pleads with his seven Hunters, who agree to lay off him for a while if he buys them lunch. 140 minutes remain when Kwang-soo arrives in the Blackmon's neighborhood. We see that Ji-hyo is here too, and she stop when she see Jae-hyun walking around.
He immediately starts running when he sees her and makes a full rotation before stopping to face her. He says she'll come to regret if she eliminates him, but she places her nametag on his back to claim possession on him anyway.
Meanwhile, Kwang-soo weaves his way through the crew to tear off Soo-bin's nametag. He's determined to keep Soo-bin for himself as the 200-minute timer for Soo-bin begins.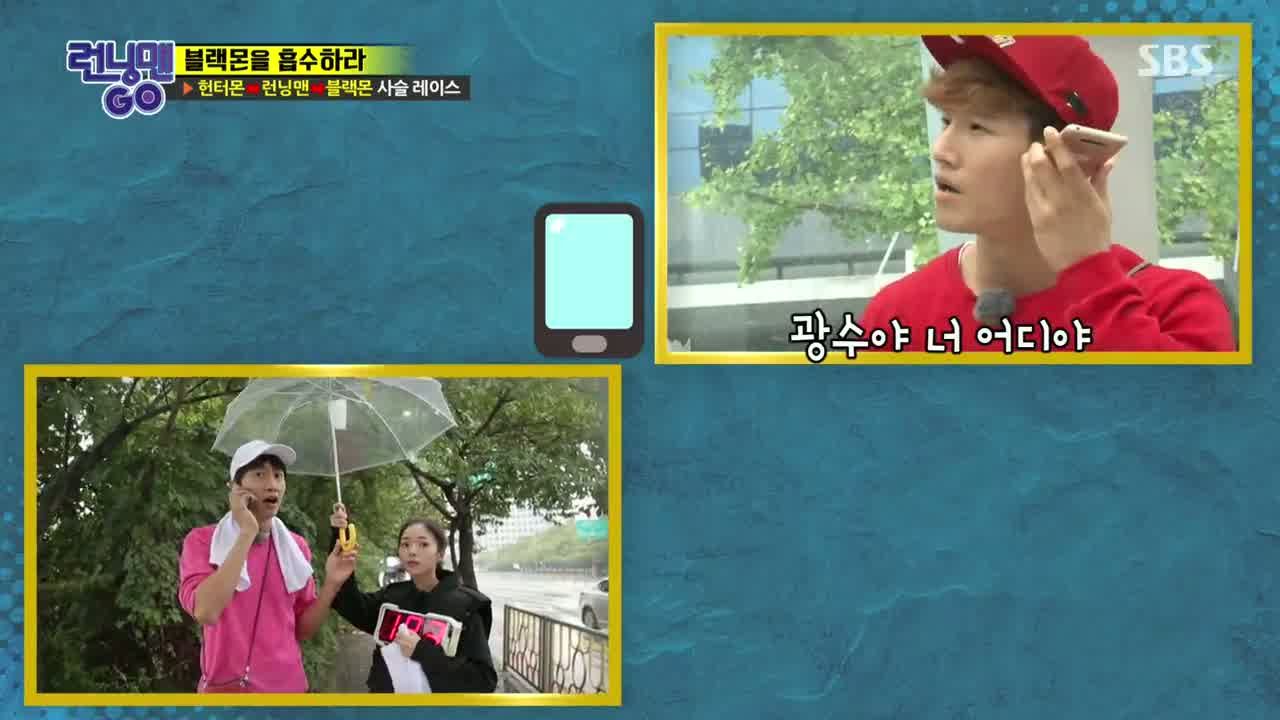 He doesn't even care about winning if it means staying with Soo-bin, and when Jong-kook calls, he happily tells him that Soo-bin is holding his hand. So she takes the umbrella and locks fingers with Kwang-soo.
His ear-splitting grin won't leave, especially when Soo-bin says she's happy to be on the same team with Kwang-soo.
Jong-kook learns that the cast members' exact locations will be made known for 10 minutes because the Blackmons completed their missions. Turns out that Soo-bin's hidden mission was to interlock fingers with Kwang-soo, which she completed with flying colors.
Jong-kook decides he'll head underground but that's exactly where the Red Hunters are. Jae-suk gives Suk-jin a heads-up when he sees a sea of purple, and instructs Suk-jin to follow him. And that's when he screams, "Guys, he's behind me!"
The Purple Hunters come running and rip off Suk-jin's third and final nametag. While Haha gives a pair of Pink Hunters a ride, Soo-bin receives her next mission: get a piggyback ride from your master.
So she immediately slows down and looks at Kwang-soo with great big puppy eyes. He happily obliges, but then stops to say, "But you…"
… and continues the thought, remembering that he's giving her a piggyback ride.
He sees the taxi pull up and darts down the street when the Pink Hunters climb out. As Haha claims Soo-bin, Gary asks from a distance if Kwang-soo has seen the Blackmon. Kwang-soo responds, "Soo-bin ahhhh!"
In the taxi, Haha thinks over Soo-bin's claims that Jae-hyun is the one who's worth 10,000 won and that she can't lie. Haha is faced with a dilemma thanks to a rule we just learned: he could sacrifice a life to find out whether or not she's telling the truth.
But Haha thinks better of it, knowing better than to trust any actress who appears on the show, particularly the innocent-looking ones.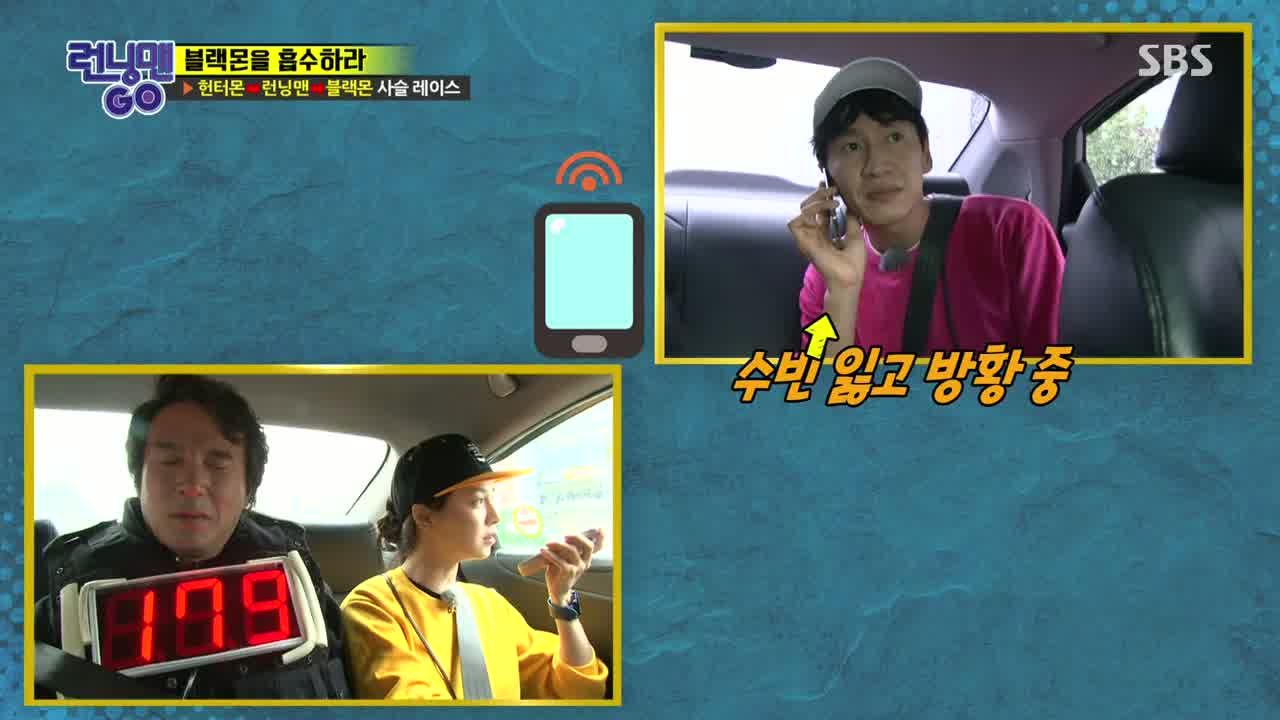 Kwang-soo get a call from Ji-hyo, whose neighbor sneezes loudly. Kwang-soo mistakes Jae-hyun for Haha and asks her to relay the message that he'll be using banmal with him here on out.
So she calls Haha, who does his best to keep his voice muffled. Jae-hyun makes himself obviously known once more, but Ji-hyo has bigger things to worry about like Jong-kook and Gary, who are headed in her direction.
Gary gets into prime position, but he's one step too late because Jong-kook marches right up to Ji-hyo. He captures Jae-hyun for himself while Gary and Ji-hyo hop into a taxi.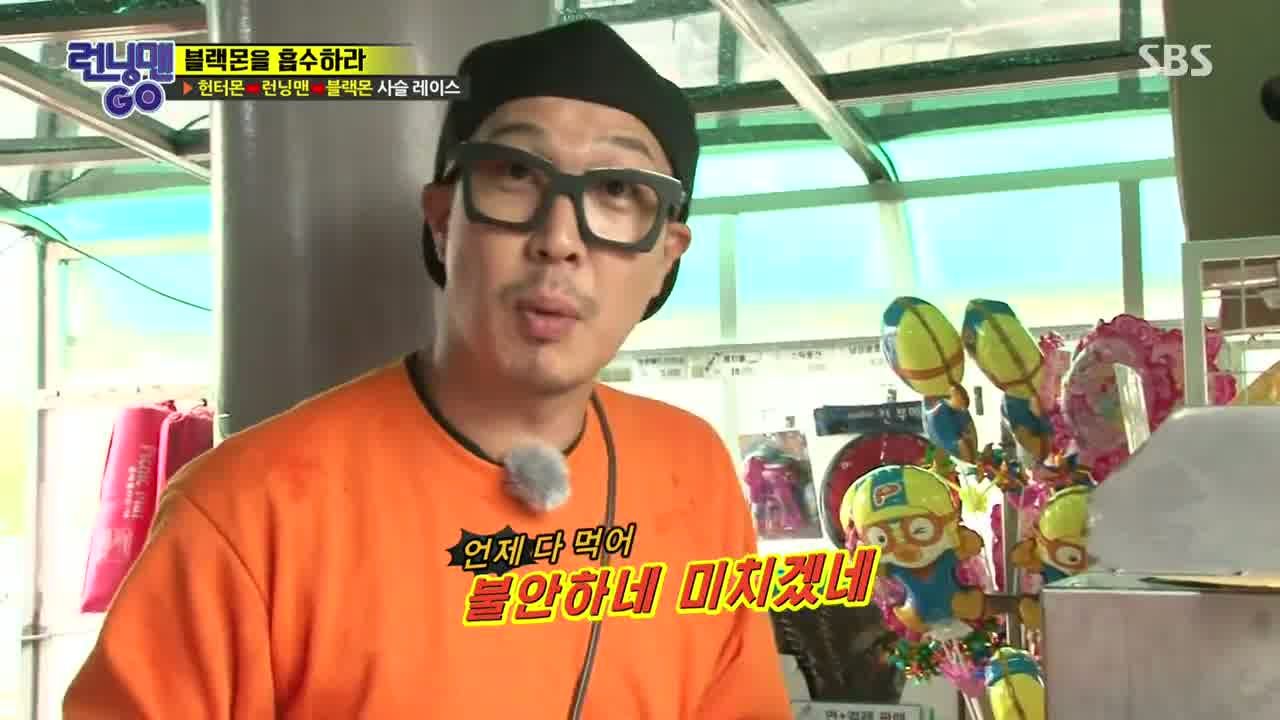 She calls Haha to update him and tell him that Jae-hyun says he's the dud. Because any member in possession of a Blackmon can tear off the other members' nametags, Haha says he'll lure the other members in and eliminate them.
They head to the riverside to complete a side mission that will turn off their GPS tracker for ten minutes. Every member and the Orange Hunters are headed to his direction, and every bump makes him jump.
Gary and Ji-hyo are first to arrive, but Haha whispers to her that he'll just attack Gary. But Ji-hyo won't be so easily fooled and gestures for Gary to approach. And then Soo-bin runs outside and asks Gary to capture her.
Gary does just as Kwang-soo walks up from behind and rips off that nametag so he can take out one of Gary's nametags. Soo-bin and Kwang-soo climb into a taxi, where Jae-suk suddenly opens the door from the other side.
Gary and Ji-hyo who were in the car behind them attack from the other side. Not only does Kwang-soo tear of Gary's last nametag, Jae-suk tears off Kwang-soo's nametag on Soo-bin's back.
That means Jae-suk is Soo-bin's new master, and he tells her to lock her door. But Ji-hyo is a problem-solver and unlocks the door from the driver's side. Amidst the chaos, Kwang-soo recaptures Soo-bin.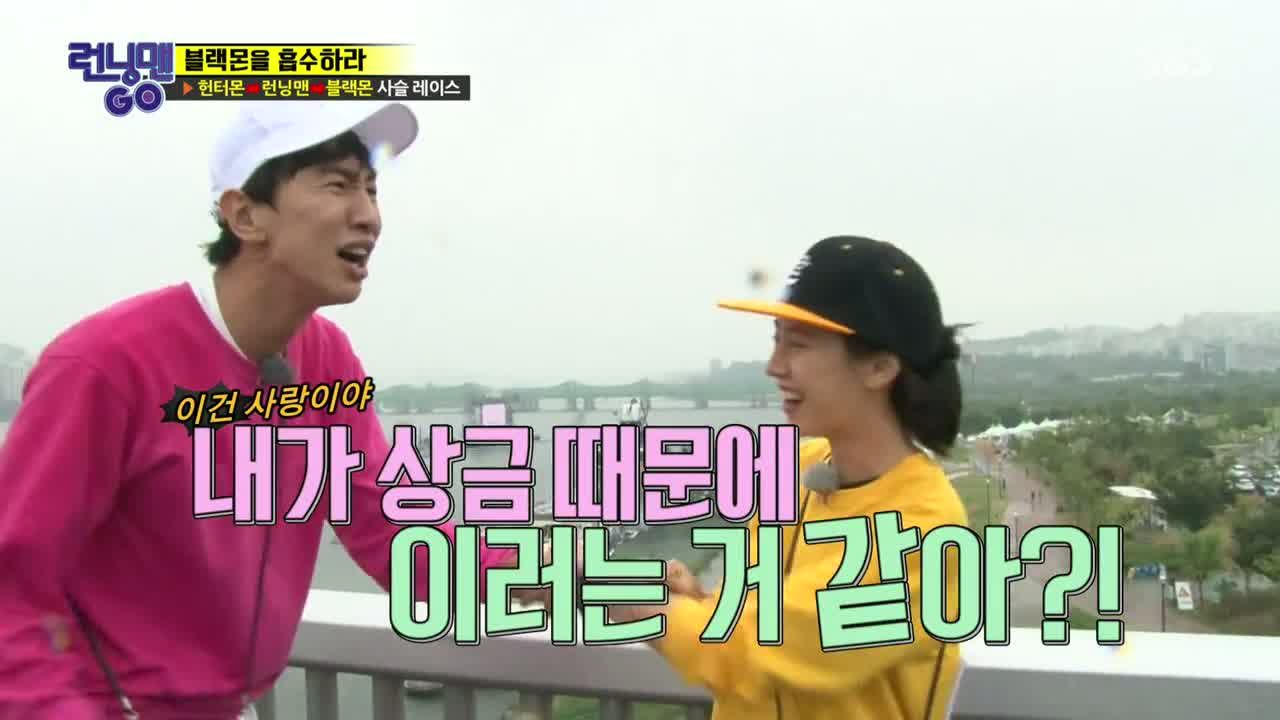 Ji-hyo stays hot on the trail as Kwang-soo tries to hitch a ride in a van. He soon finds himself surrounded and Jae-suk advises that anyone with two nametags should attack first. That's Haha and Ji-hyo who take on Kwang-soo and Soo-bin, respectively.
Once Jae-suk recaptures Soo-bin, Kwang-soo starts running, crying out Soo-bin's name until he's out of breath. Ha. Ji-hyo catches up to him, and like the practical noona she is, tells him to snap out of it.
She and Haha tell him to choose which "-bin" girl it'll be: Sun-bin or Soo-bin? They all thinks it's easier to take Kwang-soo out of the game, which is when Soo-bin comes running, saying that they all need to go after Jae-hyun.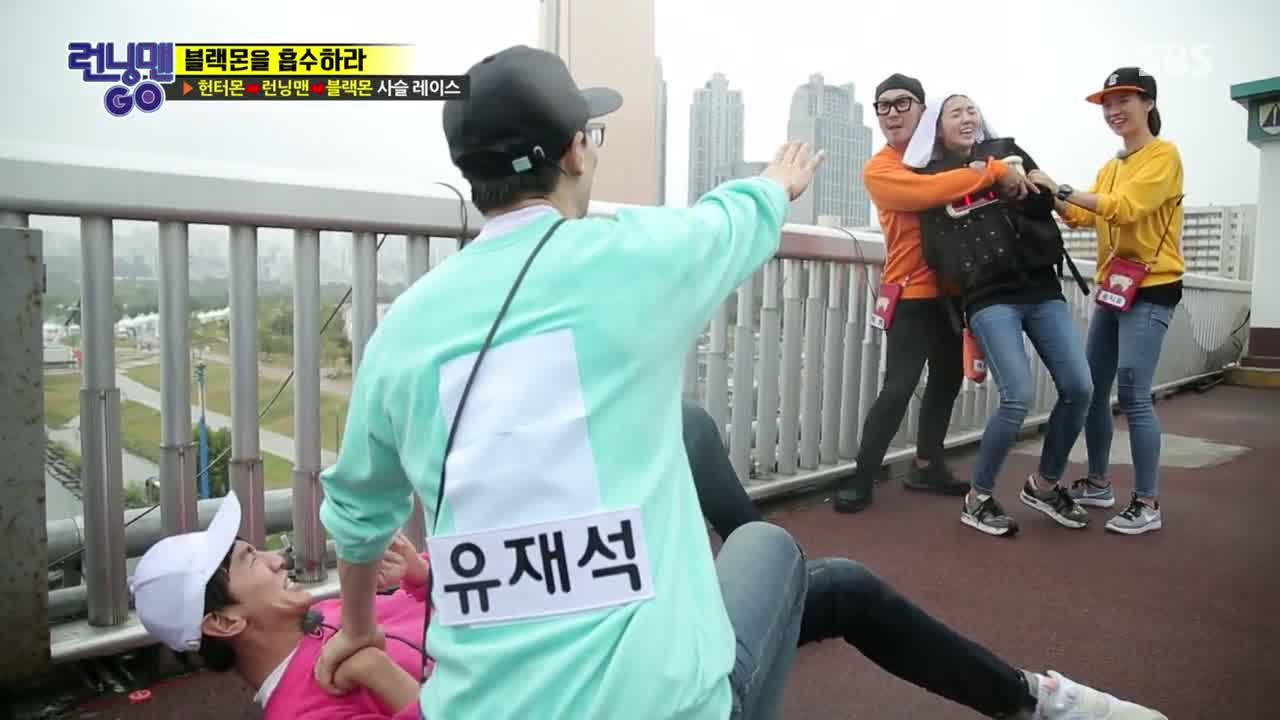 This quickly turns into a hostage situation where Haha and Ji-hyo take hold of Soo-bin threatening that Jae-suk better eliminate Kwang-soo in the next ten seconds. Having no choice in the matter, Jae-suk does the deed.
While Jae-suk argues with Haha and Ji-hyo, Kwang-soo lies on the ground, saying he has no regrets. That grief lasts all of five seconds before he screams at Haha to capture Soo-bin and eliminate Jae-suk already.
So Haha does just that, and Jae-suk says he'll just call over the Orange Hunters. Haha threatens to do the same, then Soo-bin rushes towards Ji-hyo, who captures her.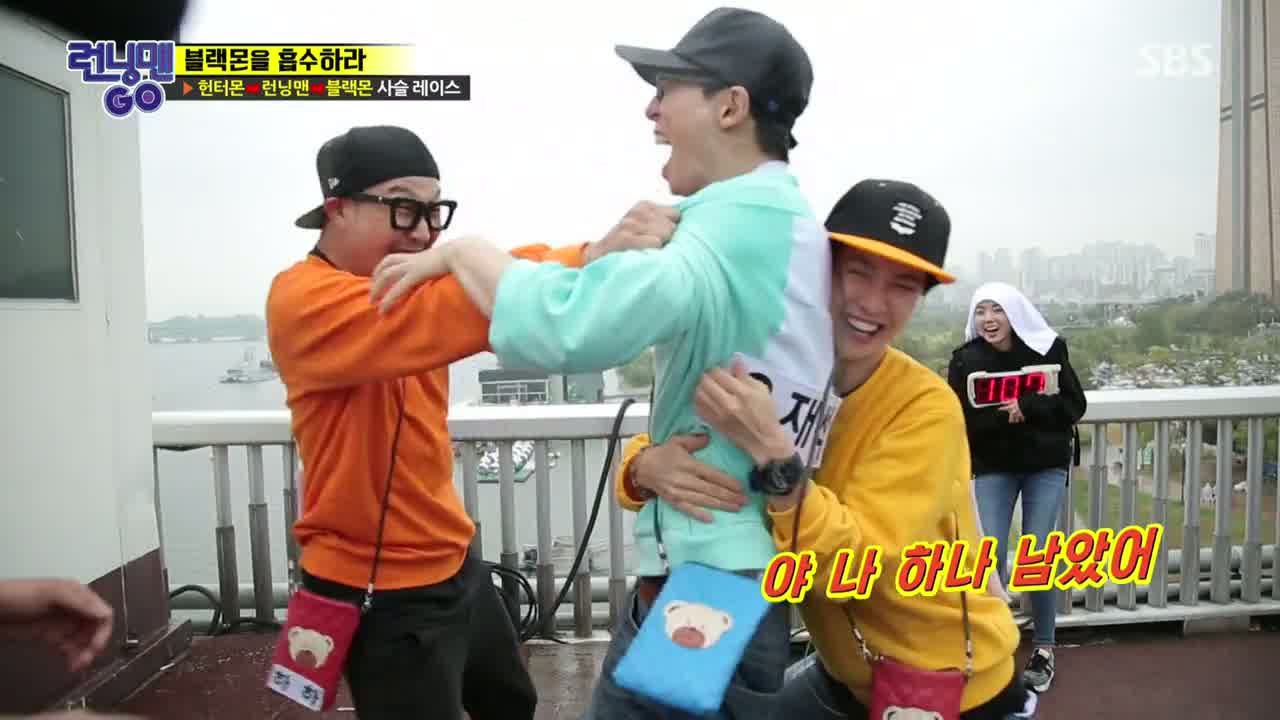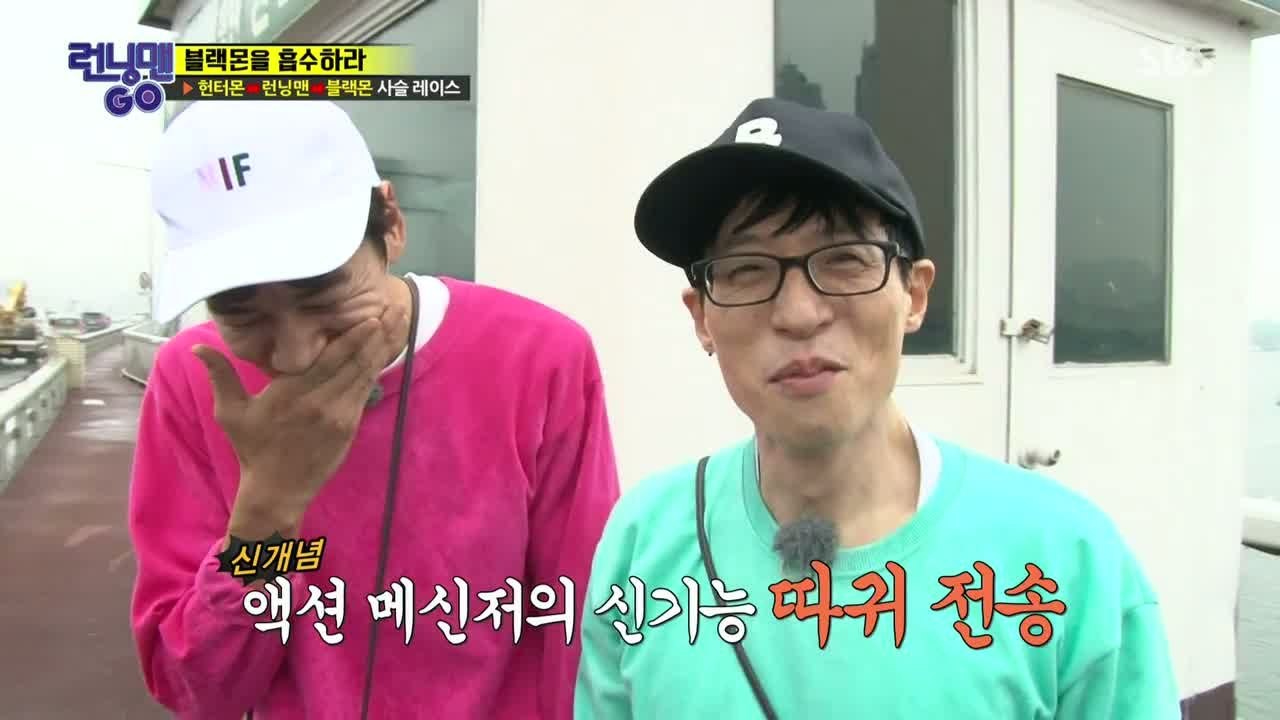 Now Ji-hyo tears off one of Haha's nametags, which is when Kwang-soo suggests that Jae-suk recapture Soo-bin and tear off Haha's final nametag. At that mention, Ji-hyo eliminates Jae-suk for good.
Jae-suk blames all of his misfortune on Kwang-soo, who has to watch his latest love leave him. He and Jae-suk speak directly into the camera, and Jae-suk says there's an action message from Song Ji-eun…
… and slaps Kwang-soo. Ow, but you kinda walked into that one. He delivers a second slap, which Jae-suk says was from model Kang Seung-hyun. Kwang-soo: "You don't even like me!"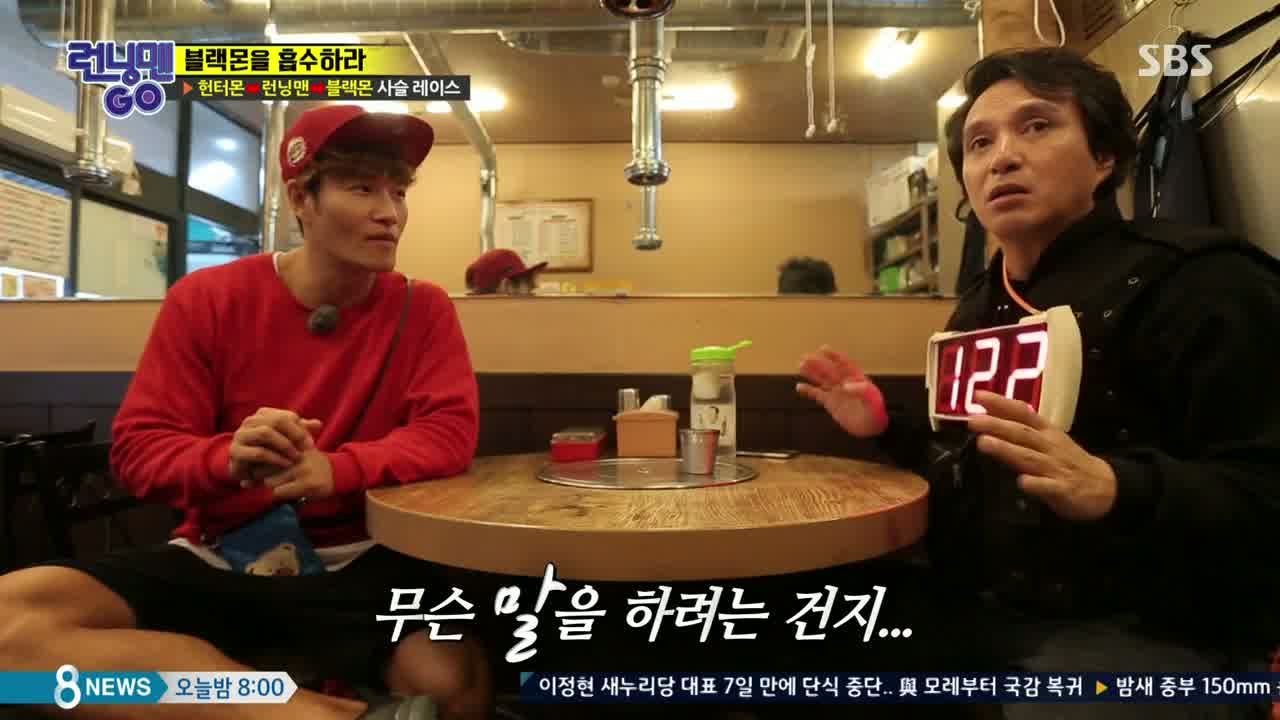 Jong-kook and Jae-hyun sit down in a restaurant where the latter explains that he has no idea how this game works. Believe you me, often times we all get that same feeling. He believes that filming is over now that he's having a meal with Jong-kook, so he reveals in a halting voice: "I'm the dud."
There are four minutes left on the clock, and in another part of the Yeouido, Jae-suk yells at Ji-hyo to run. There's a Yellow Hunters after her, who then rips off her last nametag.
That leaves Soo-bin free to run, and Haha catches up to her to recapture her with 90 seconds remaining.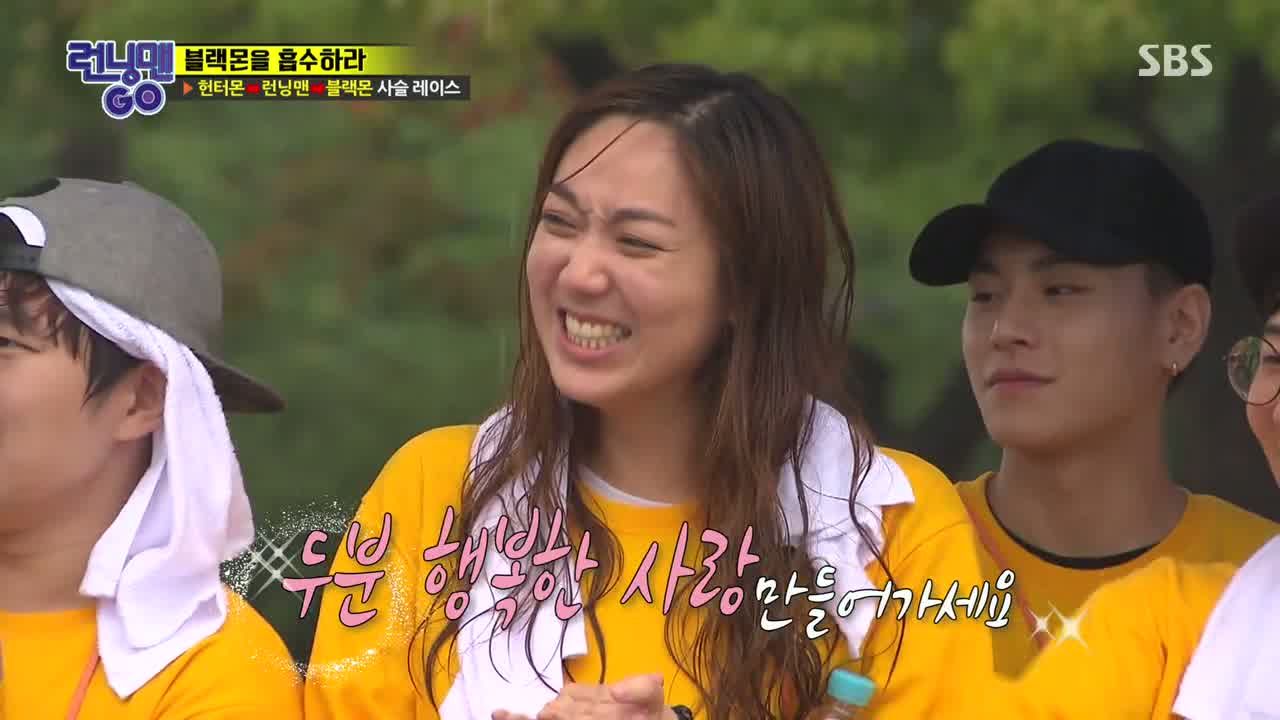 We check back in for the closing where Jae-suk thanks all the Hunters for taking out time to join them today. Comedienne Lee Eun-young is part of the Yellow Hunters, and she happily confirms that she'll be getting married to her longtime boyfriend next April.
BESTie's Haeryung was part of the Purple Hunters, though Jae-suk points out how he made two mistakes: a) incorrectly spelling her name when he uploaded their selfie; and b) he didn't recognize his former teammate.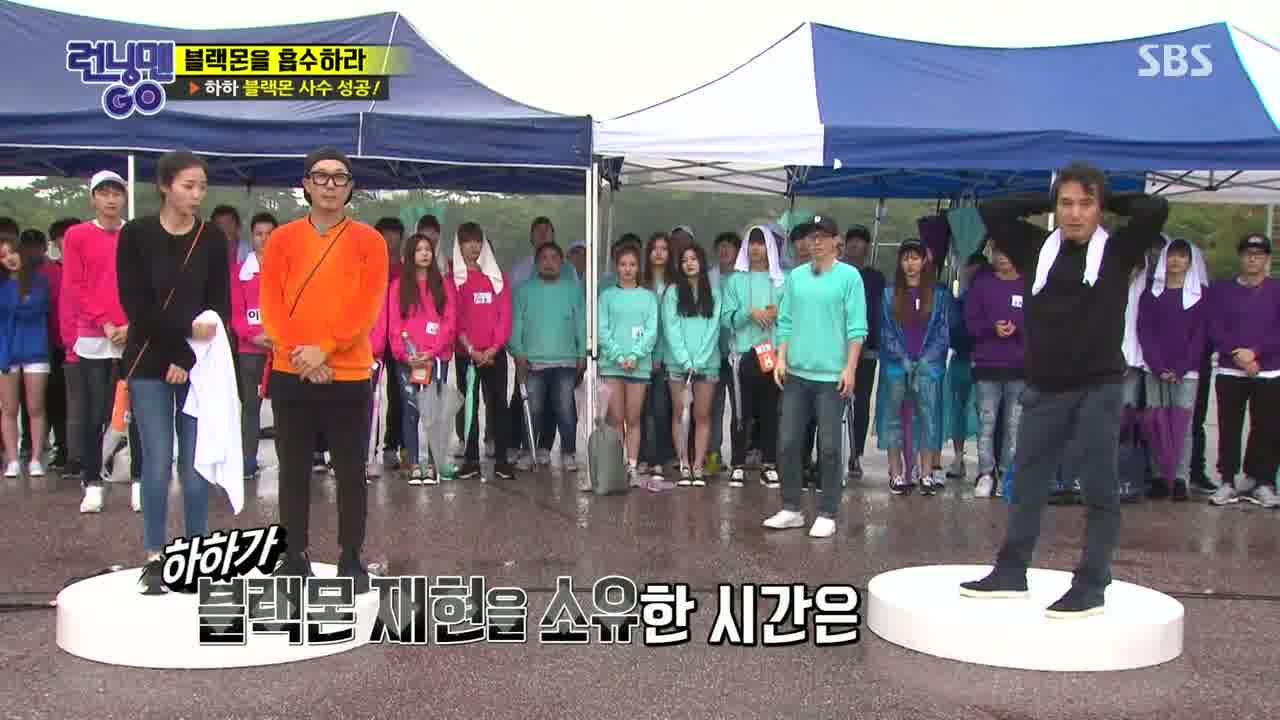 We're told that Haha has to make a decision now, since he tore of Jong-kook's final nametag one minute before the clock ran out. Now that he technically owns both Blackmons, he has to choose—is it Soo-bin or Jae-hyun?
He stands next to Soo-bin, believing her to be the 10,000 won Blackmon. We're now told that the seven minutes Jae-hyun was in Haha's possession would amount to 70,000 won compared to 970,000 won with Soo-bin.
And then Haha finds out that he chose poorly. Haha is completely baffled, so Jae-hyun shows him the 10,000 tag stuck to his own shoe lift. Hehehe. Our guests are awarded their prizes, but there's a cryptic message for those who will come to play next week…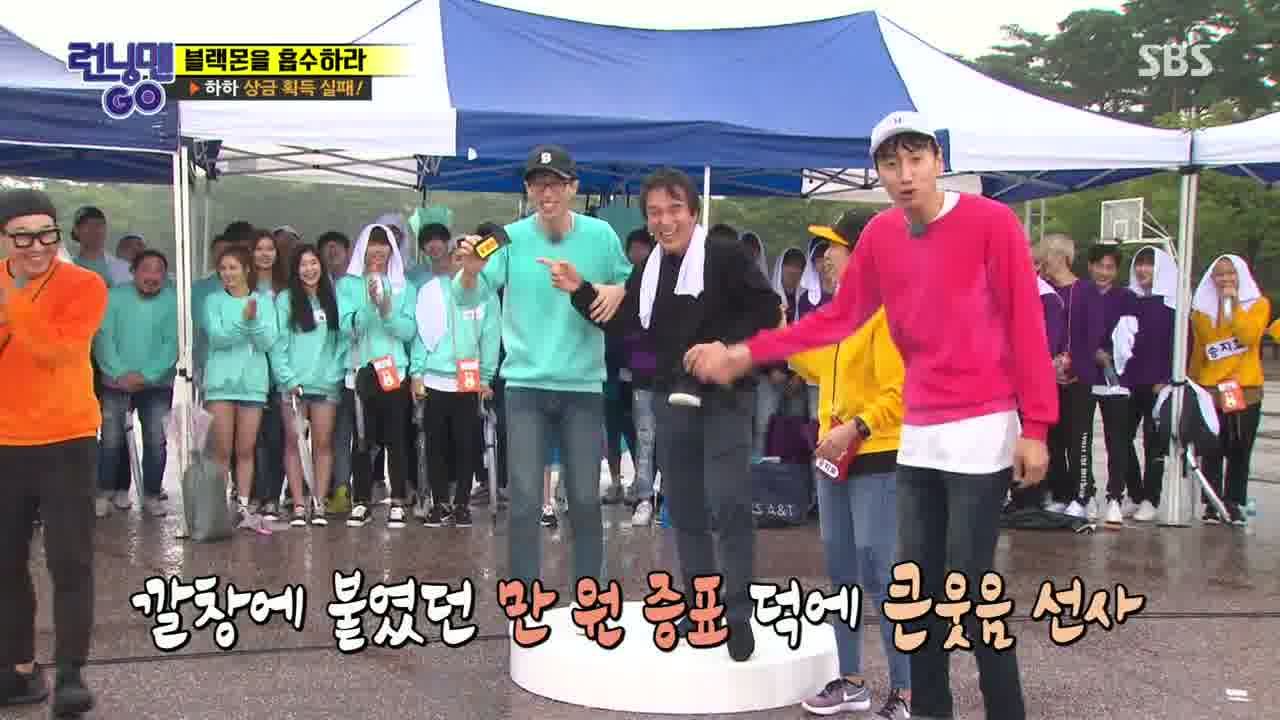 RELATED POSTS
Tags: featured, Haha, Ji Suk-jin, Kang Gary, Kim Jong-kook, Lee Kwang-soo, Running Man, Song Ji-hyo, Yoo Jae-suk