Team Dramabeans: What we're watching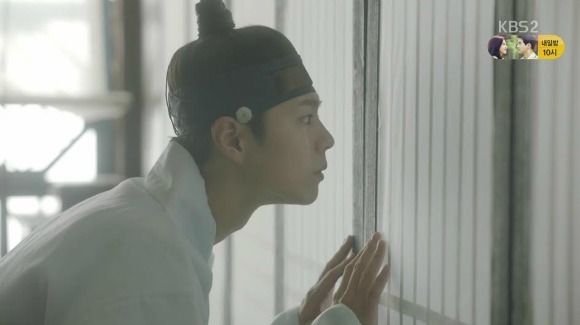 Time to peek in on the Team Dramabeans watchlist, which I swear just keeps growing and growing. You'd think that shows routinely end at the same rate that new shows begin, and yet, dramaland math is just about as reliable as my real-world math. Which is to say, *throws hands in air* *gives up* I'm never upset about having shows to enjoy watching, but dramaland does feel like it consumes way more time than the literal hours it takes to watch its offerings, doesn't it? —javabeans
Currently recapping: Moonlight Drawn By Clouds

The K2: Okay, we geddit, this show is All Action, All the Time! The thing is, I only think the action is cool about half the time, when the action coincides with a cool plot or relationship development. When it's just there to be there, I tune out. (That shower scene was silly beyond words.) Which I suppose is just another way of saying I like shows that have cool plot and relationship developments, and don't care when screentime is wasted on unnecessary showing off.
Fantastic: I'm so glad Ji-soo is back! The thing is, I am not watching this show just for him, and I really enjoy all of the characters (even the ones I love to hate, because I love to hate them)… but when the Park Shi-yeon and Ji-soo storyline was being back-burnered during his illness, the show happened to also get more serious with the cancer stuff, and I felt like my bright happy spots had dimmed. Now they're back and I'm excited again.
Cinderella and the Four Knights: This show ended exactly how I thought it would, and wrapped up its loose ends in a benign happy bow. Despite often being overly simplistic and driven by a super-obvious storyline, it had a funny little charm that was buoyed by the cuteness of its lead couple and an overall good-natured attitude.
Moon Lovers: Scarlet Heart Ryeo: The story is getting more interesting, but I feel like the execution is getting worse, and it's gone from making me sad to making me mad. I keep telling myself I'll let go of the what-ifs and if-onlys—but since I do quite like parts of the show, I can't help feeling indignant that the result is so far below What Should Have Been. A lot of things got on my nerves this week, like the jarring transitions and IU's stupid limping, but worst of all was that utter shitfest of an ending preview, which was legitimately the worst episode-ending preview I have ever watched in my entire life. I can't believe the producers just undid all of the hard work the episode achieved in terms of conflict escalation and suspense-building, and just poop-bombed the "gotcha!" teaser in our laps at the end. How. Dare. You.
Drinking Solo: I do wish Ha Suk-jin hadn't been quite as big an ass as he was this week, but my silver lining is that I will enjoy the hell out of him having to pay for that next week when Park Ha-sun doesn't take him seriously. Of course I want the romance to happen (eventually), but I've got a little bloodlust to satisfy first.
Woman With a Suitcase: I caught the first couple episodes to get a sense of the show, and found it more engaging than I was anticipating, though a bit rough around the edges. It's pretty low down on my priority list, but I was glad to see Choi Ji-woo being sassy and thought the legal cases were interesting, if rushed.
Shopping King Louis: This show should never keep Seo In-gook and Nam Ji-hyun apart, because they are 100 percent of its addictive charm. So sweet, so weird, so feel-good and underdoggy. I love Louis's forthright, childlike way of expressing his feelings, even if he doesn't always understand what those feelings mean. It's all honest gut expression, zero interpretation.
1% of Anything: This show is interesting, in that it feels very old-school—I know it's a remake, but usually remakes have an updated twist or a fresh feel. And it's not only the story that feels dated, but also the directing and cinematography—it's a little low-rent. That said, the show picks up cutely once the leads get together, even if reality does actually get in the way by making it hard for me to buy Ha Suk-jin as the lead when he's romancing another girl on a different night of the week. For me, Jeon So-min makes this work—she's like the new Jang Nara, equal parts everygirl and sass.
Jealousy Incarnate: Aaaaaaaaah, it's so good this week! *Rewind* *Replay* *Rewind* *Replay* *Rewind* *Replay*
Cinderella and the Four Knights: I ended up enjoying this drama, even though the final conflict was dumb as rocks. But Park So-dam and Jung Il-woo were so adorable as a couple that I was able to power through Grandpa's classist nonsense to get to the sweet stuff. It was as predictable as a drama could be, but it was satisfying comfort food—maybe something of the frothy sugary variety, but comforting all the same.
On the Way to the Airport: The atmosphere of this drama is kind of magnetic—there's a tension to everything and the mood is so palpable, even when it seems like nothing significant is happening. I haven't been hooked by a straight-up conventional melodrama in a while, but this director is so good that I'm getting caught up in all the little moments. It's a purely sentimental show—there's little else left if you take out the emotion—but it's not pretentious, and I like that.
Moon Lovers: Scarlet Heart Ryeo: Lee Jun-ki being a hero! And getting a loveline! Is it Christmas? Also, was that so &$%#&$* hard?!
Moonlight Drawn By Clouds: It's funny, the show got sad this week, but I realized I wasn't crying anymore, which is odd since this show usually makes me teary-eyed at the littlest of things. But then Park Bo-gum started crying. And then I was toast.
Drinking Solo: Park Ha-sun's '90s dance-ballad-dance-ballad marathon made my day. I love this quirky little show, but I'm so mad at Ha Suk-jin's character right now that the sentiment carried over into 1% of Anything, where he ALSO plays a jerk. At least they're both hapless types? I'm not sold on 1% of Anything after only one episode, but it seems like a breezy, low-commitment rom-com.
Fantastic: Javabeans told me to watch this for Ji-soo's noona romance, which she knew I'd like, except then he got hospitalized and his storyline was in danger of disappearing, so I literally waited to hear that he was returning to set before starting this drama. One marathon later, I like it more than I thought I would, mostly because it's funny and light despite the cancer premise, and the friendship between the girls is aces.

The K2: It's nice to have an action drama on my viewing list these days, but the novelty of Ji Chang-wook's impressive fight scenes is starting to wear off, and now I'm finding all the combat stuff to feel much too much and much too long. Song Yoon-ah, however, plays an ice queen reminiscent of Claire Underwood in House of Cards, so it's only natural that I love her so!
Moon Lovers: Scarlet Heart Ryeo: I thought after episode 11, the show had finally found its groove, but then this week's uneven and not very enthralling episodes immediately proved otherwise. I know now to temper my expectations, but I can't help but wish for better. "At the very least, there's Lee Jun-ki and Kang Haneul for your viewing pleasure" is what I tell myself after every disappointing episode.
Shopping King Louis: So cute, so sweet, so [my] precious! The main couple is so endearing, and now I'm wondering what kind of haircut I'd end up with if their lousy stylist cut my tresses based on my name. Actually, scratch that. I don't think I'd want to find out.

Shopping King Louis: Adorbs. If a baby seal and a baby hedgehog decided to snuggle, it still wouldn't be as cute as Louis and his puppy-dog adoration for Bok-shil. That being said, this week may be the start of us (and Bok-shil) seeing Louis as more a man than a grown child. There's his shy roundabout declarations of love, that piggyback ride, and his steady, protective presence during scary nights. Despite the wacky circumstances surrounding them, this may the most grounded, healthy relationship between two equals I've seen in dramaland.
Our Gap-soon: Gah. This show just proves I'm a drama masochist. But I had such a fondness for the So-rim couple in We Got Married, that I can't help but go back to watch its downward spiral into mediocrity.
Moon Lovers: Scarlet Heart Ryeo: Finally, we're getting some momentum in the plot. Now that the king's dead, we get to see some actual action happen, instead of continual throne-taking plots failing. Err but our main character, Hae Su, seems kind of irrelevant at this point. The hanged court lady would have died from stomach cancer without intervening for Su. It seems like Wook would have turned dark no matter what reasons he's using to justify it to himself. Hae Su's warning for the Crown Prince was meaningless since Wook had already sent for him. So is starting to kill off his brothers, despite Su's attempts to "reform" him. It's come to the point that I'm wondering if Moon Lovers is actually some sort of meta-mind experiment in favor of determinism, regardless of the time travel variable.

RELATED POSTS
Tags: 1 show to rule them all, 1% of Anything, Cinderella and the Four Knights, Drinking Solo, Fantastic, Jealousy Incarnate, Moon Lovers: Scarlet Heart Ryeo, Moonlight Drawn By Clouds, On the Way to the Airport, Shopping King Louis, The K2, What We're Watching, Woman With a Suitcase