Team Dramabeans: What we're watching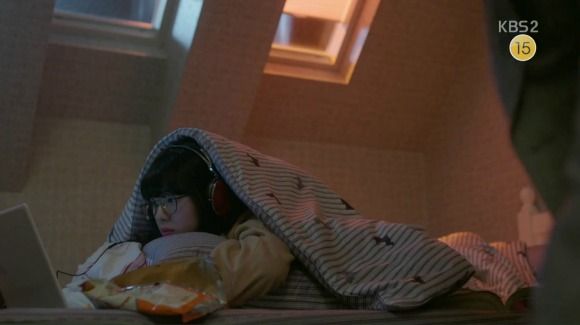 I love it when the weather turns slightly chilly, and you feel like reaching for a blanket and snuggling up on the couch with some good dramas. Maybe in honor of Halloween I should watch something scary? I'm taking recommendations! I'll just have to convince javabeans to watch it with me, because there's always safety in numbers. –girlfriday

Fantastic: Somehow this week I didn't feel like watching dramas very much. These lulls come and go every once in a while, and I figured, don't force it and just roll with it. I managed to watch this one because it was ending, and while there were moments in this drama's run that were really very fun and heartwarming, by the time the last episode rolled around, I'd sort of fallen out of love with it. Everything seemed pretty much right for a finale, but I didn't have much of an opinion about it.
Moon Lovers: Scarlet Heart Ryeo: You've killed off everyone interesting and the remaining survivors are either dumb or dull, and now it feels like Lee Jun-ki is acting in a drama by himself. *mourns*
1% of Anything: I'm sorry, Drinking Solo and Park Ha-sun, I betrayed you and jumped OTP-ship before you finished! The Ha Suk-jin romance with Jeon So-min crept up on me and now this show is the highlight of my week — the couple isn't about big drama or grand romance, but there's a satisfaction in watching two mature, modern adults figuring out that they like each other and falling in love the more they date (okay, and also worrying about their "contract" relationship being purely a business deal — this is a K-drama!). Their loveline feels natural and realistic, and I love that even though the relationship has been pretty chaste so far, the drama's attitude isn't prudish; the characters are frank about sex being a part of relationships and discuss whether or not to sleep together, and it's refreshing.
The Man Living in Our House: This rom-com has a pretty bizarre setup, but I like the mystery of not knowing whether our hero is a shady mom-seducing conman or a gangster-turned-chef with a heart of gold (strangely not that uncommon in dramaland). And once they started in on the banmal-jondaemal father-daughter hijinks, I was sold.
Moon Lovers: Scarlet Heart Ryeo: Here I was thinking that this drama was going to give us the untold story of how Wang So was really just a misunderstood dude. But now that he's king, he's just as assy and capricious as all the other kings. Is there something in the water? No really, are they still poisoning the water in that palace? Because everyone who sits on that throne goes evil!
Fantastic: I finally caught up by the show's end, and overall it was a sweet drama that had some great friendships in it, but I was never hooked. I was honestly pretty confused by the chaste romance, and everything was just a little too pat for my liking. I do wish noona-sshi's storyline had been given more time to develop too, because that part of the drama was fun. The one awesome takeaway from this drama is Joo Sang-wook's foot-acting. That will never not be funny.
Drinking Solo: I'm sad to see this one go. The slice-of-life stories were so relatable and easy to watch, and it seemed like a sitcom that could've had a hundred episodes. It was a show that made me nostalgic for High Kick, both in content and format. On the bright side, if they're really planning to make a Season 2, this isn't really goodbye!
Gogh's Starry Night: This was an easy one to pick up on a whim because it's only four episodes. It's a light workplace rom-com and there's really not much to the story—it's almost like coming in during the middle of a show, because characters already like each other in the office by the time we meet them. Fluffy, breezy, and best of all, short.
Shopping King Louis: I found the separation pretty pointless, and was hoping that Shopping King Louis would've found a more creative solution to the same old, same old. I just don't care about anyone or anything if Louis and Bok-shil aren't together. That's the only thing I ever ask of you, Show, and you gave me nothing but crumbs this week.
On the Way to the Airport: I like the Jeju Island portion of the show, even though sometimes it feels like the drama is one big advertisement to shirk your responsibilities and pick up and move to Jeju, where no one has any cares because it's just too pretty there to be stressed. Maybe it's not marriage that's suffocating, but the city. Waitaminute…
Jealousy Incarnate: That fight about fighting was so good that I replayed the whole thing just to appreciate the banter and the performances. This show has a gift for turning the most mundane, petty arguments cut from real life into hilarious and emotionally satisfying story beats. And I love, love, love Jo Jung-seok in love so, so much.

Moon Lovers: Scarlet Heart Ryeo: I'm three episodes behind on this show, but I have a feeling I didn't miss out on any noteworthy moments. Or the moments in theory are noteworthy, but probably weren't executed all that well. I'll just stick with Heads' recaps until I feel like returning.
Drinking Solo: I started this when I got bored of Moon Lovers, and I'm so glad I checked it out! It's fun, cute, and an easy watch. Park Ha-sun as the underdog No Geu-rae is adorable, and I'm always looking forward to seeing the celebrity impression, Ha Seok-jin's "high quality" food that'll accompany his beer, and the hijinks of the three gosiwon buddies. I really want a funky tracksuit now.

RELATED POSTS
Tags: 1 show to rule them all, 1% of Anything, Drinking Solo, Fantastic, Jealousy Incarnate, Moon Lovers: Scarlet Heart Ryeo, On the Way to the Airport, Shopping King Louis, The Man Living in Our House, What We're Watching