The K2: Episode 4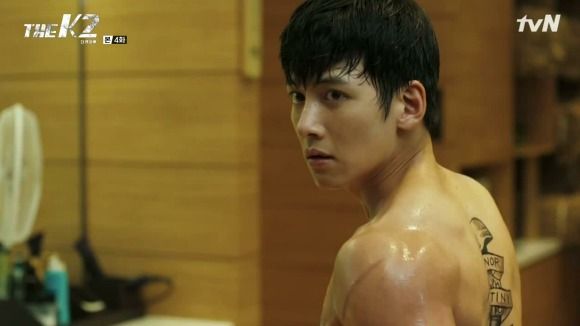 Things take a sharp turn this hour when Je-ha pushes the pause button on his past to embark upon a new chapter of his life as an elite bodyguard. While his fighting skills may be a cut above the rest, he'll need to rely on an entirely different skillset to face the challenges headed his way. Getting accustomed to this shift in lifestyle may take some time for both him and for us, but if that means revealing an endearing emotional underbelly for our hero, then count me in for the ride.
EPISODE 4 RECAP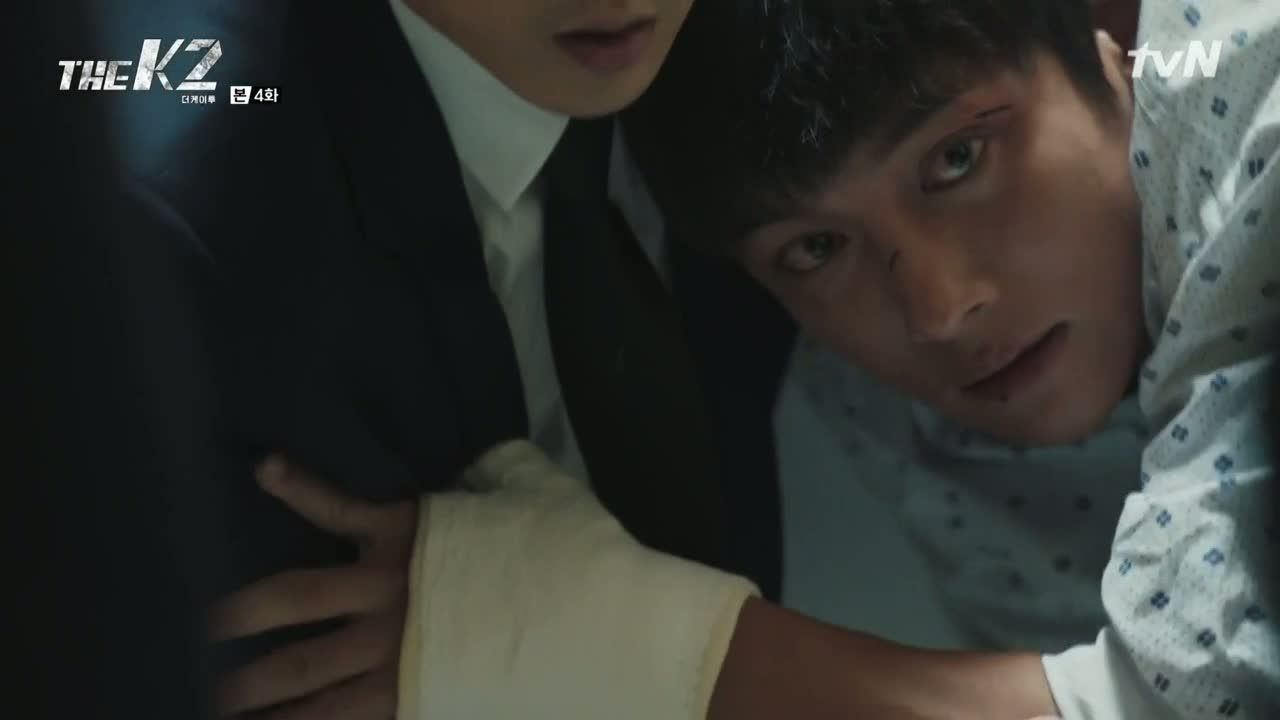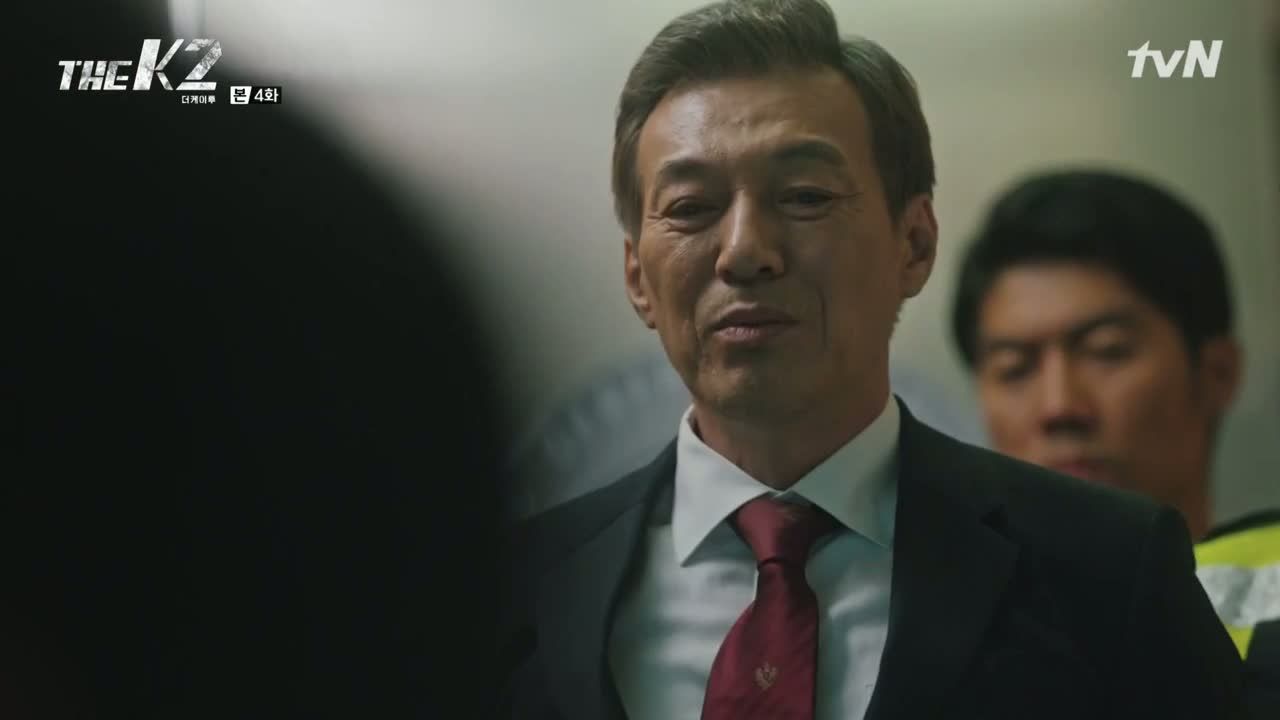 We pick right back up with the elevator fight where Je-ha takes down the bodyguards and points the gun at Representative Park… and snaps out of the fantasy. What the? It was all in his head?
In reality, Je-ha reaches for the gun, only to draw back from an oncoming panic attack. His breathing labored, he crumples and clutches his chest. The JSS bodyguard helps him off the elevator, and Representative Park sighs in concern before the doors close again.
Drawing in deep breaths, Je-ha asks who that man is.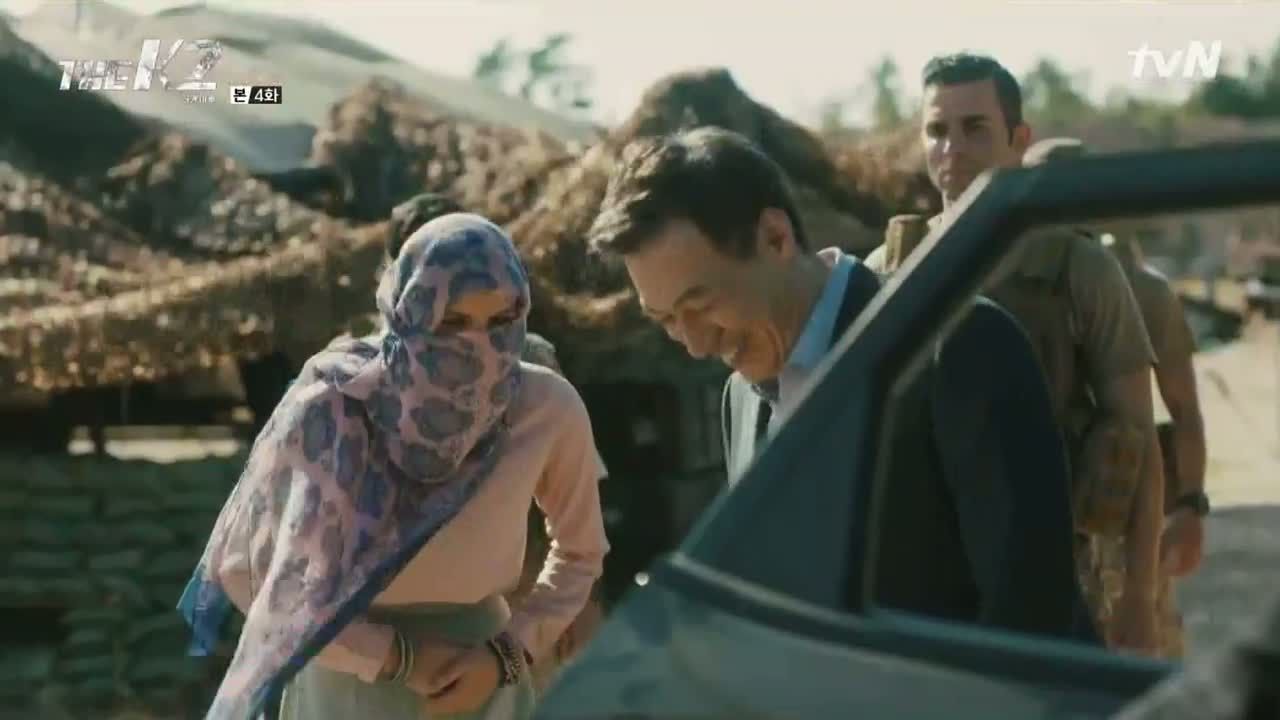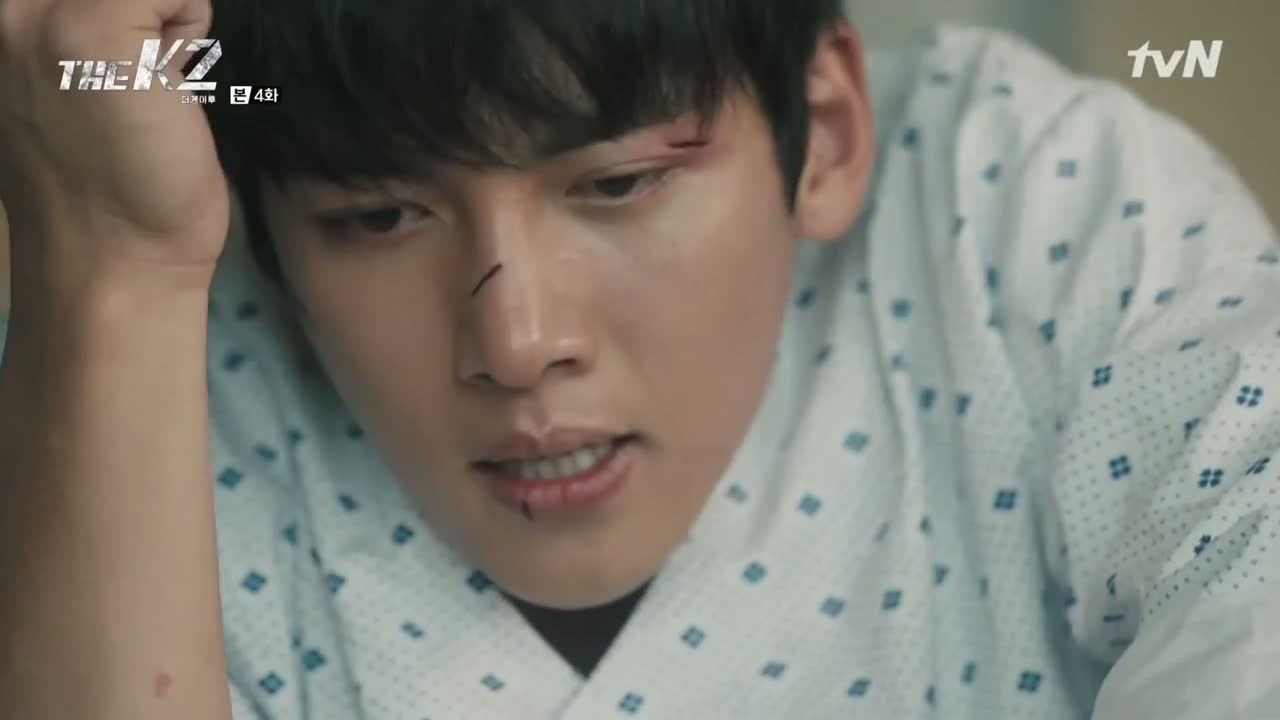 We hear the answer once Je-ha is back in his hotel room: Park Kwan-soo is another presidential candidate whom everyone working for Yoo-jin believes was responsible for the attack against her and Je-ha.
Je-ha recalls how he had seen a glimpse of Representative Park making a deal back in when he was a soldier. Rania (previously written as "Nania", my mistake!) had also been present, and he'd seen her being taken upon the politician's leave.
A shot had rung out, and by the time he caught up to her, she was on the ground, dead. Both his past and present self pour out their grief with loud screams, and present Je-ha yells Park Kwan-soo's name.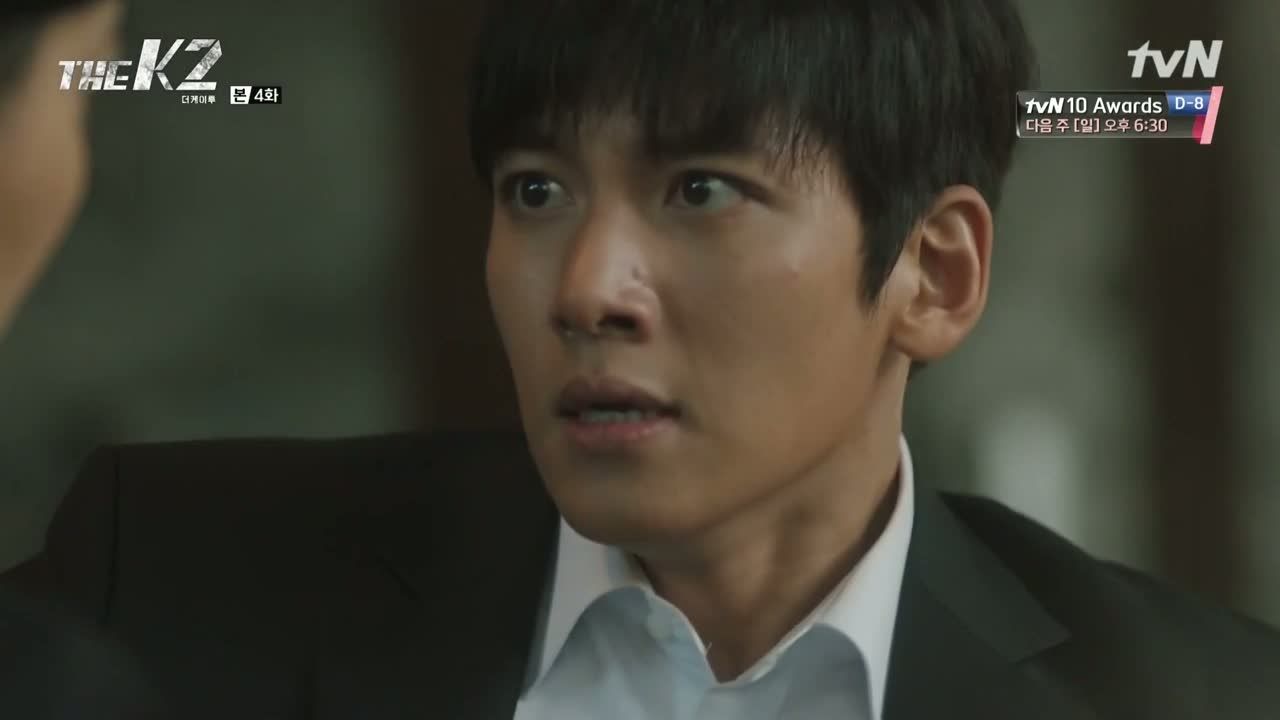 Some time later Je-ha assembles what looks like a makeshift remote-controlled motion sensored booby trap set to burst upon approach. He finds his opportunity the next time Representative Park gets his next shave and Je-ha slips the remote into the politician's blazer in the dressing room.
He waits for Representative Park in the lobby, rising to watch the impending spectacle. But in that moment, a child runs ahead of Park and gets caught in the revolving doors… exactly where the device is installed. Uh oh.
Je-ha is stopped from getting any closer as the child bursts into tears. He sees the flashing light indicating that the device is seconds from explosion, which is when Representative Park is escorted through another exit, putting distance between him and the device, much to Je-ha's relief.
He turns to leave, but the officer who stopped him flashes his badge at him. Je-ha hones in on the distinct burn mark on his wrist… the same one the blue-masked leader was wearing the night he'd caught Se-joon's illicit affairs. Aha, so Park Kwan-soo had sent his men after his political rival.
But it seems the officer recognizes him from that night too as they both throw punches at one another. Je-ha flips him over in greeting and takes off up the escalator. He runs through the kitchens and runs through the building with Representative Park's men hot on his tail.
He kicks a men down and pushes another into the horde before running off again. As a scanner picks up the remote on Representative Park's person, Je-ha races to a rooftop where he's prepared a harness. But there's a surprise waiting for him below: Chief Joo.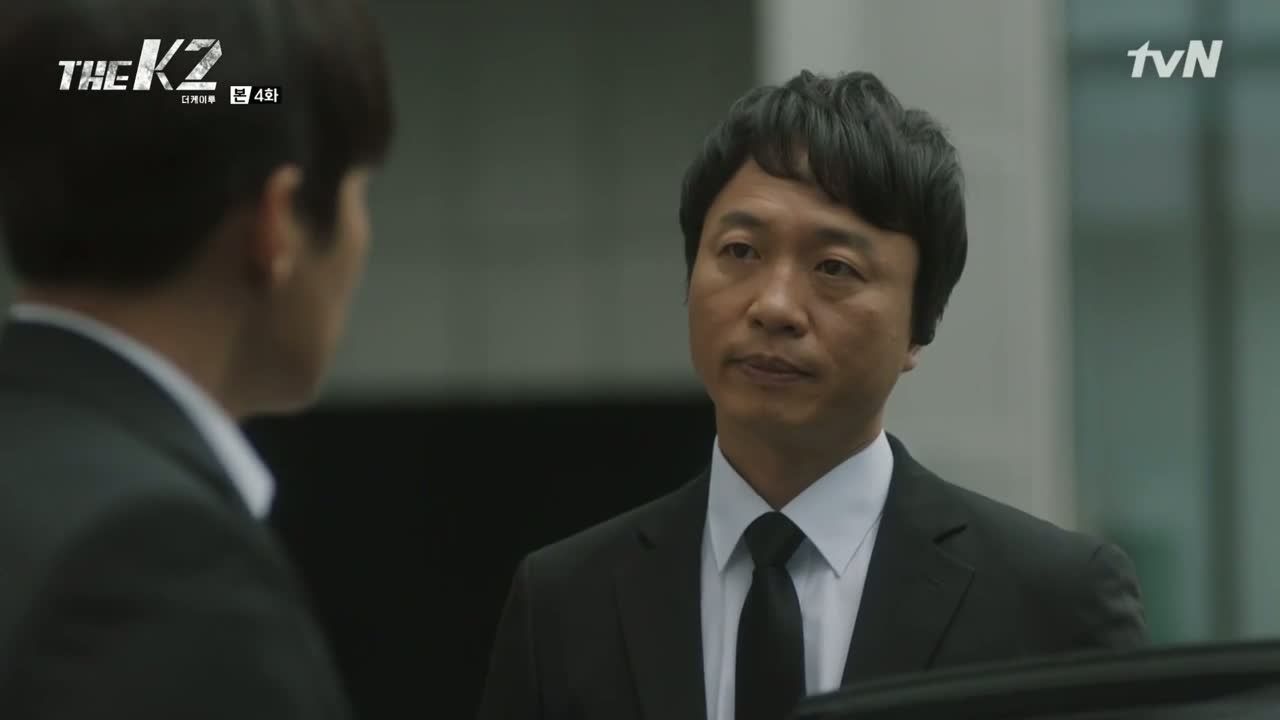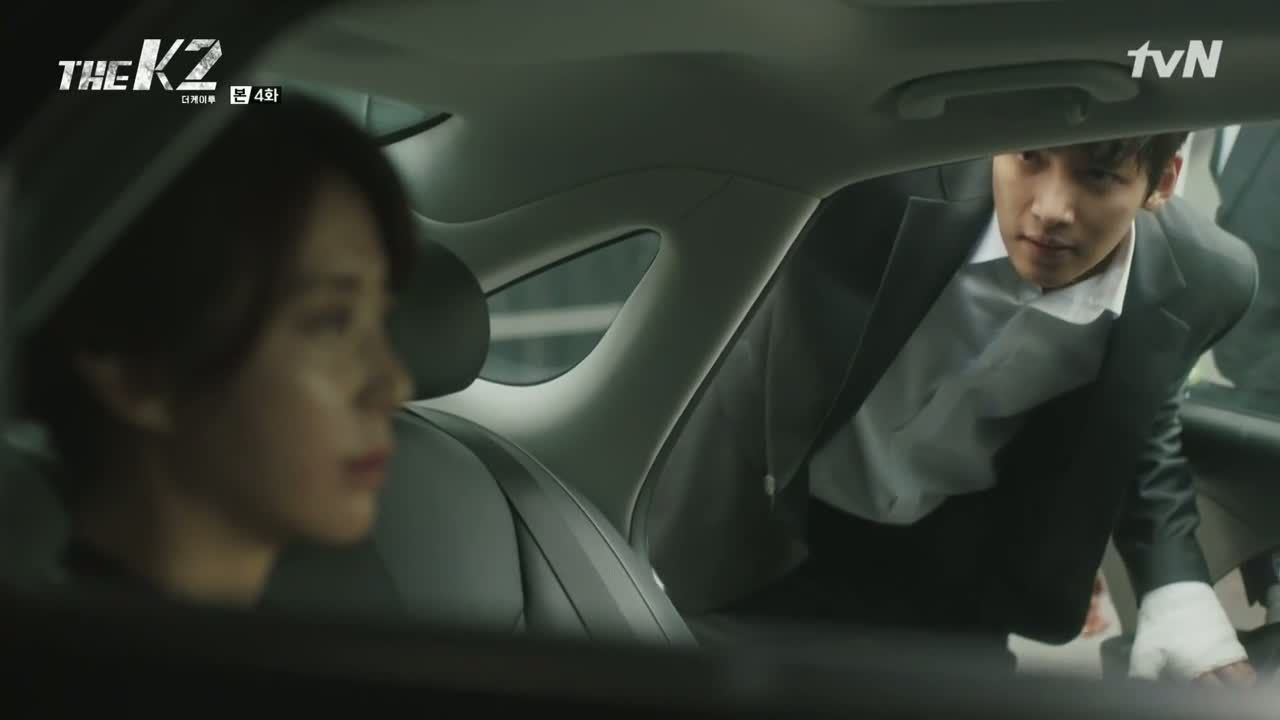 Je-ha has already descended to the ground by the time Representative Park's men reach the rooftop. He reluctantly gets into the car with Yoo-jin, and Chief Joo remarks that Je-ha's booby trap plan wasn't half-bad, save for the execution.
He thanks Yoo-jin for helping him escape, and when she asks about the email, he tells her that's probably why she's still safe and sound. Calling him by name, she asks him what exactly kills an enemy—the bullet or the gun used to shoot him? Or could it be the finger that pulls the trigger?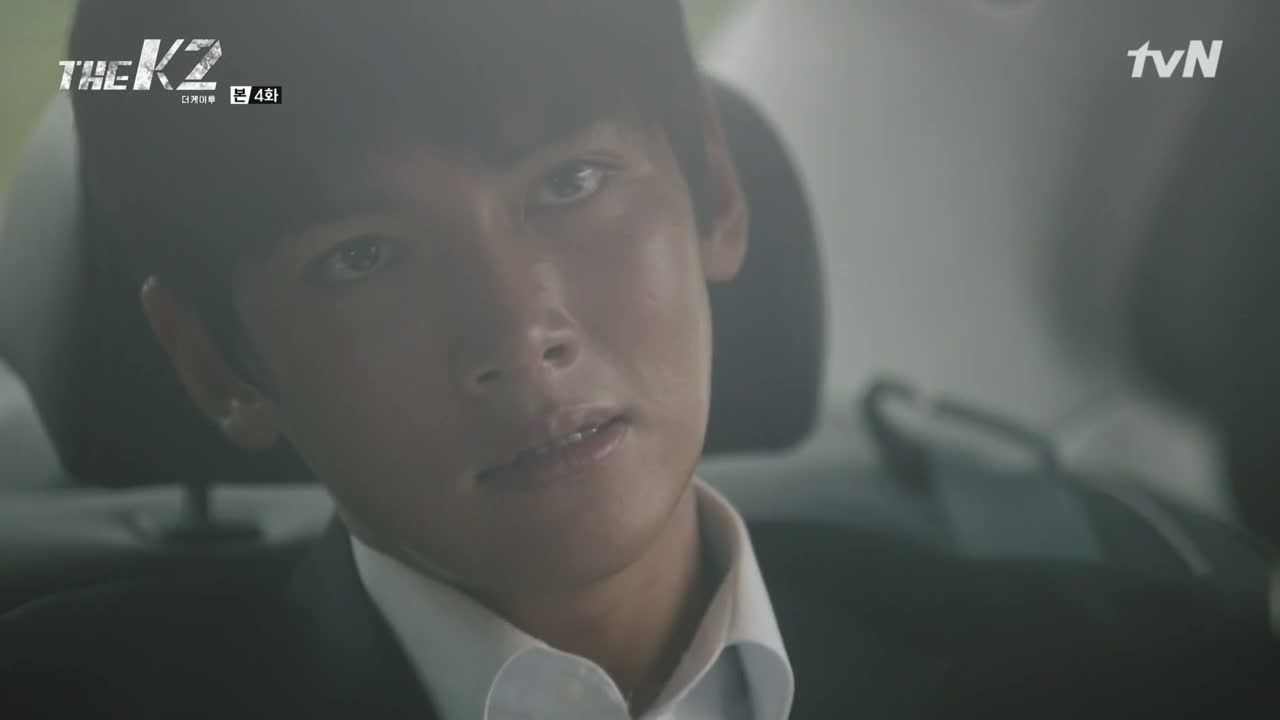 She's aware that Je-ha is unable to pull the trigger thanks to his PTSD (and Je-ha sends Chief Joo a piercing death glare). He declines her offer of pulling the trigger for him, saying that he'll do it himself. But she disagrees—today's events prove that he can't do it alone.
Park Kwan-soo is no easy target, and while she may not know why Je-ha is after him, but like the saying goes, an enemy's enemy is her friend. If Je-ha accept JSS's help, the organization will be his gun when the time calls for it.
"Become the bullet… and I'll pull the trigger for you," Yoo-jin states. She calls him a "friend", citing that they met under the perfect circumstances.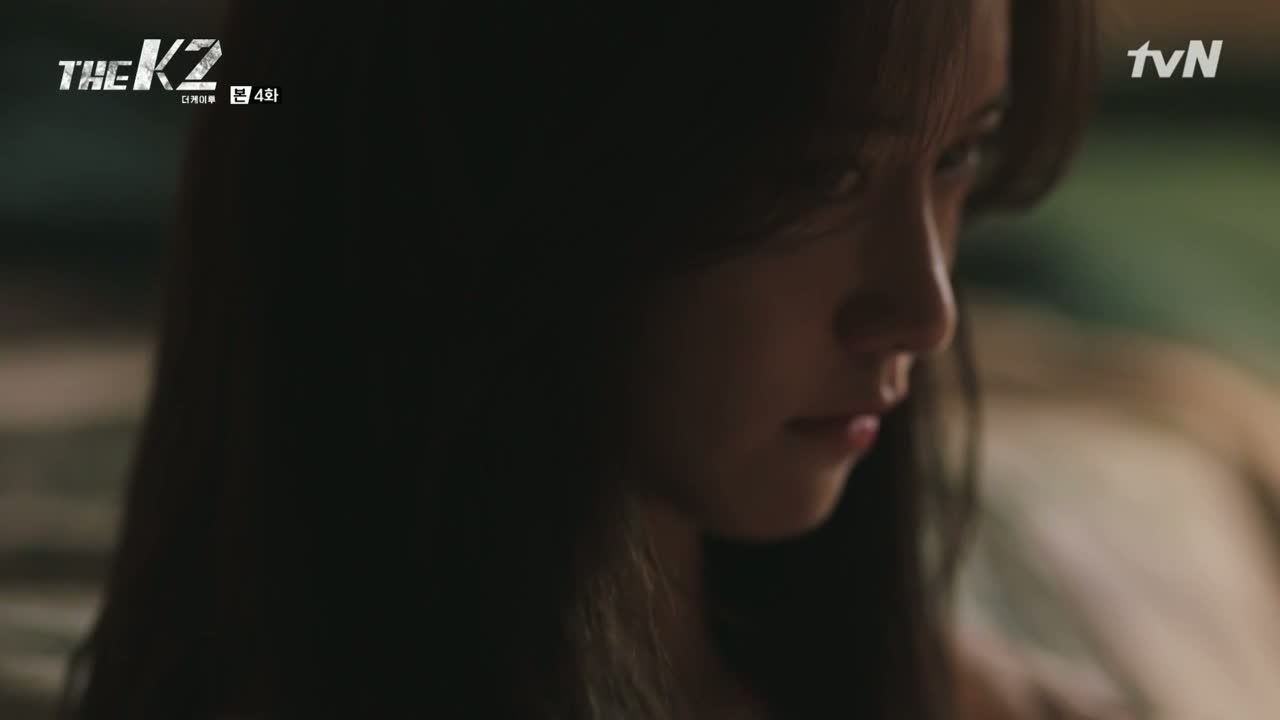 Up in a remote estate, Anna's personal bodyguard—the same one who brought her back to Korea—complains to the housekeeper about how this job of protecting her charge for two years in Barcelona and then here in Korea put her entire life and career on pause. She couldn't care less whether Anna can hear her or not, and can't wait until the presidential election is over in a year's time. Er, how much time has passed, exactly?
Anna seethes in her room as she overhears her bodyguard scoff at the idea that the assemblyman will pay a visit to see his daughter. As long as Yoo-jin is in charge, no one will ever foot in this godforsaken house.
Anna hangs onto that last statement, convincing herself that Yoo-jin is the reason why her father cannot come to visit her.
After a long run, Je-ha enters the JSS headquarters and draws immediate attention. But first we meet two staff members: a doctor who removes Je-ha's cast and a pun-loving martial arts master who scowls when she's sweet to the handsome young'un.
He demands that Je-ha joins training with the other trainees starting today, and doesn't even let him sit down before calling him to the mat. Introducing himself as master SONG YOUNG-CHOON (Song Kyung-chul), he explains how his name makes him the true successor of the Wing Chun (youngchoon) martial arts form.
Master Song invites Je-ha to come at him, and he gulps when Je-ha strikes and stops his hand an inch to his neck. He walks Je-ha through common martial arts decorum and assumes a fighting stance. Je-ha simply reciprocates the stance, so Master Song breaks to explain a teaching point, then tries to trip Je-ha up.
Unfortunately for him, Je-ha anticipates the oncoming attack, leaving Master Song to collapse on the mat. Master Song then tries flipping Je-ha over, only to praise him when he doesn't budge.
Having had enough, Je-ha retaliates when Master Song tries attacking again and puts the man in a body lock. When Je-ha is called away, Master Song claims that Je-ha got off easy today. And then Je-ha doubles back to properly greet his master. Pfffft.
Chief Joo is pleased that Je-ha's probationary period is over now that his cast his removed. Je-ha's potential superior Team Leader Seo is against the idea of Je-ha joining his VIP team so soon, and once they're alone does he remind his boss how Je-ha wiped the floor with the JSS agents during their last ambush.
Chief Joo launches into a metaphorical lecture, describing a hunter whose new hunting dog wasn't welcomed by the pack. What should the hunter do? He should throw the newbie to the wolves, so to speak, and let the pack figure out their new pecking order. Time will tell whether the rookie will submit to the others or emerge as the new alpha.
We get a clear shot of Je-ha's various tattoos while he's in the shower (one says "Honor, Destiny, Glory", another is of praying hands). A neighbor recognizes him from their last encounter, but he's not the only one in those showers holding a grudge.
Je-ha ducks after he spies an oncoming attack from behind, then uses his towel to ward off the first few who charge at him. He takes a brief break to rinse off the shampoo, and then wraps the towel to grab a guy's arm and flicks the towel at another.
He slips another agent before hitting his face with a bottle, then squirts the contents all over the wet floor. Placing his towel on the ground to stabilize himself, he waits for the agents to come at him and slip all over the floor while he casually tells them to be careful.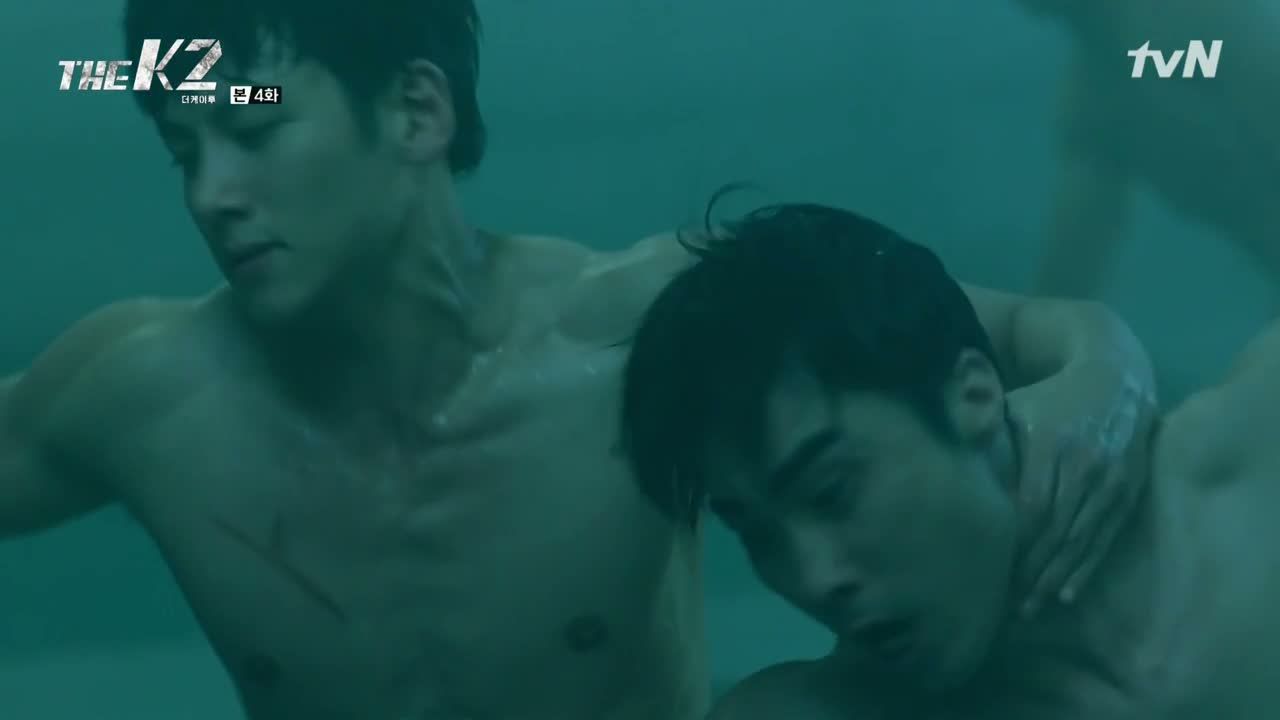 A few men push him into a bath, where Je-ha strikes one down, buries another agent's face into the water and kicks away a third agent. He steals a towel out of another bodyguard's hand to wrap around his own fist and start punching away. He kicks one last guard in the shin before flipping him into the bath too.
Chief Joo watches the video feed in amusement. Okay, the fact that you have security cameras in the baths and you're watching this right now is super creepy.
Je-ha runs into Master Song when he exits the showers, though the latter is clearly still bitter at him. It's only when Je-ha hears the man slip and fall does he finish the sentence, "It's slippery."
A research analyst pockets a tiny chip retrieved from the car wreckage. He doesn't mention it to his boss. Interesting.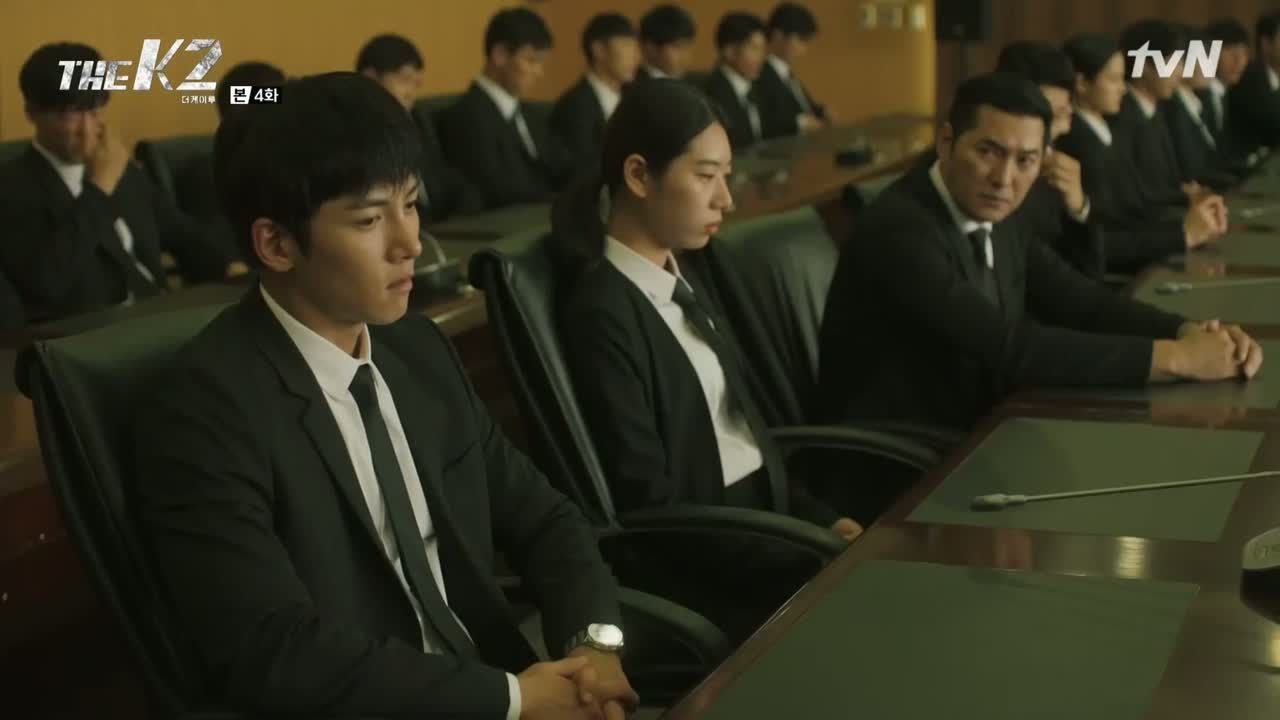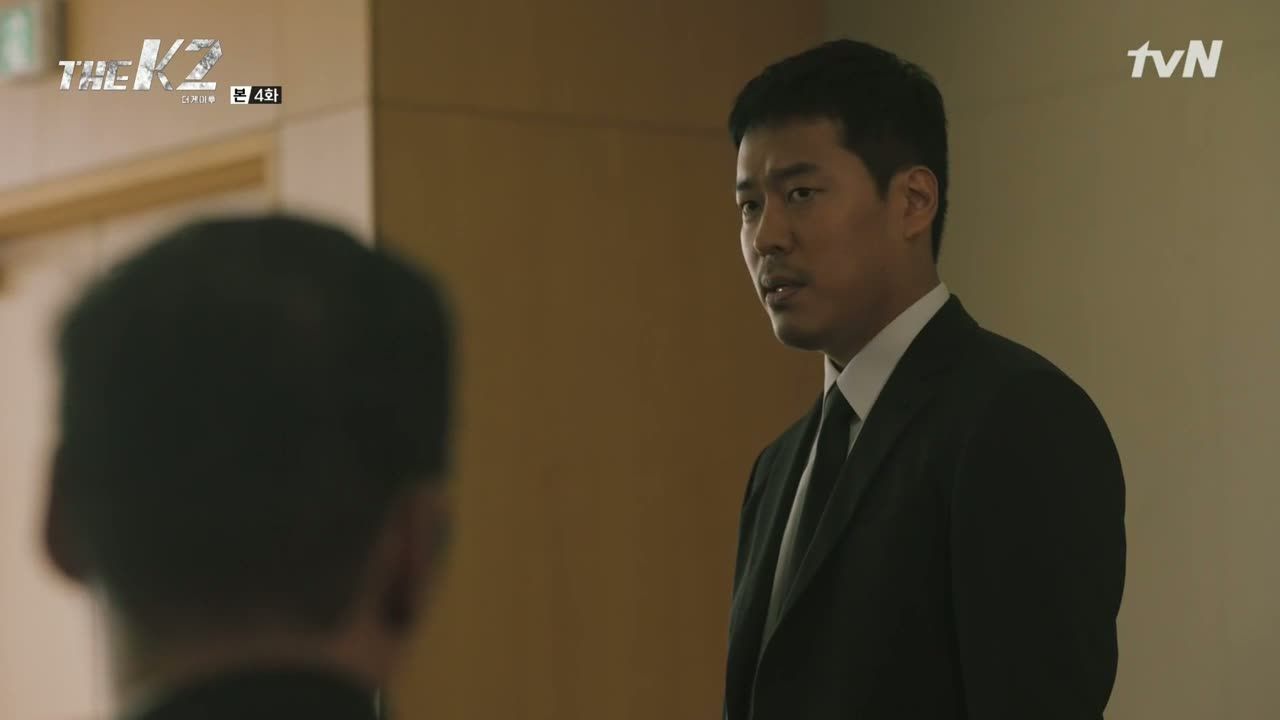 Je-ha is introduced to the entire VIP team, and now we finally hear his code name: K2. Team Leader Seo isn't happy about the new addition either, but they've failed in protecting their client and they can now learn from this hard lesson. The researchers are hard at work creating a new security system and they'll be changing up the assignments to prevent something like this from happening ever again.
Je-ha's assignment is a night shift in Section C, which we learn is a task Team Leader Seo only gives to someone he hates. But this also means that Je-ha is tasked to act as Anna's bodyguard.
That's exciting news for Anna's female bodyguard MI-RAN, who jumps to get ready. Having eavesdropped on the call, Anna wonders who Kim Je-ha might be.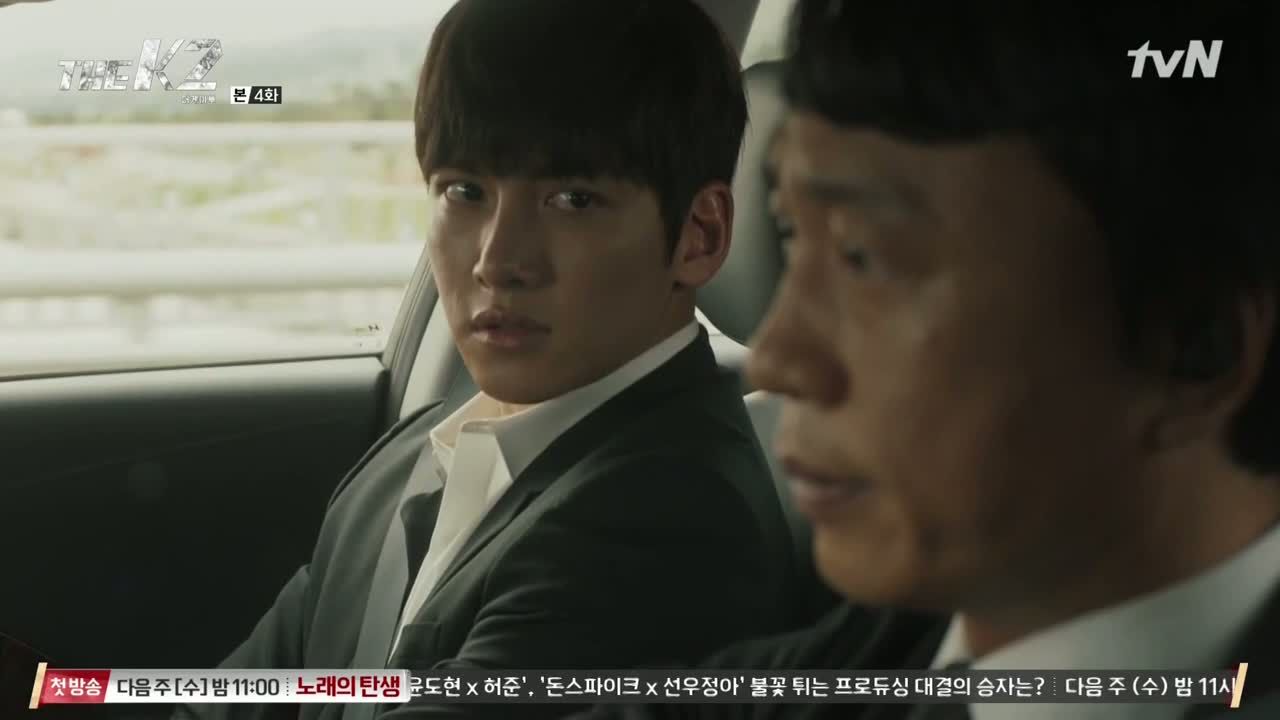 In the car, Je-ha is curious about his new charge as well and learns that Anna is Se-joon's daughter who has been kept away from the hidden eye. Her existence cannot be made known to anyone, least of all Representative Park.
Once they arrive at the estate, Je-ha is introduced to a dolled-up Mi-ran. Upstairs, Anna sneaks a peek at Je-ha and identifies him from their previous encounters.
Je-ha and Chief Joo sit down to learn everything about Anna's severe panic disorder. The housekeeper (and Chief Joo's sunbae) explains how the curtains remain closed because of Anna's sensitivity to strong flashes of light. Things like sunlight or a camera flash can induce an episode of short-term memory loss, so Anna rarely ventures outside no matter the time of day.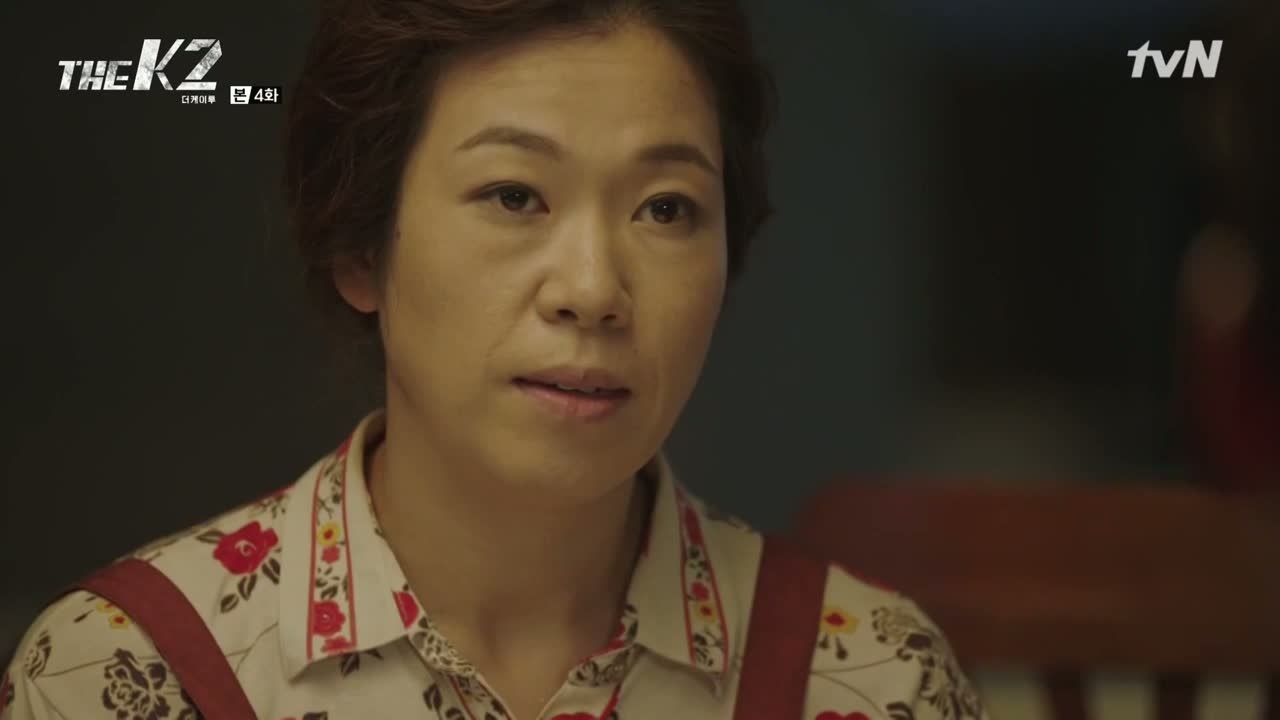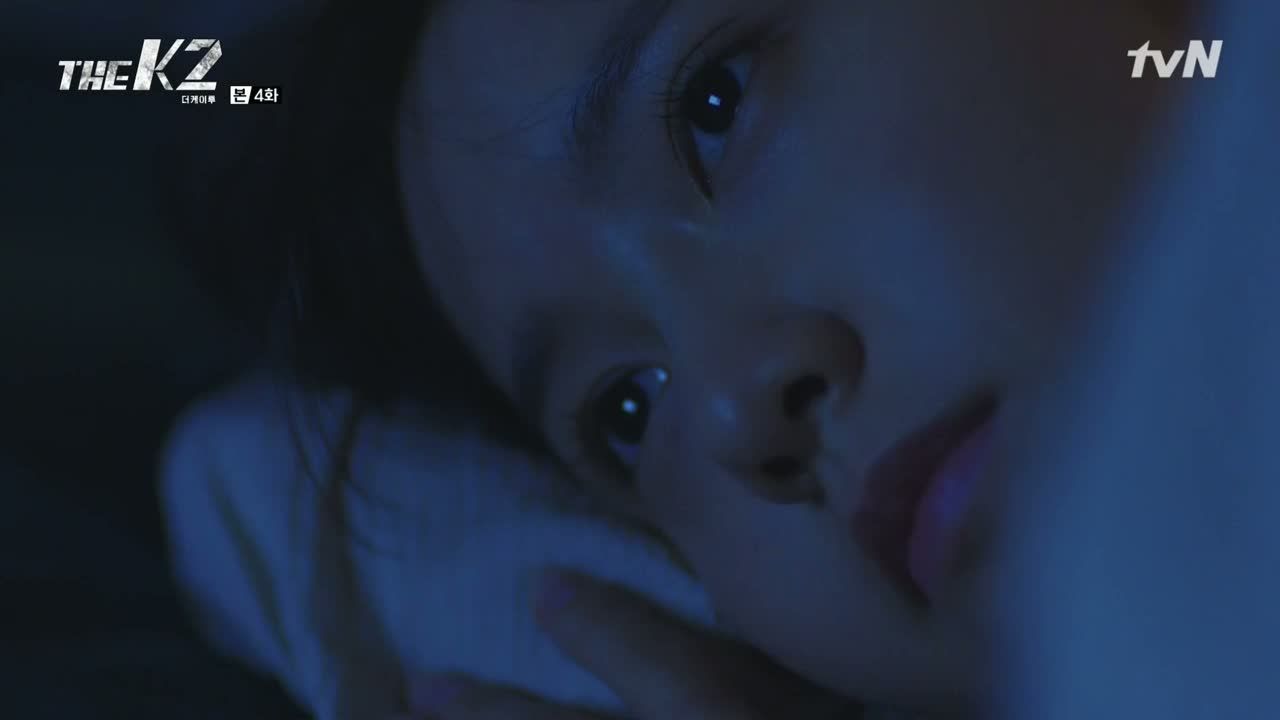 Anna has a routine as well: She gets up at 9 PM and takes an hour-long shower, which is when they clean and search her room for prohibited items. She doesn't like strangers thanks to her social phobia and prefers to be and eat alone, so the housekeeper and bodyguard stay out of her way unless they're called.
Mi-ran claims that she always responds at a moment's notice, though a flashback teaches us how untrue that statement is. Additionally, Anna tends to stay up at night watching TV, particularly the home shopping channel.
Chief Joo believes Je-ha has nothing to worry about during his night shift, but if anything should happen, he should immediately report it.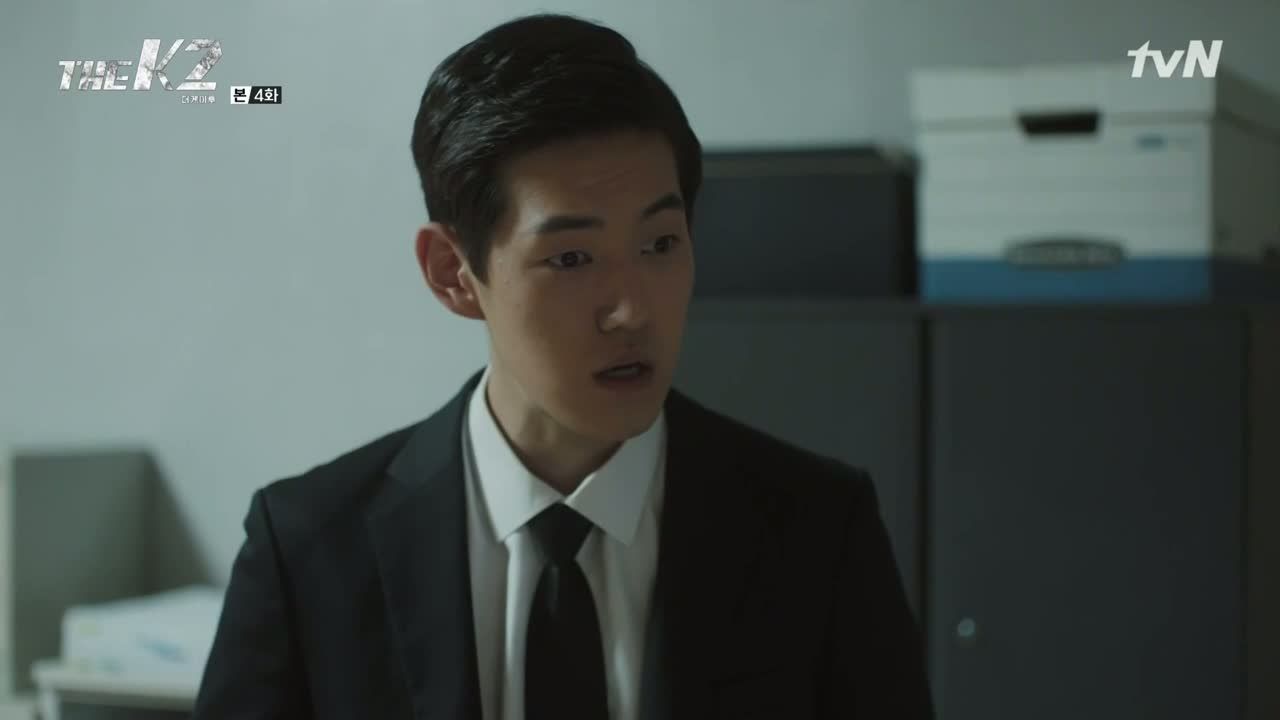 Je-ha is brought to the surveillance room where the bodyguard runs through the details of the night shift. Every corner of the house is monitored 24/7, save for the rooms and bathrooms, which for privacy reasons, have thermal cameras.
The bodyguard takes notice when Je-ha responds in banmal to this explanation, pulling rank over him as the sunbae. But Je-ha doesn't blink an eye because he's heard that the bodyguard used to be in the Special Forces too. And if we're counting those years, Je-ha is technically his sunbae. Well now.
He has the bodyguard fix him a strong cup of coffee with two packets, and when the latter thinks the second packet is for him, Je-ha corrects him: "For me."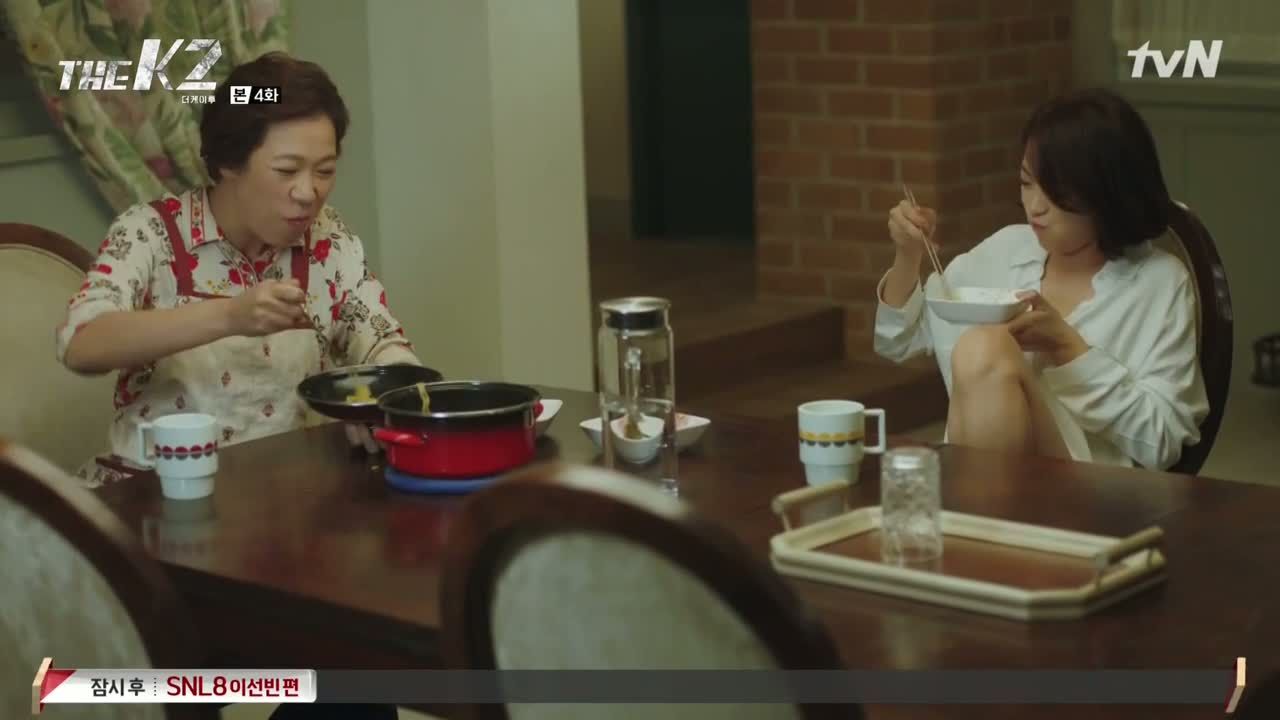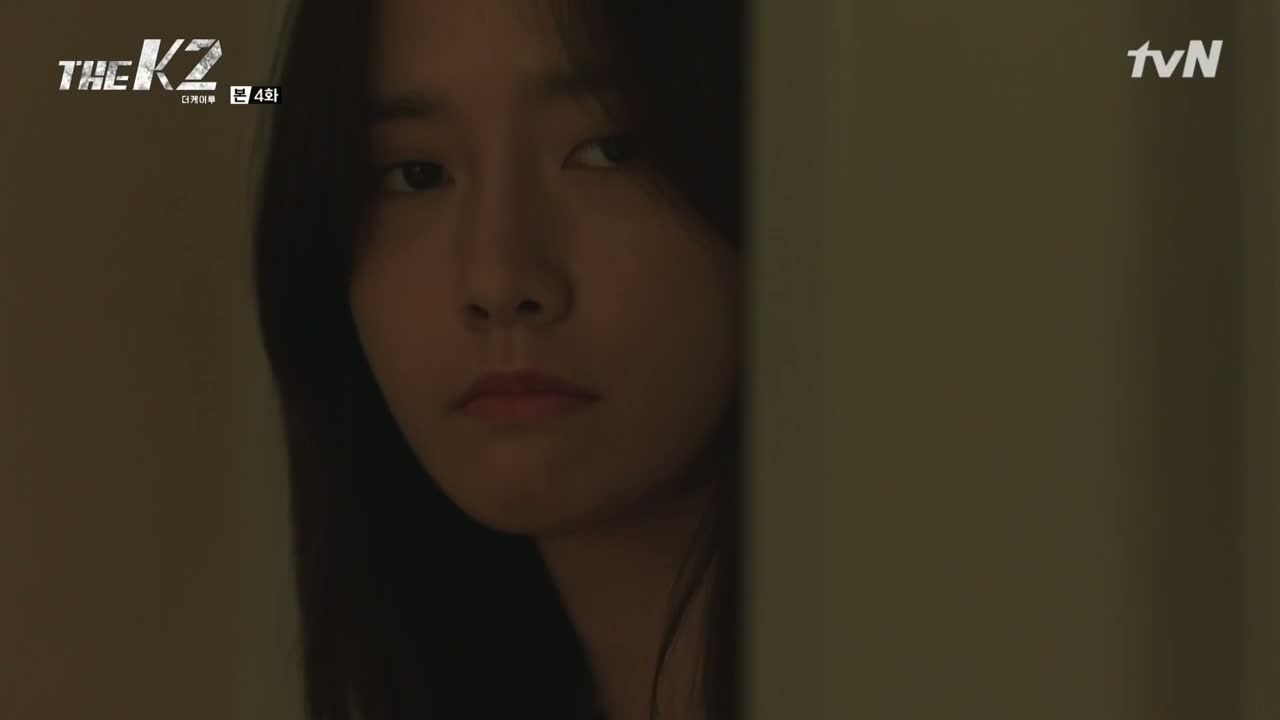 While Chief Joo casually picks up the chip from the research analyst, Mi-ran puts on a show for the cameras. She figures that "Je-ha-sshi" can't hear her anyway and notes how warm it still outside. Even with her back turned, the housekeeper can tell that Mi-ran undid another button.
Mi-ran believes that Je-ha is probably salivating while watching her on screen when in reality it's the other bodyguard ogling her. Je-ha wakes up from his nap while Anna takes a peek to watch the women eat their ramyun together.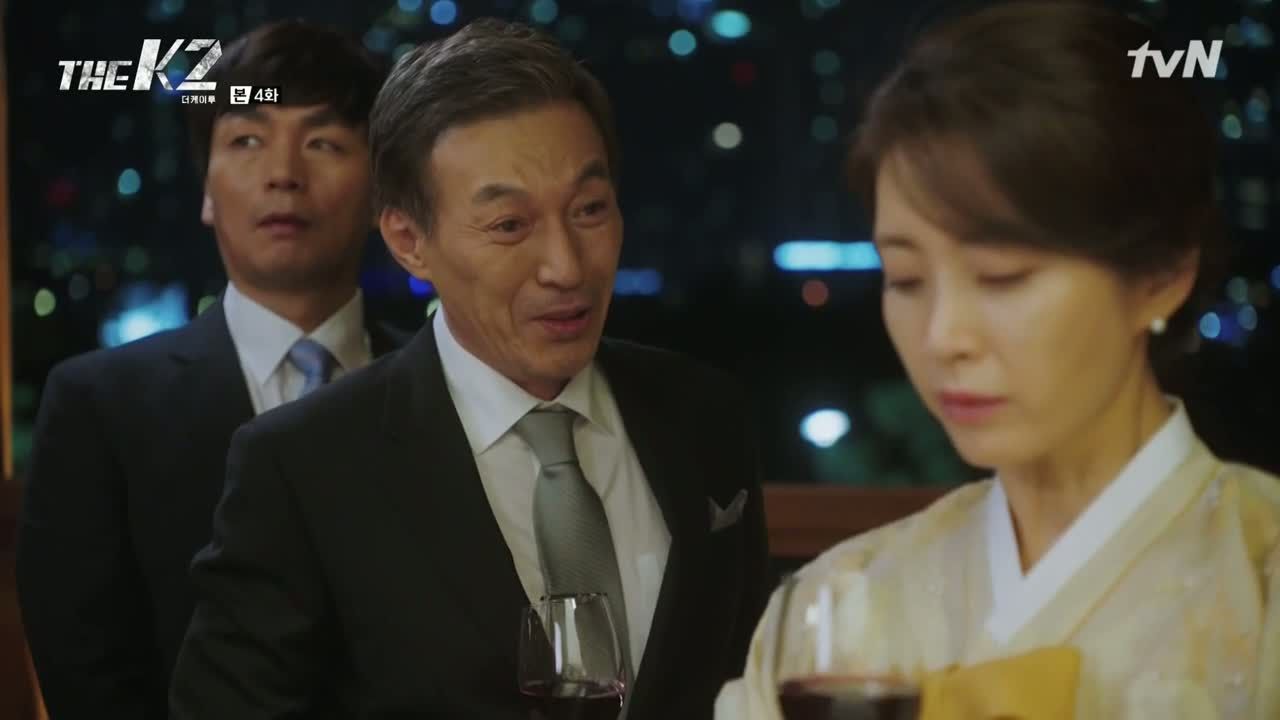 At a cultural diplomacy event, Yoo-jin observes her husband drinking with a group of beautiful women. She maintains her smile when Representative Park remarks on how popular Se-joon is with the ladies, replying that he should be when women make up half the voting population.
When Representative Park makes another barb about her own safety, Yoo-jin is armed with her own, particularly Representative Park's recent close shave at his barber's. He rests assured that he'll find the culprit, which prompts Yoo-jin to cue the entrance of another staffer to bring the chip found in her car.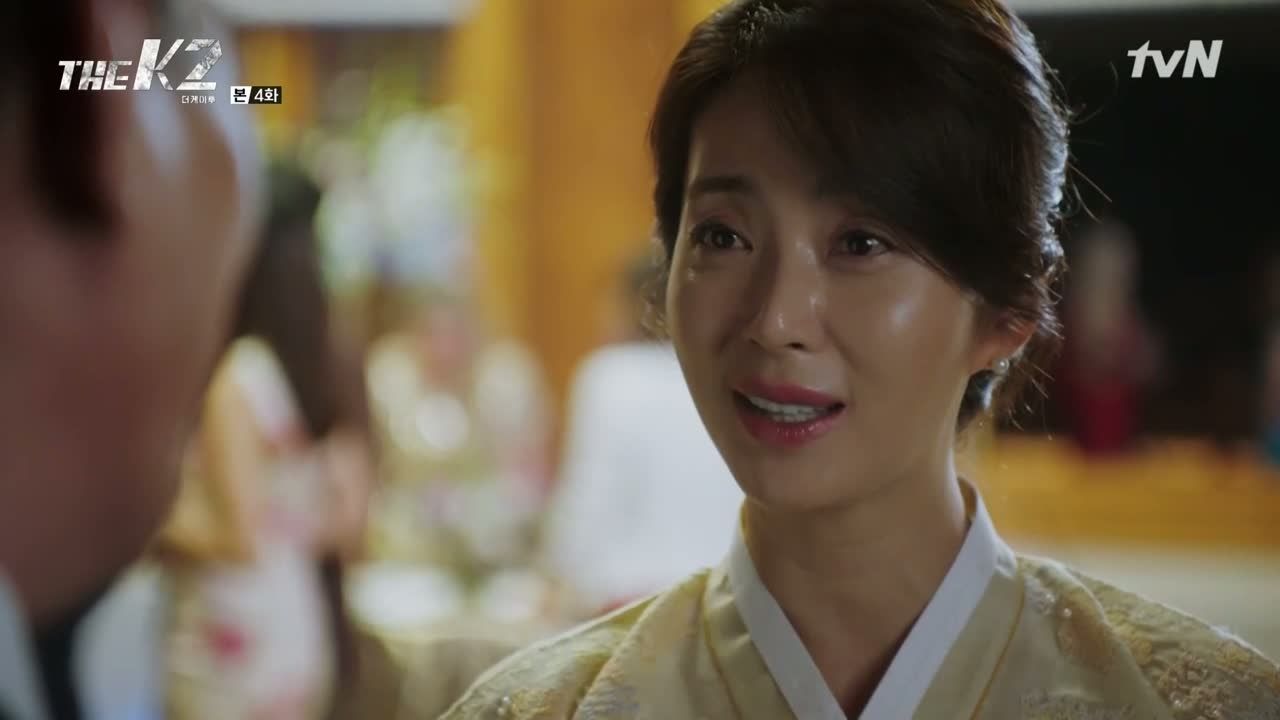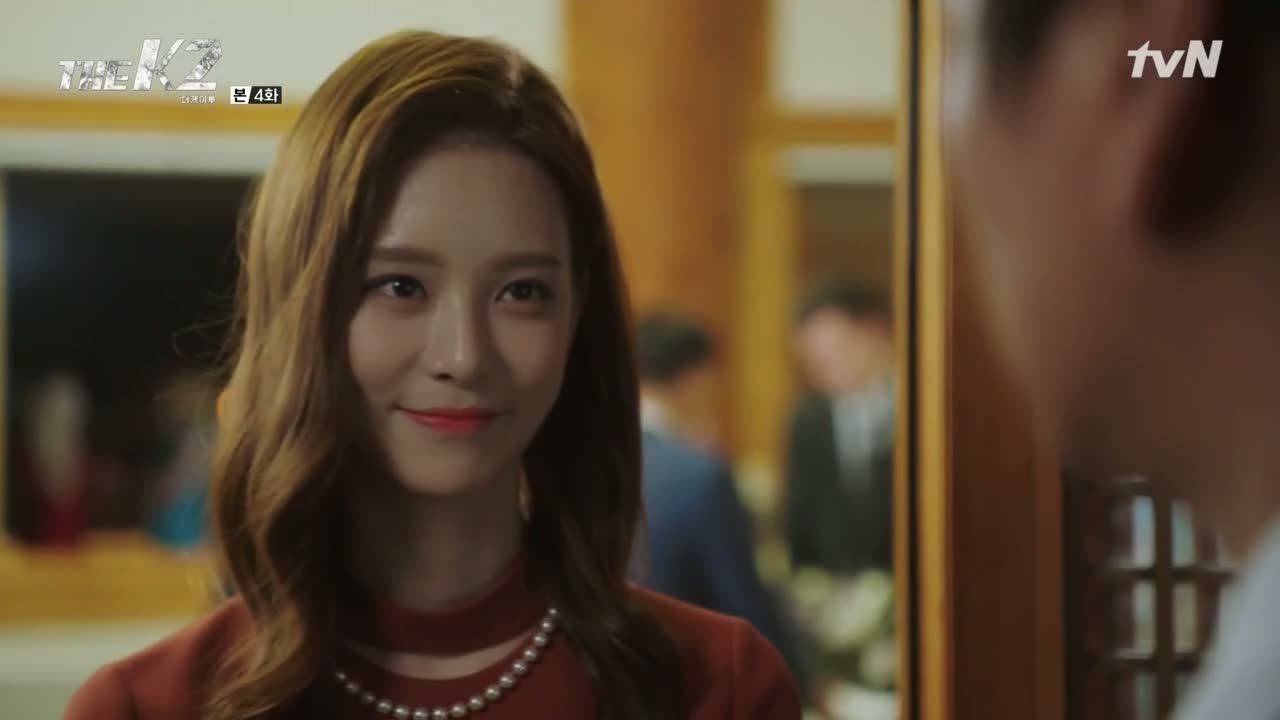 As it happens, Yoo-jin's new staffer knows Representative Park's secretary, who suddenly looks very uncomfortable. Did the secretary set aside some private business time with her employee? And to that, Yoo-jin comments how being beautiful isn't a crime, but the problem lies with "serpent-like men". Oooh, guess who won this round.
So Representative Park can't help but laugh awkwardly when Yoo-jin delicately says that her staffer would love to clear her conscience. He calls for a ceasefire, which she graciously accepts.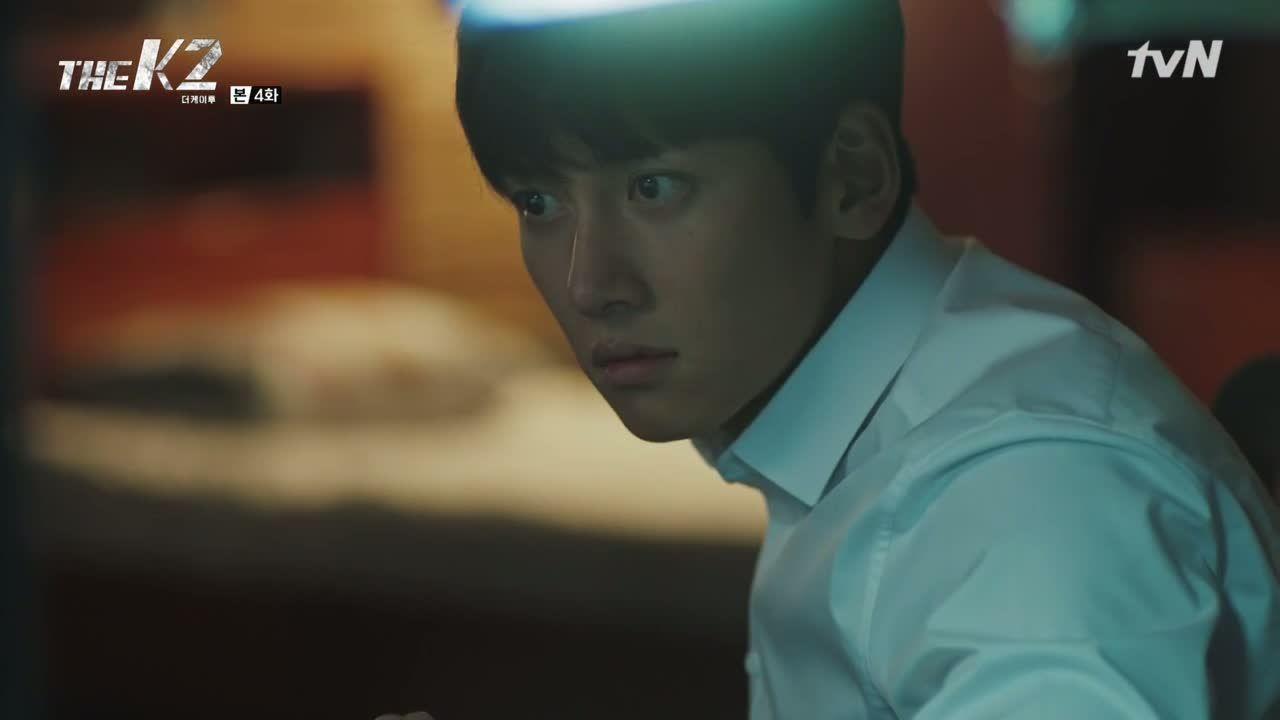 It's about 10:30 PM when we check in with Je-ha, who leisurely monitors the security cameras. He sees Anna stop outside the bathroom after washing up and head downstairs before stopping again. So he zooms in the camera just as Anna stares directly into the camera.
He's legitimately spooked and talks to her image as if she's in front of him. He watches with curiosity as Anna head to the kitchen and bypass the prepared food on the table to open the fridge instead.
His commentary continues as she closes the refrigerator door looking disheartened, and he tries to guess what she's looking for. It's almost as if Anna can hear him when he provides direction around the kitchen, but she finally beams when she finally finds what she's looking for: ramyun.
Je-ha's face breaks into an amused smile as Anna twirls around holding the packet of ramyun. Her euphoria in such simple pleasures captivate him, and he comments that the large pot she first takes is too big.
He watches how Anna contemplates her choice and exchanges it for an appropriate size. He talks to the screen while she fills the pot with water, stammering nervously when she fills it to the brim. Hee, can you always be this adorable?
He watches intently as Anna struggles with the gas knob, and he searches around to find out that the valve is turned off. He instructs her to look up and to her left, even gesturing as if that would help.
He grows adorably frustrated when Anna gives up, wondering why she can't find the valve. Because she can't see or hear you, buddy! He's a bundle of nerves when Anna exits the kitchen and grabs another dish before heading upstairs.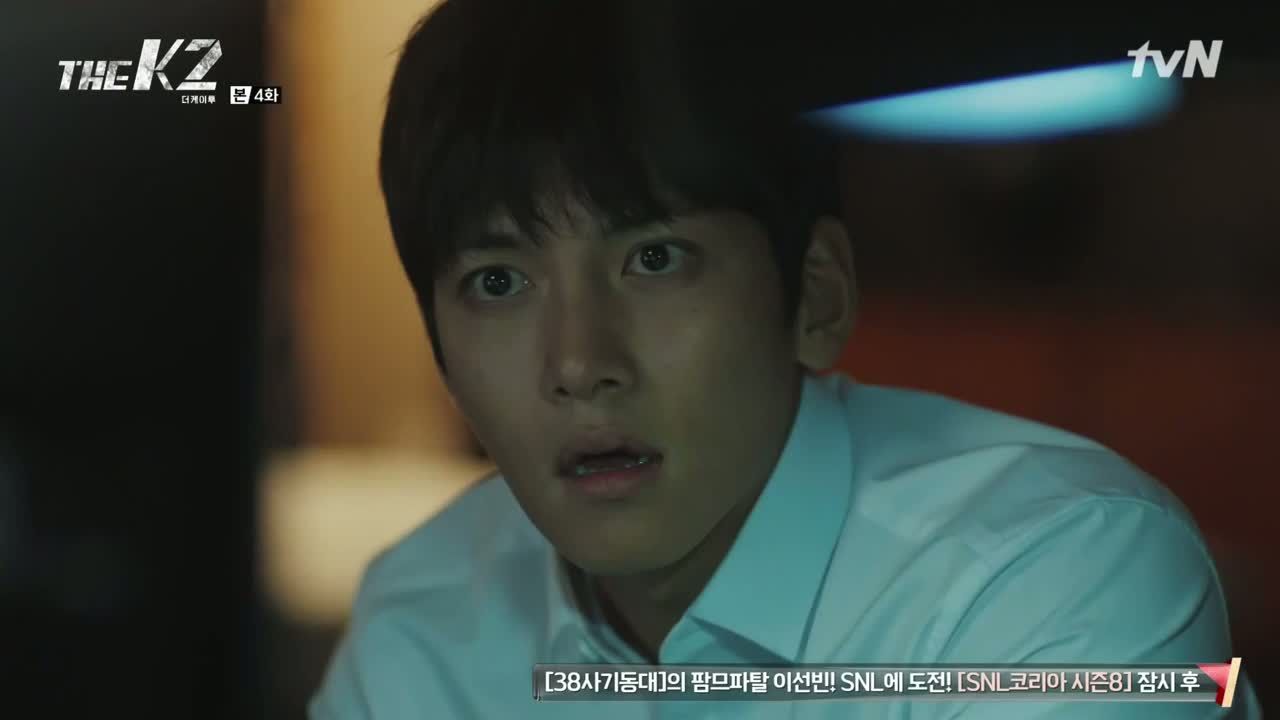 He tries following her with the cameras, urging her not to give up: "Ra…myun…" But Anna enters her room, leaving Je-ha to get up from his chair and point to his screen, wondering aloud why she didn't keep trying.
Exasperated, he asks, "How can a girl not know how to make one ramyun for herself?" Heh.
He contemplates whether or not he should make it for her before shaking off the thought.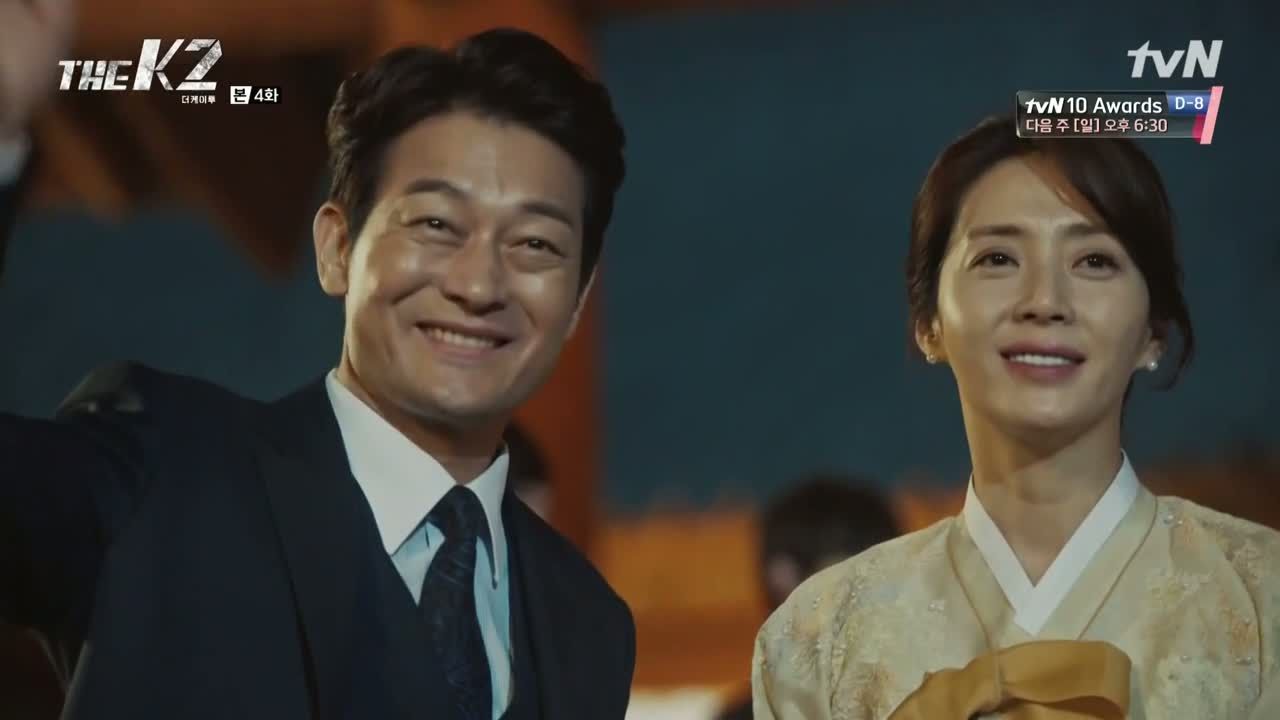 When Yoo-jin and Se-joon leave the event, she advises her husband to take a different car since he'll need to attend to other business. It would be rude of him to keep his ladyfriend waiting, wouldn't it?
Se-joon says through gritted teeth that she needn't be so considerate, but he takes Yoo-jin up on her offer anyway. She convinces him to greet the press before they go, and when the reporters ask for a doting pose, Se-joon lightly embraces his wife, then places an arm around her.
Thinking about the small affectionate gesture has Yoo-jin shed tears in the car, as she bites her lip to try and keep her emotions in check.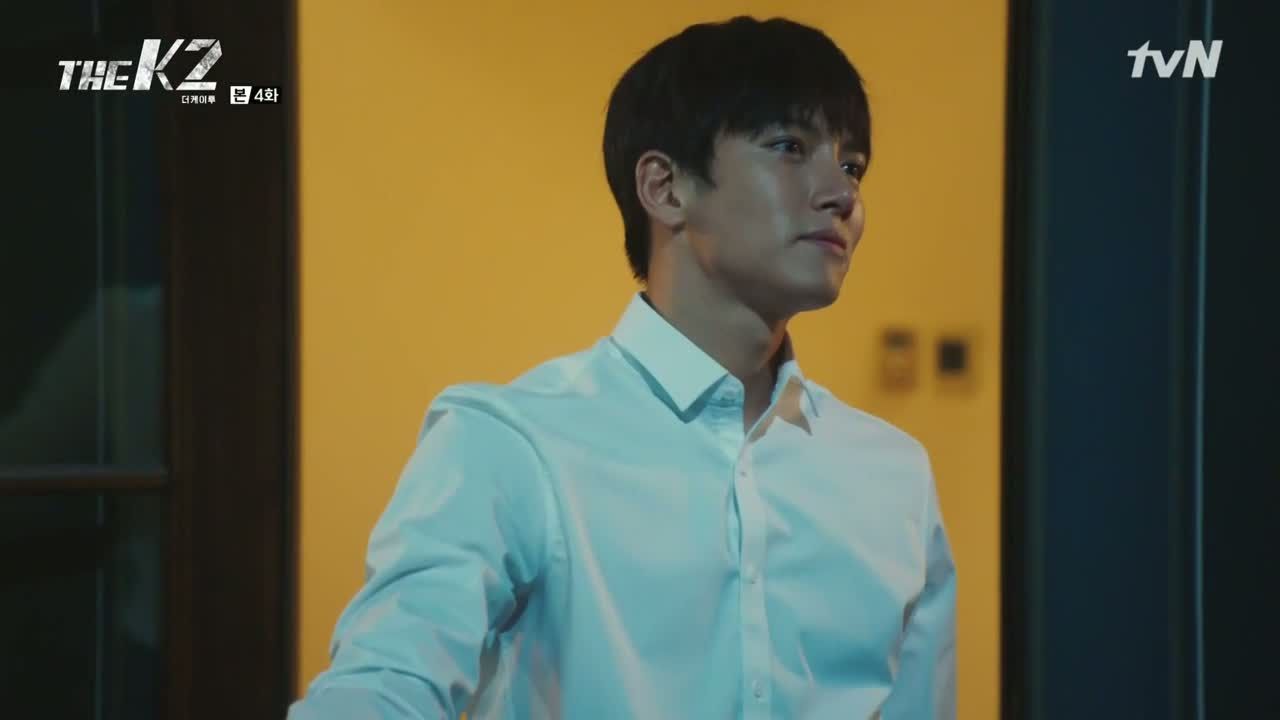 Je-ha checks in on Anna in her room before heading out to the balcony for a smoke. He looks up toward Anna's window and smiles. Just as he's about to light up, he spots a glint on the roof.
He strains his eyes to get a closer look at the moving light, and then he sees something much more distinctive: a shadow.

COMMENTS
Even if it's unclear whether that shadow is friend or foe, I think it's safe to say that Anna is in constant danger anywhere and everywhere—though the chances get exponentially higher whenever Je-ha's around.
So before we get into the areas I loved about this episode, I have to say I'm still recovering from the tonal whiplash from the first half-hour. Nearly all the scenes that took place in the JSS building were a mind-boggling, confusing watch from the filler scenes focusing on peripheral characters introducing a brand of humor never before introduced in this show to an unexplained narrative jump between Yoo-jin's offer-demand of Je-ha joining the JSS and then catching him on the tail-end of an unseen probationary period. What concerns me most isn't the filler scenes themselves but rather the use and execution of them because their sudden insertion does little to erase the deep-seated fear for a well-rounded plot.
Not only that, but the depiction of JSS cuts down on Chief Joo's claims in the previous episode that they're an elite security service privy to the most secretive of secrets… which is guarded by perhaps the most un-elite of bodyguards. And while a part of me knew that JSS wouldn't be portrayed as the best of the best, I wasn't prepared for the organization to be painted as a potential butt of the joke either, especially when compared to Representative Park's men. I have this unsettling feeling that we'll be seeing more of people like Master Song and Mi-ran, whose scenes weren't necessarily my cup of tea in terms of comedic relief.
Instead, I found myself giggling over Je-ha and his endearingly awkward side that contrasts with his super slick action moves. His stammers reminded me much of the bumbling character Park Bong-soo in Healer, a portrayal I very much enjoyed at the time. His first night on the job watching Anna was the strongest part of this hour, and the emotional buildup made for a thoughtful execution for both of these characters who had previously met under stressful circumstances. I did love how the passing mention of ramyun segued into a beautiful euphoric moment for Anna to enjoy the simple pleasures in life. Even if Je-ha didn't speak to her in person, I adored how he tried to point her in the right direction, even getting frustrated when she would give up.
And for Anna, I would hope that her late-night craving for ramyun also speaks to an inner yearning for social contact. Although her social phobia, panic disorder, and a desire to be loved by Dad currently stand as huge emotional and psychological obstacles, she still pokes her head out to see what's going on around her… and tried to escape the monastery in Spain numerous times. I can only imagine that her bodyguard Mi-ran was busy lounging around to keep tabs on her. And somehow she's still on the job?
Lastly, I didn't anticipate to enjoy the heated exchanges between Yoo-jin and Representative Park as much as I do. The thinly-veiled insults they send to one another makes for an engaging watch, especially when both characters work hard to keep up a polished public image. I appreciate how a few plot points did come full circle in this episode with the reveal that Park Kwan-soo is trying to tarnish Se-joon's candidacy. What he was doing at the Iraqi desert is still shrouded in mystery, but I rest assured that Kim Gab-soo will pull off an impressive performance as the enemy's enemy.
So while some of the narrative traffic signs point to a potentially dangerous curve up ahead, I'm looking forward to watching more of the characters who count. Just like those cameras, I've got my eye on you, The K2.

RELATED POSTS
Tags: featured, Ji Chang-wook, Song Yoon-ah, The K2, Yoon-ah