Weekend drama Blow Breeze swaps out actress midway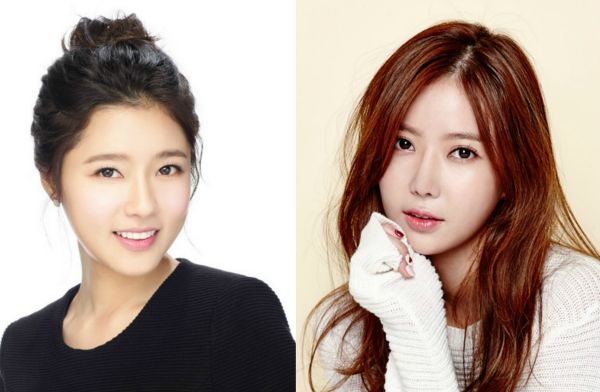 Oh Ji-eun, Im Soo-hyang
MBC's weekend drama Blow Breeze is currently undergoing some difficult times. The trouble is that they need to switch actresses for the second lead part, right in the middle of its run. According to her agency Mystic Entertainment, the drama's second lead Oh Ji-eun (Make a Wish) is suffering from an ankle injury, and must regretfully bow out of Blow Breeze to focus on her recovery.
On September 26, while filming for Blow Breeze, Oh Ji-eun ruptured the anterior ligament of her ankle, and was prescribed eight weeks of non-activity. Afterwards though, she tried to keep on working while receiving treatment at the hospital. However, she eventually could not continue when it became apparent that she needed surgery. Thus, after a period of negotiation with the production team, it was decided that she would leave the drama. Her last appearance in Blow Breeze was Episode 12, which aired this past Sunday, October 2.
The family drama is about a North Korean refugee (played by Im Ji-yeon) and a South Korean lawyer (played by Sohn Ho-joon) finding love in the midst of a battle for the huge inheritance of a dying old chaebol grandpa. Oh Ji-eun's character, Park Shin-ae, will be replaced by another actress, though who will be cast is still up in the air. The one name being floated around as the strongest contender is Im Soo-hyang (Five Kids, Age of Feeling). Apparently, she's in negotiations but nothing has been confirmed yet. Park Shin-ae is the evil rival who lives to be a thorn in the side of Im Ji-yeon's character, Kim Mi-poong. As a child in North Korea, Park Shin-ae received much financial aid from Mi-poong's family, who was rich at the time.
Despite their kindhearted help, she betrayed them by stealing their money and running away. Described as having a strong survival instinct, Park Shin-ae is a two-faced conniver with a hardened heart. For instance, she acts like a helpless angel to draw the attention of Cho Hee-dong (Han Joo-wan's character), who is related to the chaebol grandpa. However, in front of the people she's wronged, she is unabashed by her nasty, selfish actions. Blow Breeze marks Oh Ji-eun's first time in an antagonist's role since her debut in 2003, and was praised for her natural acting as Park Shin-ae.
No matter who is cast, this situation is hard for everyone involved. It was Oh Ji-eun's first comeback project in a year and seven months, so she is understandably disappointed that she won't be able to be with the drama until the end. Meanwhile all hell has probably broken loose because the production team needs to cast another actress, rewrite the script to take into account the change, re-film scenes as necessary, all while carefully monitoring the audience's response. Whoever becomes the second Park Shin-ae has to deal with the burden of living up to the expectations set by Oh Ji-eun, and staying consistent in terms of mannerisms and acting style.
Well, we'll see how it plays out. Weekend family drama Blow Breeze still has 38 more episodes to go. It airs on Saturdays and Sundays on MBC.
Via Herald Pop
RELATED POSTS
Tags: Im Soo-hyang, Oh Ji-eun