Eom Ki-joon and others recruited for SBS's Defendant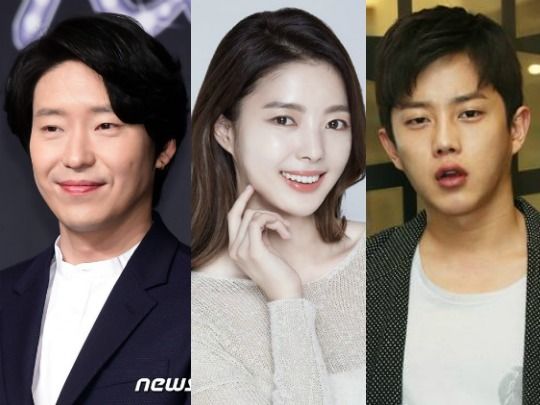 Potential leading actors Ji Sung (Entertainer) and Han Ye-seul (Madam Antoine) are still considering starring in SBS's new Monday-Tuesday legal thriller Defendant, and meanwhile we've got a few more actors who are being courted for supporting roles: Eom Ki-joon (Night Teacher, Masked Prosecutor), Eom Hyun-kyung (The Good Wife, All Is Well), and Kim Min-seok (Doctors).
Defendant is a prison-break thriller about a man named Park Jung-woo who wakes up one day and finds himself on death row with no recollection of how he got there. Before waking up to his worst nightmare, the man was an adept prosecutor and head of the violent crimes investigative unit who firmly believed that the law was not elastic. He was so skilled at his job that he never failed to find the defendant guilty. Although tough and unyielding at work, at home he melted into a softie whenever he was around his daughter. The drama is a tale of one man's desperate struggle to regain his memory in order to survive and free himself from prison. Should Ji Sung confirm, he would be taking on the titular role, as a prosecutor-turned-defendant.
Han Ye-seul is up for the role of public defender Seo Eun-hye, who always strives to be eloquent and righteous, coldly rational, but with a warm heart. However, despite trying her best to exemplify such traits, she always ends up picking a fight with the prosecution and arguing with the judge. And she loses in court every single time.
Eom Ki-joon has been offered the part of Ji Sung's close friend of fifteen years and fellow prosecutor at the Seoul Central District Prosecutor's Office, named Kang Min-seok. He and and the hero encouraged each other during their school days while preparing for exams. Instead of focusing on cases, this character is more interested in trying to read his boss's mind and sticking his nose into other people's affairs.
Eom Hyun-kyung is up for the role of Na Yeon-hee, the daughter of a bankrupt chaebol whose feeble appearance elicits people's protective instincts. However, her weak exterior belies her fiery ambition, which fuels her inner survival instinct.
Kim Min-seok is the only actor of this bunch who is confirmed to appear in Defendant. He will play Lee Sung-kyu, a convict charged with assault who takes care of Ji Sung in prison whenever he's disoriented and experiences a memory lapse. He's the prison's quick-witted mood-maker who knows how to gain the affections of the senior inmates.
Defendant comes from PD Jo Young-kwang of 49 Days, Yawang, and Hyde, Jekyll, Me and writer Choi Su-jin of City Hunter. Hopefully there'll be some confirmations soon because it sounds like the story is more or less already in place, with fleshed-out and interesting characters. I can already picture all the actors in their aforementioned roles, so it would be nice to see them stick. After all, there's nothing like a meaty drama to showcase an actor's chops.
Defendant will premiere in January after Romantic Doctor Teacher Kim ends its run.
Via IS Plus
RELATED POSTS
Tags: Defendant, Eom Ki-joon, Han Ye-seul, Ji Sung, Kim Min-seok