Beans of Wisdom: When your hairstyle is killer…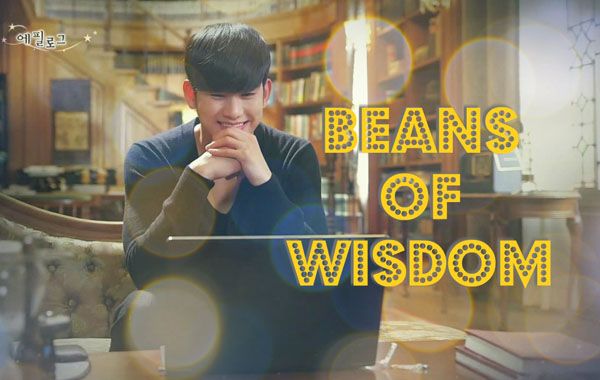 This week in Beans of Wisdom…
Seeitimust sends this greeting to fellow beanies in "Team Dramabeans: What we're watching" comment #4:
While I am happy to wish 2016 a speedy goodbye, I want to thank the good folks at Dreambeans and all the commentors for enriching my drama viewing experience. I may not necessarily agreed with all the recaps and comments, but getting other perspectives gave me pause and made me think, and that really is a great thing.

Wish you all another great year of drama viewing!
Michykdrama speaks up for the poor kdrama patients in "Romantic Doctor Teacher Kim: Episode 15" comment #23:
Finally, DJ is all grown up! And if In Bum was my colleague I'd have been the one to punch him first, because what he is doing is unethical- you DO NOT lie about your experience in operations and use patients as PRACTICE without supervision. Everyone has a first time naturally, but doing it without supervision is tantamount to treason in my eyes. If I were his senior I'd have grilled him so hard his head would spin. If any of my juniors pull a stunt like that on me, you can bet I'd be frog marching them immediately to my head of department, esp if something goes wrong.

Patients deserve our best, they aren't meant to be practiced on, because they only have one life, one spleen, one chance to get it right the first go. You can't help it if it's your first time doing a procedure, but you CAN make sure that you are guided and taught properly from the start so that the patient still gets the best possible care, and you can look him in the eye later and say confidently that you did your best. Because they deserve no less! #rantover

Grow up In Bum! Time to grow up!
While starswillshine talks about talent's underrated cousin in #24:
I also appreciate the fact that Dong Joo achieved a skill through hard work and countless hours of practice instead of attributing it to him simply being a genius or simply under Teacher Kim's teaching. It's something dramas don't often show – males leads are male leads because they work hard to get to where they are for that honorable 'hero' role instead of relying on their background (chaebol), extremely high IQ, a significantly bad event which changed their lives. I like the fact that Dong Joo is someone who puts in effort to improve and that he is not perfect but that's alright.
If anyone is looking for their own Goblin, Van has you covered in "The Lonely Shining Goblin: Episode 9" comment #6.3.1.2:
It's like cartoon versions of the drama characters. It's pretty cute!

And here's the website for the plushies (Mr. Buckwheat!): http://en.bonicrew.com/ fans are already preordering and ordering the ppl products like crazy.
kumoiwa writes about the purpose of multiple lifetimes in comment #27:
I really like the way reincarnation is being handled here. In the East Asian tradition, reincarnation isn't necessarily cause for joy–because a better new life isn't a given. Sometimes it's a period of debt repayment, sometimes it's punishment, sometimes it's a transition stage that you have live out before moving on to a better life cycle. It does seem like Sunny is in that transition stage, in which that huge debt owed to her (by Yeo) needs to be repaid before she can move on to a better life in which she doesn't experience such paralysing ennui. I'm happy that we get to know more about Sun in Goryeo next episode, because more information and tbh, the Goryeo scenes are so well done.
In "The Lonely Shining Goblin: Episode 10" comment #16.4.1.1.4, secondwind writes:
The more I think about different ways to love the more I see how this drama really works with them and weaves them all together. Everything's connected by love and the actions and consequences that result.

Samshin Grandma's love is why she tells Eun-tak's mother to ask for help from the gods when in need. Eun-tak's mother's love is the reason she calls to the gods to save her. The Goblin's love of humanity, is why he answers her mother's call to the gods for help. Samshin Grandma's love for the Goblin is why she made Eun-tak his Bride.

But not just the main characters. The ghost that watched over Eun-tak because of the love she felt for her mother. The little boy who first served Goblin because of love for his Grandpa.

It goes on and on.
And the-basketcase in #77:
I can kind of see why Eun-tak and Shin make a cute/worthwhile couple. Shin has a very simple (and adorable) view on human nature. He really, as many of you have very brilliantly pointed out, lacks a understanding on the complexities of human nature and the subtleties of words. As a general all he wanted to do was make his king more powerful by winning battles, which he did, but inadvertently that made Shin more powerful instead. He simply thought winning more made his king happy, not understanding the consequences of his actions, since they legitimately never entered his mind. You can see in the episode 10 how clueless again Shin is of human nature. He is astounded when Eun-tak tell Grim Reaper that his break up with Sunny isn't a "real" breakup, but a signal to call her again, and when he is completely tactless in trying to reunite the two (lol egg yolk really??). I initially though it was strange the after 900 years he would still be such a simple, straightforward soul, but it makes complete sense considering how powerful he is. He never really has to worry about understanding people because a. he really isn't human and b. he can just use his goblin powers to handle any situation. He has never been powerless against people, so he never really needed to change.

Which is why I like Eun-tak for him as a match. She completely gets these complexities. Growing up in a difficult household, where she had to step on eggshells in order to not be yelled at or hit. Seeing ghosts for years and trying to help (or avoid) them by figuring out how they could go to heaven. Navigating a school that doesn't care about her. All of these examples show how she is able to understand and work as an effective middleman for Grim Reaper and Sunny, and how she can balance out Shin in his tactlessness. Honestly her personality makes her seem older and wiser at times that our 900 year old goblin.

Shin is powerless against Eun-tak considering how much he likes her. His lack of understanding shines through in their interactions because he doesn't know how to behave around her. He can't boss her around or look down on her, which he does to almost everyone, because he wants to be on equal footing with her (and for her not to be mad at him).

I don't really know if I am comfortable with their relationship, but it's a drama so it's a fantasy (for me anyways). I think that thought process helps me kind of equalize them in this relationship, and I wanted to share my opinion with y'all!
Dee Em writes in "Hwarang: Episode 5" comment #10:
At this point, I'm just sad for poor Park Seo joon… looks like he's forever cursed to act like the brother of the girl he loves, even when he's not ?
weallwantpizza:
Orion!!! *sobs*
on the other side, Go Ara plays another Najung where she falls to her brother's friend who act like the real one when he's not.
Del shares an issue with the show in comment #13.1:
While I enjoy this drama, I admit that I do feel bothered with how cheeky the girls in Silla as portrayed in this drama. They girls been practically chasing guys days in and days out, with endless gushing and screaming. I get that they want to emphasize the fact that Hwarang comprising of really good looking pretty warriors but why need to degrade the women to such extend? That's somewhat bothersome.
siesta replies:
i feel like they're trying to emulate modern day fangirls of idol groups.. and if you've seen videos of them whenever their idol is nearby i think this drama is pretty accurate
Ade wishes for an "ordinary" hero in comment #40:
I am not satisfied with the whole sun woo has a birth secret thing going on which am pretty percent sure will turn out to him having some maybe not so ordinary parents which kinds of ruins his whole journey for me.

The character has been described as someone who works hard and rises above his low status in life to make a name for himself… So why then must he have some sort of birth secret that will be revealed close to the end as if to say haha He was actually one of them all along(in terms of ranking if it does turn out he is not of low birth)

Maybe its just because in real live so many people struggle to overcome the circumstances that being of low birth poses combined with the ass kicking life is going to deliver anyway and no birth secrets to the rescue.
Or am just being way too sensitive and the drama just wants to get angsty a la birth secrets..
While in comment #44 of "Hwarang: Episode 6," JC writes a brilliant response to the exam question "What does water mean to a king?":
Y'all are talking about who Sun Woo's parents really are, how terrible Ji Dwi is being to Ah Ro, and why each of our puppies are having the emotional issues they are and how better they will all be once they bond (all valid points I do agree with). Meanwhile, I am over here composing an essay in my head to answer the water/king question and wishing there was a magic portal so I could submit it to Head Instructor Dude for critique. I'd have to do a bit of SKS style cross-dressing and there would be a definite benefit of puppies, but I want to be a Hwarang for the schoolwork.

And in case anyone wonders, my answer would be that water is king. Just like water can bring life or destroy, be weak or strong, a king can do the same. Water is neither inherently good or bad. Its morality is defined by what it does and so a king can also be good or bad. Lack of water will destroy people just like a weak king would destroy his nation. Yet a flood would do the same, so a king must not also be directionlessly strong or he may destroy his people. But we must not mistake subtle strength as weakness. Given time, water makes canyons. Wise kings know how to get where they need to go, keeping the end goal in mind and wearing away obstacles while seemingly avoiding them. So all of the answers given were correct. Water is powerful, weak, life-giving, and exhausted.
paroles notes in "Mystery, fright, and island life for Missing 9 castaways" comment #1.2:
Dramas always seem to conveniently ignore what happens to a girl every month. I doubt they'll even talk about it lol.

I'm actually most curious about how they are going to explain why everyone is wearing clothes of the same colour (theme).
ObsessedMuch:
I hope they talk about that in the show, even if briefly. That aside, I am loving the vibe of the show.
bbstl:
in my mind, the title of this drama is Missing Color.
There's a lot of speculation about the final baddie in "Legend of the Blue Sea: Episode 14." AniLoh makes a popular argument for Chi-hyun in comment #8.1.2:
CH's hairstyle also changed. KDramas taught me that when the hair goes up, the attitude and cynicism also goes up. Haha!
Stardust:
Yes to the hair. Once the hair style has changed and he gets a new suit – man you know he's entering a new arc in character. Only in dramas!!
Lucifer:
I would also join in to appreciate the aptness of the change in hairstyle. Haha!
Like Woo Bin's hair came down towards the end of the Heirs. He started looking cute, vulnerable and nice, opposite to how he was portrayed earlier.
AniLoh adds:
Hahaha, not only in Heirs, there are many such dramas. And its mostly noticeable in men.
But the best example, which is relatable right now, is that of Heirs.
In Kill Me, Heal Me too, Shin Se Gi had his hair up because he had attitude, but Cha Do Hyun had his hair down because he was just a normal, polite and kind guy.
Diana:
One more that I can remember is Song Joong Ki in Innocent Man. After becoming an anti-hero, his hair had also gone up. Hahahaha! Oh man. K-Dramas and its logic!
Visit the original thread to read and share names of dramaland characters who received the hairstyle/personality change treatment.
Truck of Doom jokes may be done to death in the comments, but you can't deny how much it affects us viewers as evidenced by jomo's thread in "Legend of the Blue Sea: Episode 15" comment #3:
I KNOW about the Mom hug. I was hoping to see it tonight, although I have to admit to being as equally afraid the truck of doom was going to come along and slam into one of them.
The slooooow cross walking gets me every time.
sfgirl:
Exactly! My non scientific calculations say, 87.9% of times in K-Dramas crosswalks and reunions end up in a date with truck of doom.
Eerinmide Go Go made a game of it:
LOL ! The minute LMH saw both of them across the road and said 'its my dummy', I turned to my mum and said '50bucks someone gets hit by the truck of doom'…
We are waiting till next week to see who gets $50 richer and $50 poorer
spazmo shares an actual experience while visiting Seoul:
actually, when we were there, we didn't see anyone run red lights! BUT… walking the little alleys in Insadong, we almost got run over by those delivery guys on scooters/motorbikes, OMG… on pedestrian alleyways, these guys come up behind you honking and not slowing down for pete's sake! we had to jump out of the way…

motorbikes of doom, for pedestrians in Insadong, seriously… at the intersections, they will jump the curb from the street and ride the sidewalk and then jump into the crosswalk and back into the street on the other side…
WishfulToki asks:
And the most feared character in this episode is… Truck of Doom. I wonder what the Joseon vehicle would be?
PakalanaPikake replies:
That would have to be the Galloping Horse of Doom, since the Oxcarts of Doom move so slowly they are easy to avoid.
Join the original discussion and share how kdramas put the fear of street reunions into you.
Mag talks courage in comment #45 of "Weightlifting Fairy Kim Bok-ju: Episode 14":
Oh my dear si ho! You are so brave! Her scene was the highlight of this episode for me. The romance between joonhyung and bokjoo was fun but it was from siho I actually learnt something this episode. It's hard to find the courage to let go but I am proud siho found hers. Some people will still go on being unhappy because they have a responsibility towards others. Siho' parents had spent so much money on her regardless of their financial situation and so they would expect her to be a great gymnast after all their sacrifice but they never seem to ask her about what she really wants. I believe that even though siho was never asked that question, she answered it anyway this episode. Just watching her think about all the times she sleepwalked and all the pain made me cry. I am also happy that she thought about the good times too as a gymnast because that makes me believe she doesnt regret doing it totally but she wants to do something else. siho was awesome this episode and I think I will be replaying her scene for a while. While I play it, I will pray that I can have such courage when the time comes.
lemondoodle writes in "Weightlifting Fairy Kim Bok-ju: Episode 15" comment #8.1:
I also didn't like BJ saying she understood the mom a little, and implying that he should be grateful to even have a mom because she doesn't. No, sweetie. She's so wrong there.

I can get her not wanting him to be bitter, but the woman abandoned him and came back to see his family without a care 10 years later, and only did so for money. There's nothing you can understand there. To say she has other things to do than deal with you was just not a believable thing to say. The mother never seemed to care about the first child's suffering, but we are supposed to understand her concern for her other child's illness. Nope.
But some beanies saw a more hopeful message. Like namedx's in comment #8.1.1:
Though broken, I think Joon-hyung is at an age where he's able to let go of some (if not all) of that pain and see the love he's receiving from the people who matter the most. Hence why his embarrassment made perfect sense later on.

Had he continued holding a grudge against his mother, then he wouldn't have been able to let go, nor would he have been able to heal 10 years of pain. He wanted closure, that is it, and though it wasn't the type of closure he was hoping for, he was at least able to recognise what was important as a result of it.

Coming to terms with your loss is all part of growing up, and I think Joon-hyung did it beautifully.
Sarai:
I understand people being torn about Bok-joo giving Joon-hyung the advice to be thankful he has a mom. Yet, I think we're missing the purpose of her statement. It was not a "I have it worse than you."

You see my dad has raised my siblings and I with this same advice. Whenever I am frustrated with something he reminds me it's all about PERSPECTIVE.

I had to spend some extra money to get my car fixed?
How thankful I am I have a car that I can fix.

My heating bill was on the high side this month?
How thankful I am that I live in a house that has heat.

Struggles and stress at work today?
How thankful I am that I have a job to go to.

My dad says, it's about perspective. Point of view. It's kind of like counting your blessings backwards! Instead of being torn up, angry, or disappointed when things don't go the way I plan or want… I realize there is blessing even amidst the struggle.

Yes, I absolutely agree that how Joon-hyung's mother treated him is beyond horrible and totally unfair, but I think Bok-joo was trying to change his perspective for a moment. Sure, he has a biological mom who let him down in a big way, but better than that he has an aunt who has raised him and loved him wholly and completely since he was young. Double the blessing!
Quinze replies:
Yup, exactly. It's not to invalidate his feelings but to provide him with the perspective he needs to move on and realize that has an amazing set of parents + hyung that gave him so much love and support. It's telling that her primary concern for him is to return home to his aunt and apologize to her. Her perspective I think, is to show him that he can be upset at bio mom for being shit but don't do it at the expense of the mom that loves him likes own. To understand that you can walk away from this stranglehold because you have the love and support you need. I think it's a healthy perspective to have. Sure she may not deserve any sympathy, but it's not about her. It's about JH being mentally healthy and whole and for him to do that, he has to make peace with the fact that the woman who gave birth to him doesn't need to love him like he wants in order for him to be this amazing person. He has the people that matter in his life already so he can let go of the unnecessary baggage.

It's true in life too. I watched my good friend love a man that just couldn't love her back the way she wanted him to and the way he treated her was inappropriate. It wasn't until she started to gain back her perspective of the amazing life she has even without his presence that she truly started to see the toxic hold he had taken up in her day-to-day. So, while the other side may be deserving of our anger, disdain, and disgust, it doesn't mean that it's worthwhile for us to feel it all the time. And while in some cases it serves as a form of catharsis to be angry, in other instances like here it can become a type of mental block that holds us back.

So basically, perspective is important y'all
And JC shares:
Filial piety seems to say that elders can get away with anything because elders are never wrong. That is just not true. Elders can totally screw up. Acting like they didn't when they did or brushing it under the rug just hurts everyone more and actually makes it easier for them to continue messing up and continue hurting people. One reason I tend to stay away from family sitcoms…the mother-in-law is never wrong for being downright abominable to the daughter-in-law-to-be.
The "elders can get away with anything" has recently been digging at me even more than usual because my father is currently going through the most recent bout of this with his mother and her manipulations. The thing I remember him telling me after one particularly bad holiday is that there is a difference between forgiveness and forgetfulness. He has forgiven her for what she has done, but he hasn't forgotten. Forgiveness is about the past; it means we don't hate her for what she did. Forgetfulness is about the present; to forget would be to ignore her character. By forgiving but not forgetting, it means we interact with her now without animosity but with our guard up so that what she cannot hurt us. That was an important distinction for me. I forgive; I don't forget. And I wait to see if she will change to rebuild trust. And if one day she actually does change, maybe then I will forget. But until then, I will protect myself emotionally. All that to say, filial piety taken too far raises my blood pressure for many reasons.
holleyjane disagrees with the heroine but appreciates a different aspect of the show:
I was also a little irritated with Bok Ju both times she seemed to minimize his pain a bit by saying that she didn't even have a mom. I thought, in that moment, that she was being really insensitive and not giving him space to have his own feelings, not acknowledging his right to have pain, regardless of her situation.

However, after thinking about it, I am okay with it for another reason. I LOVE how this show has managed to keep the emotional center firmly on Bok Ju. The show is named after her, and the writer has kept her firmly as the center. I can think of so may dramas where the female lead is supposed to be the "lead," but later in the male lead takes the center emotionally, and the girl just ends up being his sidekick or support. "Beautiful Gong Shim" is one example that springs to mind, where the titular character faded into the background once the male lead had some emotional situations to deal with.

Shi Ho and JH both had major issues, but instead of going off and exploring them alone, they were able to do so with Bok Ju's support. Bok Ju sat in the stands and cheered for Shi Ho when she made her decision to let gymnastics go. It is Bok Ju's dicussion of it with JH later that allows the watcher to process that event with her. Shi Ho isn't left alone emotionally, and we the watcher get to remain with our point of view intact. Bok Ju retains her emotional importance in the story line.

Then, with JH, we stay with her as she struggles to find JH. He struggles on his own for awhile, but, we, the watcher, mainly sit with Bok Ju as she she tries to find him. We are able to feel her worry, her concern, and her need to help him. I'm not saying Nam Joo Hyuk didn't do an amazing job portraying his character's emotional angst because he did (I can't watch those scenes again because I keep crying–keep crying!). But what I mean is, he didn't go off on his own, keep it to himself, work through it on his own, and then come back better. Instead, we the watcher get to be fully with him in that moment because Bok Ju continues to be the point of view and the emotional center that he needs.

So, as a friend, I'm not really down with comparing hurts (especially when that hurt is so new and raw), but as a watcher, I appreciate so much how Bok Ju has never left the story and remains the most important emotional figure from the first scene of episode one to the ending of this episode.
Okdramas shares in comment #28:
My favourite thing about this episode was the little hands motif that so perfectly framed Joon Hyung's realtionship with his two mothers.

The moment his birth mother takes his hand as they're walking after dinner with the family, a sense of almost wonderment comes over him. It's an unfamiliar feeling since he didn't grow up with it, but it's warm. But it's also fleeting, and it's almost as if he can't believe it happened once he helps her get into the taxi.

Then when he comes back to apologize to his aunt/mom at the pharmacy, she takes his hands and he stops for a moment to glance over them before he makes a little joke. Those hands are familiar because they raised and loved him all those years and thus, they're also easy to take for granted. Which is why I loved the next beat where he honestly tells his aunt just how much he loves and cares for his adoptive family.

This show is so beautiful in its subtleties, it's just lovely to watch.

I'm very very sad that it's almost over:(
We're sad too! But at least we can be sad (and wise) together in the comments? We can't wait to read more of everyone's insights. See you next week, beanies!

RELATED POSTS
Tags: Beans of Wisdom