Beans of Wisdom: Fashion to die for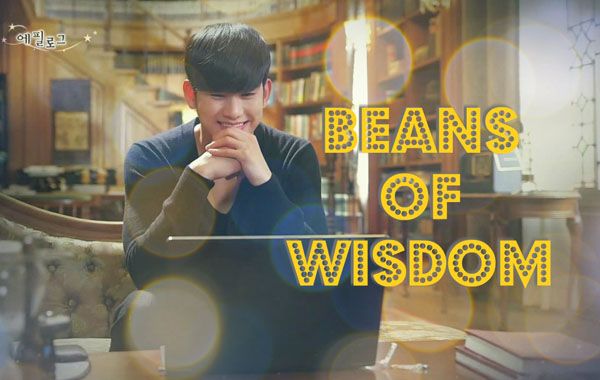 This week in Beans of Wisdom…
Missing 9 ended this week, leaving some questions unanswered. Some beanies took to imagining their own. In "Missing 9: Episode 16 (Final)" comment #3.2, Annie writes:
I think I know what happened to Yeol. While he was floating on the ocean, he fell into a hole… one of the many plot holes. But this time it was a black hole, so he ended up in a parallel universe. There, they don't know what music is, and when Yeolie started to sing, they declared him a superstar and wouldn't let him go anywhere. Also, in that universe the dramas don't have plot holes, so that's why he can't come back to our world.
And Grapes in #6.2:
The writer seems like he left the show because of the low ratings or was killed by TH, then TH took over and finished the show with him painting happily with everyone else forgiving his crimes because he's a lonely soul who was victimized by evil CEO jung, and wanted really to confess but CEO wouldn't let him..poor TH
riarallahssi talks about acceptance and making the most of our remaining time in #2.2 of "Tomorrow With You: Episode 9":
I hate to use this analogy because it's personal to me but my mother died of cancer, and the minute we knew it was terminal, control freak that I am, all that consumed me in my remaining years with her was that we had to be able to defeat this with treatments left and right. It was only when my mother insisted that treatments be stopped that I realized that this was a fight we couldn't win. Cancer wasn't the enemy, time was. Time was the only thing we had and it allowed for us to make each moment special, but ultimately it was already a bit late for that—more time was spent getting treated than being a family.

That's not to say that I gave up the fight against cancer, because I don't think I ever did—-signing the DNR form right before my mother's death was the worst thing ever. I wanted to be completely disobedient and still fight it but then I had to admit that it would actually be the kinder choice to sign that DNR. So I did.

So ultimately, what I'm really saying is that this is a drama for control freaks— those people who try to plan their lives and futures through, thinking they own it. Newsflash people, we don't. Ultimately, when the universe decides it's time to go, it's time to go. There's no point resisting it. So just smell the flowers, go bungee jumping, eat that damn wagyu steak, or jog until your body drops———whatever that you think makes your time here on earth worth living and worthy. That's all there is to it.
Oh yeah, my point was, unless the universe becomes kinder and would think "ah, they shouldn't die", they're going to die anyway. So, my wholehearted wish for So Joon and Doo Shik is to stop fighting it. Stop thinking that impending death needs to be solved , it doesn't. It's just there, like an expiration date on your favorite yogurt pack. So, just use your friggin time and love Ma-Rin. I'm sure that's the foremost think she wants, although I can't blame them for wanting more.
While earthna reflects about our hero's methods in comment #6:
I understand why Sojoon is doing this but I think he didn't choose the best way to do it. He cares for the people who are close to him and he feels that he needs to be responsible for them (because he can see the future and knows what will happen). He thinks he's doing it for them but he's actually disregarding their feelings.

[…]

This is probably a problem of not being social and just keeping everything to yourself. I'm the type of person who wants to do everything on my own even if it would have been much easier to ask for help. I feel a sort of accomplishment from it but more often, I'd have to push my limits to do it. So yeah, I get why he's doing it and I know it's not right. I've never really thought about this before but maybe I should try to open up now and release some burdens off my shoulder. Sojoon, we're learning together here. Do the right thing next time. Fighting!
Luc writes in "Tomorrow With You: Episode 10" comment #4.1.2.2.2:
This show goes to show how dangerous it is to play god, as Doo-shik and So Joon have been doing. And how arrogant and reckless it is to think that you can. They're too preoccupied with what their limited mind can work with, and forget that there could be a million variables in "the future", or just about any situation at any point in time.

I agree that probably both of them have a hand in creating all these incidents. First of all, without Doo-shik putting ideas into his head, would Director Kim every try to betray So Joon and started his con? Then, if you knew something would happen somewhere where there were nobody around, would you make it so that nobody is around? You were supposed to not let the place be so quiet! And, unless you were stalking him all day that day, how would you know he'd avoid all the things you wanted to keep him away from? You think you know everything just because you know some information about the future?

Ah humans….
In "Strong Woman Do Bong-soon: Episode 3" comment #3, Omomo writes:
Bong-soon: "He's such a jerk."
Min-hyuk: "He didn't ask you to have feelings for him. Why is he the bad guy?"
Ladies and gentlemen, daily dose of truthslap brought to you by Ahn Min-hyuk. I wish someone told me this back when I was 14 and a huge crush on this guy and when he didn't like me back, I sour graped. Haha. Good times (not). /cringe/
Dominique Lola:
THIS. It always irritates when I watch the female leads get angry when the guy doesn't like them back or when they date other girls. Just because you like them doesn't mean they HAVE to reciprocate your feelings. It makes them seem so freaking entitled.
Claudia has a fairly good interpretation of a suspect in #5.7.2.1.1:
Omgosh I think the witness is the kidnapper too. The kidnapper tells the victim do you know how hard I tried to save you. I think this was do to the fact that because the first women died he had to call for the 2nd one to be taken to the hospital and saved and once she was stabilized but still in a weakened state he went to the hospital to get her back all this would be considered hard work too keep her alive. He couldn't wait tI'll someone happened upon her to save her so he himself had to make the call and he couldn't call and leave cause that would make it suspicious. So the kidnapper is hiding in plain sight. Plus the body building and eyes and lips as well as the voice match.
And yhang uses her Kdrama experience to figure out the suspect in #7.1.1:
Drama Trope # 4189465: If a character is too good to be true, they're secretly a villain. If you think they're bad, trust your instinct because they sure will turn out bad.
Lezah:
YES, HAH. Actually in my mind, he hasn't really done anything suspicious BUT because he's the "nice" guy and he's the one that MH trusts the most… he's immediately sent to the pits of "evil back-stabbing two-faced brother" hell in my mind.
Yanca94 talks about her "unwanted" gift in comment #15:
I can relate to bok soon so much, im not strong like her (which is a pity) but im not your typical girl either. Im super tall nd I tower above guys so I hve had to struggle wth not fitting the " ideal" feminine image. It doesn't help tht I hve large feet either nd hve to shop fr shoes at the mans isle whilst staring longingly at the pretty girly shoes. So for minhyuk falling for boksoon gven her strength gives me hope tht thy' ll be a guy out there not intimidated by my height, coz society has dictated tht guys hve to be taller then their girlfriends, which is absurd if you ask me. So BS nd MH fighting!!!
Zafinah replies with an assurance:
My daughter is 6′ tall and about 4″ taller than her boyfriend. They're great together. There's someone for everyone if you have an open heart and an open mind.

Cheers
aym:
Both an aunt and two cousins are about a foot taller than their husbands and all are living happily. Don't worry, as Zafinah said, you will find someone if you keep looking! And what's better, if he likes you despite your "not-ideal" height, than he is probably open minded- a great characteristic for a partner.

And I sympathize with you on staring at pretty girly shoes that I can't fit into, but in opposite way. I have super small feet because I'm below average height where I live. Can't wear flats/ballet flats and strapless heels because my feet are too small So yes, I love the short/small but mighty DBS!
Wag_a_Muffin:
My youngest daughter is taller than her hubby. (He had a difficult time at first and asked her on their first date why she was so "freakishly" tall.)
My hub is four years younger than I–that took some getting used to to. We met at work and I thought he was older.

Romance is difficult enough when the couple is "perfect."

But is any couple really perfect?
And isn't overcoming past prejudices the answer?
I thought I'd marry a sensitive musician.
And I married a jock.
Lisa_wackycashew writes in #50.1:
I recently read PD-nim Song Won Seob's thoughts on why this show is so popular and I can't help but agree with his three points. He said that the show is entertaining and allows viewers, especially women, to live vicariously through BS. He's coming from the perspective that in real life, women confronted by dangerous people might not have the ability to fight back. So, having BS be like Wonder Woman with her super strength in a sense makes us feel like we can put these thugs in their place.

For the second reason, he stated that many youths these days have great talents but may not know how to put them to use. So, as BS seeks out the purpose of her strength and realizes how to use it, it will be something people can relate to.

Lastly, the show is able to separate reality for viewers, which is pretty much the case for me. I can just laugh at it and relax while watching as a means of escape from the complexities of real life momentarily. Given these three points mentioned by the PD, I can really understand why this show is doing so well.
While in #21.4.1.1.2, Gil adds in a discussion on the handling of LGBT topic in the drama:
The problem is that SWDBS trivializes and makes sexual identity the butt and object of the jokes. Comedy should be able to touch difficult subject but it shouldn't be basically doing the whole, kick someone while they are down which is exactly what the show does. I hope it isn't a surprise to anyone that LGBTQ people are still victims of violence perpetuated by the state and individuals.

When you are making fun, which is what the show essentially does through its cheap punchlines, of an already marginalized group it ends up contributing to their dehumanization. When Bong-soon's mother trivializes Min-hyuk being gay by saying that "you cant find a men without flaws" its contributes and upholds the belief that LGBT folks can be "converted." This holds real life consequences as LGBT people are often thrown into abusive "conversion therapy" programs.

Even though dramas are a fantasy and this show definitely does not follow generally established rules of logic, it still exists within a larger society where power dynamics are very real and LGBT folks are persecuted and attacked daily. This is not just an issue of distasteful jokes but also upholding dangerous dehumanizing understandings of this community. Also the show does nothing to illustrate that these homophobic comments are wrong and harmful but rather play it off like a cute joke when its not.
Join the original discussion here.
BTOB came back 5 minutes ago!!!!!!! continues last week's shipping discussion in comment #1.8 of "Beans of Wisdom: The perks of being a villain":
More generally, I dont think it's wrong to ship. WGM couples and the show should be considered a success if people ship. It's the shows' premise to get the audience be involved in the set-up relationship. Same principle with dramas. If the couple is working out well and doing their job, shippers ought to exist. Hell, for WGM, even celebrities ship the couples: for the CaoCao couples, so many celebrities are still shipping them and urging them to get together months after the show ended.
Like I said, I don't think shipping is the problem. On the contrary, it's an inevitable and even intentional part of any shows or dramas. Even Running man had love lines. Hahaaaa. It's when people go beyond shipping and prioritize their ship over things like respect of others, including the celebrities involved, or distort or ignore the facts to suit their delusion. Healthy shipping for fun is meant to enhance the entertaiinment factor. The moment you forget the shipping is your own wish, not the celebrities' own will is when the shipping has gone too far. How to know how to behave? Simple, just imagine yourself as that celebrity. Since you can't know what that celebrity feels, just imagine how they would feel in all cases; like how they'd feel if they were dating, not dating, dating someone else, have a ambiguous relationship, and what would make them uncomfortable in each scenario and to be safe, avoid applying all of them in such extreme ways it would feel burdensome. Like not that hard to do… in short. Have fun within boundaries of respect for others. That's it.
Vero:
u have a point. shipping is not necessarily delusional. it becomes delusional when uncertainty becomes certainty in shippers mind, or when people fool themselves into believing their wishful thinking to be fact with little foolproof evidence.

another good point you make about respect. It's impossible to satisfy everyone. there will always be extremes who will get unreasonably offended at harmless things people do, no matter how innocuous. but it's should not stop people, shippers and non-shippers, from walking together and trying to reach the middle ground, or not step on each-others' toes. you can't satisfy everyone, but trying to be considerate of the other side within reason instead of just thinking from your own perspective goes a long way in conciliating both sides. non-shippers should give way and let shippers find their enjoyment. shippers should enjoy without being forceful. both sides shouldn't feel the need to impose their own will on others bc at the end of the day, neither side should matter. they're not the ones dating, the celebrities are. we're third party outsiders, we should act as such. be witnesses rather than meddlers. have fun observing, don't intervene.
then again, I don't watch wgm so maybe I dont know what I'm talking about. But shipping is no stranger to dramaworld. I know that too well. lmao
Niyati asks in "Voice: Episode 13" comment #3.1:
You gotta wonder though. Why do all killers insist on dressing like dementors? Is there some Secret serial killer dress code we don't know about?
Klurker:
Yup, there's a dress code for serial killers, haven't you heard? They have this annual convention for baddies where they showcase the latest in creepy fashion, sponsored by no less than Sungwun Express. I think it's called Taegu's Secret. This year the kettlebell's the rave in killer accessories. lol.
Niyati:
Lol
I can just see the taglines "Taegu's secret: check out what your neighborhood psycho is sporting today"

And the convention entry kit includes brochures like "blood stain removal guide 101: the trainee monsters' hand book"

And they'd have panels like "killers through the ages"

And their cosplay contest involves dressing like normal people.
For the latest in killer fashion, check out the original thread here.
PakalanaPikake shares creepy fascinating additional reference regarding this week's episodes. In comment #9, she writes:
The literary references at the beginning of the episode blew my doors off. I cannot get over how Writer-nim tied in such a terrifying folktale. As soon as I saw the reference to "Der Erlkönig," I shuddered at the implications regarding what might have made Tae-gu into a psycopathic killer (although I think he's really the archetypal Bad Seed). Only later did his visit to Dong-wook in the hospital come to mind in a horrifying parallel to the poem.

To more fully appreciate the horror contained in the episode's opening title, here's a little background for those who don't speak German. Wolfgang von Goethe's famous poem is based on an old Scandinavian folktale that exists in many variations. Although it is often translated as "Elf-King," the title character is actually the "Alder-King," alder being a member of the birch family that, like its "queen," the willow, prefers to grow in wet areas. More on the symbolism below.

Text and side-by-side translations of the poem:

Der Erlkönig, by Johann Wolfgang von Goethe
https://en.wikipedia.org/wiki/Der_Erlk%C3%B6nig

I found the translations to be good. The original German by Goethe is straightforward and unadorned, but the urgency of the midnight horseback ride is conveyed by the rhythm.

The boy can see and hear the Alder King inexorably coming for him, but his desperate father discounts the child's feverish perceptions. It reminds me of Jin-hyuk's disbelief re: Kwon-joo's hearing — as well as his desperation when he learns of the intruder at his son's hospital. And then there's that look Tae-gu gives the sleeping child. Dang.

In Irish folktales, faeries steal children and leave changelings in their place. So that's where Tae-gu got his otherworldly cheekbones.

"Der Erlkönig" was famously set to music by Franz Schubert and Beethoven, among others, but that is not what's playing in the background during the infamous bathtub scene that segues into the creeptastic visit Tae-gu pays to Profiler Kang's apartment. It sounded to me like a requiem (Roman Catholic funeral Mass, at that time written in Latin). Bingo! It's the "Lacrimosa" movement from Mozart's "Requiem Mass in D Minor," K. 626. The text comes from stanzas 18-19 of the ancient liturgical hymn "Dies Irae" (Day of Wrath). It ends with "Amen" as Tae-gu slides below the water — in what looks like some kind of infernal baptism. It is the musical equivalent of Tae-gu's earlier bloody chapter-and-verse references to the New Testament.

Back to the Alder-King. At about 18:00, look at the illuminated branches of the tree outside the window just before Detective Moo pulls aside the drapes. They are reaching out like bony fingers grasping for the boy in the poem. (Note the parallel with Tae-gu pulling aside Kwon-joo's drapes to reveal her research on his homicidal activities and his "kid in a candy store" response, versus Jin-hyuk's shock at…
— continued —

Back to imagery of the Alder-King. At about 18:00, look at the illuminated branches of the tree outside the window just before Detective Moo pulls aside the drapes. They are reaching out like bony fingers grasping for the boy in the poem. (Note the parallel with Tae-gu pulling aside Kwon-joo's drapes to reveal her research on his homicidal activities and his "kid in a candy store" response, versus Jin-hyuk's shock at seeing Sang-tae's corpse.)

Tae-gu hunts his prey the same way the Alder-King pursues the human child. He reminds me of the badger in THE GODS MUST BE CRAZY. He plays cat-and-mouse with his targets, but never gives up once he starts an attack. He's become a master at picking deserted locations for doing his dirty work, but I honestly don't understand how he can work so fast when it comes to removing bodies and staging them. As menacing as he was at the hospital, I did not think that he would actually harm Dong-woo, although now I'm not so sure. Sang-tae and Chairman Mo agreed that Tae-gu is now out of control.

How did he become such a monster? Was he traumatized when no one heard something bad happening to him as a kid? For some reason, Tae-gu is fascinated — even fixated — on Profiler Kang's acute hearing. I wonder if his hearing is similarly acute. It would certainly be an advantage in practicing his hobby.

More on "Der Erlkönig" and the Alder-King:

In Celtic folklore it was believed that doorways to the fairy realm were concealed within the Alder's trunk.

The esoteric aspects of alder are further discussed in The Spiritual Elements of Trees, with thanks to its author, Lotus:

http://spiritlodge.yuku.com/topic/1073/The-Spiritual-Element-of-Trees#.WLtRuPLavZ4

The water element also comes into play in relation to the site of Tae-gu's body dumps, which his father mentions over lunch (thanks, Chairman Mo, for that appetizing topic!). Not to mention Tae-gu's strange bathing habits.
O_o has schedule envy in "Rebel: Thief Who Stole the People: Episode 12" comment #1.1.1.1.1:
One thing I envy most about the Dramaland is the seemingly unending day. I see heroes and heroines cleaning the whole house, doing all bulky laundry (by stepping on covers, comforters etc. in a tub), working their 2-3 part time shifts, doing some volunteering work at the nearest nursing home, going to jjimjibang to take a sauna/scrub bath and still it won't be lunch time.
Greenfields:
Hahha this thought hasn't occurred to me. But I have thought that dramaland characters are quite productive people – they don't seem to stop what they are doing, laze around in bed all day, watch TV, and/or complain about work (unless it's a workplace drama About Work).
But… if the days are longer, then our wait for next week's episodes are longer too! Do we want a longer weekend, or a shorter Monday?
RELATED POSTS
Tags: Beans of Wisdom