[Best Friends Forever] The fundamental importance of caring

Answer Me 1994
By Giana
As someone who has been pondering over her own friendships as of late, upon seeing the theme for this month I couldn't help but laugh — for sheer coincidence, and for the fact that dramas that have strong themes of friendship are some of my ultimate favorites. These are the ones that dominate my top 10 — I wonder if it's because of my own failure at maintaining friendships, or because it offers an aspect of wholesomeness that one just can't find in the real world these days.
The first group that came to mind were that of the Shinchon boardinghouse mates of Answer Me 1994. It often made me sad knowing that people didn't love 1994 as much, especially since it portrayed what it's like to have a meaningful and long-lasting friendship so well.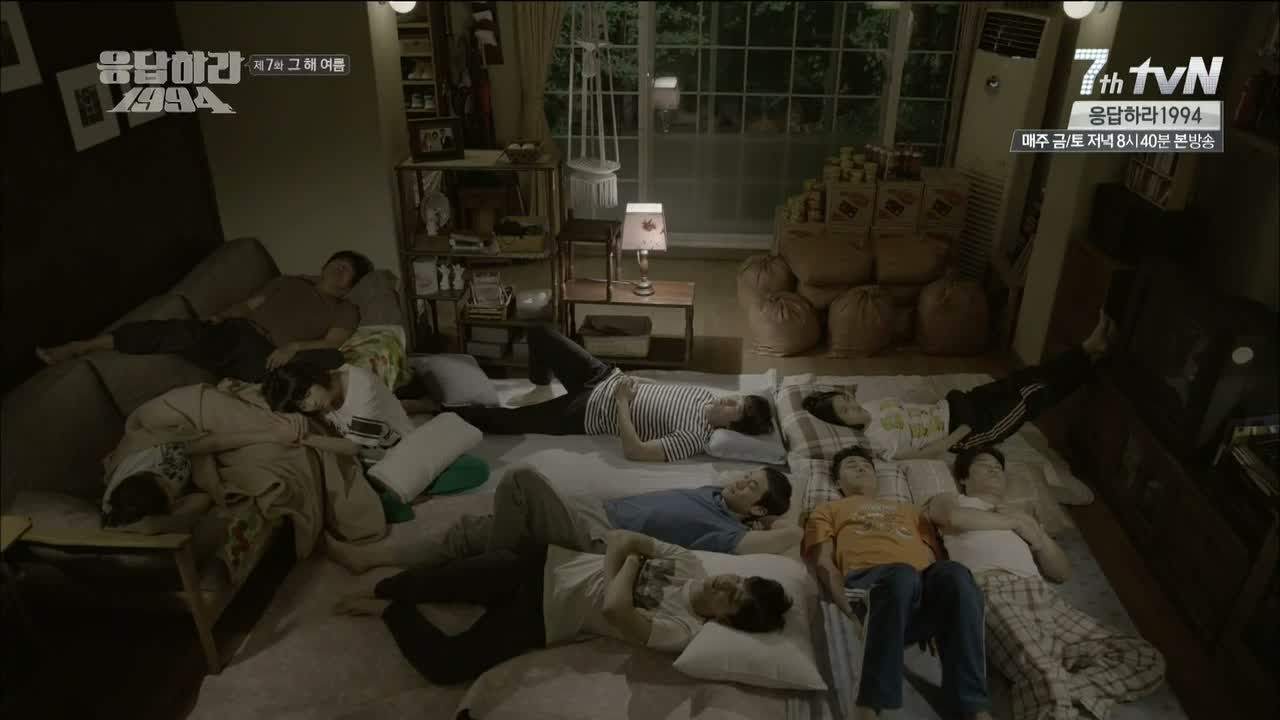 Answer Me 1994
Our gang did not start off as a group — they're all too caught up in their individual lives to bother with all the formalities. They begin to come together through drinking games, exposing each other's secrets, and by watching whatever was on TV back then. They never really cared about what each other's favorite movie was or what hobbies they had in common; they were all their own individual people with open-minded dispositions, and what I absolutely adore about this show is how it endorses being yourself.
Often we try so hard to fit in and be liked by others that we lose a sense of ourselves in the process. But not these guys — by living together they got used to each other's quirks and never tried to change things they disliked about each other. They didn't stop to make sure that everyone was on the same page, they just accepted the fact that they were all different people living their lives.

Answer Me 1994
Another thing about the Shinchon gang is how they became friends because they wanted to get to know each other as people, and not for facets of their personality that they themselves were attuned with. They helped each other with their problems in spite of not knowing much, they gave advice even if they didn't have any reason to, they tagged along on trips they weren't really meant to go on. They glossed over whatever awkwardness might arise and came together as a group of people.
One of my favorite running elements of the show was how much the gang cared for Chilbong. For Chilbong, who never really had a group of people he could connect with, the housemates were like a godsend. Though I'm pretty sure he was there for Na-jung half the time, the memories he created with the others (even the parents!) were what served to tighten their bonds. It's not as if they all knew Chilbong's personality and life inside out — it's because they spent lots of time together that gave enough of a reason to care about him. I also believe that in light of his rejection, he came to see how great a group of people his housemates were, which for our rather immature Chilbong was a great stepping stone as he came to realize that he wasn't so lonely anymore.
Similarly, in Sassy Go Go, it was again the lack of formalities that formed one of the most genuine and heartwarming friendships I've seen. For so long Ha-joon and Yeol only had each other to rely on and be each other's line of support, and when that starts to sever due to Ha-joon's battle with depression and self-hatred, we see Yeon-doo step in (albeit unknowingly) to bring some much-needed joy into their lives.

Sassy Go Go
Just by being the pure ball of energy she is, she helped them experience a world outside of the dark reality they'd known by helping them loosen up, giving them fun new memories to reminisce over, and reminding them what it's like to really live. For our dark heroes who knew nothing outside of grades and the loneliness brought upon them by their fraught experiences with their parents, the effervescent Yeon-doo was like a breath of fresh air. She taught them what it's like to have fun, what it's like to care for something, and even what it's like to feel love for the first time.
One of my favorite things about Yeon-doo was how she never gave up on anyone, and how she would strive to help you out no matter what. And in spite of the love triangle that developed over the course of the show, it never once got in the way of illustrating the importance of friendship first; with these three we saw that through friendship love was found, and through love, friendship. Though there were other notable relationships that have come out of this drama, the bond these three developed really struck a chord with me (I'm sorry, Dong-jae!), seeing as how it was built purely upon trust, mutual respect, and a deep care that came about due to a willingness to do so, rather than an obligation.
In my youth I struggled a lot with superficiality and finding friendships that did not result out of sheer convenience or by finding things in common that would make it worthwhile. To find dramas that allow me to revel in the beauty of what friendships can really be like, I could not be more thankful.

Sassy Go Go

RELATED POSTS
Tags: Theme of the Month