[Dramas and Food] Do you want to go eat?

Cheese in the Trap
By @ohhaeyoung
When you start watching K-dramas, it's hard to miss how prominently they feature food. I had never watched anyone eat noodles or soups on a TV show with so much gusto until K-dramas arrived into my life. I don't associate food with every single K-drama I've seen, but there a few memorable food moments that I always correlate to certain K-dramas in my memory.
One such drama that featured every K-drama trope it could possibly fit but succeeded with the food aspect is Boys Before Flowers. I'll never forget the kimchi-making scene with Jan-di's family and how much Gu Jun-pyo enjoyed making kimchi with them. Gu Jun-pyo's reaction to eating fishcakes from street vendors was so memorable that I too decided I needed to try fishcakes even though I'm not a seafood fan. However, the food that stands out the most is probably the simplest: ramyun. Specifically, that moment when Gu Jun-pyo is starving in the shabby apartment next door to Jan-di and eats dry ramyun straight from the bag.
First of all, I did not know dry ramyun could be eaten like that. Then months later I found out there was a dry ramyun Korean snack where you can intentionally eat dry ramyun with some flavoring. It's a pretty good snack! Then they introduced the ramyun pot and people eating from the lid of the pot and I was suddenly craving Korean ramyun myself. I went to my local grocery store to try one other than the bland ramyun I usually ate at home. I ran into the spiciest ramyun I've ever had, and the first time I tried it and put the whole packet in, I could not handle the amount of spice. I have since figured out to use half or less of the spice packet as I'm too wimpy to handle that much spiciness.

Boys Before Flowers
My next big food moment in a K-drama happened with Cheese in the Trap. Sunbae Yoo Jung spends a lot of time trying to convince Hong Seol into eating a meal with him. He spends so much time asking her to eat a meal with him that even Saturday Night Live Korea parodied this aspect of the drama. When Hong Seol finally agrees to start eating with Yoo Jung, there is a particularly sweet moment when she teaches him how to eat triangle kimbap, which is a convenience store food that the rich boy has never tried. He ends up loving triangle kimbap and buys it for her often through the rest of the show and always makes it a point to unwrap it for her how she taught him to.
I was convinced that I too wanted to try triangle kimbap but didn't know where to get my hands on it here in the U.S. So when my plane landed in South Korea last year when I was visiting for vacation, my very first meal ended up being triangle kimbap. My plane landed at 11 p.m. and the only thing open near my hotel was the closest convenience store. So I picked up triangle kimbap and excitedly brought it back to my hotel room as my midnight snack and I too, like sunbae Yoo Jung, loved it and found it to be so delicious and filling.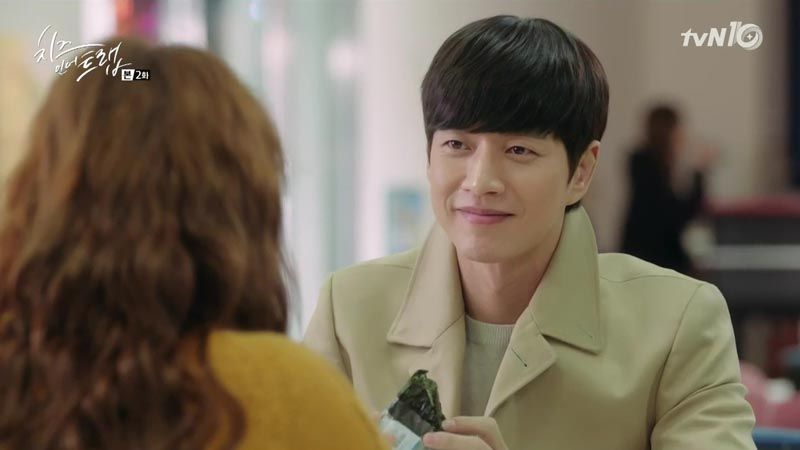 Cheese in the Trap
One K-drama that made me crave something that is more common to me was My Girlfriend Is a Gumiho, which made me crave beef during the two weeks it took me to watch the show (hey I work a full-time job, okay?). Yes, I am a slow drama-binger and it usually takes me a couple of weeks to finish a drama. The amount of times that our adorable Gu Mi-ho was requesting beef had me craving beef that whole two weeks as well. My grandmother happened to be visiting that particular weekend and like Gu Mi-ho, my grandma too prefers beef over all other meats, so when she asked me to take her out for a meal, I knew exactly where I needed to go and headed to the closest steakhouse for some good beef. I do enjoy eating beef, but the amount of beef binging that happened in My Girlfriend Is a Gumiho was over the top but always amusing.
But I'm really blessed to have coworkers I can eat lunch with who happen to be K-drama fans. We have gone to the occasional Korean barbecue lunch together or we simply eat our meals in the office break room and chat about what we're watching at the moment, and I sometimes feel like sunbae Yoo Jung every day asking them, "Do you want to go eat?" So shout-out to my lovely coworkers who make my lunches at work so fun and entertaining. We are a diverse group of women from different parts of the world who are able to share in the experience of bonding and fangirling over oppas and swooning over romantic moments in K-dramas, and food is what brought us together.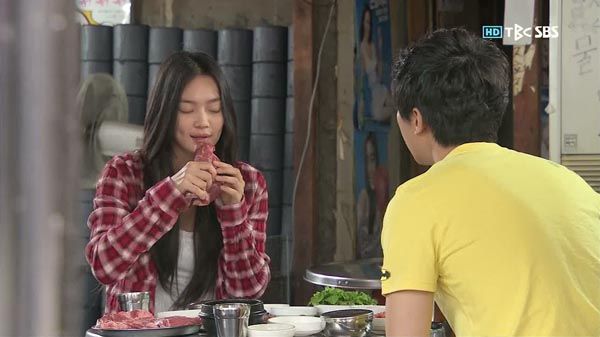 My Girlfriend Is a Gumiho

RELATED POSTS
Tags: Theme of the Month