[Dramas and food] For the love of ramyun
By fatcat
I'm a noodler. That's what I like to call myself. I love ramyun/noodles/anything even remotely noodle-y.
Coming from a country with very different food culture from Korea, my love for ramyun may be considered a big deal. Here, ramyun is perceived as a commercialized insta-food that doesn't quite count as a regular meal. Despite ramyun companies promoting their products as healthy and nutritious, ramyun's generally viewed as an alternative to traditional dishes for when you're in a hurry and don't have time to cook.
I, on the other hand, could eat ramyun every day. I don't actually eat it every day for the sake of my worried parents and because I love rice, but I could have it every day (different flavors of course) without getting sick of it. I've been a noodler for as long as I can remember and I love ramyun. So nothing appealed to me more than the characters in my K-drama having a variety of ramyun.
At home I've had only the regular ramyun, maybe soupy, occasionally with veggies or a boiled egg. (Of Gu Jun-pyo in Boys Before Flowers famously gnawing on raw ramyun and finding it delicious, I totally relate). But everything else I saw was new, with lots of add-ons like bits of meat, or black bean paste, and various stocks as soup base. It all looked so delicious! While the characters devoured their noodles, I drooled while watching my screen.
Where I live, we don't have a huge variety of ramyun or the typical Korean add-on ingredients here. With the scarcity of variety and ingredients, I don't have much opportunity to try out all the varieties of ramyun that K-drama characters have. But there was one simple variation on ramyun that I could actually try out. I discovered it in Answer Me 1997.
This endearing and adorable show put us through lots of happy, sad, and bittersweet moments while exploring the highs and lows of youthful days; occasionally testing our patience with the husband guessing game or flashback loops. And like all my favorite shows, some of the moments have stayed with me after all these years. Like Shi-won camping outside her oppa's house, or having a death fight with her classmate, Yoo-jung breaking up with Hak-chan. Then there was Yoon-jae and Shi-won's hair being yanked by Dad for having cigarettes, the reunion party, and Yoon-jae whispering into Joon-hee's ear to not break the eggs in the ramyun (poor Joon-hee).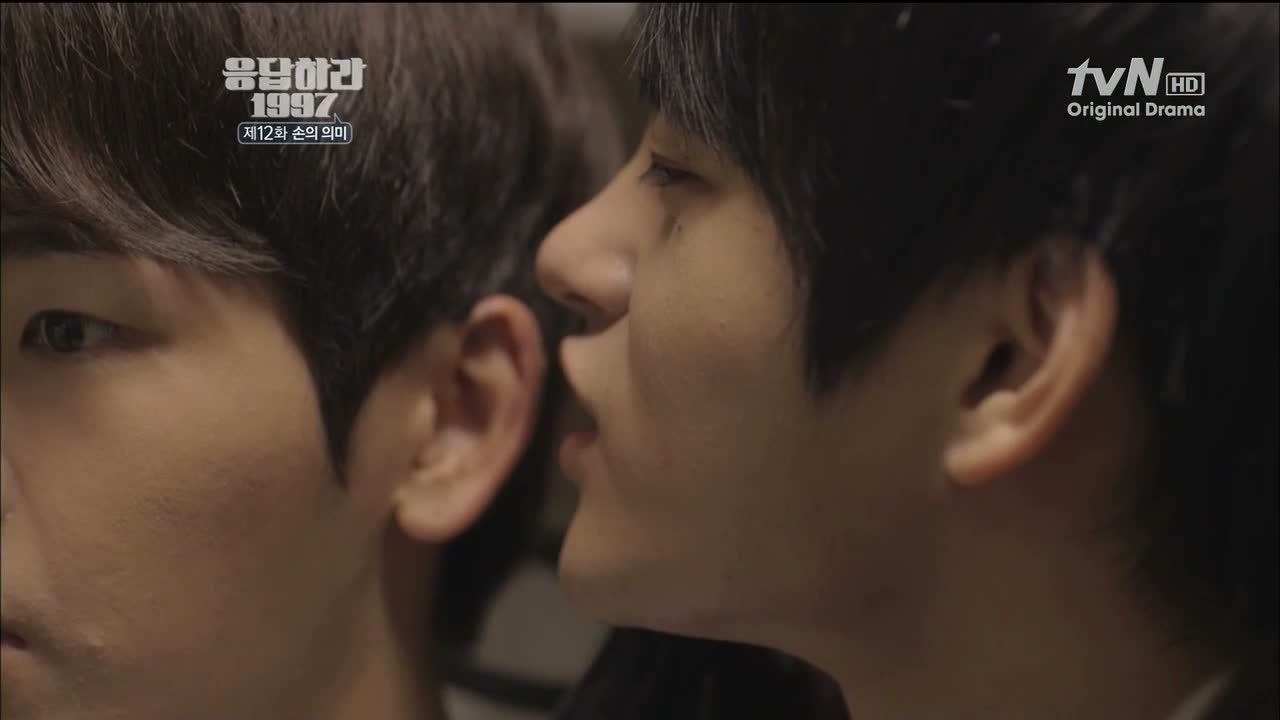 That egg scene. I remember this scene had given me such long pause at the time. I had stopped the video, stared at it and tried to gather my thoughts. I replayed it quite a few times. I had SO many things and SO many questions on my mind. Would Joon-hee ever get over his first love, Yoon-jae? Someone protect his heart. Appreciation for the show for including a gay character since it's rarely touched upon in dramas. Ohmygawd if my crush were to do that I'd diiieeee! And most importantly, IF WE BREAK EGGS OVER ramyun HOW WILL IT TASTE???
Over the next few years, I constantly mulled over this very important question whenever I noticed the ramyun-egg combo in other dramas. Now one could ask, "Why not just try it out?" Well, because every pack of ramyun is precious. I couldn't just experiment thoughtlessly on it, what if it turns out bad and my precious noodles are wasted?
One of my real-life friends said that eggs in ramyun didn't cook well; tasted raw and not nice. That put me off for years. I preferred to boil eggs separately and have them with the noodles. But I'm lazy and it used to be a double task: boil the eggs, then make the ramyun, then eat together. Ooof. When I finally managed to multitask, I did it simultaneously. But I'm no master chef, and doing even this much took a lot of effort.
Since last year, I'd been living away from home in a hostel for my studies and had very few opportunities to enjoy ramyun. So whenever I came home at the holidays, I'd make myself a bowl of hot ramyun. But I used to be so tired that I didn't have the energy to boil the eggs. I'd just slurp my noodles and crashed on bed. And in such moments of sad separation from my favorite ramyun and egg duo, a bulb finally went off in my head. *Ding!* "OMG the egg that wasn't used in the ramyun in the whispering scene in Answer Me 1997!" Why didn't I think of it before??
After YEARS of thought, carefully looking up the method on internet ("don't stir, cover for 1 minute on low flame…"), and being told off by mom ("just try it if you want to, it's just one pack of ramyun. And stop bothering me!"), I finally gave it a go. And…it turned out to be a tasty, efficient, and energy saving success. *Victory dance!* Ever since then, I've been enjoying this ramyun-egg combo regularly. My summer vacation has started, and although I've toned down my ramyun feast from five times a week to just two times a week, I make sure to always eat this version. Steaming-hot ramyun with a medium done egg on top. Just a simple change but it's brought me so much joy.
Although it took me a long time to figure it out, my wish is to visit East Asia and try out all the ramyun varieties. But for now, my next goal is to try jjajangmeyon. With the variety of things easily available and accessible on the internet, unlike several years ago, I'll surely have no problem in having the ingredients delivered to my doorstep.
In the meantime, this noodler will be watching random K-drama clips online to try to come out of her drama slump but nevertheless happily enjoying her bowl of ramyun.

RELATED POSTS
Tags: Theme of the Month