[Hey, that's me] The unfavored child
By Myrrh-L
Growing up, I wished I were the eldest, the youngest, the only daughter, or a son. Basically, I wanted to be anyone but the middle child and the daughter that I am. Several birthdays later, I've forgotten about that fantasy and the pain that caused it. Or so I thought.
One random night in 2017, the countless mentions of Answer Me 1988 in the comment sections of Dramabeans and streaming sites must have taken its toll on me. I've read more than my fair share of spoilers, willingly and unwillingly, so when I decided to just go for it, I was surprised by how the first episode reminded me of my childhood wish.
You see, like Sung Deok-sun, I have an older sister (whom I shared a bedroom with) and a younger brother. My siblings and I also spent breakfasts and dinners together with our parents. As we dined, we tuned in to our TV. Of course, my sister and I bickered a lot, too. (We didn't curse and shout that much though.) Watching the Sung household for the first time was a surreal experience for me. How could it recreate my childhood when I was born in the 90's and was raised in a different culture?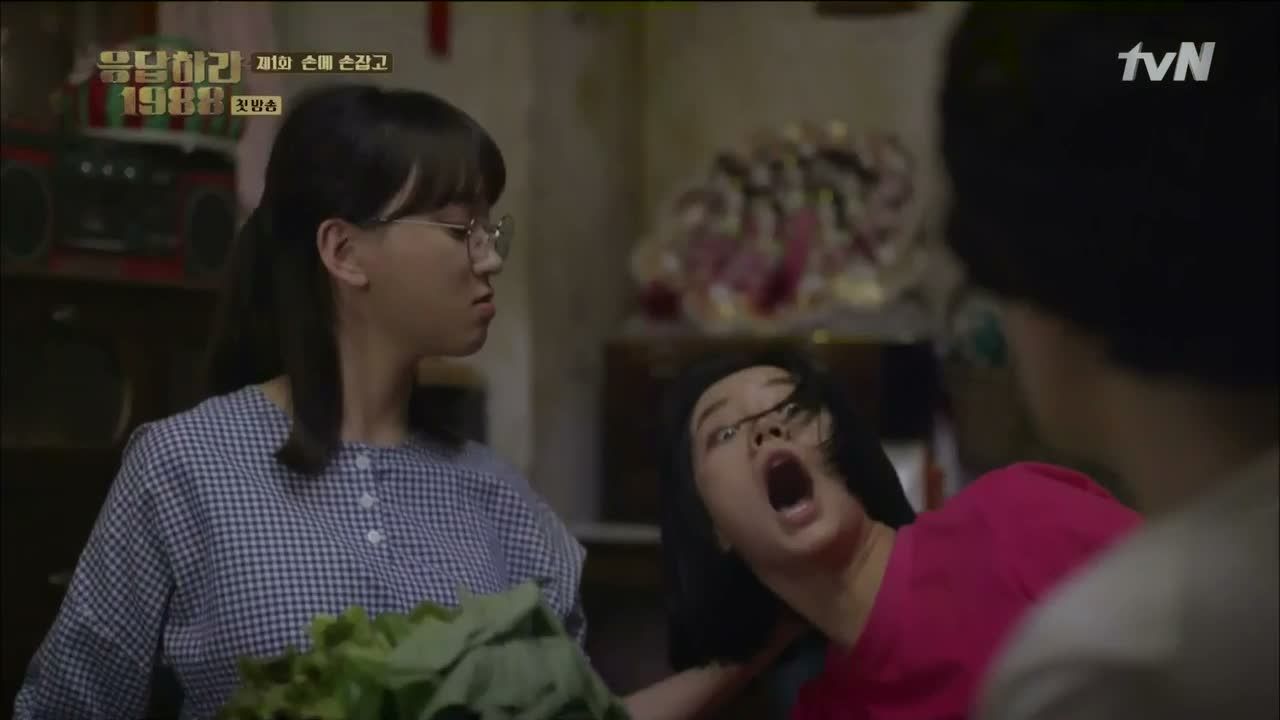 However, Deok-sun and I weren't identical. Deok-sun had guts growing up; I had none. Yet, I excelled in academics; she didn't. Our list of differences expanded to the point that I no longer cared about her being a middle child. I even saw more of myself in her unni, Sung Bo-ra.
Enter that scene where she insisted that she didn't want to celebrate her birthday in advance and on the same day as her sister's. It intrigued me, but it was nothing that I could relate at all. I would never have to deal with that kind of issue anyway because my siblings and I have different birth months.
But like Deok-sun, I cared about birthday celebrations. When I was younger, I wanted to feel special even for just a day, and I always hoped that my birthdays would make that possible. Sadly, I was born in the summer and school usually let out for summer vacation before my birthday. My mother often told me how great it was because we never had to throw a party that my classmates and teachers would attend. As for my siblings, they had chances to have their classmates sing the birthday song for them.
When the Sungs were about to celebrate Deok-sun's birthday in advance, and re-using Bo-ra's cake at that, I broke down alongside my favorite fictional middle child. It was just too painful to watch because it hit close to home. I knew how it felt when you've asked something, something so small, from your parents, listened to their reluctant promise, and hoped that they'd keep it. Yet in the end, they just failed you.
I re-watched that scene to write this entry and I still reacted the same way. Even writing about it still made me tear up. The sorrow of being a middle child is truly a sorrow. I know there are far more tragic scenarios in real life, but I can't help but pity every middle child out there—most especially my younger self.
As if that scene wasn't enough, we saw Sung Dong-il comfort his second daughter. It reminded me of that moment when my father and I dined in a fast-food restaurant after attending an awarding ceremony in my university. It was one of the times that I've felt special. Watching that scene and remembering that moment with my father were enough to make me say that my favorite first episode in a drama was from Answer Me 1988.
Scratch that. I meant one of my favorites. Several months later, I saw Because This Life Is Our First and that changed my mind. I guess I have a thing for first episodes showing birthday celebrations and sibling squabbles.
As a struggling writer myself, I've witnessed bits of myself in Yoon Ji-ho. However, it's not the thing that I could relate to the most. Instead, it was the way she was treated for being a daughter who had a younger brother.
Being the only son, my parents favored my younger brother in some ways. I saw how he was given his own set of toys, a study table and a shelf while I was provided with hand-me-downs. As an older sibling, I tried my best to be very understanding. Moreover, my brother didn't bother me, unlike our eldest sibling, so I didn't resent him for the way my parents spoiled him.
One afternoon in my mid-twenties, my mother told me to work hard so I could settle our debts. That way, according to her, my younger brother and his future wife could have our childhood home. That stung.

Because This Life Is Our First
We had that conversation (or more like I listened to my mother's monologue) a few days before I watched that scene where Ji-ho was walking down a tunnel. Even if you have a pretty decent family, finding a place to call home could still be challenging. Some people may say that you can just swallow your pride and go back to your parents (or live with your sibling). However, they don't seem to realize that pride isn't the only thing you're losing. What about your hopes? Furthermore, you can't really call a home "a home" when it no longer feels comfortable and secured.
Deok-sun, Ji-ho, and my older sister went on to have their happily-ever-after. I'm not looking forward to meeting a knight in shining armor whom I can have a home with. I wish I could be a snail instead. But then again, how will I watch K-drama heroines that are bound to make me cry, laugh, hope or say, "Hey, that's me!"

RELATED POSTS
Tags: Theme of the Month