What We Do
Dramabeans is a site dedicated to Korean dramas (K-dramas): discussing what they are, what we feel about them, why we love them, what we don't love about them — anything and everything. We cover shows in their pre-production phase, promotional stages, through broadcast.
We cover dramas in episode-by-episode recaps (examples: Boys Before Flowers, Moonlight Drawn By Clouds, Descended From the Sun, Six Flying Dragons, Cheese in the Trap, W–Two Worlds); in overviews and reviews (Nine: Nine Time Travels, The Princess's Man); and in year-end write-ups that review dramas in the context of the past year (an example from 2016, and another from 2013; here are the Editors' Picks for 2016).
We also cover news about the entertainment industry, and discuss trends and practices of the drama industry (drama adaptations and remakes, live-shoot drama production, production controversies, drama about dramas). We love dissecting storytelling tropes (contract marriages, all-time favorites). Sometimes we like to compare plot points and story devices across different shows (image ruinations, cradle-robbing teachers), and sometimes we just like to talk about random aspects of shows that interest us (heroes in boxes, dramaland fandom, the hotness effect).
Basically, we love dramas, and we love to celebrate them in any way we can.
How We Got Started
Dramabeans was born in 2007, when a lone drama fan searched the internet high and wide for a place to discuss K-dramas with the loving attention and excruciating detail she felt they deserved. She decided she'd have to build it herself, took the name "javabeans," and started blogging about the dramas she was watching at the time. This quickly grew into something much bigger than she'd ever dreamed, and suddenly she was writing about dramas day and night, day after day. It became the best job ever.
In 2010, javabeans meet a kindred spirit in girlfriday, who was exactly the same kind of top-level nerd about dramas as she was, and they hit it off. Girlfriday came onboard as her, well, Girl Friday, a beautiful partnership was born, and thousands of recaps later they're still going strong, analyzing and deconstructing and squeeing over their favorite shows.
Over the years, the site has expanded and the Dramabeans family has grown to include a staff of recap minions, because people get tired but the dramas keep coming, and the more dramas we could cover, the better we could serve everyone's TV addictions. You're welcome!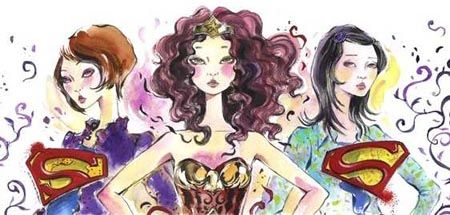 I love Korean dramas, and I love talking about, writing about, and analyzing them. I've been watching dramas for as long as I can remember; I was raised on a steady diet of them, with the household TV always tuned to one show or another. The first Korean drama I recall specifically loving was the 1992 hit Jealousy, and I've been hooked ever since.
I started this site because I couldn't find a site providing meaty (or any) analysis for K-dramas, a longtime guilty pleasure of mine. I enjoy marveling at the pretty as much as anyone, but also wanted to express appreciation for quality that didn't automatically dismiss something for being popular. Or, on the flipside of that same coin, to discuss something popular that went beyond surface discussion of the plot or hot cast. (Although, let's be honest! Hot cast = a nice bonus.)
My avatar is SuperDalja from Dal-ja's Spring, who made an impression on me right away with her encouraging spirit and belief that real-life Superwomen aren't that way because of special powers, but that we're all the Superwomen of our own lives, working hard to bring happiness to our small corners of the world.
My underlying modus operandi: Just because it's pop culture doesn't mean discourse has to be shallow. I'd like to sustain a fun but hopefully substantive level of conversation, mixed with some irreverence. Because it's not worth it if it's no fun.
I'm a writer, a TV junkie, a critic, and a fan of good storytelling in any medium. I grew up watching Korean television my whole life, thanks to my parents, and am constantly blown away by how globally popular K-dramas and K-pop have become. Dramabeans is a testament to the fact that great stories can transcend any cultural barrier, and it's home to the greatest community of fans in the universe. Science says so.
I love dissecting what makes a drama resonate with its audience, and figuring out what speaks to people universally. I have a secret love of puns. I enjoy grammar, if only to break some more rules. I feel very strongly that people can have thoughtful discourse on just about any topic, and that art—mass, pop, high, pulp, whatever it may be—can and should be discussed intelligently for the thing it is.
About the name: A Girl Friday could rule the world, if she really wanted to. You know her—the best friend smartypants who always knows exactly what the private eye/secret agent/superhero needs? She's plucky and clever and sassy and loyal, and pretty much smarter than everyone in the room. My favorite Girl Fridays are of course ones that break the mold. Every Willow Rosenberg and Veronica Mars out there gives us hope that the geeky outcast can and will save the world. Just think of me as Dramabeans' girlfriday: the Miss Moneypenny to javabeans' Bond.
Meet the rest of the Dramabeans staff
Official Dramabeans Facebook: https://www.facebook.com/Dramabeans
Official Dramabeans Twitter: https://twitter.com/dramabeans
Official Dramabeans Instagram: https://instagram.com/dramabeans