Dal Ja's Spring: Episode 17
Episode 17: "Earnest Things You Need to Throw Away When You Love" Part 1
Everyone waits with bated breath after Tae Bong's mother asks (accuses, more like) Dal Ja if she's pregnant…
Dal Ja tells everyone she's not. Absolutely, definitely not. Kang Team Manager scolds Tae Bong's mother for causing a scene at work. She tells her that she should take care of household matters on her own time.
Although the misunderstanding is cleared, Dal Ja's upset at the disturbance:
Tae Bong: "Are you angry?"
Dal Ja: "Yeah."
Tae Bong: "That probably really embarrassed you."
DJ: "Yeah."
TB: "You probably won't get over it easily."
DJ: "Yeah."
TB: "But you still like me."
DJ: "Yeah."
Tae Bong wonders if there's a way win their mothers over to their side. Dal Ja: "How?" Tae Bong: "Make it fun." Dal Ja: "Fun?"
So Tae Bong starts going to the restaurant early to work extra hard. He shows up at the market to carry groceries for Dal Ja's mother, and basically turns into a model worker.
Dal Ja follows Tae Bong's mother around, pretending to meet coincidentally. She tries to kiss up to her, doing daughter-in-law-like things. At the sauna, she brings her a drink; at the department store, she carries her purchase. She even goes to the same spa to get a massage, marveling, "Oh my! We have such similar tastes!"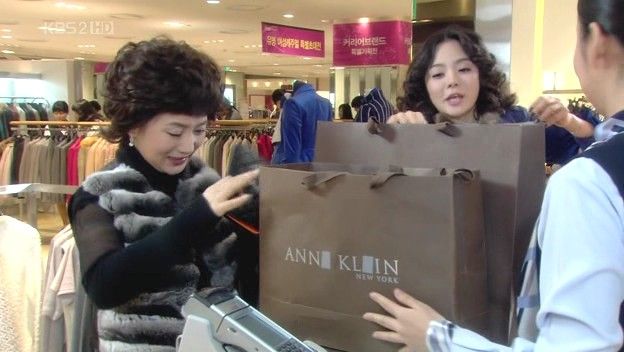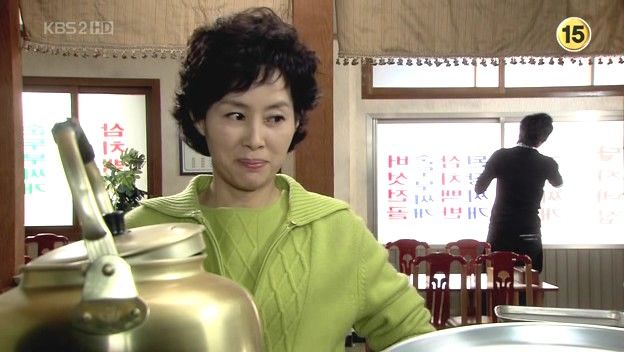 At first, both mothers are unmoved, but it does seem they start to enjoy the attention, although they don't want to admit it.
Still, Dal Ja and Tae Bong are frustrated that their mothers don't seem to be affected by their efforts. So Tae Bong suggests switching to a different strategy: "Make them curious."
So both Tae Bong and Dal Ja take time off from work. Dal Ja's mom wonders where Tae Bong's gone when he doesn't appear to help her with the groceries or help out at the restaurant. Even Tae Bong's mother finds herself looking around wherever she goes, expecting to see Dal Ja lurking. She wonders why Dal Ja's not hanging around anymore.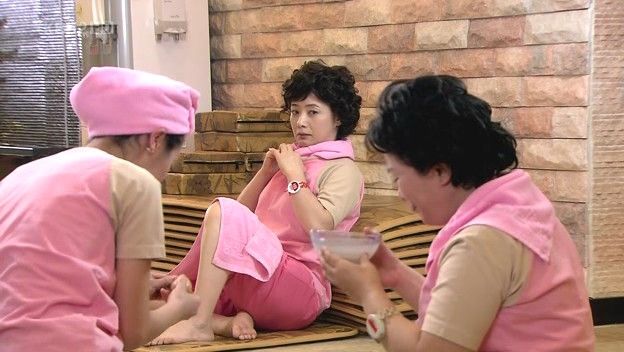 She watches other mothers with their daughters-in-law as they shop together and go to the sauna together. You can really start to see Tae Bong's mother's loneliness. She's got the brash exterior, but it seems she would actually really enjoy being mother-in-law to someone like Dal Ja, who would look after her needs.
In Dal Ja's week off from work, they have fun hanging out together: cleaning, eating, cooking, reading. It's ridiculously cute.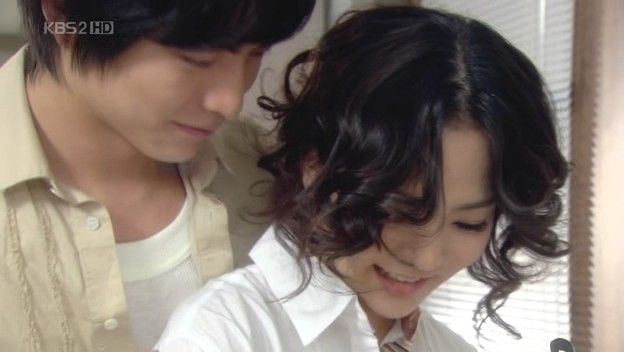 Dal Ja: "Why do you like me?"
Tae Bong: "Why ask why? I just do."
Dal Ja: "You could find a much better woman than me. Someone much prettier, more appealing, younger. You could find someone much more desirable. So why in the world is it me?"
Tae Bong: "Then why do you like me? You could've felt more secure and safe with a guy like President Eom. So why me? Why do you like me?"
Dal Ja: "At that moment… you were by my side. When I was having a hard time, when I was lonely, when I needed someone's comfort and smiles… In those times, you were by my side. You consoled me and held me, and somehow, your scent stayed with me. So wherever I go, whoever I meet… I just keep sensing your scent. It tickles my heart. It makes me miss you, makes me curious. It makes me want to be with you. I don't know exactly how it happened, but now here we are."
Tae Bong: "Me too. At some point, I looked around and now you're lying by me. If you ask why I like you, I don't know. It's something I can't answer in just one phrase, but one thing I'm certain of…"
Dal Ja: "Certain of?"
Tae Bong: "I like you. Being with you like this, I really like it."
Dal Ja: "Oh my god. Am I dreaming or awake? If I'm dreaming, I never want to wake up. If I'm awake, I wish I could stay like this forever."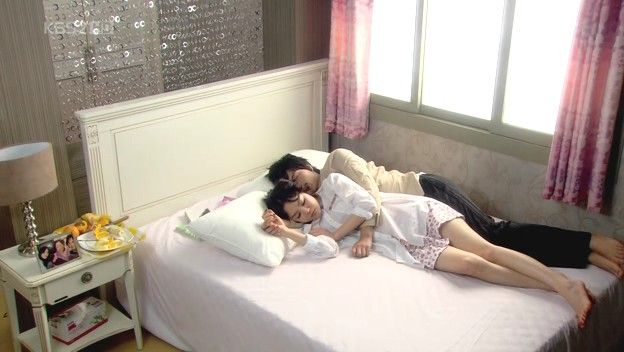 Their mothers become worried that they haven't heard from their kids. They call Dal Ja's work and hear that she's taken time off. They try to stay calm, but wonder: "Surely they wouldn't kill themselves just because their parents oppose their relationship?"
And they imagine the couple as Romeo & Juliet (which is awesome, because as Dal Ja is about to drink her poison, she looks at Tae Bong with his sword, and says, "I bet that'll hurt." Tae Bong asks if she can leave some of her poison for him, and she says no. But he looks at his sword, then grabs her poison and drinks it instead.)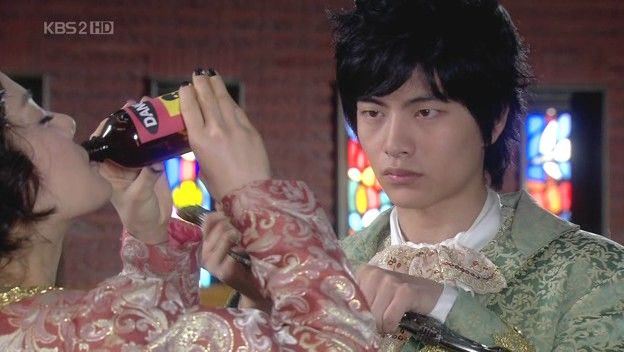 The moms arrive at Dal Ja's apartment to see them both lying down, dressed in white, and they wonder if they've already killed themselves. The two mothers fight over who goes to check on the bodies and try to wake them. "You do it." "No, you do it." "But that's your daughter!" "Your son's in there, too!" They both say how they can't take the shock; Dal Ja's mom says how her heart is weak, the doctors told her to watch it.
Dal Ja and Tae Bong wake from their nap, and after the initial relief, the mothers unite in their opposition. Dal Ja and Tae Bong say they've been working hard, trying to gain their parents' approval. But even if they don't approve, they want to be together. They're adults and old enough to handle their own relationships.
Meanwhile, Sae Do is dealing with a dilemma. Kang Team Manager offered a once-in-a-lifetime opportunity. She wants to recommend him for overseas training, which would be a great step for his career. But he doesn't want to tell Seon Do, because she'd tell him just to go, and he can't leave her to have the baby alone. They're at the age when neither party wants to become a burden to the other.
Seon Joo hears about Sae Do's offer, and realizes what this means for him. So she tells him that whenever he tires of her, whenever he wants, she'll return his ring. They've worked hard and there's nothing to feel bad about. She doesn't expect any more from him, and whenever they decide, they should be able to break up without becoming burdens to the other. Sae Do wonders if she still can't trust him, and she tells him she does trust him, which is why she's saying this. She doesn't want him to give up a great life opportunity because of her or their baby.
Tae Bong runs into a former law firm sunbae, who invites him to his birthday party. Dal Ja is curious about going to such a lavish, fancy event, but Tae Bong doesn't want to go. He finds such events stuffy and boring, saying empty hellos to people you don't care about. But when he sees that Dal Ja wants to go with him, he reconsiders.
So Dal Ja gets to go to the event, dressed up. She's excited to see such important and famous people at the party, and Tae Bong finds her excitement cute and infectious. He wonders that with Dal Ja by his side, even he can have fun.
But Dal Ja becomes a little insecure when she sees the attention Tae Bong is receiving from everyone. She didn't know he was such an notable person. And we end when a beautiful young woman approaches Tae Bong and tells him she's missed him…
Tags: Chae Rim, Dal Ja's Spring, Lee Min-ki