Miscast

Moon Sori in Legend

I haven't seen many of the dramas mentioned (they're mostly historical dramas, which I've noted is not something I regularly watch). Some of the following reasons are downright silly, but it also seems there's a grain of truth in some of the grumblings. What do you think?
Criticism for Drama Miscasting; How Far Will It Go?

It's time for a star news briefing. Watching the current dramas, it occasionally seems like this role and that actor don't quite match. It's surely discouraging to hear this kind of casting for the actors who are working so hard. However, it's uneasy as well for the viewers watching along. Today, I'll examine the criticism of this kind of drama miscasting. No Cut News' reporter Oh Min Jung is on the case.

Who are these actors most recently criticized for being miscast?
Answer
As there are many sageuk [historical] dramas these days, many of these actors can be found in those series. In MBC's Legend, Moon Sori, playing the role of Kiha, is one such actor. In her role, she plays fire sorceress Kajin reborn as Kiha, and many viewers have pointed out that Moon Sori's personality and strong image are an ill fit with the mysterious and pitiful Kiha role.

SBS's King and I has been criticized for miscasting all its leading actors, perplexing the producers. They've heard negative comments that actor Oh Man Seok, in the Kim Cheo Seon role, doesn't look good in his braided hairstyle. The role of Sung Jong, played by Go Joo Won, has also been pointed out as ill-suited to his sophisticated image, which doesn't fit a sageuk drama. The same comments have been uttered of Gu Hye Sun in the So Hwa role by some fans.

Airing at the same time is MBC's Yi San, whose Lee Seo Jin has been noted by audiences as not matching the tone of the series.
Lee Seo Jin in "Yi San"; Oh Man Seok in "King and I"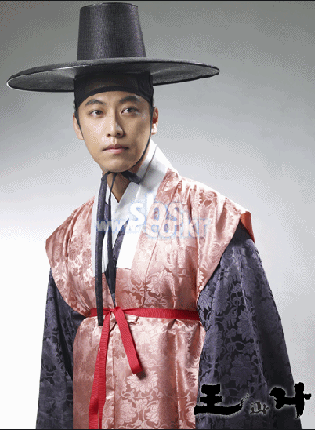 Question
Taking a look, those are most of the leads in the currently popular sageuks, but fortunately it seems as though Bae Yong Joon, about whom there was some worry before the premiere of Legend, has integrated well into his role. Aside from lead roles, has there been criticism about supporting actors?

Answer
Kim Mi Ryeo, who appeared in King and I yesterday, is one example of that. Kim Mi Ryeo has yet to do much acting; she appeared as a comedian and began pop singer activities some time back, and gained lots of anti-fans through suspicions of faking tears [on a televised program, viewed by many as a publicity stunt].

In the midst of this, news that she would take on the role in King and I as a widow attached to her son clashed with strong negative response: "It's unfathomable why Kim Mi Ryeo, with so many anti's, would be cast in a drama" and "Forcing Kim Mi Ryeo into the drama, who hasn't proven her acting skills legitimately, would disrupt the flow," etc.

Question
That's true. There was a lot of talk about Kim Mi Ryeo a while back when she said she'd undergone a lot of plastic surgery to debut as a pop singer, but now that she's suddenly appeared as an actor, it's a bit perplexing. But truthfully, the criticism about miscasting isn't just about that.

Answer
Even actor Choi Su Jong, who's been called a sageuk specialist, had encountered constant casting criticism when he acted in Emperor Wanggun and Emperor of the Sea, for the reason that his thick double-eyelids didn't suit the appearance of the character. [Meaning he looks too modern, not suiting the look of the day.]

Also, in Immortal Lee Soon Shin, there was speculation at first that Kim Myung Min might be weak in acting skills and charisma, but he cast those concerns aside with his exceptional acting. In Dae Jo Young, Shim Eun Jin also encountered much criticism, and it was said that Kim Hye Soo looked too modern and healthy for Jang Hee Bin. Aside from those, there was also viewer discontent over casting Song Ji Hyo as Lady Ye in Jumong.
Song Ji Hyo in "Jumong"

Question
So it seems like the casting criticism is just for sageuks.

Answer
In any case, that's likely because audiences have their own preconceptions about the characters in dramas based on history. They have ideas of what a sageuk actor should be like — he should look Korean, for instance — and when casting runs contrary to these concepts, opposition arises. In addition, perhaps the actor has shown a strong personality in modern-day dramas; there's often a lot of criticism when someone who's been in trendy youthful dramas then acts in a sageuk.

It's because Moon Sori has a strong personality that there's a negative reaction to her role in Legend. There were preconceived ideas about actors like Song Ji Hyo and Shim Eun Jin not being able to convey serious, weighty roles. And Kim Mi Ryeo was the topic of criticism even before appearing in the drama due to her light image as a comedian.

Question
Those who bear the burden of being called miscast must feel quite troubled. How do they feel?

Answer
First, their reactions are mostly disappointed. However, they also use that to spur themselves to work doubly hard at their roles. Oh Man Seok explained his position: "It's frustrating when people say I was miscast. Hearing that makes me feel a stronger sense of responsibilty. I feel that the best I can do is to not take the criticism too strongly and slowly work out my part over time."

Gu Hye Sun answered: "The child role took up the first eight episodes, so I think the connection will come through in the adult role. This is a drama that requires endurance, and so even though there are things I would like to show now, there are many instances where I hold back because it's not the right time. … In the past, I was hurt by negative remarks about my acting, but now, I tend to agree. I'll fix the parts that should be fixed."
Choi Su Jong in "Emperor of the Sea"

Question
However, looking at past examples, there have been many cases where actors initially thought to be miscast changed people's minds and turned out to be well-cast instead. There's the possibility for today's miscast actors to encounter the same situation.

Answer
As with Choi Su Jong, Kim Myung Min et al., there were many situations where an actor's normal image didn't seem to fit with a sageuk, and that's the case now. Because sageuks are long-running dramas, as time goes on, I believe actors are able to shed their former images and take on new ones. In all likelihood, these actors will reach the end of their dramas and hear about how they weren't miscast after all.

Of course, that's assuming that these actors put forth good performances. However, because actors like Moon Sori and Oh Man Seok have already been recognized as being skilled actors, I believe they'll be able to sweep aside these criticisms with positive performances in due course.

Also, as with the case of actors like Kim Mi Ryeo coming up against resistance even before their performances have been unveiled, in the past when Shim Eun Jin was added to Dae Jo Young, there was much opposition, but just as she won viewer sympathies by working hard at her acting, I believe that giving a good performance is enough to dismiss those negative responses.
Kim Myung Min, old-fashioned ("Immortal Lee Soon Shin") and modern


RELATED POSTS
Tags: Bae Yong-joon, Gu Hye-sun, Jumong, Kim Mi-ryeo, Kim Myung-min, King and I, Lee Seo-jin, Legend, Moon Sori, Yi San