How was 2007 for you?
Wow, 2007 really flew by. I can't believe it's almost over. And I can't believe I've been at this blog for nearly a year.
This time of year inevitably means people start busting out the year-end lists of best and worst. For instance, this poll at Naver listed the Top 11 Dramas of the past year, along with the worst 5. I'm glad to see that while the list includes some expected names (No. 3 Coffee Prince and No. 11 Thank You), it also gives recognition to lesser-watched but very good shows like Mixed-up Investigative Agency (No. 8).
The rest of the list goes: (1) White Tower, (2) Time of Dog and Wolf, (4) Que Sera Sera, (5) HIT, (6) Unstoppable High Kick, (7) Conspiracy in the Court, (9) My Man's Woman, and (10) Devil.
The Worst Dramas, on the other hand: (1) Moon Hee, (2) Blue Fish, (3) The Person I Love, (4) Hello Miss, and (5) Witch Amusement.
Do you agree with that particular list? Which were YOUR favorite shows of the year? I'm planning to do a mondo recap of my own thoughts on the past year, but first I wanna hear your opinions. I'll leave all the polls open for the next month, then tally every thing by year's end. Sound good?
Did I leave out your favorite? Leave me a scathing comment below!
Other categories appearing in year-end lists include "Best Characters" (and worst), "Best Ending Scene," "Best Occupations," etc. (Source: My Daily)
For instance, topping Best Characters were: (1) Kim Myung Min in White Tower, (2) Lee Soon Jae in The Unstoppable High Kick, (3) Jung Yumi in Que Sera Sera, and (4) Jeon Kwang Ryul in King and I.
Worst Characters: (1) Kim Hae Sook in Moon Hee, (2) Kang Su Yeon in Moon Hee, and (3) Han Ga In in Witch Amusement.
Best and worst Ending Scenes went, respectively, to White Tower and Moon Hee. (Gee, someone really hated Moon Hee.)
And best and worst Occupations in a drama went to the four friends' investigative agency in Mixed-up Investigative Agency (best), and Shin Eun Kyung's fashion magazine editor in Bad Couple (worst).

And on to more polls!
(Note: I tried to be inclusive, but that means I mentioned dramas I didn't watch or know very little about, so forgive any errors!)
Romance and Couples
We've all seen how the strength of a drama's core romance can make or break a series. Often, big names draw you into the show, but if the chemistry isn't there, there's no use in trying to buy into the story. On the flipside, even a mediocre drama can be raised by sparkling leads and crackling chemistry. If you didn't buy into the attraction between Samsoon and Jin Heon in My Name Is Kim Samsoon, or Yoorin and Gong Chan in My Girl, or Chaegyung and Shin in Goong, it didn't matter how good the rest of the series was, because it would've fallen flat. But when they work… wowsa!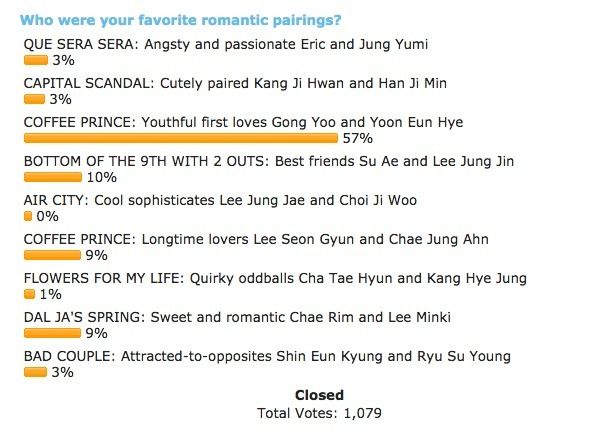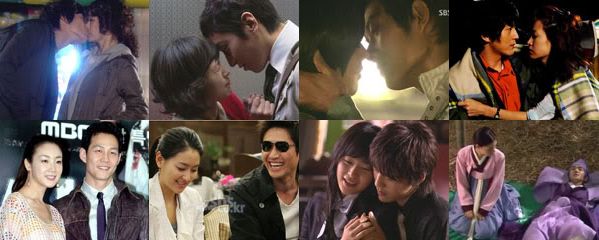 Trendy Dramas
It's no secret this is my favorite genre. Maybe because I'm a sucker for a good romantic comedy, even if it's cheesy and unrealistic and just fanciful daydreaming. Lots of trendy dramas remain in solid B-level territory, managing to go through the typical motions to entertain and provide you with a cute romance, but it takes a really good trendy drama to do more with the genre.
Thriller, Action Dramas
I don't watch nearly as many thriller or action dramas in proportion to the other genres (except for historicals, of which I watch even less). And when I choose badly, boy can the experience be grating and annoying. But when one of them is purported to be exceptional, I'll give it a shot.

Funniest Dramas
I love light-hearted, entertaining romps, and while lots of comedic dramas also fall into the trendy-drama category, they aren't always the same thing.
Historical Dramas

Daily or Family Dramas
Daily dramas are less likely to be fansubbed so they tend to be less popular outside of Korea than other drama series, but they enjoy steady and solid ratings in Korea. Maybe it's because the topic is relatable (if mundane), maybe it's because it's familiar and easily digestible viewing (nothing shocking or groundbreaking here!).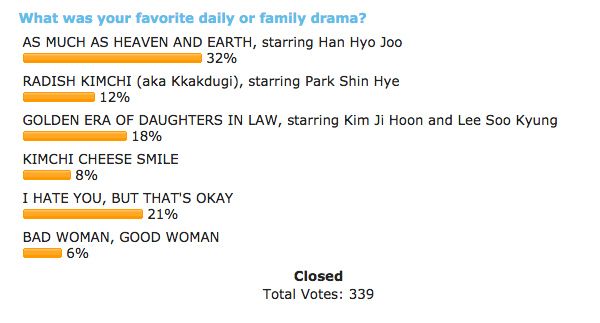 Melodramas and Soaps
I really dislike tragic series and tearjerkers, but I admit that some of them can be very good. I haven't seen any of the series listed here (I caught a few episodes of The Person I Love), so you tell me — were any of them good? I don't think this was a big year for the melodrama and/or the soap, but here are a few of them anyway: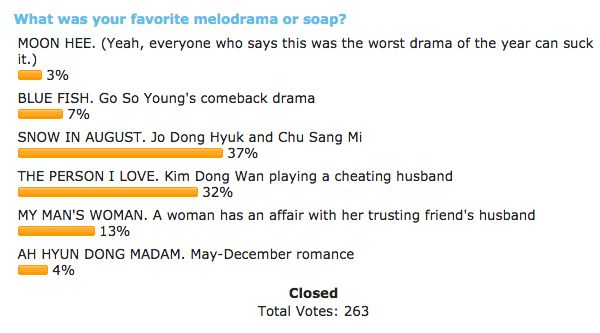 Most Underrated
I'll admit to having a soft spot for underappreciated shows, cult series, and niche genres. It's the classic impulse to root for the underdog. The big names don't need any more help being appreciated, but the often-ignored ones are often so tragically missed. Oh the humanity.
Biggest Letdown
On the opposite end of the spectrum from the underdogs, there are those shows that for whatever reason incite lots of excitement prior to their airing. Maybe it's a particularly exciting story premise, maybe it's a certain star. Maybe it's a combination of factors. But then the drama airs amid lots of fanfare, and then… meh.

Dramas I missed
Well, it's been a busy year for me. Inevitably, I didn't have time to watch some things I wanted to watch, and ended up watching some things I really could've done without. I know I missed a few big ones, and I intend to go back and watch them when I can. But how to decide??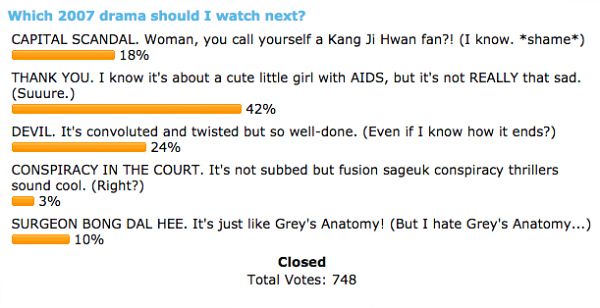 Any other year-end thoughts about the past year in dramas?
Do you have any favorite characters, favorite endings, favorite settings, favorite actors, favorite sidekicks, favorite storylines, favorite all-around ensemble casts?
What about least favorites?
(NOTE: I'm putting up a link to this post in the sidebar for easy navigation until polls close. Voting will be open from now throughout the month of December. Let me know what you think!)