KBS's second honorable thief of the year (third overall) ties on his mask, readies for (ratings) battle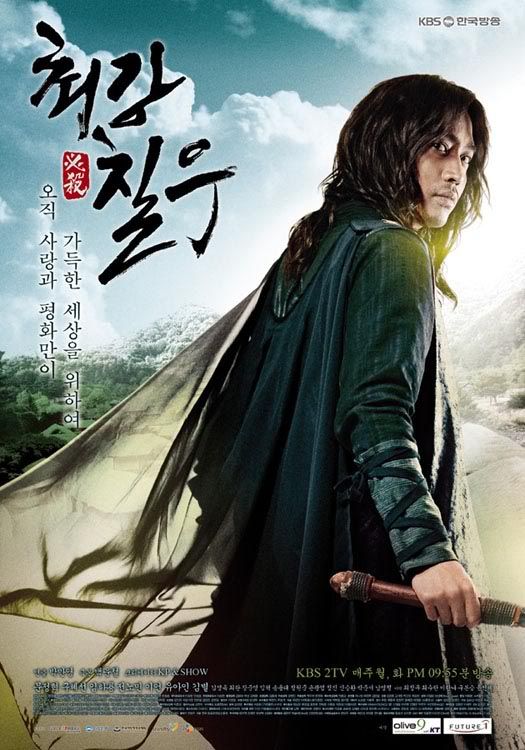 Eric rocks the Zorro look as he takes on his honorable-bandit character in KBS2's fusion sageuk Strongest Chil Woo (no, seriously, I saw a pic where he's even sporting some kind of reverse "Z" scar on his chest). I can't decide if he looks absurd, or kinda sexy in a *different* sort of way. Or maybe both. One thing's for certain, though: Jesus hair aside, his simple black mask is light-years better (or at least less ridiculous) than Iljimae's metal Darth Vader mouth-plate.
With Yi San (finally!) ending, everyone's jockeying for position. The drama's original airdate of June 9 has been pushed back to June 17, kicking off its three-way Monday-Tuesday competition with Gourmet's premiere on the same day, followed by When Night Comes the week after on the 23rd.
Gourmet (SBS), Strongest Chil Woo (KBS), and When Night Comes (MBC), coincidentally, all star male leads (Kim Rae Won, Eric, Lee Dong Gun) who are slated for upcoming military enlistment: Eric pushed his entry date back to September for his drama; Kim Rae Won and Lee Dong Gun both plan for sometime later this year.
With the Chil Woo character seemingly cobbled together into a pastiche of various pre-existing notorious figures (Robin Hood, Zorro, Hong Gil Dong) I don't really see Chil Woo as being a *good* drama, but I really do hope it's fun. The key to enjoying the show? Keep your expectations very, very low.
Via My Daily
SONG OF THE DAY
MC Mong – "Beautiful Life" [ Download ]
Audio clip: Adobe Flash Player (version 9 or above) is required to play this audio clip. Download the latest version here. You also need to have JavaScript enabled in your browser.
RELATED POSTS
Tags: Eric, Strongest Chil Woo