It's a wrap for Iljimae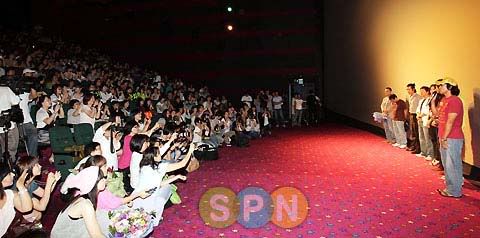 The cast and production team of SBS's Iljimae gathered at Yongsan CGV today (July 24) to watch the finale of the drama together. The hit fusion sageuk premiered on May 21 to viewership ratings of 14.8%, which steadily climbed over the course of the drama's run to end in the near-30% range.
In attendance was the drama's star, Lee Junki, with co-stars Lee Young-ah, Han Hyo-joo, and Park Shi-hoo, as well as PD Lee Yong-seok. Approximately 400 to 600 attendees were present (the numbers vary according to different reports), most of whom were members of Lee Junki's fan club and the drama's online fan café members. [SPOILER, highlight to read] By the way, it appears the fans are in a spot of denial about the drama's ending, saying, "He may have died, but he's not really dead." Which sounds to me like dude's dead. Reading the article's summary of the ending, wherein Iljimae confronts the eeeevil king and engages in a hard fight against the king's men, it also seems to bear similarities to the ending of Hong Gil Dong, actually, which was an ending I appreciated but would rather avoid repeating in more dramas of its kind. Chil Woo had better stay alive, is all I'm sayin'. [/SPOILER]
Lee Junki and PD Lee both expressed their thanks for the fans and staff, although Lee Junki did wish they'd had more time to present a better finale episode ("If we'd had more time, we could have shown you a better result, but I'm a little disappointed that we weren't able to do that"), referring to how things fell behind schedule. Apparently the drama finished filming its last episode… on the day the last episode aired. (Yeesh! The last time I heard of something that frantic was with Fantasy Couple's finale, which sounded insane.)
The drama Working Mom (starring Yeom Jung-ah and Bong Tae-gyu) will air in Iljimae's time slot starting next week, on July 30.
RELATED POSTS
Tags: fanmeetings, Han Hyo-joo, Iljimae, Lee Jun-ki, Lee Young-ah, Park Shi-hoo