Monday-Tuesday ratings analysis: One hit, one cult following, one flop

When Night Comes, Strongest Chil Woo
This is interesting because I'm actually watching all three Monday-Tuesday dramas right now, and I agree with the general points made, and yet find the outcome curious. Gourmet is the undeniable winner, consistently earning more viewers than When Night Comes and Strongest Chil Woo combined — and based on what I've seen, rightly so.
But what strikes me as odd is that although Chil Woo manages every week to barely beat out Night, ratings-wise, their numbers have been fairly comparable. So why is one being called a mania drama (a cult hit), while the other is on the verge of being pegged a flop? To wit:
MBC's ambitiously prepared Monday-Tuesday drama When Night Comes hasn't been able to work free of its struggle. On top of that, its lead actors' conditions have been aggravated by injury. These days, Night seems to be acting true to its title, slipping into trouble when night comes along.
And yet, by contrast:
The KBS2 MondayTuesday drama starring Eric (Moon Jung-hyuk), Strongest Chil Woo, seems set for mania drama status following Hong Gil Dong.

Although the ratings have come to a standstill after going up and down around the 10% mark following the premiere, it's stirring up strong response within a faction of its viewership.
SONG OF THE DAY
When Night Comes OST – "사랑 탐험" (Love exploration) by Buga Kingz [ Download ]
Audio clip: Adobe Flash Player (version 9 or above) is required to play this audio clip. Download the latest version here. You also need to have JavaScript enabled in your browser.
Let me preface this by saying: Don't shoot the messenger. Commenting on certain big-star-driven series tends to bring out offended fans. I have no vendetta against any drama — dude, they're DRAMAS. It just means my opinion doesn't jibe with yours.
RATINGS
June 17
Gourmet E1: 13.2%
Gourmet E2: 16.1%
Chil Woo E1: 9.1%
Chil Woo E2: 11.5%
Yi San Special
June 23
Gourmet E3: 16.4%
Chil Woo E3: 10.5%
Night E1: 11.6%
June 24
Gourmet E4: 16%
Chil Woo E4: 11.3%
Night E2: 9.9%
June 30
Gourmet E5: 16.4%
Chil Woo E5: 9.9%
Night E3: 9.2%
July 1
Gourmet E6: 18.3%
Chil Woo E5: 10.5%
Night E4: 9.2%
July 7
Gourmet E7: 18.1%
Chil Woo E7: 9.4%
Night E5: 8.1%
July 8
Gourmet E8: 20.2%
Chil Woo E8: 10.6%
Night E6: 9.1%

I think Gourmet has earned its first-place standing, because whether or not you like the drama, its production value is clear — directing, acting, location, cinematography, music, planning. Obvious care has been put into the planning and execution of the series.
Night and Chil Woo both have their strengths and weaknesses, but are on less firm ground — I think it all amounts each viewer deciding for him/herself whether the strengths outweigh the weaknesses. Plus, this viewer judgment may also be directly correlative to expectations. I can say I had higher hopes for Night (well, considering I had none at all for Chil Woo), so you'll have to factor in an audience's subsequent feelings of disappointment (or positive surprise).
Night's viewers had a high level of interest in the series, and the drama seemed set to cruise by. But after the first episode, viewers have been gradually dropping off, and as each day goes by, the drama is unable to command attention.
Night's relative late start is cited as one of the reasons for its lower numbers, and I agree that may have been a factor, but it can't explain the situation entirely:
However, three weeks have passed after the series began, and excitement over Night is not warming. In fact, it's lower now than at its first episode.
There was room for Night to grow — Gourmet's numbers remained constant for a few weeks, and didn't jump till its sixth episode. It's possible viewers gave Night a few episodes to improve, then made the switch.
"An unappealing Heo Cho-hee and story make for a boring 80 minutes"

Night's obstacle is that its female lead character, Heo Cho-hee, isn't all that appealing. …

At Night's pre-broadcast press conference, Kim Sun-ah gave the assurance that "I will become Heo Cho-hee, not Sam-soon." She was confident in the character of Cho-hee. However, there are many who feel that Sam-soon has merely taken up a new job in the Cultural Heritage Foundation. It's proof that the character isn't very different from Sam-soon.

In Night, Cho-hee does share many similarities with Sam-soon. The acting Kim Sun-ah shows brings to mind that character in many ways. But Cho-hee isn't an evolution of Sam-soon, and is rather a character without development who lacks self-confidence, unlike Sam-soon. … Sam-soon's large appeal lay in the fact that she was forthright and confident in herself. Furthermore, she didn't hesitate in front of love. …

However, Cho-hee doesn't show any of those traits. She's skilled at her work, and the person she has feelings for also likes her [platonically], but all she does is watch from afar.
There's more, but I think we get the point, and I'm only about half onboard with it. I do agree that Cho-hee's a lot less interesting than Sam-soon, but I also think a series shouldn't hold her up to Sam-soon-ish standards. I also think it's the actor's job to distinguish each of their characters as unique and compelling, so perhaps this is more of a Kim Sun-ah issue than a character issue.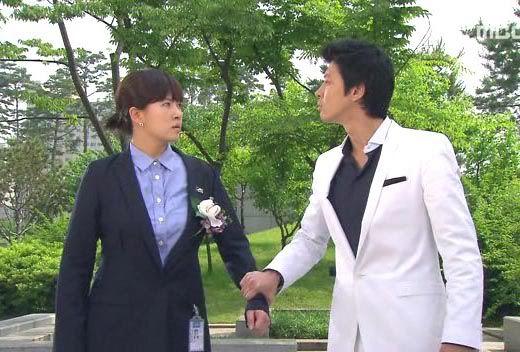 Another problem is its predictable story. Actually, Night is moving along at a rather quick pace. July 7's broadcast was only the fifth episode but already the loveline between the leads was set into motion.

However, compared with the speedy developments, the plot leaves much to be desired. Comic moments within scenes may work sometimes, but sometimes also serve to upset the balance. Furthermore, with the subject based on finding cultural treasures, the chase scenes should feel full of suspense — but not only are the scenes predictable, because they lack dramatic tension, they fizzle.
Despite all the criticism — and believe it or not, the article's a lot harsher than the parts I've indicated — at least it doesn't go out on a down note: "But the battle's not over yet. It needs to counterattack now. … Night still has the chance to rally back."
Its strengths are its cultural-heritage subject material and its veteran actors. Even without re-doing the story, these factors are enough to show potential for reviving Night. …

It's time for Night to start over, and show us what they've got. It seems that many of the parts we've seen thus far could be cut. Now these people, who've been involved in quality projects in the past, must step up. Now is the time for Night to cast off its excess ornamentation and become a substantial, meaningful drama.
As for Strongest Chil Woo…
The source of Chil Woo's mania drama popularity can be found it the way the drama is unfolding, its characters, and the story.

First, regarding the material: mixed in with comments that "It's childish" are others who say, "It's refreshing."
I think this is key with Chil Woo — it's stupidly funny, but not necessarily stupid.
A drama that tries to be dramatic and ends up immature has failed, but a drama that embraces its childish glee just adds to its charm. Chil Woo has managed to tap into a really goofy, wild side of itself, but it knows where it stands and what it is — and that somehow, crazily, works.
Others find that "the developments are flashy and the pacing speedy, appealing to younger viewers."

Some netizen comments: "It's more thrilling than a movie, it's refreshing, and it's a sageuk I can relax and de-stress to. It's really fresh compared to previous sageuks or action dramas."

In addition to its light touch and its satirical approach in its subject material, it's not a biography following the full life and times of a heroic figure but follows a strong episodic structure, another of the drama's fortes.

Its structure allows it to have an impact, the events unfold quickly, the plot is engrossing, and it has a feel-good quality. For that reason, its mania fans give it a thumbs-up for being "a drama that's tongue-in-cheek and witty."
That doesn't mean Chil Woo is home-free either, though. Although I dig all the wild and silly moments, when it dips into seriousness it invites comparisons with other sageuks, and most of those were better. So I think this drama's key is in striking its balance between dark and light, and never forgetting what makes it different from Hong Gil Dong or Iljimae or all the others that came before.
However, to follow those mania dramas that preceded it, Chil Woo has some homework to do. It must raise its production quality. The viewers are all in agreement that the details of the narrative structure and character relationships need to be strengthened.

In addition, for the actors to shine and give energetic performances, they need proper camera work with smooth editing. And the actors will also have to apply themselves even more to showing the more detailed points to their action scenes and, of course, emotional acting.
Via Newsen, Asia Economy, Newsen
RELATED POSTS
Tags: drama ratings, Eric, Gourmet, Kim Sun-ah, Lee Dong-gun, mania dramas, Strongest Chil Woo, When Night Comes