Hometown of Legends / Legendary Hometown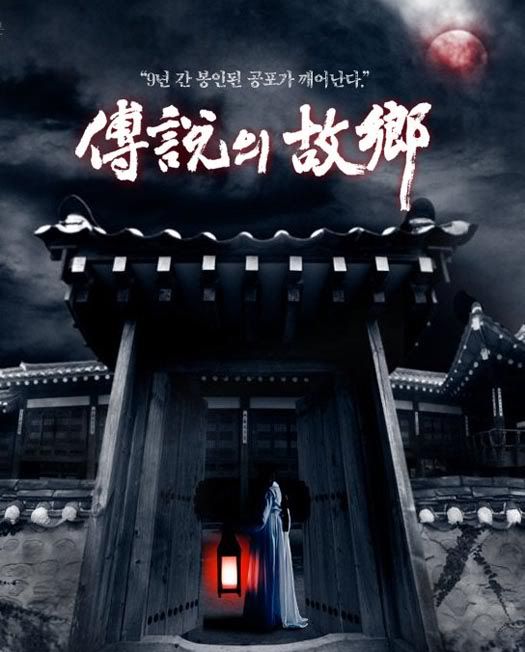 Summer is the season for chilly gothic and horror entertainment, so KBS takes the post-Women in the Sun time slot to launch its new horror series, Hometown of Legends, as its Wednesday-Thursday programming for the month of August.
Or, should I say, new OLD series. There was an earlier version that aired in the late '90s, which had approximately 70 episodes. (I think there may have been another version in the 1980s, but I don't know that for sure.) The stories spanned different topics (with some overlaps) but was based on the same conceit. A film of the same name — albeit translated into English as The Evil Twin — was also released in 2007 and featured Park Shin-hye and Jae Hee, the latter of whom also appears in this new series.
What sets this drama apart from others is in the episodic, anthology nature of the storytelling. Each episode is written and directed by a different team, and stars different actors in its installments. Think of it as fusion sageuk meets the Twilight Zone, or a collection of old ghost tales.
Hometown of Legends kicks off with the first episode today, "Nine-tailed Fox," followed by others bearing titles like "Curse of the Sajin Sword" and "Demon's Story."
SONG OF THE DAY
Green Cheese – "Black Bird Dies" [ Download ]
Audio clip: Adobe Flash Player (version 9 or above) is required to play this audio clip. Download the latest version here. You also need to have JavaScript enabled in your browser.
Perhaps the most attention has been given to the "Nine-tailed Fox" segment starring Park Min-young, but I'm inclined to believe that's because it's the first episode more than any sort of indication of quality. Reading the descriptions, I'm more drawn to some of the other stories, such as the one involving Jae Hee (and it's not just 'cause I like me my Jae Hee). And is it twisted that I think the ghost story starring Lee Jin (the final installment) sounds a little, uh, romantic? (Although who knows, that could just be because of the description.)
One of the other factors attracting notice is the fair amount of famous names dotting the cast list, which is high given that there are only eight episodes. Some of the stars headlining the various segments include sageuk staple Choi Su-jong, up-and-comer Park Min-young (I am Sam and pictured above), Jae Hee, ballad singer Lee Jung, Ahn Jae-mo, and ex-FinKL pop singer Lee Jin. Generally they do not, however, act with one another as they're mostly cast in separate installments.
Choi Su-jong explained his involvement, saying, "It may be a short piece but the quality is very high. Because it was a short work, I didn't feel much of a burden. The production team and the actors all put a lot of effort into it, so I'm looking forward to good results from the project."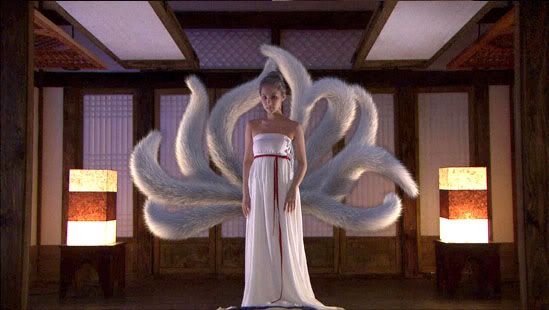 Part 1: "Gumiho" [구미호 / Nine-tailed Fox]
Airs: August 6
Dir.: Kwak Jung-hwan
This tragedy takes place within a household given the curse of the gumiho, or nine-tailed fox. After the curse is given, the family guards their secret over twelve generations and 400 years. Within this family is one girl, played by Park Min-young. In seeming contrast to the somber nature of their family history, she's lively and curious, and the youngest female in the household. Her older sister, on the other hand (played by Kim Hae-eun), is much more serious, obedient to the cause of hiding the family secret. Her brother (Kim Tae-ho), the eldest grandson in the family (thus its heir) is a thoughtful young man with a particular interest in modern sciences, but when push come to shove he's a weak person. He does, however, have doubts about the family's rules.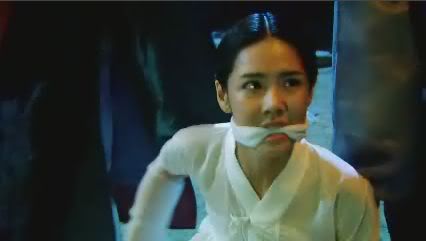 Part 2: "Child, let's go to the mountain" [아가야 청산가자]
Airs: August 7
Dir.: Lee Min-hong
A nobleman's only daughter (Kim So-hyun) contracts an unknown fatal illness, leading her mother (Wang Hee-jee) to seek a miracle from a sorceress. The greedy and wicked sorceress tells her that the daughter can live if she eats a baby's liver. The desperate mother breaks her sense of morality to save her child, and the daughter recovers, but strange things start happening…
Also features Go Jung-min, Jo Eun-sook, Ahn Seok-hwan

Part 3: "Curse of the Sajin Sword" [사진검의 저주]
Airs: August 13
Dir.: Kim Jung-min
Choi Su-jong plays a capable detective who is sent on an emergency call by his police chief to a village to investigate the mysterious death of the blacksmith who'd forged the precious royal Sajin Sword. He's accompanied by Sa Kang and Lee Jung to uncover the secrets of the village. They're greeted by a crazy hag who talks of curses, and begin feeling apprehensions when they start seeing blackened corpses…
Also starring Park Ha-seon, Song Min-ji, Song Wook-sook.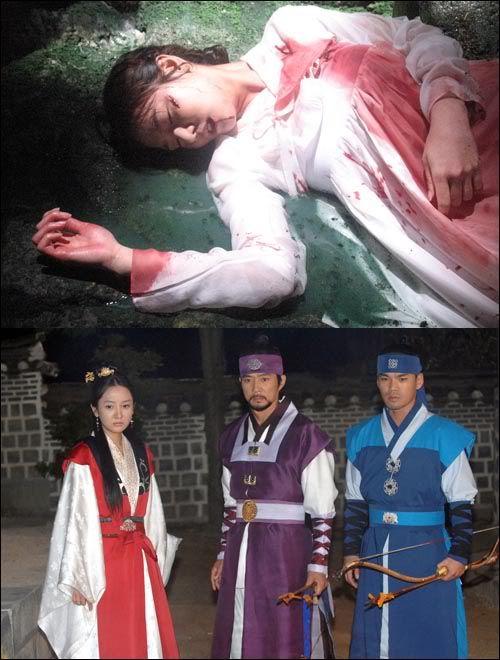 Part 4: "Your Letter" [귀서]
Airs: August 14
Dir.: Kim Yong-so
In the year 546, a king (Kim Young-jae) suddenly dies after merely nine months of rule. A mysterious incident occurs, causing several deaths that bear close resemblance to a popular (but kept secret and underground) ghost story called "Legend of Seol Gong-chan." People start saying that the dead king has returned as the ghost and is the source of the murders.
The deceased king's childhood friend (Ahn Jae-mo) seeks to uncover the truth of the matter, not believing in the ghost story even as the deaths around him mount…
With Lee Han-wee, Kim Jin-tae.

Part 5: "Young Lord Ogu" [오구도령]
Airs: August 20
Dir.: Lee Jung-sub
Jae Hee plays a man who has lost his beloved (Lee Young-eun), and wanders in search of her soul. Able to see ghosts as a shaman, he lives on the boundary dividing life and death, and arrives at a village where the living and the dead are mixed together in madness. In order to cleanse the village of the dead, he must reveal its secrets one by one…
At the village, he meets a woman resembling his lost love (also played by Lee Young-eun) who practices the healing arts. Also stars Kim Hak-chul, Jung Eun-pyo, Han Hye-kyung.
Part 6: "Gisaeng House Ghost Story" [기방괴담]
Airs: August 21
Dir.: Kim Jung-min
A gisaeng house, Hwahonuk, fills with the disordered sounds of classical folk music. A powerful man drinks with a friend, but the friend winds up dead, smack in the middle of the house. Rumors spread that it's the work of the ghost of a disappeared gisaeng who haunts Hwahonuk.
A young man appears at Hwahonuk one day, a pleasure-seeking artist who indulges in food and wine and entertainment. He takes out one of his drawings of a girl, which startles a gisaeng because it bears a striking resemblance to the gisaeng who'd disappeared from the house. That night, the disappeared girl's corpse is discovered, and a string of deaths starts to be exposed…
Adding to the mystery is the mute keeper of secrets, a maidservant. One gisaeng pays no attention or interest to these bizarre rumors. Another, the mysterious head gisaeng, holds the key to the beginning of all these incidents.
Stars Lee Deok-hwa, Lee Min-woo, Yoo Hye-jung, Kim Kyu-chul, Yoon Joo-hee, Min Ji-young.

Part 7: "Demon's Story" [사신이야기]
Airs: August 27
Dir.: Kim Yong-soo
A messenger to the underworld (who transports the dead across the divide) comes back to this (living) world and loses his roster of names. The roster is an essential part of the messengers' work, as it decides who lives and dies. He has to find the list by the time the underworld gates reopen, and eventually hears that the list has somehow made its way into the governor's keeping. He sets out to recover his list (intending to rob the governor) with the help of a thief whom he's finagled into assisting him. But things keep getting complicated…

Part 8: "Loose Woman" [환항녀]
Airs: August 28
The day of a nobleman's only daughter Soo-yeon's (Lee Jin) wedding to the son of a government official, the village is attacked and she's dragged off by Chinese soldiers. She escapes and returns home, but all that awaits her is shunning and cold neglect from her husband's family. In the end, her mother-in-law levels a false charge that she's bearing another man's child and uses that as an excuse to throw her out, and Soo-yeon returns to her parents' home.
But her father is lying in his sickbed unconscious, and her illegitimate older brother has taken control of the property and assets. With his own wife having been dragged off to China like his sister, he lives in an unofficial marriage with another woman who helps him procure a poisonous, hallucinatory drug that often leads a sufferer to suicide. Using this drug, he poisons both sister and wife. After dying such unjust deaths, the women become vengeful ghosts who haunt a particular mountain ridge, seducing men and killing them.
Meanwhile, her husband has devoted himself to becoming a royal inspector. As an undercover agent to the king, he is assigned to finding out the cause of all the strange deaths on the mountain pass, where he comes face to face with the ghost of Soo-yeon…
With Kang Sung-min, Lee Ji-hyun.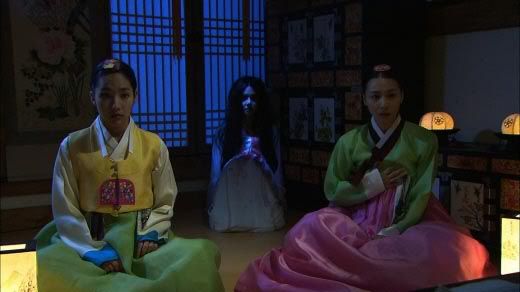 Tags: Choi Su-jong, Hometown of Legends, Jae Hee, Lee Jin, Lee Jung, Park Min-young, Sa Kang