Swimmer Park Tae-hwan awash in congratulations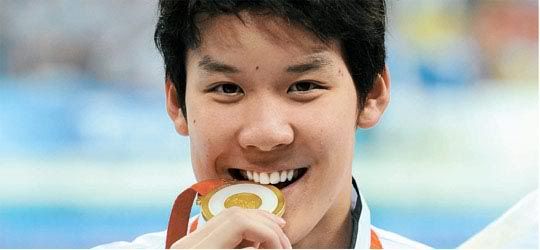 As we know, Koreans sure have a fierce sense of cultural pride (sometimes to uncomfortably myopic degrees). So it's no big surprise that all are elated with Olympic gold medalist Park Tae-hwan's win in the 400m freestyle on August 10. In about the half-day since he's won the medal, his cyworld mini-homepage has amassed over 80,000 congratulatory messages.
Actually, currently there are 82,204 82,357 82,505 messages (that's how fast the numbers climbed in the time it took me to write this post), although only the last 75,000 or so have come post-win. It's kind of cute, actually, there are some messages reading, "I'm watching you on TV now," and then, just a few messages later, "Just… a little… farther…" to be followed with, "Congrats on the gold medal!"
Of particular note are congratulatory messages left by members of girl groups Wonder Girls, Girls Generation (SoShi), and even figure skater Kim Yuna.
Kim Yuna's message read:
"오빠 대박 ㅋㅋㅋㅋㅋㅋㅋ 추카해!!"
"Oppa, jackpot! Kekekeke Congratulations!!"
His site's background music was the boy band 2AM song "아니라기에" ("To say it's not"), to which 2AM's Im Seul-woong wrote:
"(배경음악 선택에) 너무나 감사하고 올림픽 금메달을 석권한 박태환 선수처럼, 저희도 열심히 해서 가요계의 금메달을 따겠다"
"Thanks so much for choosing our song. Like you've won the gold medal at the Olympics, we'll work hard and do our best to win the gold medal in the music industry." (Whatever THAT means!)
Another 2AM-er, leader Jo Kwon-do, wrote:
"금메달 소식에 홈페이지에 와 봤는데 '아니라기에'가 흘러나와 깜짝 놀랐다. 금메달 따길 2AM모두 기도했는데 너무 축하 드린다"
"I came to the site after hearing the news that you'd won the gold medal, but I was startled to hear 'To Say It's Not' playing. Everyone in 2AM had prayed you'd win the gold. Congratulations."
Park Tae-hwan sure wasn't shy about his gold-medal hopes; his cyworld address is http://www.cyworld.com/freestylewin.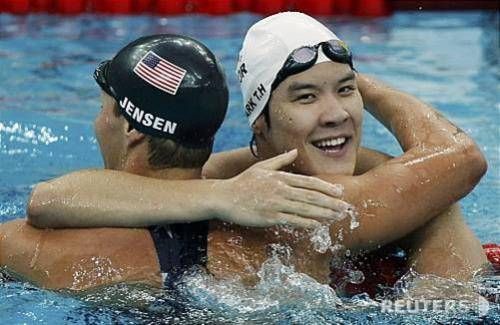 RELATED POSTS
Tags: Girls Generation, Kim Yuna, Park Tae-hwan, Wonder Girls