16th Chunsa Film Festival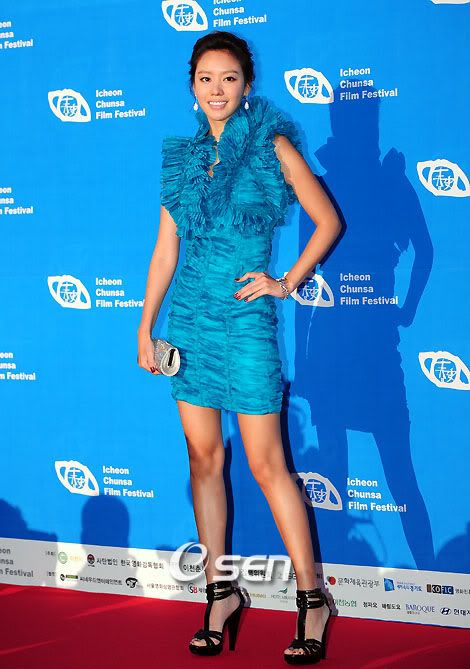 Another film festival, another red carpet.
On September 6, the city of Icheon was host to the 16th Chunsa Film Festival, which found its red carpet walked by film and TV stars and capped off the night with an awards ceremony. Honors were handed out actors including Ha Jung-woo (The Chaser, a big winner that night) and Lee Mi-yeon (Love Exposure).
The red carpet wasn't as star-studded as the recent Chungmuro Film Festival and its fashions were a bit more subdued (there was a LOT of black), but it had its share of name actors in attendance, such as Kim Ah-joong (above) and Daniel Henney.
Someone mentioned in the last red-carpet thread that it was difficult keeping all the names straight, so I've noted a few of their movie or drama roles to help identify them.
Lee Mi-yeon (Crazy in Love, Addicted) took the award for best actress for Love Exposure:
Ha Jung-woo (rightmost in the first pic), Kim Yoon-seok (middle), and Jung Kyung-ho strut, pose, and receive awards (Ha and Kim received acting awards for their roles in The Chaser):
Shin Hyun-joon (Last Present, Stairway to Heaven) received the "Hallyu Culture" award, and while I don't love brown shoes with black suits, I dig the pinstripe; I think it works because Shin carries himself with a lot of presence.
The film Crossing took a few awards, for its director Kim Tae-kyun and a special child-actor award for Shin Myung-chul (does anyone else think the award plate he's clutching looks like a toilet seat?). Another big winner was The Chaser, whose director Na Hong-jin won for best new director — The Chaser was his debut feature film.
Forever the Moment's Kim Ji-young (mommy-to-be on the left) accepted her supporting actress award from Eom Ji-won (The Good, the Bad, the Ugly). Eom sure is looking great these days, isn't she?

Normally, I'd write off this dress as some odd bastard child of Big Bird and the Cookie Monster, but somehow Kim Ah-joong (200 Pound Beauty) works it, even despite the hooker heels. The color really pops. (Except against the identically colored backdrop. I bet she saw that background and thought, "Oh, you've got to be kidding me.")
Daniel Henney walked the red carpet with his My Father co-star Kim Young-chul, who played his father in the film. Both went on to accept acting awards, Henney for New Actor and Kim for Supporting.
(Daniel Henney must be the most-decorated bad actor out there. Or worst-qualified Best Actor winner ever.)
Model-actress Lee Hwa-seon (Seducing Mr. Perfect, Quiz King), in red, shared her best new actress award for the movie Sex is Zero 2 with Jo Eun-ji, in black (Forever the Moment):
Jo Han-seon (My New Partner, April Kiss) walks the red carpet; Cha Seung-won (Eye for an Eye, Tooth for a Tooth; My Son) presents:
Oh Joo-eun (My Boss My Lady, S Diary), meh:
Im Hyo-seon (Scales of Providence, That Woman is Scary), double meh:
Lee Sae-eun (Sky High, Yeon Gae Somun) reminds me of Emmy Rossum in this dress:
I was almost okay with this look on Lee Seung-min (Beastie Boys, White Tower), until she walked and showed off that lacy underskirt, which turns this into an overgrown negligee:
Tags: Daniel Henney, Eom Ji-won, film festivals, Ha Jung-woo, Kim Ah-joong, Lee Mi-yeon, Shin Hyun-joon