A black press day for Tazza
Tazza actors and crew (Jang Hyuk, Han Ye-seul, Kim Min-joon, Kang Sung-yeon) came out on the afternoon of September 8 for the drama's production press conference, all decked out in black to observe the death of Ahn Jae-hwan, which they'd received word of just earlier that day.
Apparently the actors put on a bright face for photos, but they became solemn at the mention of Ahn Jae-hwan. The drama's new Madam Jung, Kang Sung-yeon, expressed her feelings upon hearing the sad news: "I couldn't believe it. This was to be a good day for me [drama press day], but now I don't know what I should say… Afterward, I'll go to his funeral service. I'm so heartbroken I don't know what to say."
Regarding the drama itself, PD Kang Shin-ho explained: "Because there were previously a famous manhwa and a movie, there was some pressure, and I went through a process of trial and error. I put a lot of effort trying to use the gambling world to portray the ups and downs of the larger world. I hope people will like it."
The Monday-Tuesday drama takes its place opposite MBC's East of Eden and KBS's Love & Marriage on September 16.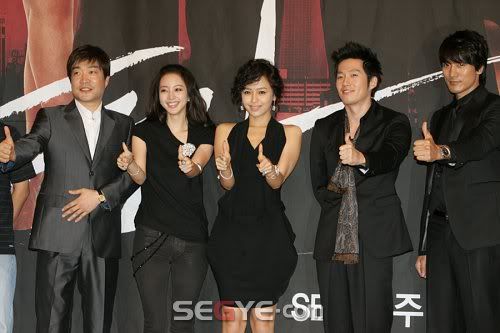 Via Segye.com
RELATED POSTS
Tags: Ahn Jae-hwan, Han Ye-seul, Jang Hyuk, Kang Sung-yeon, Kim Min-joon, Tazza