Beethoven Virus takes its opening bow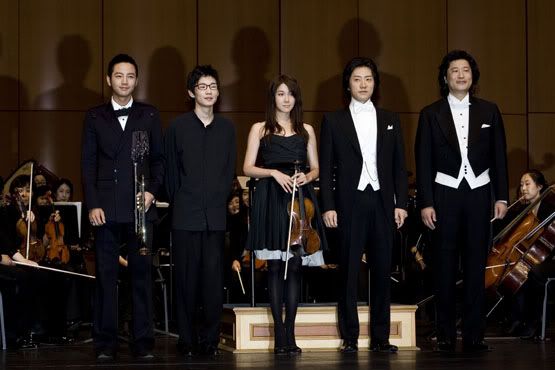 The production press conference for Beethoven Virus was held on September 4, featuring its three main stars: maestro Kim Myung-min, violin prodigy Lee Jia, and trumpeter Jang Geun-seok.
In keeping with its classical-music theme, the event was held at the opera house at Sungnam Art Center, and the actors posed, in character, for pictures with the drama's "project orchestra."
Unlike many, I wouldn't say I'm excited about the drama, partially because I'm not a fan of anyone but Kim Myung-min, but the more I see beautiful concert-hall photos and the actors with their instruments of choice, the more my interest is piqued. I love classical music, so I hope the drama does it justice.
Beethoven Virus premieres next Wednesday, September 10; lots more photos of the event behind the cut.

Below:
Lee Jia looks cute in full-body shots, frumpy in torso shots, and dead-eyed in that headshot.
I can't say I love Kim Myung-min's hair, but I'll admit it is starting to grow on me.
And while Jang Geun-seok looks cute, I HATE what he's wearing. I'm assuming his look was deliberate and his pant cuffs meant to be too short and his jacket supposed to be cut like a woman's blazer. But instead of looking chic and metrosexual, it looks like he accidentally stumbled into Lee Jia's dressing room and donned an outfit meant for her instead. Good-looking boy + bad clothes = a theme with Jang Geun-seok.
Via Mk.co.kr, Yonhap News
RELATED POSTS
Tags: Beethoven Virus, Jang Geun-seok, Kim Myung-min, Lee Jia, press conferences