BFFs Hyo-jin and Doo-na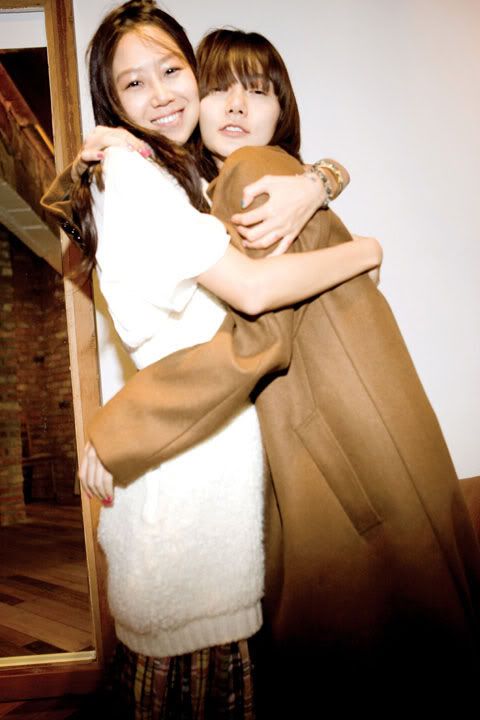 Gong + Bae = Best friends 4-eva!
Bae Doo-na and Gong Hyo-jin, both known for their eclectic and fashion-forward style senses as well as their film and drama roles over the years, are also good pals and have been for the past decade. Now they're showing their friendship in — what else? — a magazine photo spread.
The shoot for Nylon Korea magazine based itself on the concept "friendly neighbors," which isn't such a stretch given that the two actresses live in the same neighborhood and are neighbors in real life. As friends, they hang out, eat, shop, and listen to music together. They've also already displayed candid and self-shot pics of themselves together on their respective mini-homepages (see below).
Both debuted as models back in 1998, and it's interesting to see how their careers have developed on somewhat parallel upward tracts. Among other roles, Bae Doo-na acted in 1999's The Ring Virus, Take Care of My Cat (2001), Park Chan-wook's Sympathy for Mr. Vengeance, 2003 drama Country Princess, and hit it big(ger) with 2006's The Host. Her latest project was the SBS drama How to Meet a Perfect Neighbor last summer.
Gong Hyo-jin started off in 1999's Memento Mori, went on to 2001's Volcano High and Emergency Measure 19 in 2002. She made a name for heself in the 2002 MBC drama Ruler of Your Own World, then went on to act with Rain in Sangdoo, Let's Go To School (2003), with Gong Yoo in Hello My Teacher (2005), and with Jang Hyuk in last year's lauded Thank You; her most recent project is comedy flick Crush and Blush co-starring Lee Jong-hyuk, which releases October 16.
The photo spread will be printed in Nylon's October issue.

Photos previously posted on the actresses' homepages:
Via Newsen
RELATED POSTS
Tags: Bae Doo-na, Gong Hyo-jin