Happy Chuseok weekend
Geez, how fast time flies — I can't believe it's been nearly a full year since the previous Chuseok, or Korean Thanksgiving, which is among the biggest holidays of the year.
The actual day falls on Sunday, but the holiday weekend kicks off today, which means lots of traditional Korean foods and desserts (like the customary rice-cake songpyun), special holiday television programming (movies, family-friendly fare), and yes, lots and lots of hanboks. Particularly, stars dressing up to wish people a happy holiday.

Han Ye-seul (Fantasy Couple), Lee Yeon-hee (East of Eden):
Park Jae-jung (You're My Destiny) with Lee Yeon-hee; Banana Girl singer Kim Sang-mi:
Singer Younha:
Misuda's (Global Talk Show) Aussie panelist Kirsty Reynolds and Italian Cristina Confalonieri:
The boys of pop-rock group FT Island:
Singer Jang Yoon-jung:
Members of pop group Jewelry: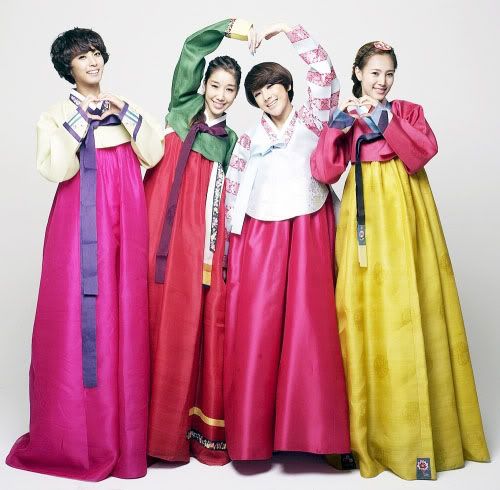 The boys of Shinee:
Members of girl group KARA:
Singer Solbi and actress Oh Yeon-seo (Great King Sejong):
Singer-model (and soon-to-be actress) Min Hyo-rin, singer Park Hyun-bin, Beijing Olympics gold-medalist badminton player Lee Yong-dae:
Singer Seo Ji-young with singer Kim Woo-joo:
Lee Joon-hyuk and Yoo Hana of First Wives' Club:
Singer, "Pocket Girl" and Banana Girl Lee Hyun-ji:
Playboy model Lee Pa-ni:
The guys of variety show Oot Chat Sa:

RELATED POSTS