Cheering on runners in the Pink Ribbon Marathon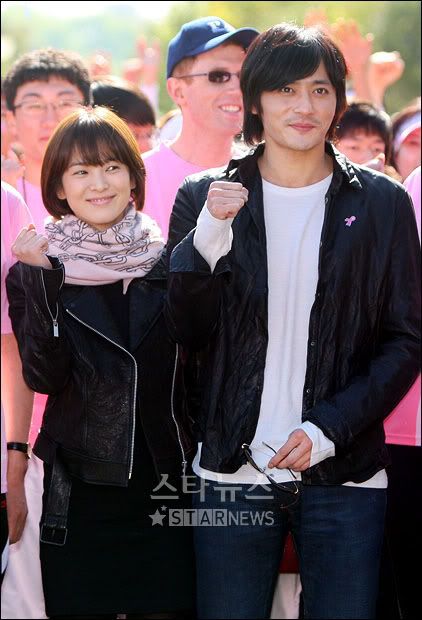 Stars Song Hye-gyo and Jang Dong-gun came out on October 12 in support of the "2008 Pink Ribbon Love Marathon" for breast-cancer prevention, cheering on participants and representing the event's sponsor.
Approximately ten thousand pink-shirted citizens participated in the marathon with an enrollment fee of 10,000 won each (approximately ten dollars); the proceeds will be donated to the Korea Breast Cancer Foundation to promote early breast-cancer detection and raise awareness for the need to emphasize health screenings.
Song and Jang were present (wearing a decided lack of pink — her scarf looks pinkish, but just barely in the sea of pink surrounding them) as brand models for the cosmetic company Amore Pacific, a sponsor of the campaign.
The marathon has been held in other Korean cities earlier this year (kicking off in Busan in April, then Daejon in May, Gwangju in June, Daegu in October), wrapping up with this last race in Seoul.
Via E Daily
RELATED POSTS
Tags: Jang Dong-gun, Song Hye-gyo