Go Soo's First Photo Diary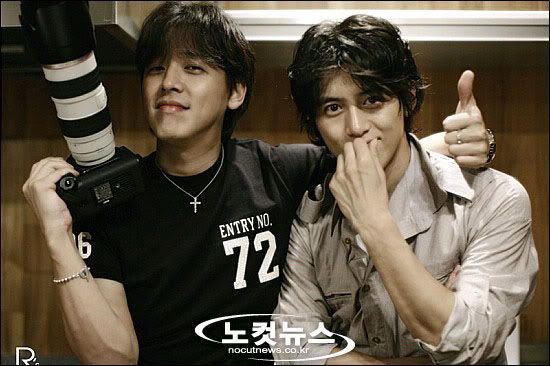 Hopping on the star photographer trend is singer-actor Ryu Shi-won (Wedding, above left), who is using actor Go Soo (Green Rose) as his muse.
An avid photography hobbyist, Ryu takes the lens behind a photo collection called Go Soo, The First Photo Diary, which will be published as a commemorative for Go Soo's upcoming Japan fanmeeting on November 1.
The concept behind the shoot was "24 hours with Go Soo" and spans approximately 100 shots, which will be produced as a DVD. According to Go Soo's management, Ryu has studied photography for three years and has even produced his own promo photos. Both actors are friendly, and Ryu, who has been active in Japan for many years as a singer, extended his support to Go Soo when the junior colleague decided recently to expand his career into the Japanese market.
As for his own career, Ryu is scheduled to perform a large-scale concert at Tokyo Dome on December 23 and 24, and has been busy traveling between Korea and Japan in preparation.
Via Hankook Ilbo
RELATED POSTS
Tags: Go Soo, photo shoots, Ryu Shi-won, star extracurricular activities