Peppermint losing viewers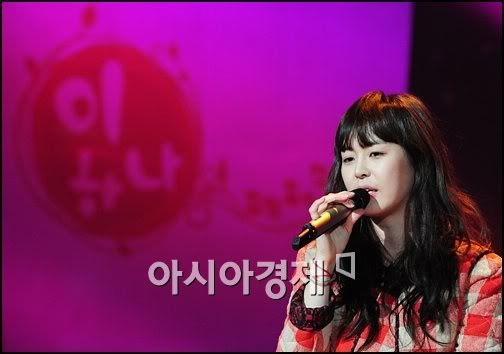 Lee Hana's Peppermint, the music-themed program that replaced the popular Yoon Do Hyun's Love Letter, has dropped in the ratings since its premiere. The last episode of Love Letter drew a 4.7% rating, while Peppermint's premiere dropped to 4.3%. The second outing recorded a further drop down to 3.6%.
Note: The numbers themselves aren't the problem, considering that these programs air past midnight. (For a point of comparison, Kim Jung-eun's Chocolate, another late-night music talk show — which airs on a different day — generally gets ratings in the 3% and 4% range.) However, the article points out, the downward trend is a cause of worry, particularly when the show is so new, and "a drop of 0.7% within its time slot is a grave matter and a severe blow to the program." It has also been unable to retain the established viewership of the long-running Love Letter.
I wouldn't worry about cancellation just yet, and it's inevitable that Lee Hana, who may still be a bit awkward as an MC, needs some time to find her feet. Still, I do think expectations were high given her relative lack of experience.
Via E Daily
RELATED POSTS
Tags: Lee Hana, variety shows