Explaining Kang-mae
Kim Myung-min is one of those actors who is admired for his acting but doesn't always get notice for the eye-candy factor (nor does he push that angle). But that doesn't mean he can't; here he's shown in a picturesque spread for fashion magazine Singles rocking some period costuming (jodhpurs, woo!).
An interview accompanied the shoot, in which he talked mostly about his role as the irascible (but audience favorite) "Maestro Kang," or "Kang-mae," in this year's MBC drama Beethoven Virus.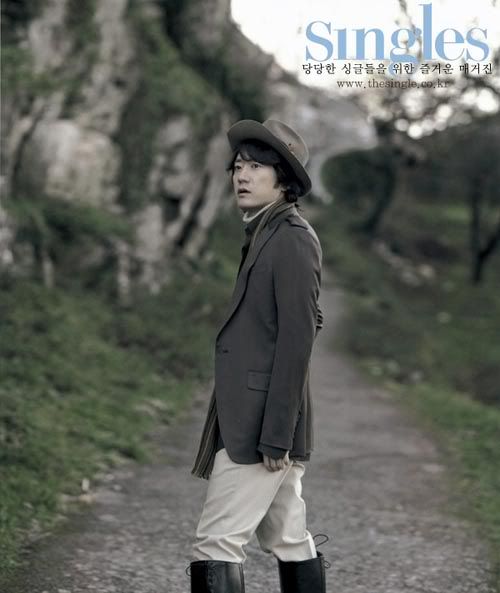 Not surprisingly, he explains, "I approached the project with the anticipation of making a well-made drama rather than a highly rated one." Lucky for him, the ratings came anyway.
Regarding the creation of his short-tempered maestro character, he answered, "I wanted to make a character that wasn't around in this country." Although the character was born in Korea, he thought he could have been a non-Korean as well.
"To make Kang-mae a strong character, it was important to make him logical and systematic, and to speak every word sharply to the ear. Also, similar to the speech of a radio performer, his enunciation is precise and he speaks in the imperative, and because of that I needed to always concentrate on the dialogue and practice to perfection."
Despite the character's tendency to be cruel and abrasive, Kim says, "I don't really see someone like Kang-mae as a bad person. …As a leader I think he is quite qualified."
As for his family, Kim expressed his thankfulness toward his wife's understanding of his career. It sounds a little strange to the ear, but he explains that when he begins work on a project, "my wife thinks of me as the actor Kim Myung-min, not just her husband." By which he means that she respects the extra energy he needs to direct toward his work; for instance, taking their son out of the house for a walk so as not to disrupt Dad.
Then again, sometimes his young son watches anyway: "Sometimes when I'd rehearse a scene at home where Kang-mae is shouting, my son would follow along. When I rehearse at home, I'm particularly careful."
Just before he got his role in Immortal Lee Soon Shin (which was his breakout drama), "I was going to emigrate to New Zealand. I wonder if it was meant to be, that I stayed here as an actor instead of being a businessman. I'm thankful to be acting now."
Via Newsen
RELATED POSTS
Tags: Kim Myung-min, photo shoots