Mucha Jewelry red carpet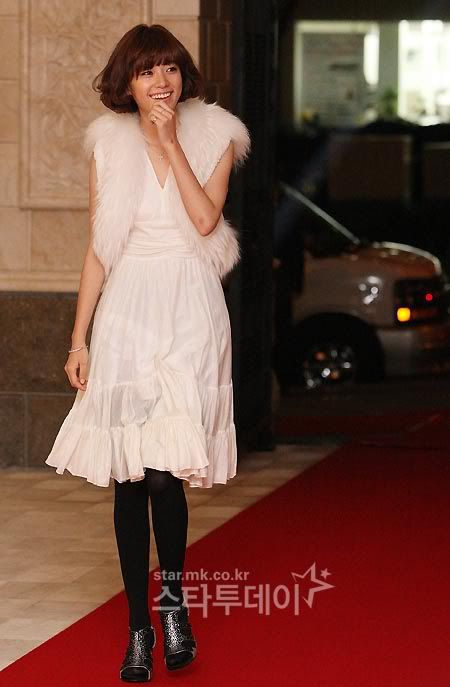 The event that took place on December 8 at Seoul's Villa De Bailey sure was a mouthful to say: 2008 Mucha Jewelry Charity Bazaar and Korean Jewelry Awards.
While "Korean jewelry award" sounds rather strange, the event was designed to allow celebs to donate pieces of their own jewelry for a good cause. Stars walked a red carpet and posed with their jewelry, watched as a jewelry show was put on, then put their items up for auction. Proceeds generated will go toward aiding the elderly.
You know, we (as in, common folks and the netizenery) tend to view celeb charity events through a lens of cynicism, but this seems like a pretty good idea, actually. A star can donate a piece of jewelry s/he no longer cares for and get some positive publicity out of it, while the auction aspect capitalizes on the star affiliation to bolster prices. Money goes to a good cause, and we have a win-win.
I like Han Hyo-joo (Iljimae), who seems like a sweet, fresh-faced young woman. On the other hand, if you're going to go for the Marilyn Monroe look, you really need to commit to it — The Marilyn is really about the attitude, not just styling. So while she has the hair, the dress, and the (hopefully fake) fur, she's also got the noncommittal Lindsay Lohan slouch. It's half-assed glam, which isn't very glam at all. That makes this outfit a miss, even though she is still pretty.
Sohn Ye-jin (My Wife Got Married) hits the right tone of dressed-up without going overdressed. A tea-length number seems just right for a charity bazaar.
On the other hand, Lee Beom-soo (On Air) is rather formally attired for the occasion, no? I know there's technically a red carpet, but a formal tux does come off as overkill… (He does look handsome, though.)
Not really a fan of Kang Sung-yeon's (Tazza) dress (or shoes), but she looks bright and happy. Kind of the reverse of Han Hyo-joo, here's a case where attitude livens up a nondescript outfit.
I think Kim Sung-soo (My Precious You) can sometimes look a little smarmy (or 느끼해), but I do love what he's wearing.
Former Miss Korea Lee Ji-sun looks like she's ready to walk the runway in the evening gown competition. That, or pose with boats. Also, her makeup is a little frightening up close. I remember reading books in the Babysitters Club series describing someone's mascara'd eyes as resembling "Kewpie dolls" and having no idea what Kewpie dolls were, but this is how I imagined they'd look. However, the makeup also makes me think of spider legs, which is not an association I like to make with eyes, EVER.
Cha Ye-ryun (A Star's Lover), short and sweet. The dress, I mean. It's got a little too much prom-dress sheen — that first pic makes her appear Teflon-coated — but it's cute overall.
Has Choi Yeo-jin (My Woman, Surgeon Bong Dal-hee) always been this stick-skinny, or have I just noticed?
Rawr! This trio — Song Jong-ho (Tazza), Jo Yeon-woo (Yi San), and Oh Ji-ho (Single Papa in Love) — enters with a strut.
Via Hankyung
Tags: good deeds, Han Hyo-joo, Kang Sung-yeon, Kim Sung-soo, Lee Beom-soo, Oh Ji-ho, Sohn Ye-jin