Fighting princesses Ja-myung and Nak-rang
SBS's upcoming sageuk series Princess Ja-myung, described as a "heroine fantasy sageuk," has just begun shooting. In the stills shown here, Jung Ryeo-won (top) and Park Min-young show some of their newly developed fighting skills, with Jung playing Princess Ja-myung, and Park as her younger sister, Princess Nak-rang.
In folklore, the story of Nak-rang typically centers around her love story with Prince Ho-dong, with the "ja-myung-go" being a drum that alerted her to invaders. Let's say this drama takes a bit of creative license in re-creating Ja-myung also as a person. (The drum, it appears, still figures in the story.)
In preparation for their roles in the 50-episode drama, both actresses have been training in the martial arts and horseback riding. The action scenes shown here were filmed in a three-day shoot from January 4 through 6, and include wire work and dueling with real 3kg swords.
The drama will air following current Monday-Tuesday series Terroir, starting in February.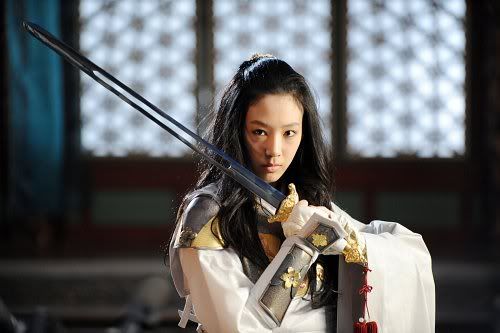 RELATED POSTS
Tags: Ja Myung Go, Jung Ryeo-won, Park Min-young