Good Job, Queen of Housewives

Eom Ki-joon, Chae Rim of "Good Job, Good Job"
There are a couple of new dramas on the block, although I don't know if either of them will make a splash. Both come from MBC, who's probably sweating bullets now that East of Eden has left the building, and taken with it its high-profile stars, its twisty storylines, its onscreen and offscreen drama — and oh yeah, its consistently solid ratings.
The first of the new shows to air is the Chae Rim vehicle Good Job, Good Job [잘했군 잘했어], which kicked off this weekend. Next will be Monday and Tuesday's new offering, Queen of Housewives [내조의 여왕].
The reason I think both MBC dramas have a steep uphill climb ahead of them isn't because they're both sure to suck. Rather, both look cheerfully good-natured; too bad this is the age of the "makjang drama" — those over-the-top dramas we love to hate but watch anyway (or 욕하면서 보는 드라마).
(No really, it's practically becoming a genre in and of itself. Evil characters, birth secrets, terminal illnesses, over-the-top violence, convoluted love geometry — this is the era of all of 'em.)

Chae Rim with co-stars Eom Ki-joon, Kim Jung-hwa, Kim Seung-soo
Given that it's Chae Rim's television return after last year's disappointing action series Rivals (aka Powerful Opponents), Good Job, Good Job probably ought to have drawn a bigger premiere than its disappointing 7.4% rating on Saturday. She plays a single mom and co-stars with Eom Ki-joon, who racked up lots of positive responses for his turn in The World They Live In.
But Good Job wasn't able to improve upon the similar numbers for the drama it replaced, Golden Age of My Life. Instead, KBS's My Precious You remains strong in the weekend timeslot, and drew a 27.7%. On the upside, it looks cute and it's only a first episode so obviously there is room for improvement.
(FYI, the prime-time weekend shows air at a later hour and are KBS's Empress Cheon-chu and SBS's Family Honor.)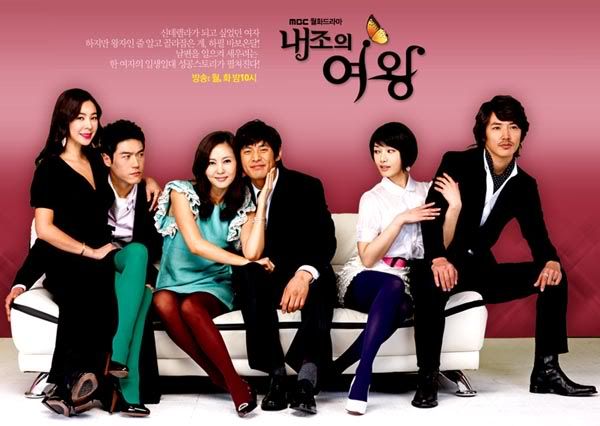 Queen of Housewives
It'll probably be worse for tomorrow's premiere of Eden's replacement series, Queen of Housewives.
Following one popular "makjang" drama (Eden) and with another going full-steam (Boys Before Flowers), I don't know that audiences will be swayed to a "comic and upbeat" series revolving around several married couples.
It's also got to contend with the new historical drama Ja Myung Go struggling for some ground next door on SBS, which also had poor opening numbers but at least boasts bigger names and heavy pre-show buzz.
(Wanna know why the outstanding Return of Iljimae is faltering? How could it compete with the dramatic excesses of Cain and Abel and I Hate You, But Let's Try Again? Daily drama Wife's Temptation is another prime example of a makjang series — it rakes in the criticism but consistently tops the ratings charts.)
In Queen of Housewives, Kim Nam-joo's (Voice of a Murder) character had met Oh Ji-ho (Single Papa In Love) when he was a promising medical student, and the two married. However, after fainting in body dissection, he left school and tried getting jobs elsewhere, only to be fired constantly. He is now unemployed, to the frustration of his wife. "Queen of Housewives" refers to his wife's determination to do whatever she can to get him back on his feet.
The other couples featured include: Lee Hye-young (Dal Ja's Spring) with Choi Chul-ho (Big Sister); and Sunwoo Sun (Tale of the Nine-tailed Fox) with Yoon Sang-hyun (Three Dads One Mom), who incidentally fessed up that his new perm is Gu Jun-pyo-inspired. Ah, Boys Before Flowers, her grasp is far and wide — even spilling over into competitor-drama territory!
Via Segye, Joongang Ilbo
RELATED POSTS
Tags: Chae Rim, Daniel Choi, drama ratings, Eom Ki-joon, Ja Myung Go, Job Well Done, Kim Nam-joo, Oh Ji-ho, Queen of Housewives, Seo Hyo-rim