Happy White Birthday, Kang Ji-hwan
Sometimes Kang Ji-hwan can be such a dork, and I love it.
Last year, Kang celebrated his (March 20) birthday with his Hong Gil Dong castmates, as he was busy filming that drama at the time. This year, the Rough Cut (A Movie Is A Movie) actor held a White Day fanmeeting in Seoul that doubled as an early birthday celebration. (Speaking of which, his co-star So Ji-sub spent the day busily promoting A Movie Is A Movie in Japan.)

Case in point (about his adorkability):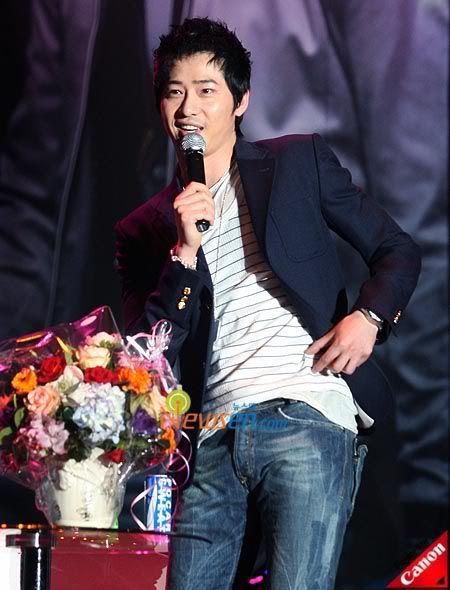 Approximately 1,500 fans were in attendance at the event celebrating his 33rd birthday, which was hosted by Kang's friend and Hong Gil Dong co-star, comedian Moon Se-yoon.
Next up for the star is the release for his spy-action movie Civil Servant Level 7, which co-stars Kim Haneul and comes out in theaters in April.
Following that comes Kang's role in the omnibus "telecinema" series. He's done filming his romantic-comedy segment co-starring Beethoven Virus actress Lee Jia (although we won't get to see it till fall). The installment, called The Relationship Between Faces, Hearts, and Love, incorporates a Shallow Hal-like premise wherein a man suffers from hallucinations that make ugly women appear beautiful in his eyes.
RELATED POSTS
Tags: fanmeetings, Kang Ji-hwan