Kim Ah-joong and Hwang Jung-min together for Six Months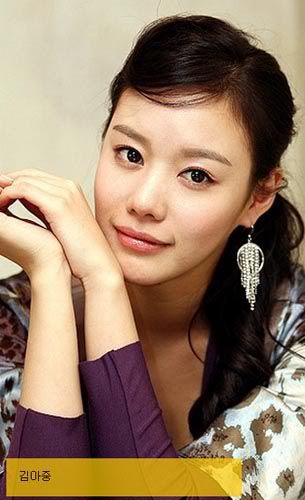 This is pretty big casting news: Kim Ah-joong and Hwang Jung-min are being paired as romantic leads in the upcoming miniseries Six Months [식스먼스].
The KBS Wednesday-Thursday drama is described as sweet and happy, and the brief description tickles my interest in just the right way — Hwang Jung-min plays an honest and good-hearted postman who runs into Kim Ah-joong's super-famous top-actress character in a working-class neighborhood where he delivers mail.
Through whatever plot maneuverings that ensue, the two end up in a contract marriage (which, I'd guess, is where the "six months" of the title comes in).
This news is something of a surprise, since we haven't been hearing about this drama at all, and all of a sudden it's premiering next month. On top of that, it's unexpected to see these two movie stars together for a television show, particularly in Hwang's case.
This'll be Hwang's first-ever drama series, after many years of building a respected body of film work (he debuted in a musical in 1995). By the way, his next movie Private Eye [그림자 살인] releases on April 2, and not long ago he announced his upcoming film, Like a Moon Escapes From Clouds [구름을 벗어난 달처럼] with actors Uhm Tae-woong and Ryu Seung-beom and King and the Clown director Lee Joon-ik.
As for Kim, after shooting to overnight stardom with the 2006 sleeper romantic comedy 200 Pound Beauty, she has taken her time choosing her follow-up project, and has mostly stuck to commercial endorsements. She did, however, take on a role in The Good, The Bad, The Weird director Kim Ji-woon's short film Gift with Jung Woo-sung, and is set to star with Ryu Seung-beom in 29 Years. She was last on television in the 2006 daily drama Bizarre Bunch [별난남자 별난여자].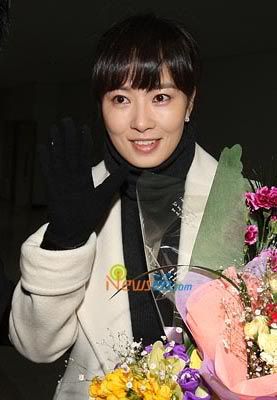 Yoon-ah, Kwon Sang-woo, Kim Sun-ah
Six Months will follow KBS's current Wednesday-Thursday show, I Hate You But Let's Try Again, and premieres at the end of April.
So based on flimsy pre-show information, here's my initial ranking of the upcoming Wednesday-Thursday three-way standoff:
Six Months, KBS. It may have vague plot similarities with A Star's Lover and Notting Hill, but as those two are vastly different from each other, that doesn't bother me. Plus! Contract relationship! It is an overdone cliché, but one that gets me. Every. Single. Time. There's very little information about the drama itself and perhaps it'll end up a yawn, but I like both actors. At 38, Hwang has the kind of film career most serious actors would love to have. Kim Ah-joong is probably more famous than her resumé merits, but I thought she gave her 200 Pound Beauty role unexpected depth and played her plastic-beauty character with bubbly charm and sweet sincerity.
Cinderella Man, MBC. Kwon Sang-woo and Yoon-ah strike me as an odd pair and this role-switching storyline seems a little dated, but either it'll be mindless fun or a hot mess. (Please let it be a hot mess!)
City Hall, SBS. Sorry, but Kim Sun-ah's mayoral role sounds like a snooze. Perhaps a polished, sleekly directed snooze — and, as its PD and writer gave us the shrill and histrionic On Air, maybe an occasionally melodramatic snooze.

But, as with anything, that's just my opinion. We don't have long to wait, in any case.
RELATED POSTS
Tags: Cinderella Man, City Hall, Hwang Jung-min, Kim Ah-joong, Six Months