Sean's Cotton Day family look
I confess I don't always know what the exact deal is with some of these campaigns — they seem well-meaning, if a little nebulous — but I'll take whatever opportunity to post pictures of singer Sean's redonkulously adorable family.
The daddy to two young children (his third with wife Jung Hye-young is on the way) had son Ha-rang and daughter Ha-eum with him for the Cotton Day 2009 event on the 14th, at the Grand Ballroom of Seoul's Chosun Hotel.
Sean and Jung Hye-young are ambassadors (publicity reps) for the event, which is held throughout Asia by Cotton Incorporated as a way of raising the visibility of cotton textiles.
A main point to this year's event was the "family look" concept, which was the focus of a fashion show featuring the work of several design teams. Sean designed his own family look and wore the special edition printed T-shirts with his children; afterward, the clothes were auctioned off for charity to benefit child welfare.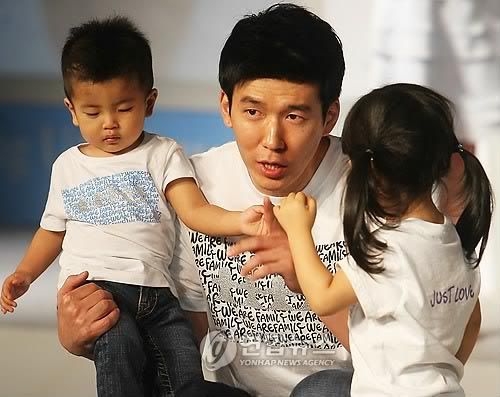 Via OK Fashion, Joy News
RELATED POSTS
Tags: Jung Hye-young, Sean