Han Yeo-woon: The face of purity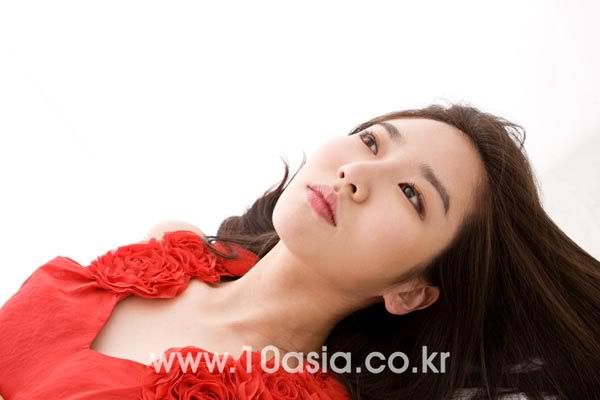 When Story of a Man began, actress Han Yeo-woon, who played Kim Kang-woo's good-hearted younger sister, wasn't even a blip on the radar. She'd had a supporting role playing a junior baker in My Name is Kim Sam-soon, but was hardly a household name. As Story of a Man progressed, however, she took on an increasingly significant role, and by the series' end she was arguably a more integral character than some of the better-known actors, like Park Shi-yeon or Park Ki-woong.
Trust 10 Asia to shed some light on lesser-known (but just as deserving) talents, as they do with this interview/article on Han, which was published last month (late May), while the drama was still airing.
SONG OF THE DAY
Story of a Man OST – "이별은 거꾸로 흐른다" (Backwards farewell) [ Download ]
Audio clip: Adobe Flash Player (version 9 or above) is required to play this audio clip. Download the latest version here. You also need to have JavaScript enabled in your browser.
Han Yeo-woon: Pouring down the purity

She is an angel. Perhaps it's because any evil thoughts have been wholly taken away by her older brother that she apologizes and knows only how to worry; she appears these days as the jewel of a drama portraying a "soul of goodness." However, the reason her unusual presence is distinctive is because her goodness is part of her nature. It's not so much that Story of a Man's Eun-soo endures blindly, but rather that she seeks the victims on her own to ask forgiveness, making her a good, but not pathetic, character. With her round forehead and shy eyes, and small but stubborn lips, Han Yeo-woon has a most fitting face to act the character of Eun-soo. She may not be a showy beauty but she is truly pure, such as whenever a small smile appears on her face, emanating warmth, or when she lets tears fall. Just like Eun-soo.

The incarnation of goodness, and frequently tomboyish cheerful young lady

Such well-matched casting didn't happen in one fell swoop. "I heard of actors deciding just based on receiving the script. But I read the first four scripts, and even had to go through an in-depth interview and audition to get the part. I was the lowest out of all the actors who joined the project." Recalling her nerve-racking audition process and the early filming she did with the other actors, Han Yeo-woon's voice is bright. She enjoys filming so much that she prefers working and going to school at the same time over focusing on school only.

Right now, the only thing weighing on her mind is the character Eun-soo. "She has to look like she's a nice person from the start. If it comes off as though she's acting nice, that's not Eun-soo. Her emotions are constant and she doesn't dissent easily, so I worried that she might appear uninteresting, but I'm finding a way to break through." Even after revealing a serious thought, at the end of that is a laugh. "It's already too late for me to change. Hahaha." To her, working out her acting is an enjoyable process.

Perhaps that's why despite a difficult shooting schedule, throughout the interview Han Yeo-woon's energy is boundless and animated. While talking about a scene she shot where she meets Do-woo (Kim Kang-woo) in a hotel, she says, "To Do-woo, Eun-soo isn't family or a woman, she's his last hope." Perhaps citing the writer's own interpretation, she says, "Because Do-woo's like Lucifer, Eun-soo is his last key to go back to heaven." She brims with energy, absorbed in talking about the drama as she conveys some of the netizens' thoughts.

Although it may be surprising when considering the quiet Eun-soo, her real appearance is much more energetic than one might think, which includes the terribly frank Kyung-sook of KBS's Glory of Youth, the spunky Sae-mi of SBS's Golden Bride, and the plucky Kim Yang in the film Radio Star. No, I can recall the acting she displayed in the KBS Drama City piece Pure Soon-yi. The emotional extremes provide a good amount of energy to her acting.

"Our drama's viewership ratings weren't very high. But I'm very happy."

However, the key point in Han Yeo-woon's rise isn't the moment when her energy comes bursting out like fireworks, but when she collects the kindling that has gathered inside her. "Rather than getting greedy and trying to do too much, I want to do the best with what I can do properly. That's my way of satisfying my desire to put out a high quality result," she says without excessive greediness, and therefore her way of speaking seems pure. She adds, "Maybe it's strange for me to talk like this, since our drama's ratings aren't very high. But still. I'm very happy."

And then, the rims of her eyes at once redden. This 26-year-old young woman, who enjoys being able to act her heart out in role she likes, doesn't know how to hide her affection for acting. This is the birth of a cute, pure actress who starts to tear up in front of love.
The following portion is the "My Name Is" segment, which is told from the actor's own perspective:
My name is: Han Yeo-woon. "Yeo-woon" is the name that the agency director gave me. At first, it was awkward because it was like a word, but now my friends and family all call me "Yeo-woon-ah," so it feels like my real name.

My real name is: Ahn Mi-na. When I was younger, I really liked my name, which was pretty and lively. However, there were a lot of actresses already out with similar names, so I came to use a stage name.

Birthday: October 1, 1984. I'm in the class of 2003 [university entry year], but I haven't graduated yet. I have one semester left, so I have to re-enroll soon.

When he was younger, my older brother was a child actor. At the time, my mother took me around as a little kid, and I caught the eye of some people so I shot a few ads. I used to cry and plead as soon as shoots would start because I hated it, but these days I like it so much that even going to the set makes me excited. Hee.

When I was younger, I was a total glutton. If I had food in my hand, even if my mother left me behind, I wouldn't notice. If I got up and didn't see my mother, I wouldn't cry or fret. I'd just eat my nearby crackers and play.
When I went to university, I was in the theater club, which is when I really started to want to act. At the time, my fellow club members were really passionate; the colleagues I acted along with in my first project continued studying acting after graduation. That's why when we talk on the phone, from the very start they point out my acting. I'm thankful and it's helpful, but I end up answering curtly, "Okay, I got it." Ah, it's because it's picking so sharply at something I'm already thinking about! Hahaha.

When I look back, I really enjoyed my time in the theater club, but I wanted to go out for wider experiences, so I went around doing many auditions. I passed a musical audition and appeared without dialogue as part of a chorus, and I also played Wendy in the children's musical Peter Pan.

My father is very strict, so when I decided to be a philosophy major in the humanities department, he was furious. He wanted me to study something that would help me more in getting a job. That's why I worked on my acting without my father knowing. I think he found out after the reaction for Radio Star when an interview was printed in the newspaper.

On the other hand, my mother supported me in pursuing what I wanted to do. It was through someone my mother introduced me to that I was brought to the audition for My Name is Kim Sam-soon. When I shot that drama, I really didn't know anything and later, [Kim] Sun-ah unni said, "There were times I was really shocked." Still, because I was so naive, it was surprising that I received all the ad-libs she tossed out.

[Park] Shi-yeon unni, who appears with me in Story of a Man, has so much charisma that the moment she appears, it makes you think, "Wooooooowwww!" How should I put it, it's like when she appears, the set brightens? Haha. Because there weren't many women around, everyone treated us well.
Park Yong-ha sunbae is the type who looks after you a lot. Neither of us has the personality that makes friends first so at first it was a little awkward, but once we started filming, he was really very helpful. The first shoot was of me visiting Shin in prison, and he matched his dialogue with the moving camera while holding the visiting room phone, and encouraged me and said I was doing well. Kim Shin is a pretty busy character, so I don't often run into him in the waiting room. I felt a strong feeling all throughout that he was a sunbae I should learn from, but lately we've become friendly. We became friends at the very end.

Do-woo oppa (Kim Kang-woo) is really very detailed. At the time of the production press conference, I had just joined the cast not long before so I felt like I was alone in feeling awkward, but oppa joked around first and struck up conversation with me, and I'm truly thankful. If there's a problem making female staff members uncomfortable on the set, he's the type to come in without saying a word to solve the problem.

Eun-soo treats everyone really well, so being called a "devilish woman" is a problem. We shot a scene a couple days ago with Eun-soo returning to Muse, and Kyung-tae would welcome her. But the director had already wrapped up some things and told me to just laugh and talk with Mun-ho ajusshi. Jae-myung oppa (Philip Lee) was watching on the side and said, "You, why do you [the scene partner] keep changing back and forth?" Haha.

I've been acting for four years already. I think I've made steady progress with various characters, but a lot of people around me worried that I'd still be in the same place tomorrow as I am now. The present is a little confusing. I'm not sure whether I should make a big step to gain recognition, or if I should focus on continuing to widen my range as I'm doing now.

I'm more like a dog than cat. Their faces look sweet and young, so women treat them well. I know that my sex-appeal image is weak. But that's just a visual issue. By gaining experience and broadening my range, I'll be able to show more sexiness in my acting someday. Like Jeon Do-yeon sunbae, who went from a pigtailed young girl to her role in Happy End. At this point, I can't go and shave down my round face. I'll bide my time. I think that's the wise method.

Originally published May 20, 2009
Written by Yoon Hee-sung
Via 10 Asia
RELATED POSTS
Tags: Han Yeo-woon, interviews, Story of a Man