Lee Min-jung gets dumped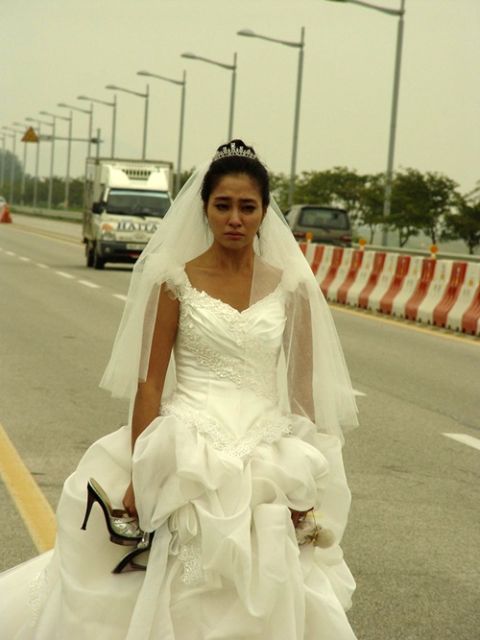 A few more shots have been released of Smile [그대 웃어요], SBS's upcoming weekend drama starring Lee Min-jung as a bride who is jilted after news of her family's financial ruin makes her fiance's family cry off the union.
This particular scene was shot near the road to Incheon International Airport, and required Lee Min-jung to trudge down the street barefoot for three hours, resulting in injury to her feet. Apparently the odd sight of the actress walking dejectedly in a wedding gown caused a traffic backup on the high-speed highway as rubberneckers slowed to watch.
In the drama, her parents-in-law pressure their son to call off the marriage right after the ceremony; the bride, Jung-in, is dumped as the couple is on their way to the airport to leave for their honeymoon. (Mighty gracious of groom Lee Kyu-han, below, isn't it?) She then runs into Hyun-soo, played by Jung Kyung-ho (last photo), an individualistic "mandoo guy" who happens to be pining after college friend Choi Yoon-jung. Jung-in and Hyun-soo's relationship gets off to a rocky start as their two families move in together and the two bicker back and forth (which we know = true love!).
Lee said of her character, "She's such a lovable and cute character that I fell in love with her. I plan to live as [my character] Seo Jung-in for these five months, so please keep watching."
Smile premieres on September 26, following Style.
Via My Daily
RELATED POSTS
Tags: Jung Kyung-ho, Lee Min-jung, Smile