Artist profile: Lucid Fall
I posted up a song, "Les Miserables," from Lucid Fall's new album this week for the Episode 7 Will It Snow For Christmas recap, which got me once again marveling at how wonderfully composed his songs are. The track has a Part 2 sung by a woman, and the two fit together as two halves of the same story. They're not simply lovely songs, but also lyrically as touching as they are musically; the verses have a poem-like quality.
"Les Miserables" Parts 1 and 2 share the same name with Lucid Fall's fourth album, which was released only two weeks ago and is already topping the pop and indie music charts. I've been a fan of Lucid Fall for a few years, but I think this fourth album really takes the cake. His songs sometimes sound simple and placid at first listen, but there's often something going on under the surface. Take a listen.
The two versions of "Les Miserables" are beautiful on their own, but put together, they tell a story that takes it to a new level. Part 1, sung by Lucid Fall himself (aka Jo Yoon-seok), is a story from a man's point of view — a last monologue to the girlfriend he has left behind. Part 2 tells the story from her perspective.
Lucid Fall – "Les Miserables" (Part 1) [ Download ]
Audio clip: Adobe Flash Player (version 9 or above) is required to play this audio clip. Download the latest version here. You also need to have JavaScript enabled in your browser.
The day I left you
That afternoon
I can't forget your face
Trying to stop me
a cry burst from you
on that early summer street

The rain sang
the street's sadness
Time goes on again
The rain has stopped

The slowly growing sound
of soldiers' steps
The flash of a sword
Dwindling time

Tiring people
collapse one by one
The night shines with clear moonlight
Wanting to see your face
my body grows cold
I want to live a little longer

Though time flows on
your face in my memory
won't erase

One small blade of grass
couldn't sprout
in this cold spot
I'm left here alone, forget me
Even if you can't see me now
forget me
그대 떠난 그날
오후 그대 모습
잊을 수가 없네
날 말리다 터져버린
그대 울음
초여름의 거리

비를 부르던
거리의 슬픔
시간은 다시 지나가고
비는 멎었네

서서히 밀려오던
군화 소리
대검의 빛
줄어드는 시간

지쳐가던 사람들
하나 둘씩 쓰러져
마른 달빛 비치던 그 밤
보고 싶었던 그대 모습
내 몸은 식어만 가요
조금 더 살고 싶어요

시간이 흘러가도
기억 속의 그대 얼굴
지워지지 않아

작은 풀 하나
피지 못했던
차가운 여기 이자리에
홀로 남은 날 잊어 줘요
이제는 볼 수 없어도
그대는 나를 잊어요

Though the setting is never explicitly stated, two things come to mind: the first, more literal reference is to Hugo's Les Miserables, but the second is a story closer to home, 1980's Gwangju Massacre, in which citizens rose up to rebel against the military dictatorship. (Note: That's my read, not an official explanation.)
Lucid Fall – "Les Miserables" (Part 2) [ Download ]
Audio clip: Adobe Flash Player (version 9 or above) is required to play this audio clip. Download the latest version here. You also need to have JavaScript enabled in your browser.
On that day you left
that afternoon,
I can't forget your face
The crowding people
sound a battle cry
in the frozen street

I went outside
to search for you
but no matter how I cried out
for you, it was no use

The slowly growing sound
of soldiers' steps
The flash of a sword
People growing distant

Dying people
fall frozen
The bright city loses its light
An unbelievable scream
Now I must believe
because you won't come

Although time flows on
your face in my memory
won't erase

Though my eyes can't see
Though my ears can't hear
in this cold spot
I know you're here
You still cause me tears
How can I forget you?
그대 떠난 그날
오후 그대 모습
잊을 수가 없네
밀려들던
사람들의 함성소리
얼어붙은 거리

문밖을 나가
그대를 찾아
아무리 그댈
불러봐도 소용 없었네

서서히 밀려오던
군화 소리
대검의 빛
멀어지는 사람

죽어가던 사람들
싸늘하게 쓰러져
빛을 잃은 빛나던 도시
믿을 수 없던 비명소리
이제는 믿을 수 밖에
그대는 오지 않으니

시간이 흘러가도
기억 속의 그대 얼굴
지워지지 않아

눈이 보지 못해도
귀가 듣지 못해도
차가운 여기 이 자리에
그대 있음을 알고 있죠
아직 날 울리는 사람
어떻게 그댈 잊어요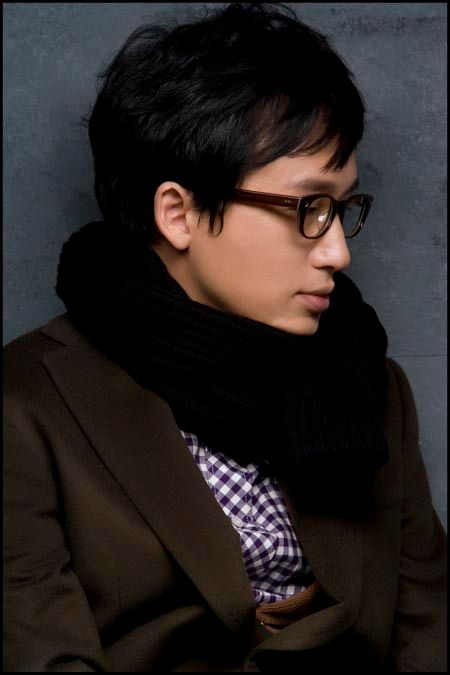 Lucid Fall – "빛" (Light) from his third album. [ Download ]
Audio clip: Adobe Flash Player (version 9 or above) is required to play this audio clip. Download the latest version here. You also need to have JavaScript enabled in your browser.
Lucid Fall (the 34-year-old Jo Yoon-seok) was born in Seoul in 1975 and grew up in Busan. In 1999, he graduated from Seoul National University with a degree in chemical engineering, then did graduate work at Sweden's KTH Royal Institute of Technology, earning his master's degree in 2004. He did doctorate work in Switzerland and won notice for his dissertation in 2007; he earned his Ph.D. from Switzerland's Ecole Polytechnique Federale de Lausanne (EPFL) for bioengineering in 2008.
Jo debuted in 1998 with modern rock band Misuni [미선이], where he was guitarist and vocalist. They put out an album Drifting, then followed with Drifting Again 1.5 in 2001. The group disbanded due to various reasons — military enlistment, study abroad — but got back together in 2008 for the Grand Mint Festival (one of South Korea's largest indie/rock festivals).
Throughout this all, Jo continued to work on his music and put out several albums. His first solo album under the name Lucid Fall was released in 2001 (titled Lucid Fall). His second, O, Love [오, 사랑] followed in 2005. His third, Night at the Border [국경의 밤], came out in 2007; his latest, Les Miserables [레미제라블], was released in early December 2009.
He has collaborated with other musicians, including rap duo LeeSsang in their latest (sixth) album, as well as Toy (Yoo Hee-yeol), Kim Yeon-woo, and Park Ji-yoon, among others.

The first single from the new album is titled "Mackerel" [고등어], and is doing extremely well on the music charts. It is "a piece told from the point of view of the fish often found on the dinner tables of common people, whose lyrics offers them words of comfort."
Lucid Fall – "고등어" (Mackerel) [ Download ]
Audio clip: Adobe Flash Player (version 9 or above) is required to play this audio clip. Download the latest version here. You also need to have JavaScript enabled in your browser.
With sturdy fins that propel me anywhere
I can swim anyplace
In order to feed people who have little money,
I once again part the seas

Compared to the Seoul sirloin that costs many
ten thousands of won
I may be less tasty and smell fishy
But I know that all the while, I've watched
over countless family dinner tables

When you pick me, look at my eyes
I don't even know how to close them
Thank you, who are so poor, for choosing me
You've worked hard today

When you pick me, look at my eyes
I don't even know how to close them
Thank you, who are so poor, for choosing me
You've worked hard today

When you pick me, look at my eyes
I don't even know how to close them
Thank you, who are so poor, for choosing me
You've worked hard today
You've worked hard today
어디로든 갈 수 있는 튼튼한 지느러미로
나를 원하는 곳으로 헤엄치네
돈이 없는 사람들도 배불리 먹을 수 있게
나는 또 다시 바다를 가르네

몇 만원이 넘는다는 서울의
꽃등심보다
맛도 없고 비린지는 몰라도
그래도 나는 안다네 그동안 내가 지켜온
수많은 가족들의 저녁 밥상

나를 고를 때면 내 눈을 바라봐줘요
난 눈을 감는 법도 몰라요
가난한 그대 날 골라줘서 고마워요
수고했어요 오늘 이 하루도

나를 고를 때면 내 눈을 바라봐줘요
난 눈을 감는 법도 몰라요
가난한 그대 날 골라줘서 고마워요
수고했어요 오늘 이 하루도

나를 고를 때면 내 눈을 바라봐줘요
난 눈을 감는 법도 몰라요
가난한 그대 날 골라줘서 고마워요
수고했어요 오늘 이 하루도
수고했어요 오늘 이 하루도

Music video teaser for "Mackerel":
Via OSEN
RELATED POSTS
Tags: Lucid Fall, musicians, song lyrics