Promo stills from MBC's Pasta
Cute. I admit I haven't been terribly intrigued about MBC's new drama Pasta — it's up against Jejoongwon and God of Study, while Chuno airs a few days later — but the promos featuring Lee Seon-kyun (Coffee Prince) and Gong Hyo-jin (Thank You) do look adorable, as does the preview clip below.
The Italian restaurant-themed drama shot its promo posters at a Kangnam restaurant on December 9. Lee Seon-kyun plays the prickly head chef, while Gong Hyo-jin is an assistant.
Lee's character (sigh) harbors a painful past that makes him unwilling to recognize the talents of women chefs (what a creative excuse for being a sexist?). This leads him to clash with Gong repeatedly in the kitchen as they get off to a rocky start. Gong says that although she has filmed with Lee for a month, there have been so many scenes with him tormenting her that she still can't quite look him in the eye.
Lee said, "People keep asking me these days whether I feel the pressure of following Queen Seon-deok. Because they keep asking, I'm starting to feel the pressure." Laughingly, he added, "Our drama isn't going up against Queen Seon-deok. I'll work hard so I hope we'll be as loved as them."
The drama also stars Honey Lee (Partner) and Clazziquai's Alex, and premieres on MBC on January 4.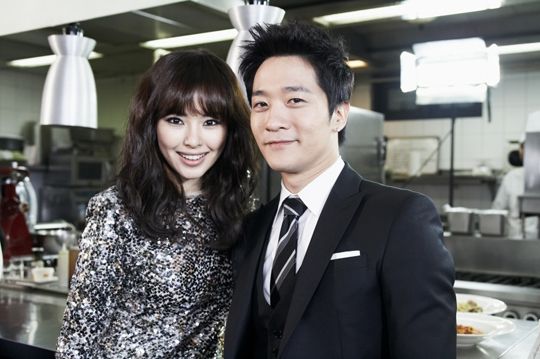 Via Hankyung
Tags: Alex, Gong Hyo-jin, Honey Lee, Lee Seon-kyun, Pasta