Chuno: Episode 3
(Samsooki, whom you know from his City Hall recaps, and hjkomo, who previously guest-blogged her year-end review, have stepped up to write recaps for Chuno! Enjoy. —javabeans)

Enough ogling the slave-hunters of Chuno! Here are the Gi-Saeng of Chuno!
You know, Chuno isn't so easy to pick up and start watching. First off, sageuks are difficult enough to understand, given the old Korean language and vocabulary, let alone the fact that it generally helps a LOT to have at least a basic knowledge of Korean history. And second, Chuno is an epic-style drama, and epic dramas tend to have a much larger cast of characters than normal dramas. This can make for confusing times, as you think, "who are THOSE guys?" and "who's THAT guy?" every other scene. And since epics often carry multiple storylines that intersect later on, things can really get confusing as you think, "why is THAT guy doing something with THOSE guys?" Hehe! At least, that's how I felt when watching this Episode 3 the first few times. but I think that as you get to learn the characters and the stories, Chuno will be one of those dramas that people will be talking about for a long while.
SONG OF THE DAY
Tupac Shakur – Until the End of Time (RP remix feat. Richard Page) [ Download ]
Audio clip: Adobe Flash Player (version 9 or above) is required to play this audio clip. Download the latest version here. You also need to have JavaScript enabled in your browser.

As we left off Episode 2, Dae-Gil (Jang Hyuk) and Tae-Ha (Oh Ji Ho) are standing in the high grass, facing off. Tae-Ha holds his zhanmadao saber (basically, a Qing military issue sword, good for vertical (up-down) slashing attacks) at guard and Dae-Gil reverse-grips his Qing jian sword (good for short stabbing cuts and in-fighting) to counter Tae-Ha's long reach and his longer saber (reverse-grip fighting is good to cover the lower half of the body against sweeping up-cuts favored by those who use zhanmadao sabers). Dae-Gil and Tae-Ha rush at each other, slashing at each other. Both land safely but Dae-Gil has been cut on his side.
Does Dae-Gil recognize Tae-Ha from Dae-Gil's previous life?
Dae-Gil: Didn't you have a gimpy leg?

Tae-Ha: I'm pretty sure you already know I don't have a gimpy leg… Isn't that way you are trailing me?
Interesting! At first, I wasn't sure how much the other knows about what happened in the past, when Dae-Gil was just a coward rich boy nearly getting killed at the hands of the Qing marauders. It looks like neither Dae-Gil nor Tae-Ha recognizes the other. But Tae-Ha is right though. Dae-Gil knew exactly where Tae-Ha and the other escaping slaves would be.
Meanwhile, Dae-Gil's fellow slave catcher Choi (General Choi to the gi-saeng who fangirl over him and his pecs, and just Choi to the rest of us) rounds up the other slaves. The duel in the high grass between Dae-Gil and Tae-Ha is forced to an indefinite postponement, however, when arrows fly at them from close-by. It appears that other slave-hunters have arrived. Chun Ji-Ho and his band of lackeys have started shooting arrows at both of them.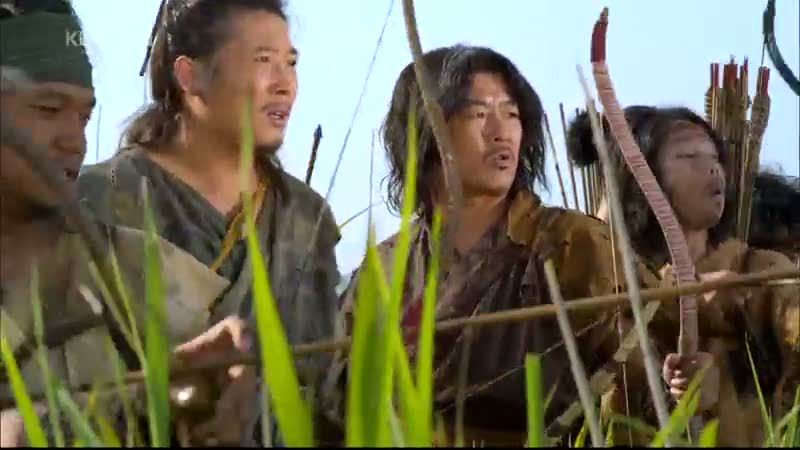 Chun Ji-Ho is nothing if not an opportunist. He tells his men to fire away. If he manages to kill Dae-Gil and the runaway slave, isn't that like killing two birds with a few dozen arrows? Tae-Ha is hit by an arrow and Dae-Gil also hits the deck. At that moment, the quite tall and imposing Choi appears from behind and sticks his sword on the neck of Chun Ji-Ho. Chun's lackeys turn and point their arrows at Choi. It is a stalemate. Chun blusters a threat, as he has a bunch of men pointing arrows at Choi.
Chun Ji-Ho (growling) : It looks like you want to be turned into a porcupine.

Choi (ignoring the hollow threat to be shot full of arrows): You want to become a shish-kebob?
Chun Ji-Ho loses the staring contest and backs off, saying that he can't stand Choi. It's a funny way to back down between guys; basically Chun is the loser in this but retreats without losing that much face by saying he doesn't even want to be around Choi (even so much so that it's too much of a hassle to kill him). Lol! Funny guy, this Chun Ji-Ho.
Anyhoo, so Choi and Dae-Gil head back to their rented room, discussing Tae-Ha. Wang Son rushes in, sobbing in concern for Dae-Gil, but seeing as Dae-Gil is alright, quickly makes his leave, still sobbing, as he has unfinished business to bed his flavor of the month gi-saeng. How can a person have such a one-track mind? Choi leaves to find out more about this mysterious Tae-Ha character who was able to hold his own so easily against the formidable Dae-Gil.
Meanwhile, Chun Ji-Ho, the coward in the showdown with Choi, is shamelessly spreading the story of how Dae-Gil got his ass handed to him by that tall slave, and how Chun Ji-Ho and his men rescued Dae-Gil with arrows. Hehe! This is a hilarious scene as the peasants that gather to hear the story just soak it in and believe every word.
Ironically, it is possible that Chun Ji-Ho did in fact rescue Dae-Gil (even though he meant to kill both and Tae-Ha), because I'm not sure that Dae-Gil would have beaten Tae-Ha, given the weapons that they had on them. If you watch this humorous scene, you can see how much informal and base Korean relies on onomatopoeia to get meaning across. Even if you don't speak a word of Korean, if you listen carefully, you might even be able to start to guess whether the characters in a sageuk are speaking an educated form of Korean or a baser form.
While Dae-Gil is getting his reputation as the number 1 slave-catcher sullied by Chun Ji-Ho, the man responsible for the reputation loss is still in the fields, badly wounded by an arrow. About to collapse, Tae-Ha manages finally to pull out the arrow as a vision of his wife and baby son push him to survive.
Not that far away, Commander Hwang Chul-Woong interrogates the slaves who tried to escape but who were captured by Choi. He presses red-hot iron brands into their skin, torturing them for information. One of the slaves spills all he knows about Tae-Ha, and about how Tae-Ha was able to get around without limping. This last bit is notable to Commander Hwang, who sees that Song Tae-Ha is not so infirm as he thought. Just because he can, Commander Hwang orders the partial blinding of every slave who tried to escape.
Notes: I think I should give a frame of reference here.  It is easy to sit there and judge the past, denouncing slavery and the brutality of the times.  But in this period, not only was slavery a given, but it had been a given for over a thousand years. Inasmuch as there is a lot of dialogue in this drama about how humans should be treated equally, what is also true is that Koreans really didn't assume that to be the case for over one hundred generations. And what made Korean slavery almost unique among all nations that had slavery historically was the fact that virtually all slaves in Korea were ethnically Korean- this made it impossible to determine who was a slave and who wasn't, if the masters did not disfigure or brand or tattoo their slaves (and it made it an extremely attractive proposition to try to escape, because escape meant that you could just start over, which is why slave hunters were numerous as well). And so the branding/tatooing of the slaves was an extremely common occurrence, but blinding was not. Economically speaking, blinding of the slaves was actually worse than losing the slaves to escape for Commander Hwang. A one-eyed slave is nearly useless, meaning that Commander Hwang would now be housing, clothing, feeding and keeping watch over slaves he can't make money off of. Thus it is likely that deterrence and punishment were the objective behind the blinding, and likely these poor slaves will be executed when their use as deterrents against future escapes diminishes..
Back with the trio of Dae-Gil, Choi and Wang-Son. Choi has found out quite a bit about Tae-Ha just by asking around, complete with former employment and work history, former places of residence, martial skills, likes and dislikes, favorite color… Hehe! It's almost like he googled "Tae-Ha" to get the information.
Choi recommends against going after Tae-Ha, because since Tae-Ha was with the late Prince and all of the intrigue that happened when the Prince was murdered, going after Tae-Ha will mean being involved in things that will be outside of their understanding. (Thank you Drama Narrator General Choi!). Dae-Gil refuses to give up though; his reputation at stake, he has to capture and/or kill Tae-Ha. Wang-Son leaves the heavy thinking to his hyung's and takes leave to go have more sex with various gi-saeng.
Given all they know about Tae-Ha, they have already guessed where Tae-Ha might be. And sure enough, Tae-Ha, still bleeding from his arrow wound, appears before the mountain tomb of the Crown Prince, bowing before his former master. A flashback to the past, and we see General Song Tae-Ha leading a group of his closest officers to rescue the Crown Prince as he is being brought to China. Tae-Ha and his officers ambush the regiment of Qing soldiers leading the Crown Prince, but the Crown Prince curiously stops the effort. Tae-Ha learns from the Crown Prince that he is going willingly to Qing, as he must learn about his enemies in order to defeat them. Tae-Ha also learns that conspiracies are afoot in the Royal Court, however, as the Crown Prince wants to Korea to extend its understanding to across the world, while the King and his courtiers do not. And then to the present, as Tae-Ha speaks to his dead Prince:
General Song Tae-Ha: Your highness, please forgive this servant of yours for not raising a glass to your lips as I make haste to escape!
The tradition before tombs of masters and loved ones is for the best food and drink to be arrayed out before the tomb, to allow the dead to return and taste the foods of this world once and again. Tae-Ha is showing his true fealty to his lord by coming back and by noting that he must be forgiven for not bringing wine or suitable drink to slake the thirst of the Crown Prince. Tae-Ha is determined to see his way to avenging the Crown Prince and protecting, if possible the Crown Prince's last surviving son. At the end of this scene, you can also see Tae-Ha, even though he is still bleeding to his untended arrow wound, trying to pull up weeds from his master's tomb – as the last person left to protect the Crown Prince, Tae-Ha tries to perform all of the rituals that show his true loyalty to his master.
And the story switches back to Chun Ji-Ho, who has captured more slaves and is trying to arrange for an exclusive arrangement between him and his crew, and the police chief. It appears that the police chief cares only for the money that returned slaves brings, which makes him not only a mercenary but a hypocrite as well. Chun Ji Ho continues his attempt to destroy Dae-Gil and his crew, by forcing the two old fogies (the artist scribe and the horse caretaker) to also take part in trapping Dae-Gil. What could that old fox Chun Ji-Ho be planning?
That afternoon, we see a new character being introduced: Seol-Hwa (absolutely hilariously played by Kim Ha Eun). She is a dancing gi-saeng with a traveling troupe, making money by basically bumping and grinding men for coins during the day, and being a lady of the night at… well, at night.  Her megawatt smile immediately beguiles Wang-Son, who might have run out of coins to stick into his mouth if not for Dae-Gil and Choi dragging him away by his ears.
Wang-Son is inconsolable when Dae-Gil orders him to stay put and make food. Wang-Son looks to Choi, but the latter orders him to make some rice with a bit of noo-rung-ji (the crusty toasty rice that forms if you cook rice too long – it's tasty). Har!
That night Seol-Hwa escapes her life of dancing and prostitution though, serendipitously running into our slave hunting trio who reluctantly keep her safe for the time being. Seol-Hwa is a sly one, and tries various tactics to get Dae-Gil to let her stay with them. Wang-Son is nearly beside himself with glee, but Dae-Gil doesn't like the idea. Right when Dae-Gil loses his patience with her, Seol-Hwa drops the act and tells her story. She lost her mom at an early age to parts unknown, and lost her dad to disease shortly thereafter. All she wants to do is find her mom, who happens to have a large birthmark near her breasts (this grosses Wang-Son out, hehe!). Choi, being the stoic softie, votes to keep her. Since Wang-Son is a YES YES YES, and so Dae-Gil doesn't immediately toss her out the door. Seol-Hwa is quite pleased with herself – not only did she escape forced prostitution, but she managed to hook up with three guys who actually are pretty decent and won't harm her intentionally. Smart, smart lady.
The scene shifts to a night-time secret meeting among slaves. They've made a pact to start a slave revolution, whereby they would kill every yang-ban (the noble class) they see, all the way up to the King himself. With all the yang-ban dead, they would then be their own masters.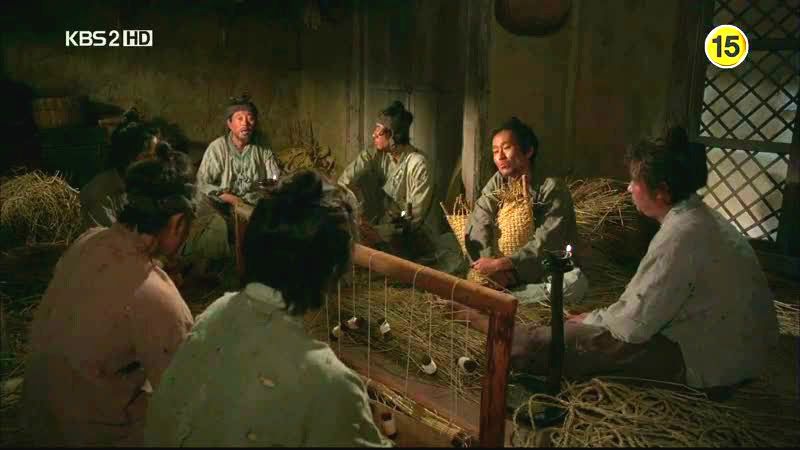 The re-captured slave Eop-Bok and the slave woman that has taken a liking to him are both caught in this conspiracy. Eop-Bok reluctantly agrees to take part in this to prevent the slave cabal from killing the woman who had overheard everything. As ridiculous as this idea sounds, they do have one weapon that nobody expects that a bunch of slaves would have – a musket! Eop-Bok, the former hunter who spent years in Qing using just such a weapon, is chosen to test fire the weapon. Suddenly very determined, Eop-Bok knows just who to target as the first assassination – Dae-Gil, that rat bastard who makes a living catching humans who just want to live free.
Meanwhile, when we last saw Un-Nyun a/k/a Hee Won, she had made her escape, trying to pass by as your garden variety male guy who wears lavender silk pajamas and a lavender silk do-rag. Un-Nyun has seriously got herself into a heap of trouble, dressed like a man and trying to make it through the country-side. Within a day, she has been spotted as a girl travelling in the guise of a guy by two unsavory peasants, and they follow her in the open country-side, waiting for a chance to attack her.  Unlike the street-wise and wily Seol-Hwa, Un-Nyun didn't really plan ahead and is now in really big trouble.  Did she think that she could walk the unsafe countryside by herself and unsavory guys wouldn't think that she was a woman? 
Un-Nyun hides behind a tree, but it is too late for her, her pursuers are actually right behind her and drag her down to assault her.
As luck (or fate) would have it, nearly unconscious Tae-Ha is passing by on a stolen horse, almost collapsing from the loss of blood. Even in his weakened state, Tae-Ha stops the attack and chases off the would-be rapists and then collapses in front of Un-Nyun.
And just a few miles away, our other main character is about to collapse as well. The former hunter turned slave Eop-Bok has set his sights on a mounted Dae-Gil. As Dae-Gil and his men are about to leave, Eop-Bok fires and scores a hit! Dae-Gil is struck in the forehead, and falls to the ground, bleeding. His eyes lose focus…
Comments.
When I first watched Episodes 1 and 2 of Chuno, honestly, I was very impressed with the drama but I didn't care that much. While I felt it was a huge leap in the technical ability of k-drama productions, I just didn't get the emotional impact and I felt a little hollow.
But, all that has changed. After watching Episode 3 (and re-watching Episodes 1 and 2), I have to say, Chuno seriously rocks. What I felt was missing from Episodes 1 and 2 was a consistent flavor and an idea of who to support, who to get behind. And with three episodes in the bag, those questions have been answered and I am fully engaged in this drama now. What an awesome episode. Just brilliant! I can't really find anything to compare it to, because this is really a new species of k-drama in my opinion.
Imagine what would happen if you took all the complaints that you might have had about k-dramas in the past. Low production values, poor directing, uneven acting across ensemble casts, boring stories or plots, lack of credible action scenes, complete lack of special effects and/or sound effects, small-screen feel to the projects, monotonal musical score, lack of style points, inability to mix drama, humor, action and a love story. Chuno is what happens when you take all those complaints out of the complaint box and you decide to build a sageuk from the ground up, fixing every single problem.
Episode 3 has laugh-out-loud humor, both physical and language-based. It has tremendous action sequences. Multi-leveled suspenseful story lines. Interesting characters across the board. Evil characters yet to be fully revealed. The amazing cinematography and well-mixed sound effects. Interesting editing and nicely planned structure. Beautiful costume design. A slick modern feel despite being set 4 centuries ago. Taken altogether, Episodes 1, 2 and 3 are beyond good. It has become must-see.
But, to get the full effect, I really REALLY recommend waiting for good subtitles (i.e., WITHS2), even if you have to start watching Chuno weeks after it starts airing. There is so much to understand, and if you are patient with the first three episodes and really get what's going on, then I guarantee you, by the fourth episode of Chuno, you will be completely hooked!
RELATED POSTS
Tags: Chuno, Jang Hyuk, Lee Da-hae, Oh Ji-ho