Chuno: Episode 5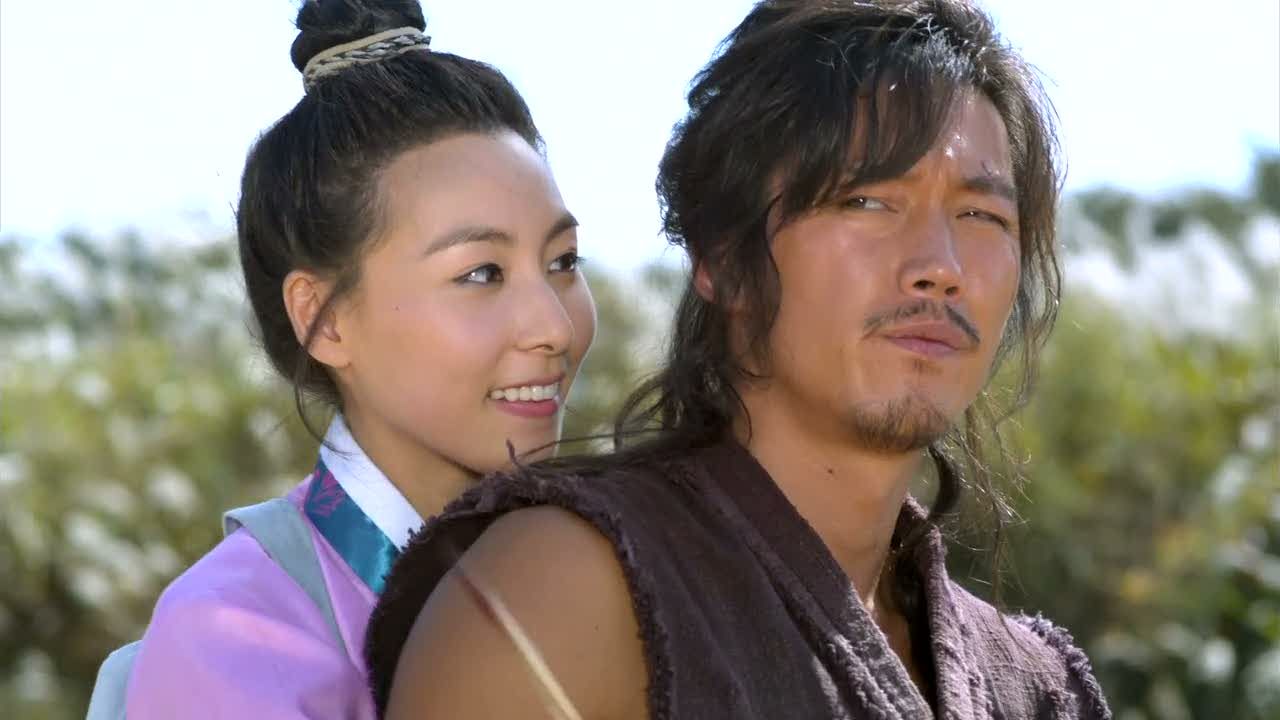 Last episode, Dae-Gil and his little band of Choi, Wang-Son and the new addition their party, the dancing strumpet Seol-Hwa have caught up with Tae-Ha on the riverbank as Tae-Ha travels down river in a skiff. This has turned into a real adventure, and we have second meeting between the two larger-than-life leads, the dread slave-hunter Dae-Gil and runaway slave Tae-Ha.
The cliff-hanger question during the long break between Episodes 4 and 5 was whether Dae-Gil has caught of good enough look at the woman in white traveling with the former General Song Tae Ha, to realize she is Un-Nyun, the woman he has been seeking for 10 years.
SONG OF THE DAY
H.O.T. – "Outside Castle" [ Download ]
Audio clip: Adobe Flash Player (version 9 or above) is required to play this audio clip. Download the latest version here. You also need to have JavaScript enabled in your browser.
But apparently, in a rather abrupt answer, Dae-Gil pulls back on his bow, a pyun-chun nestled inside the bamboo rail, and releases the arrow! Ah. The simple answer is no, as Dae-Gil would never have fired his arrow had he actually seen Un-Nyun. Tae-Ha blocks the arrow with his zhanmadao saber, no small feat of martial ability, and stares down Dae-Gil. Dae-Gil fires 2 more times, and each time Tae-Ha blocks the arrow with the flat of his saber.
Dae-Gil smirks, more than a little impressed, as Tae-Ha and the skiff slowly move downstream and out of range. Choi remarks that they should capture Tae-Ha alive, so why shoot arrows? Dae-Gil responds in a rather cryptic fashion:
Dae-Gil: Have you ever seen a dragon caught by a fishing pole? He wouldn't have been killed anyway with this effort.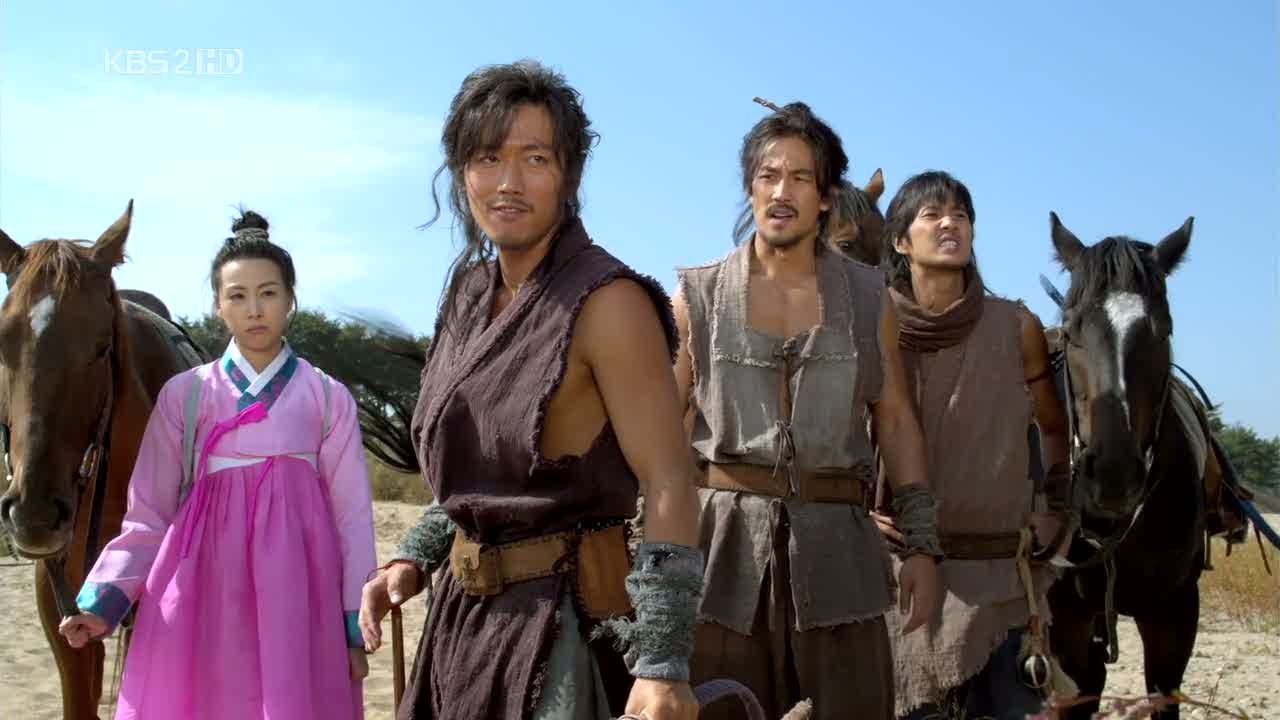 Interesting! Dae-Gil is acknowledging Tae-Ha's awesome martial ability, after denying it to Choi earlier (after Dae-Gil got cut by Tae-Ha in their first duel). I have to guess that what Dae-Gil means that he was hoping to have wounded Tae-Ha with an arrow, knowing that a warrior of Tae-Ha's ability would not be killed by even a speedy pyun-chun. Also, Dae-Gil is acknowledging that they were at too great of a tactical disadvantage being on the riverbank to attempt a capture.
There are advantages to being the hunter and to being the prey. The hunter can bide his time and choose the time and place of attack, but a clever prey can also set traps and misdirections to elude capture. Who will win this chess game? Dae-Gil pulls out a map and compass and they determine the obvious route that Tae-Ha must travel. Seol-Hwa continues to act like a ranking member of their "fun" party (which puts Wang-Son in a bad mood since he would be the youngest of the party of four).
It is time to mount up and get moving, if they want to catch them before the route options turn limitless. Seol-Hwa does the math – three horses, 4 people. Choi with his horse, but with two the Jumo ladies already fighting for prime positions on Choi's back, that's no good. Then there's Wang-Son and his horse, and so that's an easy no. Seol-Hwa therefore skips over to Dae-Gil's horse and makes a tiny pout:
Seol-Hwa: O-rah-beo-ni.
Sure enough, the Orabeoni-Pout works as Dae-Gil extends his hand to give Seol-Hwa a lift. (note: no escalation to full blown Orabeoni-Pout-Wiggle needed as Dae-Gil agrees without protest.)
And now the chase. Tae-Ha and Un-Nyun make good time traveling through the gorgeous landscapes, with Un-Nyun in her white mourning robes and nary a speck of dirt on her clothes nor a single strand of hair out of place. (Apparently, she doesn't get matted-down hair either, even after at least a full week of travel without shampoo or conditioner). Finally, Un-Nyun collapses and cannot run any more.
Tae-Ha realizes that he has pushed Un-Nyun beyond her endurance point and agrees to rest. It is question and answer time. Who is Tae-Ha, really, Un-Nyun wants to know. And who were those men on the riverbank? Tae-Ha, bursting with secrets that might bring down a King, avoids telling the truth.
And so Tae-Ha tells Un-Nyun nothing of his former life, not that he was a General with the Crown Prince's army, not that he was betrayed by his own lieutenant and by the Left State Minister high up in King's State Council, and nothing about while Tae-Ha was turned into a slave, a possible Royal conspiracy likely murdered the Crown Prince. It is this conspiracy likely murdered two of the three exiled sons of the Crown Prince, concealing this monstrous crime within a larger massacre of civilians through poison or disease. Now, there is only one son of the Crown Prince left alive, and Tae-Ha must save him. Tae-Ha, with his secret message from the Crown Prince himself urging Tae-Ha to action, must get to and save the last son of the Crown Prince and avenge his master's murder. To do so, he must reach his mentor, the man who sent him the secret message in the first place. But since he can't bring Un-Nyun with him, Tae-Ha says basically nothing except that he's not a bad guy.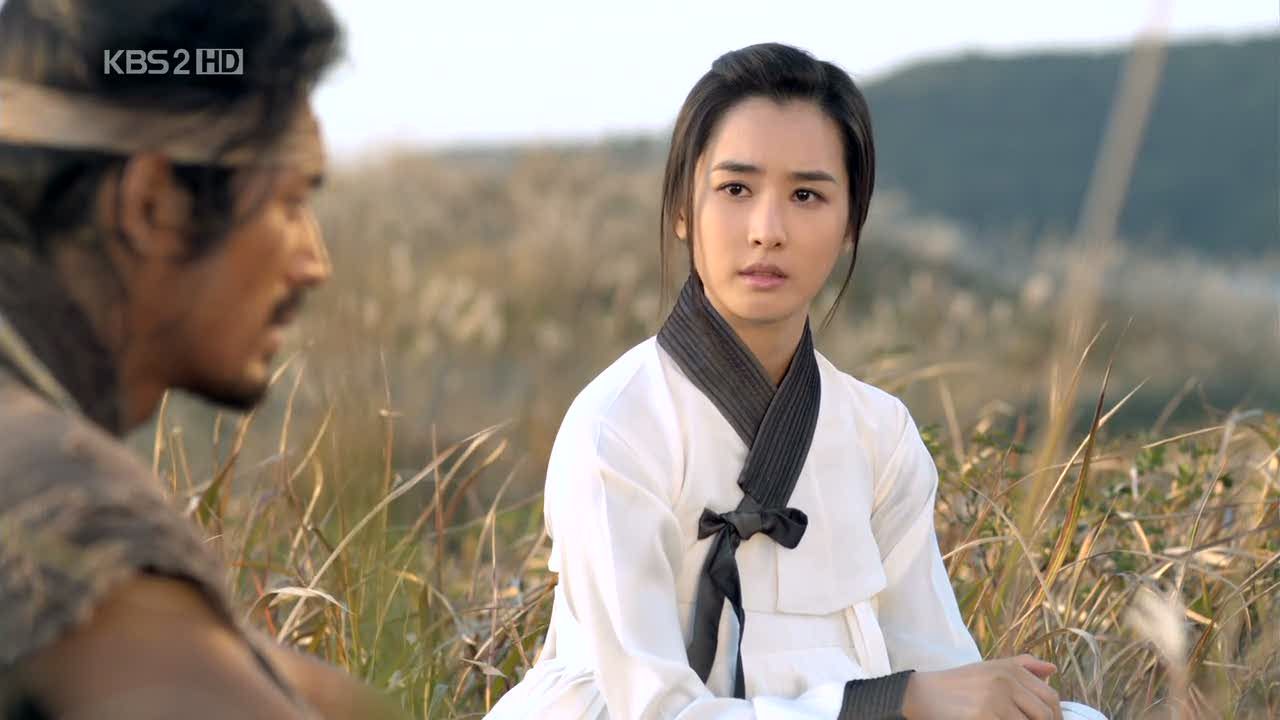 Meanwhile, Commander Hwang (head of the Military Training Command, son-in-law to the Left State Minister Lee Gyeong Shik) remains in jail, locked up because he won't personally go after Song Tae-Ha who had saved his life during the Qing invasions.
Commander Hwang sits cross-legged on the straw floor of the jail cell, remembering how he got involved in all of this – little by little, Minister Lee had gotten his claws into him. First by offering the Military Training Command to him, and then basically adopting him as a son by forcing marriage to Minister's Lee's daughter with palsy. The lure of course, was the power that went with being the son of Minister Lee. And now, Commander Hwang, the "son" of Minister Lee, sits in a jail cell – a pretty easy reminder who is actually in charge. And if that weren't enoguh, Left State Minister Lee drops by to make sure that Commander Hwang knows that there is no such thing as free will for Hwang anymore.
Miles away, across hill and dale, the hunters and the hunted take a break from the chase to have dinner and rest for the night.
I've said this before, but I really love the scenes with Seol-Hwa; they are so brilliant. As the sun fades and darkness is upon them, we see that Wang-Son is doing all of the cooking with Seol-Hwa merely waiting around for food. Hehe! Despite now having a very intelligent and obviously able wench tagging along, Wang-Son is STILL the maid, the cook, the dish-washer, the porter, the clothes-washer, and the clothes-mender of the group. Wang-Son grumbles at the unfairness of it all. What is Seol-Hwa good for?
Wang-Son: You seriously don't know how to cook?
Seol-Hwa: Nope, I never did it once.
Wang-Son: And you can't make side dishes either…
Seol-Hwa: Nope, we don't really do those kinds of things.
Wang-Son: Okay… then what about sewing?
Seol-Hwa (very cutely): Oh that! Oh yeah, for SURE we don't do that.
Haha!! Seol-Hwa is a perky ray of sunshine in this epic tale of sadness and betrayal, and the actress playing Seol-Hwa (Kim Ha-Eun), is a true charmer (but you should see her in Conspiracy of the Court – just brilliant!). Wang-Son gets really mad and tells Seol-Hwa to just take off and bother other people. And in response, Seol-Hwa turns on the charm, in true Orabeoni-Pout-Wiggle fashion:
Seol-Hwa (oozing charm): Ora-beon-eeeeee… what's uuuup, hm?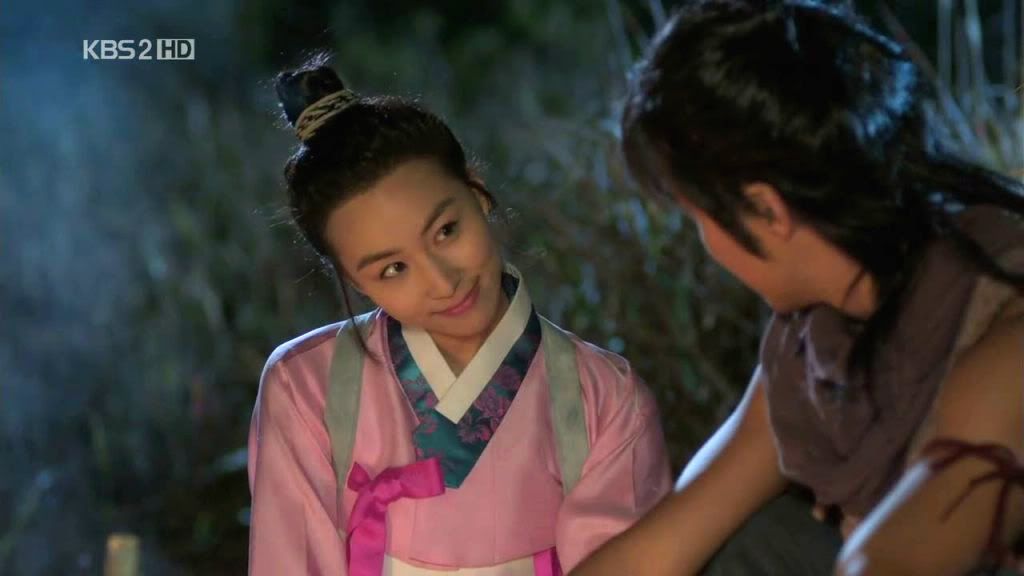 Wang-Son grumbles some more, but Seol-Hwa's look of victory on her face shows clearly who is the WINNER and who is the WANG-SON in this test of charm versus resentment. Seol-Hwa squeezes information out of Wang-Son regarding Un-Nyun, and Seol-Hwa looks at Dae-Gil with new found admiration – a man who spends 10 years looking for his love? How cool is that. Wang-Son grumbles some more, but then reverts to his baser self, asking if Seol-Hwa wouldn't be interested in a little co-ed naked wrestling in the tall grass.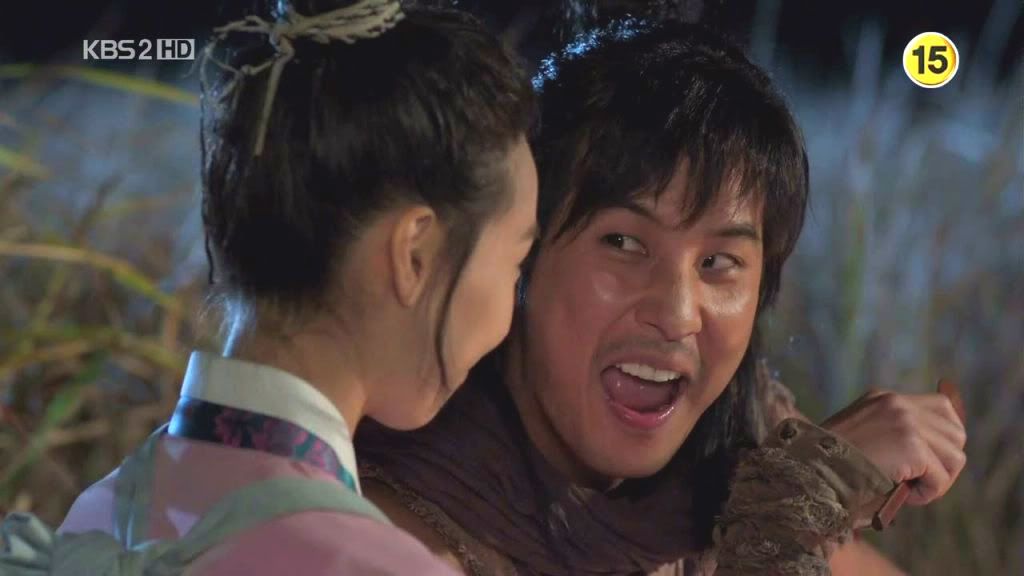 A sly Seol-Hwa gets up and sits next to Dae-Gil, asking for protection against Wang-Son who keeps touching her butt. Wang-Son is beyond miffed at Seol-Hwa's blatant lies, but Dae-Gil motions Wang-Son over. Even the stoic Choi clears his throat and shakes his head. Wang-Son protests passionately, but as the youngest in the group, he has no choice but to head over to Dae-Gil and a snickering Seol-Hwa. If I had to bet, I would bet 100 nyang, no, I would bet 500 nyang, that Dae-Gil knows that Seol-Hwa is lying her cute butt off, but Dae-Gil scolds Wang-Son anyway, because (1) Wang-Son needs the lesson to be taught regardless of whether he is really innocent here, and (2) that's what big brothers do to their young-un's.
But Dae-Gil throws in a few scoldings to Seol-Hwa too, to be fair. Seol-Hwa is now miffed, but in order to prove her worth to this slave-hunting gang, she takes out her hae-geum. (Note: A hae-geum (해금) is a two stringed instrument played with a resin bow, and is a close cousin to the more widely-known erhu which came from the Chinese Song Dynasty. The strings are in strung a fifth apart, and usually played with a pentatonic 5-note scale.) Seol-Hwa starts by making some funny jokes, about animal sounds she can make on her hae-geum, getting laughs out of the men.
But in a rather startling change of pace, Seol-Hwa then begins to play a haunting melody of unfulfilled love between a man and his lady. For once, all three of the slave-hunters are made speechless and merely listen with deep appreciation.
After the song, Seol-Hwa munches on her food happily – she knows she is now welcome in the group for as long as she can keep up.
Not more than few miles away, Un-Nyun and Tae-Ha also make their meal and sleep through the night. But as morning comes, Tae-Ha awakes to find a small band of brigands trying to go for an ambush of the two of them.
Tae-Ha makes extremely quick work of these low-lifes, and they quickly flee after getting their asses handed to them. In a humorous scene, before the brigand leader flees, he quickly drops to his knees in respect and bows in supplication, crying out, "eon-ni!" and then makes his escape.
(Note: as you might know, the term, "unni" or "eon-ni" is what a woman says to an older sister. Now, what a man says to his older brother is "hyung" but apparently in this era's slang, these brigands (and slave hunters, and other peasants) also call their superiors (by age or ability), "eon-ni" as a sign of respect, but without the familial closeness than the word "hyung." Proper speech would preclude the use of "eon-ni" by guys to other guys, but slave hunters and brigands could not care less about proper speech anyway.)
During the fight, Tae-Ha has dropped a piece of paper which he got from a mysterious person who bumped into him while he was still a slave (along with the letter from the Crown Prince right before he died), a piece of paper which has a drawing that shows the deliberate poisoning of the crown prince's children and other civilians in Jeju Island.
And with that sort of odd and abrupt segue-way, we finally get to see what is going on in this island where civilians have been dying, along with 2 of the 3 sons of the murdered Crown Prince. This is a village somewhere in Jeju Island, the place where the remainig family of the late Crown Prince had been sent in exile. And unfortunately, something kind of plague has broken out in this village, and the dead are being laid out for cremation to prevent the spread of whatever it is that is killing these people.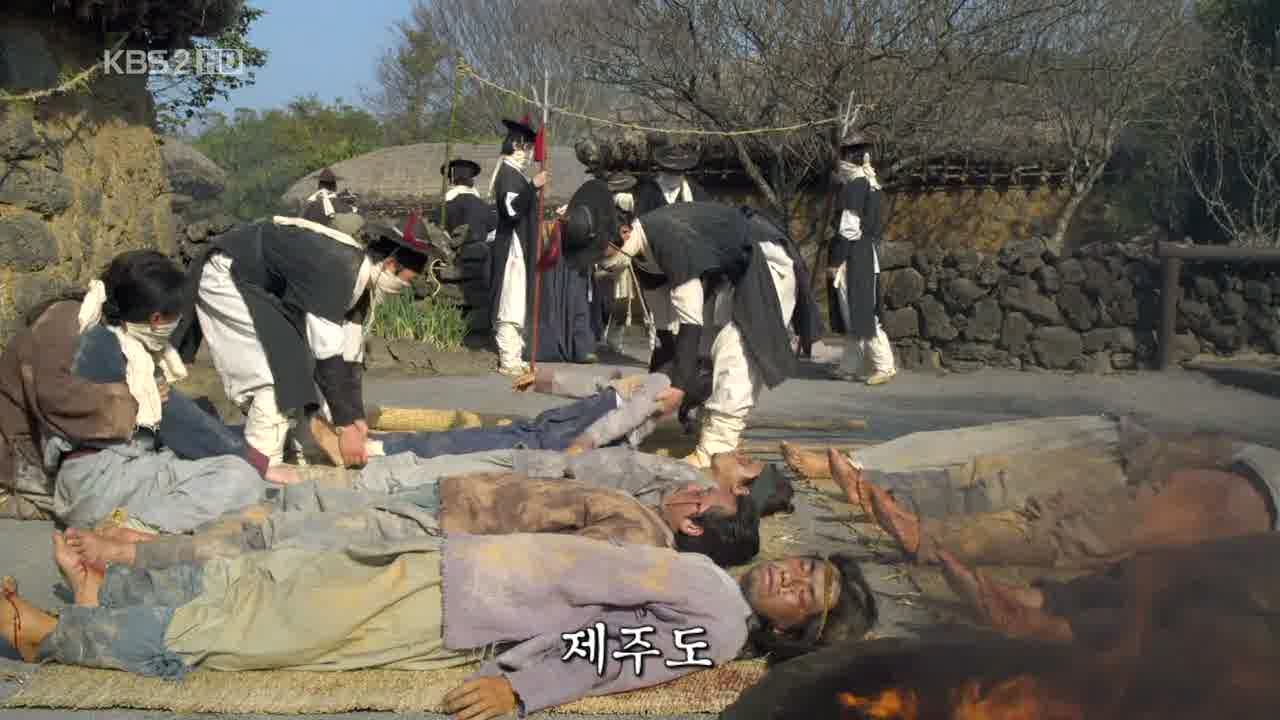 We see three local constables playing a game of dice, while a boy is crying inside a home. The boy is actually Prince Seok-Gyeon, the last surviving son of the late Crown Prince, but these constables strangely don't pay him any mind. And where are the retainers and the Court ladies in waiting to protect and care for the Prince? This is an incredible scene, and it clearly doesn't make any sense at all. Something is really, REALLY wrong here.
Further down the village path, we meet two more characters. The first is the last surviving Court Lady of the Crown Prince's court, who is unabashedly loyal to the Prince and therefore to his baby son. She has run out to get fresh water for cooking, bathing and drinking. The second is Constable Kwak, who is pestering the Court Lady to marry him, since she isn't getting any younger in this god-forsaken place caring for a brat. The Court Lady has extremely stern words for him, and now we see why she cares so little for him. She knows that he was the one who betrayed General Song Tae-Ha by admitting to lies and getting his entire command possibly executed and making the General into a slave.
That accusation stops Constable Kwak in his tracks. That might be true, but the Court Lady has absolutely no clue as to what the circumstances were that led to that false accusation. A flashback then, as to what really happened.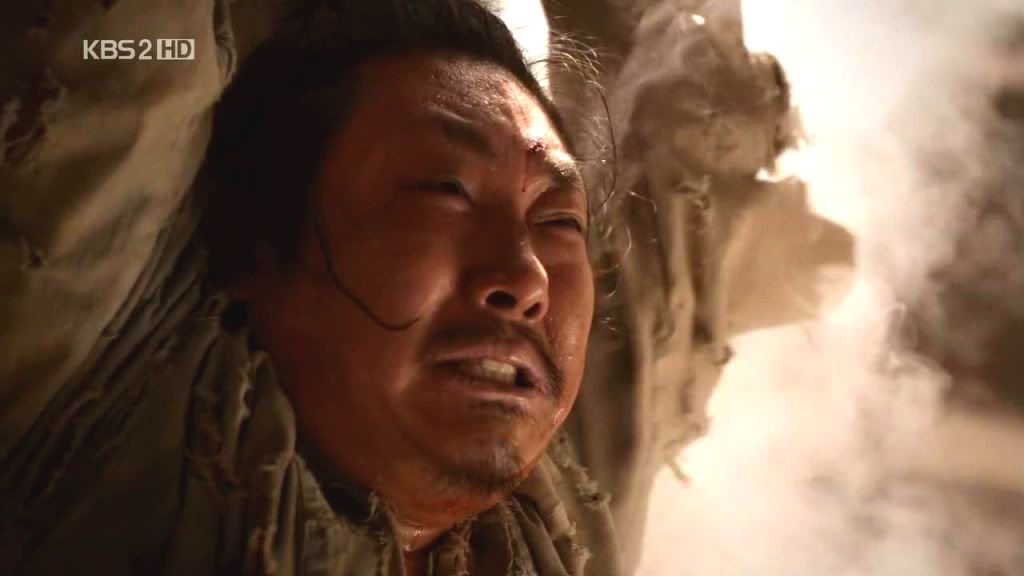 All of General Song Tae-Ha's officers were being tortured with red-hot irons pressed against the skin, and it was only after multiple excruciating burns that Kwak finally broke.
The look of disappointment in Tae-Ha's eyes burned into Kwak's memory, Kwak has nothing left inside of him but an amoral existence. Now, Kwak's betrayal was unconscionable not because normal men and women would have been able to withstand the torture, but Kwak was supposed to be better than that, as an officer under General Song Tae-Ha. Kwak was an elite, but acted like a normal human being.
In fact, ALL of the other officers were better than that, choosing to be tortured by being burned, possibly tortured to death, rather than live as a coward and a traitor. This relative difference between him and them is what dooms Kwak – he was supposed to be super-human, an elite, but was not and is merely human. It might seem incredibly unfair to characterize him as a coward and a traitor (burned with red-hot irons???), but everything their lives is relative to their set of rules, and Kwak is both a coward and traitor in accordance with the rules he chose to live by, when he became one of General Song's men.
Back to the chase between the hunters and the prey. Dae-Gil and his band have reached the ambush-spot where Tae-Ha chased off the brigands, and they smartly figure out which direction he is headed, as he is cutting a swath-path for the mysterious lady to follow. With that, the chase resumes at full speed, as each day brings Dae-Gil closer and closer to Tae-Ha and, unknowingly, to his Un-Nyun. Not more than a few miles away, Tae-Ha and Un-Nyun are discussing their plans. Tae-Ha needs to reach Chung-joo, in order to meet up with his mentor and make plans (to save the last son of the Crown Prince). Un-Nyun understands that soon they will have to part, and has no idea what she will do (nice thinking there Un-Nyun, way to plan ahead).
And that mentor of Tae-Ha? Well, now we get to see what he looks like. In a richly appointed home, an old man sits writing messages on disappearing ink. Is he some sort of spy? And a servant of this man bows and reports. This is the same guy that gave the Prince's last words by bloody letter to Song Tae-Ha in the "accidental" bumping! The servant reports that there are all sorts of men after Song Tae-Ha, including bounty hunters, Military Training Command soldiers, and even special bounty hunters contracted by the Left State Minister himself, Lee Gyeong Shik.
The old man gathers up the messages written in invisible ink and tells his servant to send them out. They have less than 2 days to do what they are planning on doing, and Tae-Ha or no Tae-Ha, they cannot wait for him to appear. Sounds ominous, doesn't it? It looks like they are planning on sending Tae-Ha to Jeju Island to rescue the child…
And then back to the chase! Un-Nyun and Tae-Ha have finally reached the crossroads inn, from where they will make their escape in separate directions. In the evening, Tae-Ha asks about Un-Nyun's love, the one for whom Un-Nyun escaped the marital bed to stay pure. Un-Nyun notes that her love is far and away gone, having gone so far away that if she was to have found him, she would have found him by now. And now, we finally have the full flash-back as to what happened that fateful night.
Un-Nyun's older brother, probably with other slaves, had risen up and killed Dae-Gil's family and started torching all of the buildings. Un-Nyun's older brother finds out that Un-Nyun has feelings for her "Young Master" and thinks that Un-Nyun has been violated. It is too much for the brother to take and he runs back to the house and slashes at Dae-Gil, cutting his face across the eye, right before the burning timbers collapses around Dae-Gil. All of this happens in front of Un-Nyun, who sees her love die before her eyes.
Back to the present, Un-Nyun thanks Tae-Ha for everything, and wishes him well before sleeping. There is some emotion in their voices as they fall off to sleep, but for now the divide between the two of them is insurmountable as neither can erase the pain of love ones lost.
At day-break, Dae-Gil and his band finally arrive at the crossroads inn, but it looks like Tae-Ha and Un-Nyun have just left, perhaps minutes ago! They are somewhere extremely close! Dae-Gil, Choi and Wang-Son split up to search the area on horseback, as their prey could not have gone far on foot. Seol-Hwa is told to stay where she is, but she notices that horses behind the inn.
Seol-Hwa leaps onto a horse (somehow, while wearing a hanbok… isn't she amazing) and chases after Dae-Gil, thinking that they planned on dumping Seol-Hwa at the inn. Off hand, Seol-Hwa also mentions to Dae-Gil that it is strange that their targets didn't use horses, and immediately Dae-Gil realizes he's been tricked. He turns his horse around and charges back toward the crossroads inn.
Just a few minutes away, back at the inn, Tae-Ha realizes that his first trick hasn't worked entirely as at least one hunter is returning, probably within a minute or two. Tae-Ha takes the reigns of the last horse, and looks at a helpless Un-Nyun… a few minutes later, Dae-Gil arrives and puts his ear to the ground… noting that the last horse is heading east.
It is a now a horse race to the finish!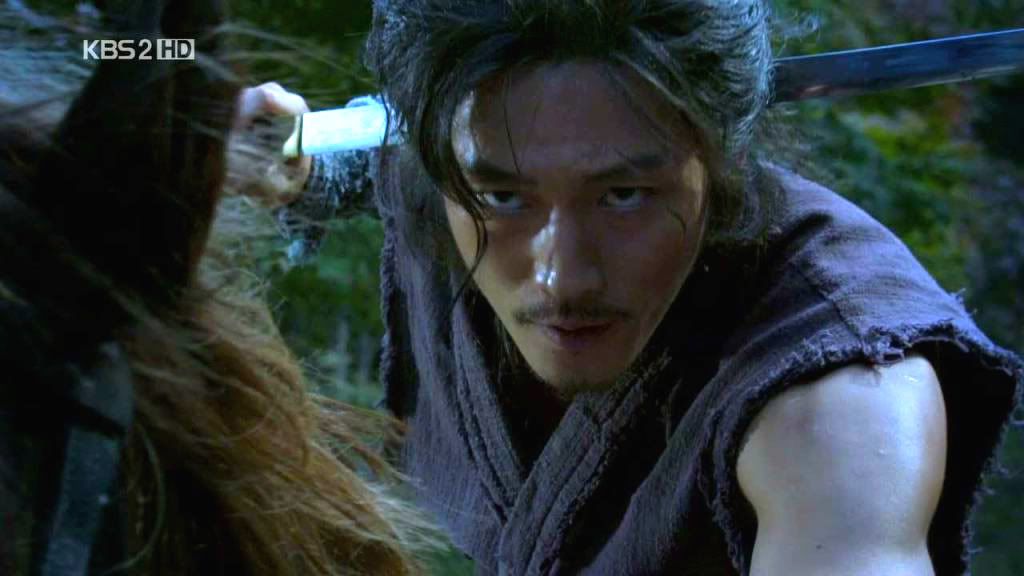 COMMENTS
Another well-done episode! Clearly, this is a set-up chapter, and one that pretty much solidifies the background information needed to understand who the major movers and shakers are, behind the main characters. I don't think this is an episode to knock the socks off of people, but I think it is really necessary to have an episode like this for an epic sageuk like Chuno. And also, you had two really great scenes thrown in here – the first being Kim Ha Eun's antics followed by her playing the hae-geum, and then the scene with Jo Jin Woong (the actor who played the very funny Brutus Lee in Sons of a Sol Pharmacy, aka Constable Kwak, being tortured by the evil Left State Minister, Lee Gyeong Shik.
We see now that there are forces and counter-forces at work. The Left State Minister, the second highest ranking Minister in the Royal Court, is Lee Gyeong Shik. He is part of the trio of ministers making up the State Council (with the Prime Minister, the Left and Right State Ministers) that advises and helps execute decisions for the King. He is a man so bent on power and control that his own daughter fears him, and he is the man behind the false accusation of General Song Tae-Ha. And he is the man who cold-heartedly imprisoned his own son-in-law, who loyally married the minster's own palsy-stricken daughter.
But IS Minister Lee also the man behind the murder of the Crown Prince, the alleged execution of the wife of the Crown Prince, and the alleged poisoning deaths of two of their three sons, along with dozens of civilians? IF SO, then the Left State Minister is a man who has absolutely no fear as to the consequences of his actions, which means… the King himself might have been in on it from the beginning??!! Suppositions, suppositions…
Opposing the Left State Minister Lee Gyeong Shik is a mysterious older man, who has been moving chess pieces around the board, including activating the biggest chess piece of all, Song Tae-Ha from his slave labor hibernation. Who is this older man, what did he write with invisible ink, and where is he going to send Tae-Ha, assuming that the latter escapes from Dae-Gil's clutches?
And in the midst of all of this, Un-Nyun, the woman that Dae-Gil has been seeking for 10 long years, is finally within ear-shot of him, albeit unknowingly. What will Dae-Gil do once he finally sees his long lost love? And will our hero Dae-Gil be able to capture Tae-Ha within a month's time, before a death sentence gets put on Dae-Gil too?
RELATED POSTS
Tags: Chuno, Jang Hyuk, Lee Da-hae, Oh Ji-ho