Rebuttal #1: If heroine alienates core bread-n-butter audience, drama is a dud, even if a few misguided males beg to differ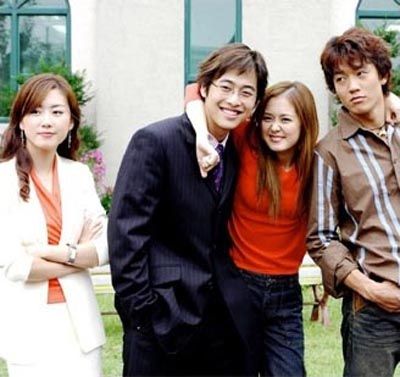 Gauntlet, thrown and accepted!
Well, see now, I think there are a few misconceptions I've got to clear up right off the bat.
First off, this idea that I somehow have good taste. HA! Have you seen my drama ratings? Second, that there's such a great divide between the "elite literati" and the common folk when it comes to drama watching.
My taste is completely average, and I am pretty much your drama anti-snob. Yes, I enjoy high-quality, artistic offerings and I love throwing in a mania drama here and there into the mix, but I like 'em mainstream, commercial, and popular, too. The whole idea behind running Dramabeans arose out of a desire to give commercial dramas more weighty discussion, as their more serious and top-shelf counterparts regularly merit. (The critics who are likely to write intelligently about Korean dramas tend to turn up their noses at the popular stuff deemed unworthy of critical analysis; I wanted to fill that void.)
All this is to say — (1) Sneaky Samsooki, don't try to discredit me by saying my taste is too "high-end" to appreciate My Love Patzzi, 'cause I've got the low end soundly covered! and (2) I should really be the perfect person to write a lengthy defense of Patzzi.
If only it — and its lead character — weren't so… ANNOYING.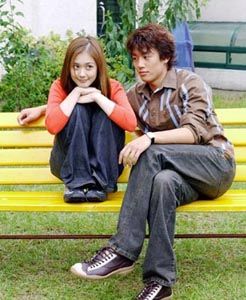 Hey, I enjoyed Patzzi. There's enough to find entertaining about it, if you watch with your brain turned halfway off, as I did. I suspect that's why I enjoyed at all, because I wasn't getting hung up on how Kim Jae-won was like a cute block of wood or how Jang Nara's supposed good-hearted nature wasn't coming through because she tended to place herself in situations that got herself into trouble. The second female lead (Hong Eun-hee) was a prime example of the one-note Hallyu villainess and completely unconvincing as a character. Kim Rae-won's character is likewise pretty flat, only he made up for that with an abundance of warmth and personal charisma (perhaps TOO much!).
You do need to watch with one eye closed to logic and plot holes, because we have plenty of those, but it's not without its appeal. I will, however, challenge the idea that Patzzi is somehow deeply meaningful! I will paraphrase the irrefutable wisdom of one Cher Horowitz to say, "Trying to find depth in My Love Patzzi is like searching for meaning in a Pauly Shore movie." As much as I hate this phrase, I find it applicable here: It is what it is.
Why do I consider Patzzi a lightweight? For one, it doesn't have any emotional or dramatic heft. For all the trumped-up drama wrought by the villainess, there's no real risk here, no real stakes to our heroine's problems. We can't get all worked up about the quandaries she faces because she's never in real danger of anything, and we can't really get hot-n-bothered about the love triangle except to lament that the wrong guy got cast as the so-called lead. This drama is so good-natured that doesn't actually DO anything with the conflicts it establishes. Song-yi is bailed out of trouble by the people in her life, and the villainess essentially gets let off the hook to preserve the upbeat tone.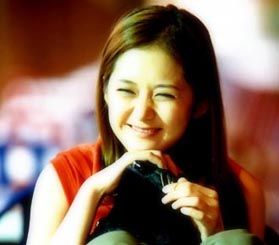 This drama is supposed to hinge on the twist of the Korean Cinderella story, painting the evil stepsister as the protagonist and the Cinderella as a scheming two-faced liar. Thus Jang Nara's Song-yi is supposed to be some great subversion of the stereotypical Korean heroine — she's loud, uncouth, and bad-mannered — and her redeeming quality is that she is an open book. The problem is, she doesn't really DO much, other than suffer as the victim of the evil girl. She's supposedly feisty, but submits herself to the evil girl's manipulations like a spineless doll. In making the "Cinderella" so malicious, we're not really twisting a classic fairy tale so much as we're shoving it into a standard kdrama framework: the good girl gets two guys fighting over her, and evil girl is evil.
Worse yet, despite the misguided rantings of my esteemed colleague before me, the Song-yi character tends to turn off a huge chunk of its core audience. And not because she is loud and unladylike, but because she strings along two adorable (if milquetoast-y) guys, ultimately makes no decision, and still ends up with the adoration of both. And when the people you depend on to root for your so-called plucky heroine are instead compelled to slap her upside the head for her indecisiveness, well, you've dug yourself into a hole.
Sorry, Samsooki buddy! You have every right to find Jang Nara (and/or Song-yi) cute — but you can't convince me of it.
But perhaps Patzzi's greatest transgression is the ending, which shows just how wishy-washy this drama was because it couldn't pick a side and stick to it. It tried to satisfy all sides and therefore disgruntled them all instead. This probably came because Kim Rae-won had so much charm that it almost ruined the drama by completely derailing the OTP — that is to say, the established lead pairing of Jang Nara with Kim Jae-won. But for the drama to end on such an ambiguous note shows a lack of confidence in its story. My Love Patzzi is ultimately so benign that it neuters itself.
RELATED POSTS
Tags: Jang Nara, Kim Jae-won, Kim Rae-won, My Love Patzzi