The Woman Who Still Wants to Marry: Episode 9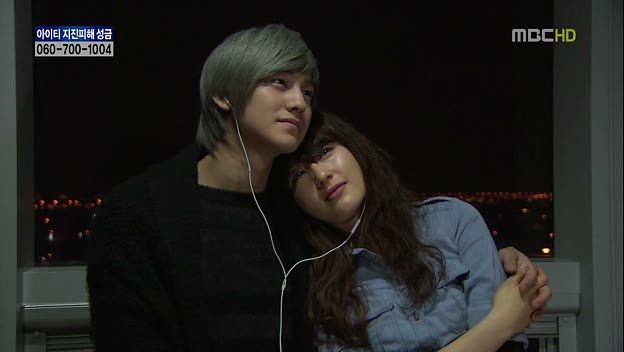 Okay, it's official; this drama has made me its bitch. If I were watching it post-season, it would be one sixteen-hour run with a bedpan, a caffeine drip, and a case of that rice wine they're always drinking. True to form, we breeze right past the bet storyline in one episode, and now we get to the heart of the matter: what do you do when faced with a love that could be real, but not forever?

EPISODE 9 RECAP
Shin-young is at work with her team, discussing possible directions to take with their new show, like adding student VJ correspondents. In walks Min-jae, full head of gray hair, which is presumably his way of saying, "Sorry I ruined my own million-candle grand gesture by making jokes about your gray hair." But all I can do is go, "Bwuh?"
It's very disconcerting, this hair. I don't know what to make of it. It's not that Bummie can't rock the colored hair (although he's no Lee Hong-ki)…it's just that the gray hair is such a stark contrast to his baby face, making him an even more freakish in-betweenie.
All the women stand agape, as Min-jae tells them he's here to apply for the VJ position. Her co-workers are all aflutter, but Shin-young shuts him down cold. She's in no mood to play games with a kid.
Min-jae keeps pushing it, and Shin-young demands to know why he wants to work for them. He's completely serious today, as he stares intensely at her and says, "You know why…" Oh, NOW you're all serious? You lit a million tea lights (which by the way, the first ones you lit would be out by the time you lit the last ones, Show), then ruin the moment by making with the funny, and now you want to be all intense-eyes at work the next morning?
At some point, despite herself, Shin-young stops listening to him and we just hear her heart start to race, as they stare into each other's eyes. Shin-young, unable to tamp down her feelings, leaves the room with an excuse.
Min-jae follows her into an empty hallway and demands to know what she's so afraid of. She tells him not to speak so informally to her (a tiny attempt to distance herself emotionally). So he cheekily adds "…yo" at the end of his sentences, like when your mother tells you to say "please" so you go, "Pass the friggin green beans……..please."
Min-jae says that she's so brave in all other things, but so scared when it comes to love. Ain't it the truth, people? We'd sooner climb Everest than be this open and vulnerable. Min-jae argues, "Being forty when I'm thirty, fifty when I'm forty, is it something that scary? Why? It's not like you die in the same order that you're born. Getting wrinkles sooner than me, gray hairs first, so what?" I have to say, although Min-jae is earning a truckload of points by saying these things, I'm on Shin-young's side in thinking that it's not NOTHING, either.
Min-jae: "I'm confessing these things for the first time in my life, and you're going to shut me down like this?"
Shin-young: "Setbacks make you grow up."
Min-jae: "The world has changed, and so have people's thoughts. Follow your heart and be brave."
Shin-young: "This has nothing to do with bravery."
Min-jae: "Do you not like me?"
Shin-young (barely holding back her tears): "No."
Min-jae: "Do you not see me as a man?"
Shin-young (clearly lying): "No. I don't see you as a man."
Min-jae: "I can tell you're lying."
Shin-young: "It doesn't matter if it's a lie."
Min-jae (accepting defeat): "I understand. Thank you for stirring my heart, for being the person I wanted to see every day. You made me feel things for the first time in my life. I'm grateful for that. While my hair color returns, I will forget you. Take care."
Min-jae knows when he's outmatched, and with that, he turns and walks away, heartbroken. Shin-young watches him go, and she flashes back to all his cute grand gestures and their adorable chemistry.
Meanwhile, I'm shouting at my tv, "Stop him! Stop him you damn fool! If you let him walk out of here while you flashback, I'm turning you off this instant!" Empty threats, I know. But to my utter delight, she calls out to him. Oh thank GOD.
Shin-young proposes that they date for ten days. Ten days? Min-jae asks if she's toying with him. Shin-young says that being with him for real would be wasting her time, but she thinks she could spare ten days. (This sounds really snotty, but it doesn't come across that way. It's more like a terminally ill patient wanting one last hurrah before succumbing to fate.) Min-jae, having put his heart on the line more than once, asks what on earth he's supposed to do on Day 11, then. Shin-young says fine, three days. Whaa? Okay, ten days it is!
Min-jae insists that they start the counting tomorrow, as it is already late and he doesn't want to waste half a day. Cute! As he walks away with this small victory, his face breaks into a mischievous smile. Yeah, we're thinking the same thing you are. Ten days is plenty of time for you to win her over for good!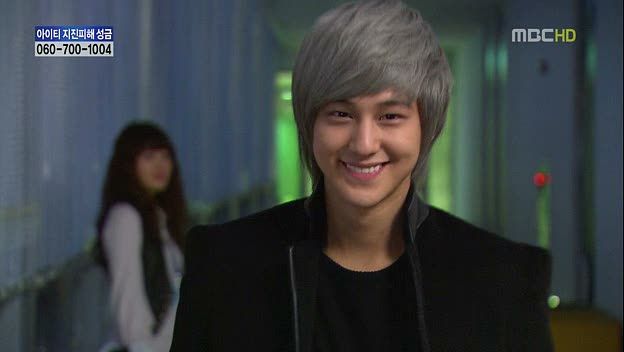 At home, Da-jung is listless from her future father-in-law woes. Ban-seok calls, but she can't bring herself to answer. This is a perennial kdrama problem. His parents say something nasty, but she can't say anything to her significant other because they're his parents. I say screw it. He's your boyfriend, so he should know how his parents are treating you. Besides, if they're a regular Korean family, it's hardly the worst thing he's ever heard come out of their mouths concerning a prospective wife.
But Da-jung, ever the seeker, goes to a life couch guru instead, asking for advice on the matter. Should she marry this man, while his family denounces her poor upbringing and everything she's worked so hard for, or should she move on? But before she can get an answer, the guru turns out to be a quack, of course, leaving Da-jung to realize that the answer must be within herself. Is she…learning?
She decides to go to the hospital and talk things over with Ban-seok, only his father is there at the same time, to introduce him to a friend's daughter. He's like a Mack truck, that dad, and it's clear that Ban-seok has never been anything but a doormat.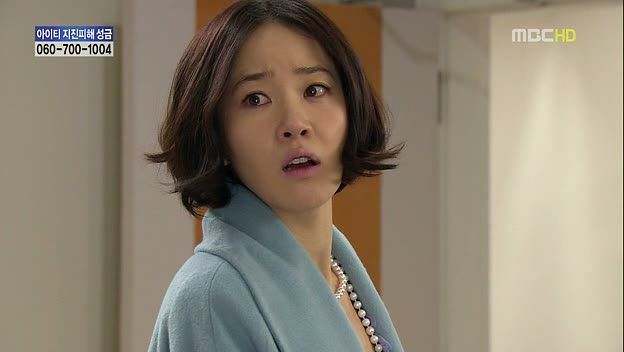 Da-jung simpers to herself that this is not the answer she had in mind. I simply love that the woman who was so calculating about men and their "qualifications" to marry her is now completely at the mercy of the same process, being done to her. I both enjoy her comeuppance and feel for her too, because who wouldn't love her?
And then we cut to an action sequence:
Wait, did I change the channel? Don't make me recap Chuno! Don't make me do it! Oh, whew, it's just Bu-ki, doing some martial arts training. Why? Because she's a badass, yo.
She gets texts from both girls, requesting a pow-wow over food and drink. Bu-ki prepares for battle with her love-addled girlfriends.
Shin-young tells her friends about the Ten Day relationship with Min-jae, and asks them not to try and talk sense into her, please. Bu-ki asks what happens after the ten days are up, and Shin-young says that they'll go back to their original places. Bu-ki: "To Sang-woo?" Shin-young supposes that will be the case. Really? Is that what you think?
Da-jung announces for the billionth time that she's not going to get married. She finally tells the girls about Ban-seok's disapproving father, and the hurtful things he said to her. They are, appropriately, shocked and appalled.
Bu-ki spits out that Da-jung should have started eating with her hands, showing Ban-seok's father just how uncouth she could be. Shin-young, practically shouting, asks why Da-jung's been keeping this to herself, and if she's been thinking about holding on to this guy, after all that.
Girlfriends who accept you for your life choices and who you are, are hard to find. But as javabeans said in her last recap, girlfriends who stick up for your pride when you've been trampled on? They are the ones you keep forever.
Da-jung rants, "Is being over thirty a sin? Are single women over thirty just supposed to die?!" Shin-young grabs her throat, gagging, "Die!"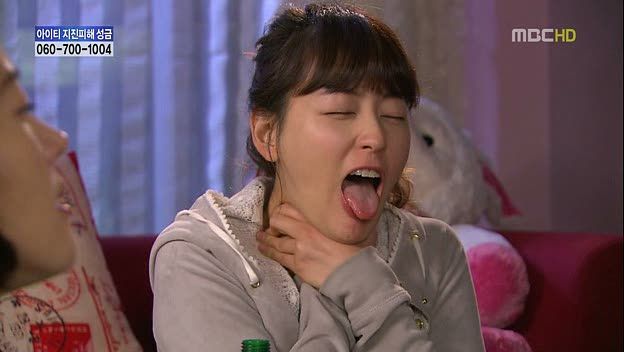 Da-jung: "I work hard. I try my best. I'm acknowledged. In my own way, I'm successful. What have I done to be treated that way? Marriage? Who needs it? I just won't get married. I'm going to dump him cold. Even if his father comes begging on his knees, I won't take him back!"
Bu-ki and Shin-young cheer, actually applauding her. They go in for the celebratory high-five…
…but Da-jung leaves them hanging. Limply, she says, "If only I could be like that." Aw, man. We were all fired up! Da-jung confesses that she doesn't want to lose Ban-seok, and begs the girls to help her.
Shin-young says that she should forget Ban-seok and find someone new. Da-jung can't wait for yet another man, and even with someone new, he's bound to come with some other explosive baggage. Bu-ki agrees with this. She tells them that life rarely deals a perfect hand; if the next guy has perfect parents, he'll have gambling debts.
This is exactly the kind of conversation I have with my girlfriends over martinis. We decide emphatically that Life is this, and Love is that, Men are such and such, and Women are this way and that. And then we promptly forget it all the next day, because wouldn't you know it? We were drunk. It's illogical, but therapeutic.
In the middle of the discussion, Da-jung gets a call from Ban-seok, putting her in a tizzy because she pretended she was sick to avoid his calls. It turns out that Ban-seok is downstairs to see Da-jung and will wait all night if he has to. Da-jung is impressed, but Shin-young tells her not to be so easy; that she should make him wait a while and play a little hard to get.
But in the same breath, Shin-young's phone rings with a call from Min-jae, and we see the change in her reaction:
Min-jae wants to meet her at midnight, the official start of Day 1, but Shin-young ups it to nine o'clock, as she is granting him three free hours as an opening bonus. The hypocrisy is not lost on Da-jung.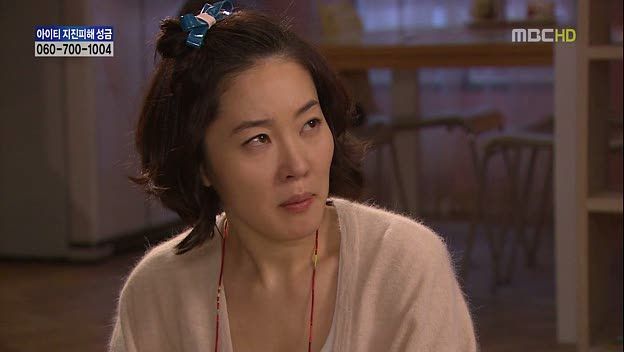 Heh. This is why relationship advice should always be taken with a grain of salt. So quick to change your tune, Shin-young. We're happy for you, but I sort of want to flick you right now.
Bu-ki takes Da-jung to her apartment, where they stage a sickbed for Ban-seok's benefit. Shin-young gets ready for her date, singing and dancing in the shower, and my word, is she adorable. Okay, I'm back to loving you now.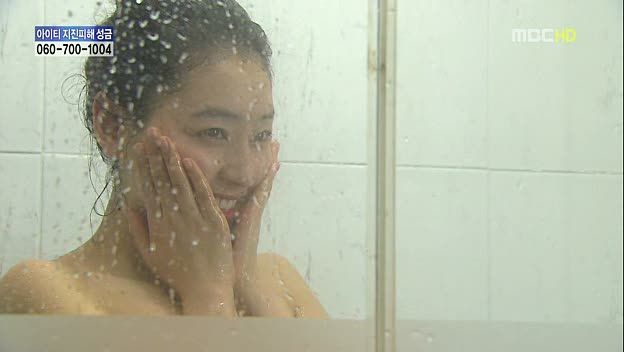 Ban-seok arrives at Bu-ki's apartment and Da-jung does this hilarious rendition of all weepy kdramas where the woman asks to break up with her boyfriend, because she's really such a good person and martyr. Gag. I love that they're making fun of this convention. Da-jung plays it to the hilt, with Bu-ki's help, and the aid of some eye drops. Ha!
Even though you could argue that this is manipulative, I think it's okay because (a) it's tongue-in-cheek, and (b) their goal was to let Ban-seok know about his father without hurting him. Personally, I think you should skip the games and be able to say, "Honey, I love you but your father was kind of a dick to me." And if you can't, maybe you shouldn't be marrying the guy? But that's just me. One of many reasons why I'm not a kdrama heroine.
The plan works, as Ban-seok is now on Da-jung's side, (Did we ever doubt him?) and says he will take care of his father. Well, you don't exactly have my vote of confidence on the daddy issue seeing as how you're kind of a blubbering idiot around him, but you get an A for good intentions. He blurts out that he loves her, and once he's gone the girls rejoice at their success.
Meanwhile, Shin-young goes downstairs to meet Min-jae, who has arrived on his white steed, I mean car. They cute-banter and Min-jae tells Shin-young to get in the car before he kisses her. Hollow words! Empty threats! You didn't even kiss her when you lined a hallway with candles, silly rabbit. I'll believe it when I see it. And then I'll rewind, and believe it again.
There's just something about the way these two look at each other that I can't get enough of. They have the best non-verbal chemistry I've seen in a while. Their eyes get downright starry. And now they're speaking informally to each other, with Min-jae calling Shin-young "jagi" all the time.
During their date, Shin-young gets a call from Sang-woo, who is in Paris. She LIES to Min-jae about who called, then LIES to Sang-woo on the phone, telling him that she'll be busy for the next ten days because of work. Oh, Shin-young. Why must you make me shake my head in disappointment? We were doing so well.
They go for a walk, and Min-jae holds her hand and puts it in his pocket, the same way Sang-woo did a few episodes back. Only this time Shin-young doesn't pull away. So big, the clues. Why doesn't she see them? Min-jae notes that her hands are soft, and Shin-young says that she's been told that a lot. This makes Min-jae stop in his tracks. With a sly smile, he says, "I have a jealous streak. Don't say things like that anymore." I'm not squeeing. Who said I was squeeing?
The next day Sang-mi picks out wallpaper for Sang-woo's apartment, and she gets two texts: one from Min-jae saying that he loves her (aw), and one from Sang-woo saying that she can take her time with the wallpaper and he'll contact her when he's back in town. She dismisses the first one (apparently Min-jae's charm doesn't work on his mom), but lights up at the second one.
She puts up the new wallpaper and sends Sang-woo a picture of it, and he gets so excited, it's actually making me like him a little, for the first time.
I love when you meet someone new, and you look for excuses to text or call each other so as not to appear obvious, which means you end up talking about wallpaper or the weather, which is completely obvious to everyone but the two of you.
Sang-woo returns from Paris and he meets Sang-mi for coffee, both of them eager but still tentative towards each other. Sang-woo gives her a scarf and they make with the twinkly eyes. I surprisingly like this pairing, because it softens both characters. Sang-woo is far more likable when he isn't with Shin-young, and Sang-mi looks about ten years younger in this episode, just from the smiling alone. This will also be a pivotal couple dramatically, so I'm interested in how they'll progress.
In a different relationship across town, Da-jung and Ban-seok engage in some on-the-job kissing at the hospital, where Da-jung has come to get "treated" for her "illness."
Things are going swimmingly, that is, until they run into Mack truck Daddy (not to be confused with mack-daddy), who has returned with his friend's daughter. As expected, Ban-seok totally folds like the doormat that he is, and can't come to Da-jung's defense when his father treats her like a third-class citizen. Da-jung doesn't do anything but apologize (!) and run away.
Ban-seok tries to reason with his father, to no avail. So in the end he ekes out a threat that he'll just have to make a baby first then! So there! Oh, THAT's going to go well, based on your intimacy to excitability ratio.
Da-jung ends up at Bu-ki's restaurant, announcing again that she will not be getting married. Bu-ki can't even pretend to take her seriously, and reminds her of all the reasons they had come up with for sticking this relationship out. Da-jung leaves in a huff, insisting that she isn't going to put up with it anymore.
And then in a nice moment of reflection, Da-jung waits at the bus stop and looks up at the sign that announces the arrival of the next bus. She muses how nice it would be if life would announce who was coming next, and when. She imagines the sign telling her of the next man in her life, and when he will come to her.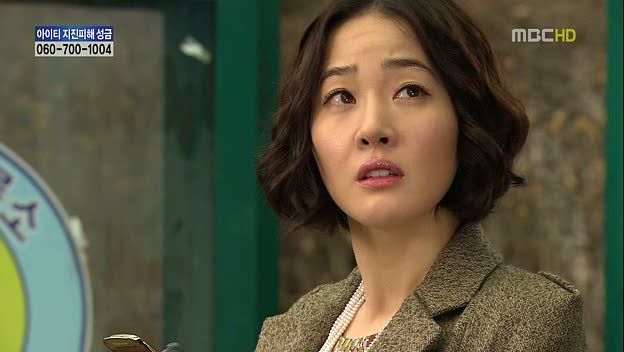 The acting is so spot-on here. While most of the time I find Da-jung delightfully ridiculous, in this moment she is so real and grounded. On the bus ride home, Da-jung imagines more announcements of future men, and even in her fantasies, none of them compare to Ban-seok. (One of them tells her the perfect man will come…in a thousand years. Ha.) This makes her decide to give him another chance, and she calls him to work it out.
Shin-young and her team work hard on their new show. It's going well, so of course Shin-young's evil sunbae pulls a classic two-faced move. In front of Shin-young he belittles their ratings success and chalks it up to the timeslot, but behind her back he sweet-talks their boss into letting him oversee the show because Shin-young needs the help. The boss takes it under advisement. Rat bastard!
We then get glimpses of Shin-young and Min-jae's Ten Days, as he teaches her how to play guitar, they listen to music together, and play an endless game of rock paper scissors because they don't want to part at the end of the night.
Teaching her to play the guitar? Genius! Guys, you should always do this when wooing a girl. Teach her something you're good at, because then you get to show her how awesome you are, while involving her in something important to you. It's a win-win. And if you pick something tactile, you can get all handsy, like Min-jae is here:
Back at the boys' apartment, Ban-seok tells Min-jae to stay out tomorrow night. Min-jae gets the hint and notes that Ban-seok is moving pretty fast with Da-jung. You clearly have never seen him kiss a woman. If this goes smoothly, I will give you a million dollars. And a pony.
Min-jae also admits to Ban-seok that he is in love for the first time in his life. Hm, adorable, but doesn't bode well for the long-term. At home, Shin-young looks at her calendar and realizes that she only has three days left with Min-jae. She prays that they go by slowly.
Sang-woo searches his apartment for some excuse to call Sang-mi, with nary a broken light fixture to lean on. Finally he finds that he needs a parking pass, and meets her at the market for the hand-off. She helps him shop for his new place, and they go to a café.
Sang-woo is more forward on their second "date" and calls her by her name. He remembers how many sugars she takes in her coffee, and isn't really hiding how smitten he is. Sang-mi doesn't even know how to react to such attention; it's clear that it's been decades since anyone has noticed her in this way.
But when Sang-woo asks why she rented out the apartment, Sang-mi answers truthfully. She tells him she has a college-age son and…a husband. Sang-woo is floored and can't hide his disappointment as he watches her walk away.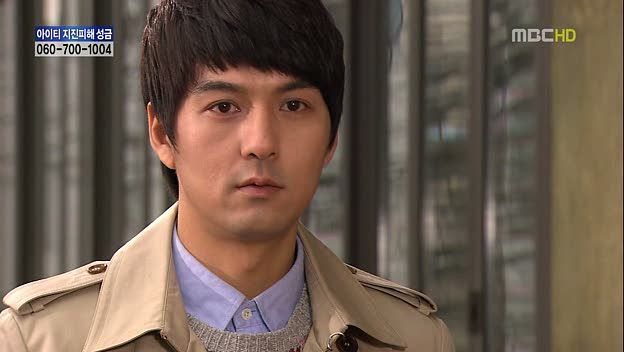 Sang-woo is down about Sang-mi, so he calls…Shin-young? Geez, you two. You really need to stop using each other as emotional crutches, or I'm going to smack you both.
He asks to see her, but Shin-young gives excuses about being slammed at work. Sang-woo insists he has to see her tonight, and says he'll wait for her call.
Shin-young, meanwhile, has heard about her evil sunbae's plot to take over her news program, and Min-jae talks her through it, encouraging her and being supportive. Wow, seriously, this impressed me way more than all those damn tea lights and the hair change combined. This is the first time he seems like actual serious boyfriend material for Shin-young, in my book.
After cheering her up, Min-jae tells her not to go home tonight. Shin-young: "Why?" Min-jae: "Because you're going to stay up all night worrying. Let's sleep together."
Oh. My.
Did everyone just faint?
Hello?
Helloooooo?
Cut to…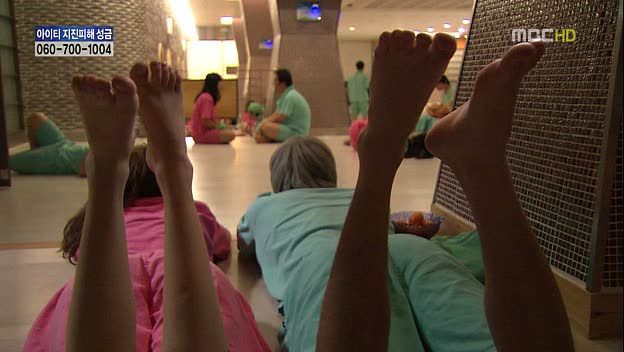 HA…the two of them, hanging out at a jjimjilbang (a public 24-hour sauna). You tease! Shin-young asks Min-jae what he thinks he'll be doing when he's 34. He replies, "I think I'd like to write music for movies…and I want to be with a 44-year-old You."
Shin-young: "I've never once had this thought, until now: if I were 24 right now, how nice would that be? I thought about that…for the first time ever."
And then they fall asleep, all snuggly in each other's arms.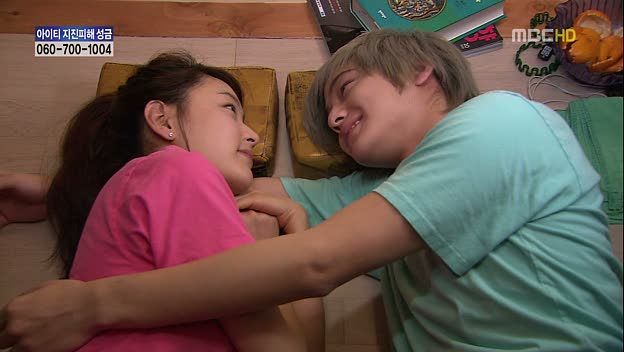 Only who should happen to come to the very same jjimjilbang, the very same night?
Cause THAT's what happens when you lie, people.
Overall, I think that Min-jae redeemed himself in this episode, but Shin-young has taken a dive. She's got some 'splainin to do.
It's possible that the confrontation here at the end will lead to better things, such as some emotional detachment between Shin-young and Sang-woo, which would be healthier for them. And Sang-woo, while he has every right to be mad at Shin-young's actions, can't really deny that he's having cheaty feelings of his own.
As for the Ten Day relationship, I really like what this says about Shin-young at this point in her life: that she wants to follow her heart and give in, but only to the extent where she can maintain some semblance of control. I know, it's just an illusion. But she needs the illusion of control, just the same. It speaks to her fears, and gives her a lot of room to grow as a character. I just hope she doesn't logic herself out of the long-term. Crossing my fingers for Day 11!
RELATED POSTS
Tags: Choi Chul-ho, Eom Ji-won, Kim Bum, Lee Pil-mo, Park Jin-hee, The Woman Who Still Wants to Marry, Wang Bit-na