She's too young to play your mom: Age gaps in casting
There's an interesting phenomenon these days where actresses are being cast in the role of Mom younger and younger. Not only that, but sometimes the age gap between Mom and Child is quite ridiculous, if you think about it. Jung Hye-young is no stranger to playing a mom, as she knocked it out of the park playing Iljimae's heartbroken mother in Return of Iljimae, barely 14 years older than Jung Il-woo. In Playful Kiss, she's now set to play opposite Kim Hyun-joong in a similar capacity, who is only 13 years her junior.
What's crazier is the age gap on the set of SBS's Giant, where Kim Suh-hyung (34) plays mother to Park Jin-hee (32). Now THAT's a little nuts.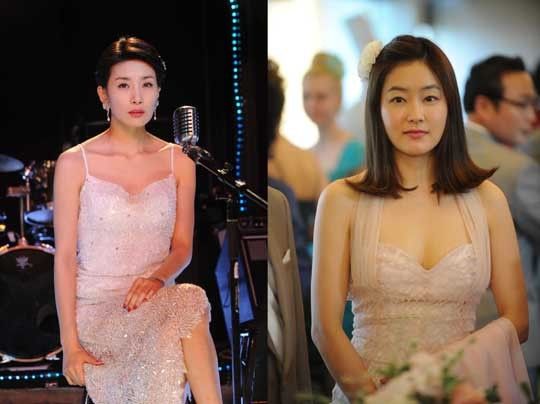 Kim Suh-hyung said, "This is the first time I'm playing the mother of an adult character, so it feels a little strange, but I knew it would be a great acting opportunity." It's pretty gracious of her, considering they're the age of friends or sisters, certainly not mother-daughter.
Their characters have yet to cross paths on the show, so as of now they aren't sharing the same screen, but they will in due time, and the meeting should be epic, on many levels.
In Playful Kiss, Jung Hye-young (37) will be playing Mom to Kim Hyun-joong (24), and she worries about portraying the relationship realistically. She's a young mom herself, besides being a standout actress, so I don't think she'll be lacking any believability, regardless of the age gap.
The producers said of Jung, "Her character is a lovely, loving mom who believes in the power of affirmation. Jung Hye-young will be a cute mom who makes us forget about her age gap with Kim Hyun-joong."
Funny, but that statement makes it sound like she'll play even younger, like a friend-mom, which I'm fine with. I love a Gilmore-girls-esque rapport. Although you need a Rory to hold her own in that sort of dynamic. Ahem. No comment.
Over on the set of MBC's Kim Suro, Bae Jong-ok (46) plays Queen Mother to Ji Sung (33), another 13-year age gap. But that's not even the half of it. In 2005's Beating Heart, they played a ROMANTIC COUPLE. From lover to mother? That's pretty mind-blowing, if you ask me.
Bae Jong-ok said, "Playing Ji Sung's girlfriend, to playing his mother, made me feel my age." But Bae does undergo a strong makeup transformation for the role, and she, again, is an amazing actress. So while it must feel weird for her, I have no doubt she conveys both quite convincingly.
On SBS's morning drama Plucky Girl, Lee Yuri (28) plays Mom to Hong In-young (25)! Somehow their 3-year age gap is even more unbelievable, because both actresses are in their twenties. I, for one, can't tell who in the picture below is supposed to be the mom and who's the daughter.
Granted, Lee's character remarries and thus Hong In-young becomes her step-daughter, but she still calls her "Mom" on the show. Hong said, "In the drama our characters are four years apart. But in reality that's ridiculous. I know they say age is just a number, but if it were my real life, that would be really strange."
Well, at least this age gap is a plot point, and an intentional dramatic twist on the stepmother-daughter relationship. Otherwise who'd believe it?
This growing trend has some audiences doubting the believability of such casting choices, and wondering if there's such a dearth of actresses out there. Personally, I don't think the general trend is that crazy, given that the 30-something single girl is only lately becoming a viable option, in the last few years. Before, actresses had to go straight from twenty-something maiden to 30-something ajumma. Now there's more of a range, and it isn't a new thing for actors to be cast off-age. Although playing a guy's mom after playing his girlfriend is…a little squicky. I don't envy her.
Eyes are turned towards Kim Suh-hyung (Giant) and Jung Hye-young (Playful Kiss) to see how they meet the "Mom Challenge." My guess? They'll score home runs. You don't get to be a seasoned actress for nothing.
Via Sports Khan
Tags: Bae Jong-ok, Giant, Hong In-young, Ji Sung, Jung Hye-young, Kim Hyun-joong, Kim Suro (drama), Park Jin-hee, Playful Kiss